Culture
Review: Republic by Nerys Williams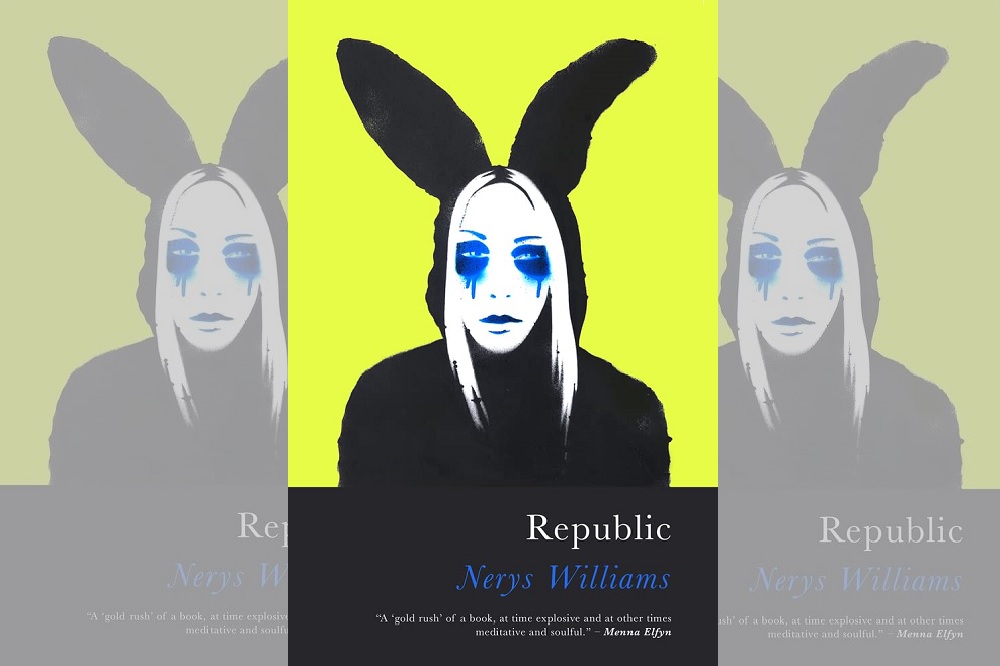 Rebecca Roberts
Republic is a volume of prose poetry written by Nerys Williams, born 'from a need to commit an oral history to paper'.
The poems are chiefly snapshots of the landscapes and communities inhabited by Williams – linguistic, social and geographical – focussing primarily on the challenges faced by women, Welsh-speakers and other marginalised groups.
Although Williams inhabits many of the poems as a central character, the stylistic techniques used by her (such as referring to herself continually in the second person) means that she is as much an observer as the reader, her tone detached yet reflective, wry and occasionally humorous.
Many of the stories told are drawn from Williams' own experiences and involve her family, friends and neighbours; yet she preserves their anonymity and tales are recounted in a fragmented fashion as random and disjointed as flashes of memory or short bursts of analogue camcorder footage.
This creates a sense of distance between narrator and reader, and the stories feel like overheard snippets of conversation or a glimpse into a stranger's journal, inviting the reader to engage, to fill in the blanks, analyse and interrogate and search for meaning.
Hermits
Although Republic is broadly autobiographical, Williams turns her gaze firmly outwards, capturing voices from the past – voices that would otherwise go unheard.
Elderly families living as hermits, people sold for dissection after death, unmarried mothers forced to hide unsuccessful pregnancies – those commemorated chiefly as local stories, rumours or as names on a certificate are preserved for the reader with sympathy and a distinct lack of nostalgia.
One poem that haunted me long after reading was Exhibit A:
'Later they told her about the skeleton they had found. The skeleton had scared them in the attic, real bone accompanied with a polished wooden pole for hanging. The skeleton came from India in the 1890s, they were scared of this thing, they decided it must be removed. Worse, they decided it had to be destroyed. A group of men had smashed the skeleton. They buried it in one of the fields… The mother greets it as a calamity, she could have given it to a friend who teaches biology: he only has a plastic skeleton… Some years after, she visits the farm and wonders what that act inscribed, having a different vocabulary she understands the word postcolonial, but that is a different story.'

These are, by and large, the stories of the communities of Williams' youth in Welsh-speaking west Wales.
Wales is the chief focus of Republic – the countless attacks on both the nation and the language greeted with alternate 'appalled fascination' and 'satirical humor' by Williams, providing an insightful glimpse into what it means to live in a colonised country and community.
Welsh-speaking readers will no doubt find many of the challenges and attitudes within Republic's covers frustratingly familiar – the influx of second home owners, the sneering dismissal of the language and the culture contained within it, and the often tokenistic attempts at inclusivity.
Some of the poems examining intersectionality, where Williams is dismissed because she is both female and Welsh, make for irritating reading.
Affirmation
But the Welsh language is also present as a source of joy and affirmation – as the language of family, community and love, through the lyrics of the Welsh-language post punk music scene, through the experiences of performing recitation in eisteddfodau.
Williams' love of music is evident, and for those who wish for a more immersive experience a discography is provided at the back of the book.
Anthem
As one with more than a passing interest in the alternative music scene, my absolute favourite poem was Performance.
Rarely have I felt that a poem was speaking so directly to me, urging me to resist the urge to conform and age gracefully and meekly.
Just as the alternative shop of my youth sold t-shirts printed with political lyrics from the Manic Street Preachers, I want the text of Performance writ large on a t-shirt, an anthem for all the women who have 'played it right, worked the rules' and been left unsatisfied and unfulfilled.
Impact
The poems throughout are beautifully evocative, with each line carefully chosen to deliver maximum impact.
Williams never allows herself to stray into commonplace nostalgia, but her writing is so descriptive that it can occasionally transport the reader back in time, to the counter of her grandmother's shop or her father's milk distribution centre or the bedroom of her pre-teen years where the innocence of childhood collides with sexual awakening (symbolised by a poster of Simon Le Bon).
The writing is deft and authentic, creating a vivid sense of place and compelling us to share Williams' indignations and sympathies.
I must close by apologising that this review has been so long in the writing. I made it a habit to read for only as long as it took me to drink my morning cup of coffee, and this measure of time proved most satisfactory.
Rather than rushing ever onwards through the pages (an experience which can be jarring when reading poetry or flash fiction), Republic became something to savour, to sit in the sunlight and ponder and enjoy slowly, encouraging me to look at a familiar world anew and to savour the little, seemingly inconsequential moments Williams captures so neatly that make up who we really are.
Republic by Nerys Williams is published by Seren and is available from all good bookshops.
---
Support our Nation today
For the price of a cup of coffee a month you can help us create an independent, not-for-profit, national news service for the people of Wales, by the people of Wales.