Culture
Review: Rhinoseros by Eugene Ionesco, Theatr Genedlaethol Cymru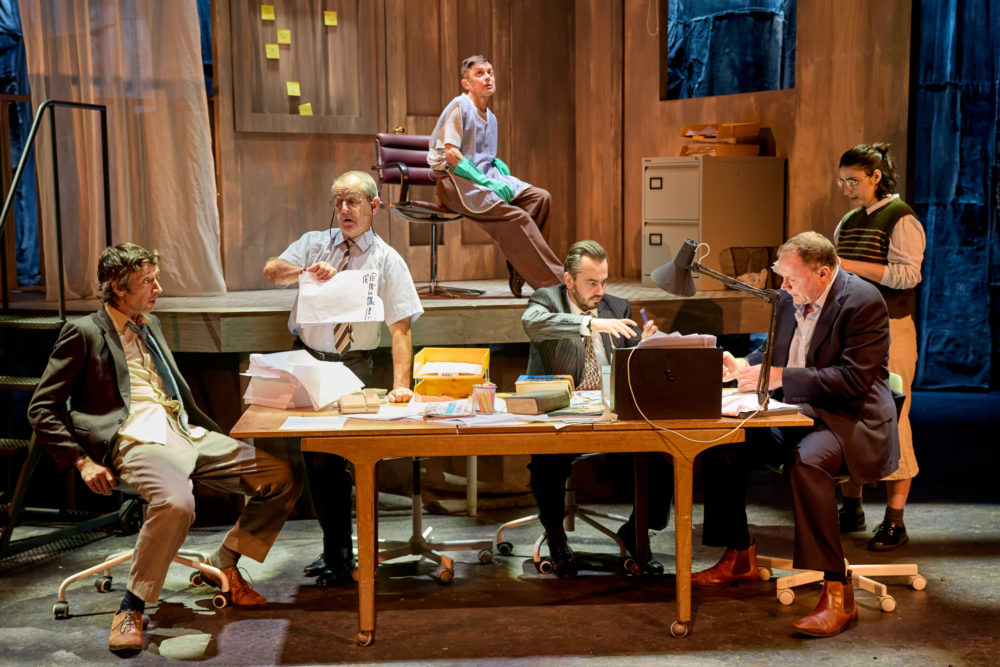 Ant Evans
Cards on the table, I've never been a fan of translated works. Whether they're works of literature, stage or screen, it's often struck me that something seems off, or else gets lost in the process. Perhaps that says more about me, or maybe even the quality of translated works I've been exposed to in the past? Who knows?
However, there were a couple of things that made Rhinoseros stand out for me.
The fact that it's described as an adaptation so, not claiming to be a like-for-like copy (indeed, it was mentioned in the post show talk in Pontio that a chunk of the material had been cut in the adaptation, immediately making me think "I must see this in French") and the fact that the exceptionally talented Manon Steffan Ros is behind the Welsh adaptation meant I was very much looking forward to this.
The fact that, as mentioned, I've not yet previously seen the French source material, or any English adaptations meant I was going in blind (says the reviewer with the white cane *ba dum tsss*) and therefore minus any hang ups.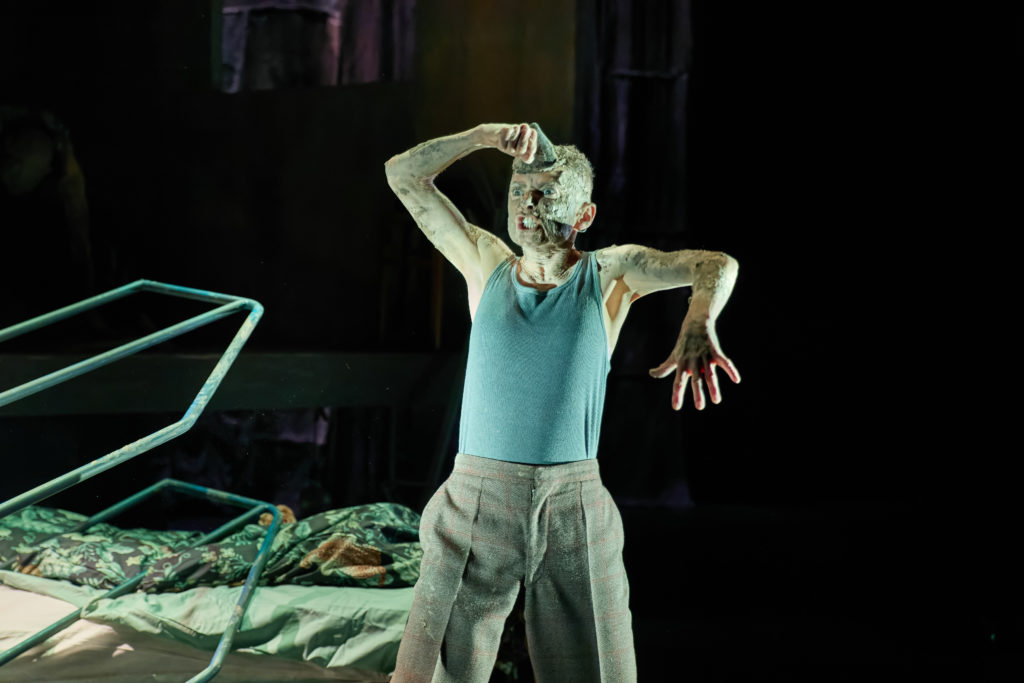 Lively cast
Upon entering Theatr Bryn Terfel and taking my seat, the first thing that struck me was the sound of birdsong, leading me to think "This sounds as though it'll be rather enchanting". Indeed, this is very much how proceedings begin. We're introduced to a colourful, lively cast of characters and humour and enchantment are very much in abundance right from the off.
However, things gradually begin to take a turn for the worse with the appearance of the first rhinoceros, with Sian (Bethan Ellis Owen) chastising a hungover Berenger (Rhodri Meilir) for not being more concerned about the fact that a rhinoceros has just run through the village (anyone else get the impression there's a hidden history between these two characters?).
Berenger of course has (from his point of view) bigger worries than a rhino running through the village. This being his anxiety (which Sian points out is a by-product of his drinking) and the fact that he's worried that Derfel (Ioan Gwyn) and Delyth (Priya Hall), who Berenger fancies, will end up together.

Bizarre
Things gradually worsen with the appearance of a second rhino and the quarrelling amongst the villagers whether it was the same rhino as the first, how many horns they had, what species they were (if indeed there were two) leading to a typically Welsh argument about people from north vs south Wales.
The untimely death of Mrs Eidion's (Victoria Pugh) cat, trampled to death by one of the rhinos, and the bizarre funeral which follows (anyone ever sung hymns when burying a pet?) served, for me at least, as the cue signifying that things were only going to get stranger from here.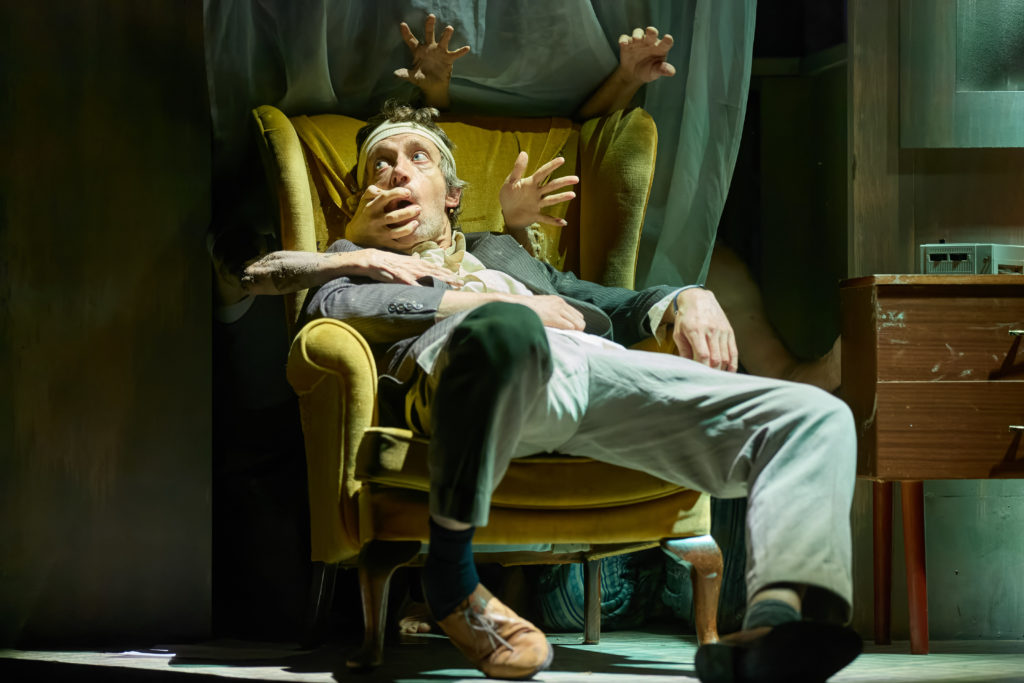 Rampaging rhinos
We gradually notice as the performance continues, fewer and fewer characters on stage, and an increase in the number of rhinos apparently rampaging through the village.
Having previously told Berenger that she was going for a drink with friends (bit rich you might think, considering she'd told him off earlier, though Sian points out that she "drinks responsibly") when Berenger goes to see Sian with a view to apologising for his earlier behaviour towards her, she seems at first to be hungover. Though we seen discover it's much worse than that…
As more and more rhinos roam the village, Berenger becomes increasingly isolated, and this inevitably has an impact on his mental health (recalling his anxiety mentioned earlier on).
Absurd
This is a rollercoaster ride lasting 90 minutes, deftly directed by Steffan Donnelly with the incredibly talented cast seamlessly taking the audience on a very rapid journey, from absurd humour to increasingly disturbing moments. Sound, designed by Dylan Jones – specifically the thundering stampede of rhinos interrupting the dialogue – is used excellently here to build up tension.
A couple of notes on accessibility. For non-Welsh speakers, the Sibrwd app, used to support Welsh learners in the audience, is available. As I'm a Welsh speaker, there are better people than myself to comment on how good it is, but I thought it worth mentioning.
Also, recalling what I said at the beginning of this review, I'm very much a convert to adaptations, having seen this performance. Though wherever possible, I think I'll always want to see performances, read books and watch films in the original language, too.
All in all, I very much enjoyed Rhinoseros. If it's coming to a theatre near you, go and see it! You won't be disappointed.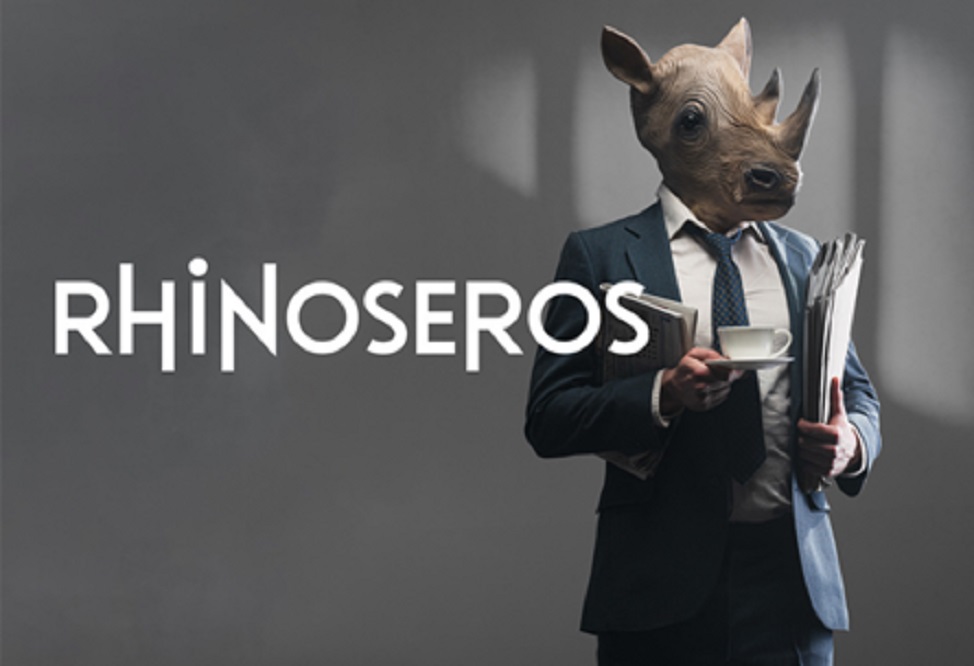 Theatr Genedlaethol Cymru's tour continues at:
Aberystwyth Arts Centre (04/11/2023)
Neuadd Dwyfor, Pwllheli (07/11/2023)
Hafren, Newtown (09/11/2023)
Mwldan, Cardigan (14/11/2023)
Galeri, Caernarfon (16/11/2023)
Taliesin Arts Centre, Swansea (18/11/2023)
---
Support our Nation today
For the price of a cup of coffee a month you can help us create an independent, not-for-profit, national news service for the people of Wales, by the people of Wales.