Culture
Review: Sarn Helen by Tom Bullough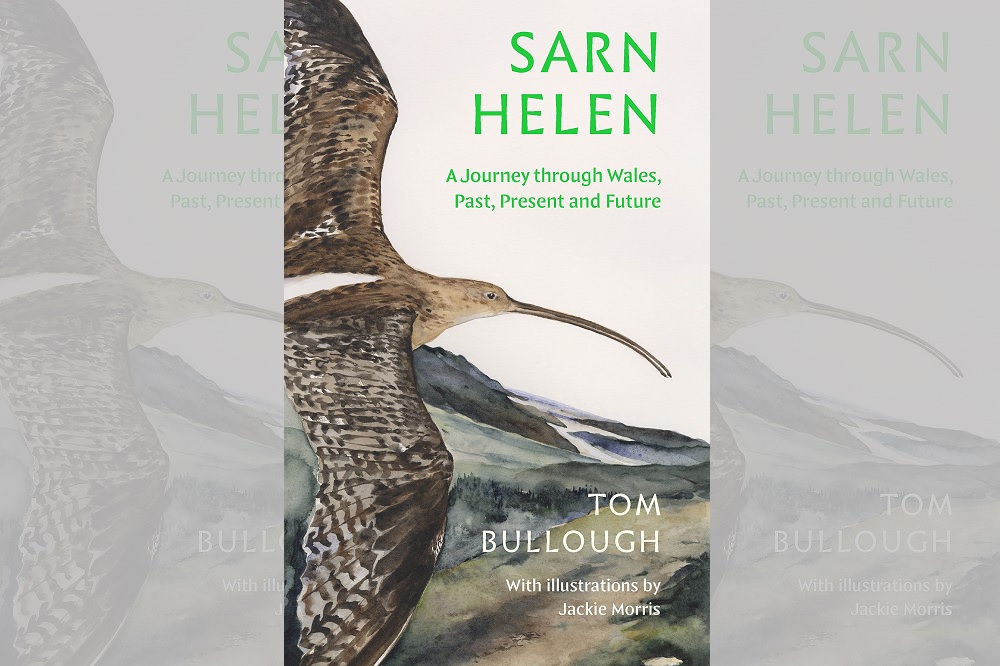 Lottie Williams finds an account of a walk through Wales leaves an imprint on her soul.
Sarn Helen: A Journey through Wales, Past, Present and Future is both a beautiful and a terrifying book: a poignant love letter to the endearing beauty of the landscape and history of Wales laced within a starkly painful eulogy for what we are set to lose in the climate and ecological emergency.
A Roman road once connecting the north and south coasts of Wales, Sarn Helen is a 'perfect spine from which to flesh out a picture of the country'. Despite no trace of it on the OS map, Bullough manages to walk the entirety and, in doing so, is able to juxtapose the past, present and future of Wales.
Our history has never been a simple strand, and so threads of Celts and Romans are interwoven with Anglo-Saxons and Normans, Taliesin and the Mabinogion. Bullough especially loves the Age of the Saints and one in particular accompanies him on his journey. St Illtyd.
Their footsteps merge as Bullough finds awe and tranquility in the wild, 'sometimes it will bring me such a sense of uplift that I find I have forgotten to breathe. Sometimes my mind will clear for minutes at a time, seeming to leave nothing but a blazing light'. Sarn Helen is not just the line of a road but a line through time connecting us to the past people of Wales.
Whilst Bullough has moulded his words, the artist Jackie Morris has created beautiful illustrations which adorn the cover and separate chapters. Both are artists, one painting with a pen, the other a watercolour palette.
Morris's illustrations inhabit movement and life – a puffin in torpedo dive, an inquisitive otter, a sand lizard, feet splayed and tail hooked. But as alive as they appear, these are just several of the 666 species 'threatened with imminent national extinction'. The very thought is heartbreaking.
The poetry of Bullough's writing is ever present, mirroring rivers, rolling farmland and high, rocky ridges, 'its stream weaves, tumbles over glistening falls, between broad pebble beaches and banks of red soil topped with clusters of yellow welsh poppies'. The Cambrian Mountains reveal 'naked tops and pits of shadow'.

Language of wonder 
Bullough fires the senses. You can smell the 'tang of oil', hear when 'an acorn lands with a thwack'. He paints a world of specificity we know and can relate to with car models, Tetley's tea, too tight trousers and 'Sailing' by Rod Stewart'.
The reader is welcomed on his journey through a language of wonder and adventure, 'now we arrive in a dell… now we meet a stream of pools…now we scramble over a moss-swaddled wall'. He draws us in. We listen. We are on his side.
And quite literally by his side are friends Christopher Meredith and Jay Griffiths who accompany Bullough for stretches of the walk, providing an insight into character as well as humoured light relief in the naming of sleeping bags and sharing of food in the dark.
But beautiful words are not enough.
Sarn Helen also includes alarming scientific detail. Over Zoom, Bullough speaks with a range of experts who provide information about the climate and ecological emergency and what it means for Wales: how best can we use the land so steeped in farming traditions; the upland, lowland and middle grounds; the defence of the coastline and future worries for coastal villages, transport and infrastructure; drought, storm surges, flooding. The statistics are absolutely terrifying.
These conversations are written as though the reader is present. Bullough has already used specificity to build our relationship and so we trust the experts too. It is scary and painful to read, but fuels the need to act. As Dr Claire Earlie says, 'This is our home, and so it's important to us'.
What is not said is just as chilling: 'a change comes over her voice, of weariness, resignation and anger'; 'the expression…is desperate…there are obviously tears in her eyes'; how a baby in a cafe resumes howling at the mention of critical thresholds in nature, 'beyond which things just can't recover'.
Hypnotic
Sarn Helen is unapologetically set against the tumult of Covid – it has to be. Covid was caused by human's "relationship" with nature. We hunkered down for months on end, barricaded from life in order to overcome the dreaded C. So why are we not doing this now, when further threat is already hammering at our door.
We are already witnessing the effects of climate change, not just in Wales but all over the world. 2020 saw the warmest winter and wettest February. There were floods, droughts, landslides. Remember last summer's record temperatures topping 40 degrees?
When Bullough first hears a cuckoo at Llyn Cynwch, the effect is 'hypnotic'. I immediately smile at this harbinger of summer, thinking of my mum who phones me each time she hears one.
He continues to hear the call throughout the final section of the book but no discussion of them is otherwise provided so, for me, it starts to become sinister.
A totem in Celtic folklore, the cuckoo is also connected to the afterlife with the ability to summon death. Bullough allows the call to become a knell, heralding in the heat, this new epoch of time. Also cuckoos are a brood parasite, meaning they hijack another bird's nest by removing existing eggs and laying their own. I suck in a breath. The similarity is chilling.
Imprint
However hard this is to face, and despite the many times I have wept inconsolably whilst reading, this book is an absolute must. It has left an imprint upon my soul. We must talk about this fight, because fight it is.
'To stifle the climate conversation is actively to seek global catastrophe'.
More has changed in the past fifty years than the past six thousand. We are on target for reaching catastrophic global temperature increases, meaning the collapse of societies.
Bullough provides a massive wake up call to action. We need to live locally and sustainably, shout on the steps of the Senedd to be heard, join thousands (no, not just thousands but hundreds of thousands) in London, and raise our voices in solidarity.
If not, then the Saints will be there at the end, just as they were at the beginning.
Sarn Helen: A Journey through Wales, Past, Present and Future by Tom Bullough is published by Granta. It is available from all good bookshops.
You can read Tom's article On Being a Writer in Wales here and more writing from Lottie Williams by following her links on this map.
---
Support our Nation today
For the price of a cup of coffee a month you can help us create an independent, not-for-profit, national news service for the people of Wales, by the people of Wales.