Culture
Review: Secs ac ati – Y Stori'n Llawn, translated & adapted by Llio Elain Maddocks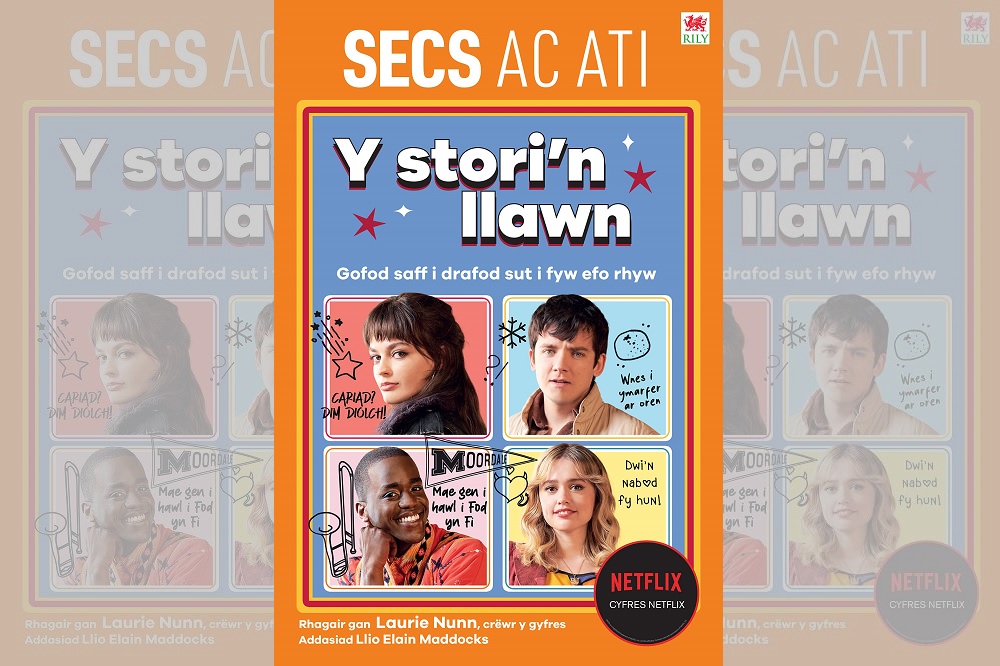 Rebecca Roberts
I'm not entirely sure why I was asked to review 'Secs ac ati', adapted by Llio Elain Maddocks, as twenty years have passed since I learned how to put a condom on a cucumber.
The book is marketed as suitable for ages 14+, so I will not be able to seek the opinions of my own children. (The youngest heard that humans grow from eggs and thought that we hatch 'like dinosaurs'. He's only five.)
Neither have I watched 'Sex Education', the Netflix series on which the book is based. So please bear in mind that I am very much NOT the book's target reader and have not been able to 'road test' it on my family members.
However, I am always telling myself that I don't read enough non-fiction and so I accepted in the hope of learning a few new facts, setting myself the criteria: would I be happy to recommend the book to my teenage nieces and nephews and their parents?
Let's begin with the negative, because although we are cautioned not to, we frequently do judge a book by its cover. The cover of 'Secs ac ati' has something of a high school textbook feel to it, presumably because, like textbooks, it must appeal to a broad spectrum of people.
The book styles itself as 'a guide to life', and I was impressed with the range of subjects covered.
Sexual health, relationships, pleasure, sexuality, consent, contraception, pregnancy, anatomy, mental health and self-worth are all discussed in turn, and I have to say that this book is a step-up in quality from the heteronormative instructional materials I was provided with as a teenager.
(Many of the leaflets and booklets given out to us during high school were promotional items. My understanding of menstruation came largely from a Tampax booklet, which both promoted tampons and left us in permanent dread of Toxic Shock Syndrome.)
Of course, all these materials were only available in English. 'Secs ac ati' is not only unbiased, fact-based and current, it's also in Welsh!

Sexual health
Even as a married mother of two, I found the section on reproductive organs informative and enlightening. Never before have I encountered a diagram of the inner workings of a clitoris and I now know the difference between an STD and an STI.
This book demystifies the physical side of sex, normalises the use of correct physiological terminology and explains matters of sexual health using simple, straightforward language at a level appropriate for most teens.
Some of the longer sections, such as the one on contraceptive options and different types of STIs/STDs, made for dry reading – but I imagine that most readers will approach this book by dipping in and out according to their needs, rather than read it from cover to cover, as I did.
The colour-coded chapters and the cross-referencing make it an easy book to navigate, and I can see it being very useful to readers looking for technical information on the more practical aspects of sex and sexual health.
Consensual
The book places a strong emphasis on safe, consensual sex and although it presents all the options (such as 'the withdrawal method'), it also cites scientific evidence to point out which options are the most and least risky, enabling readers to make a more informed choice.
I also appreciated the fact that the core message which appears frequently is the importance of consent, and that you should never feel pressured to do anything sexual which makes you feel unsafe, unhappy or uncomfortable.

Consent
'Secs ac ati' also deals with the emotional side of relationships and growing up.
I appreciated the book's inclusivity of all genders, sexual orientations, body types, races and disabilities, and also its emphasis on responsible behaviour and the fact that we all have a role to play in making sure that relationships are based on respect, consent and enjoyment.
The tone is that of a slightly older, more worldly-wise friend or cousin – the sort of person who gives amazing advice, but will also tell you if you've overstepped the mark and need to rethink your behaviour.
Readers are encouraged to be true to themselves, but also to think also of how their behaviour affects others. A good chunk of the book is devoted to non-sexual relationships and how to negotiate toxic behaviour and be a good friend or partner.
The emphasis is very much on communicating openly and not being afraid to talk about feelings or ask for help if we're struggling. It also addresses the negative effects of pornography, social media and image editing on our own self-image and expectations.
Destigmatize
The final chapter examines some of the common mental health issues many young people face – from panic attacks to eating disorders – in a factual yet sensitive way which will hopefully help destigmatize them and encourage sufferers to seek support.
Despite tackling such a huge range of difficult and sensitive issues in its latter chapters, the book ends on an uplifting note.
Although I'm not familiar with the characters or plots of the TV series and was initially sceptical about the value of their inclusion in the book, these sections did liven up the text and give a human element to the topics discussed.
I'm sure their inclusion will enrich the book for fans of the show, but as I've proven, being unfamiliar with the 'Sex Education' series does not hinder the reading experience.
Would I recommend 'Secs ac ati' to teenagers and their families? Most certainly I would. I wish this book had been around when I was growing up.
The fact that it has been ably adapted into Welsh by Llio Elain Maddocks is another bonus, as such books are thin on the ground in Cymraeg, and I can see this being a useful tool for bilingual teachers and parents wanting to broach the subjects of sex and relationship with their teenagers, as well as teenagers searching for a comprehensive guide on how to navigate sex and relationships.
Secs ac ati – Y Stori'n Llawn, translated/adapted by Llio Elain Maddocks is published by Rily. It is available from all good bookshops or you can buy a copy here.
---
Support our Nation today
For the price of a cup of coffee a month you can help us create an independent, not-for-profit, national news service for the people of Wales, by the people of Wales.