Culture
Review: Skrimsli by Nicola Davies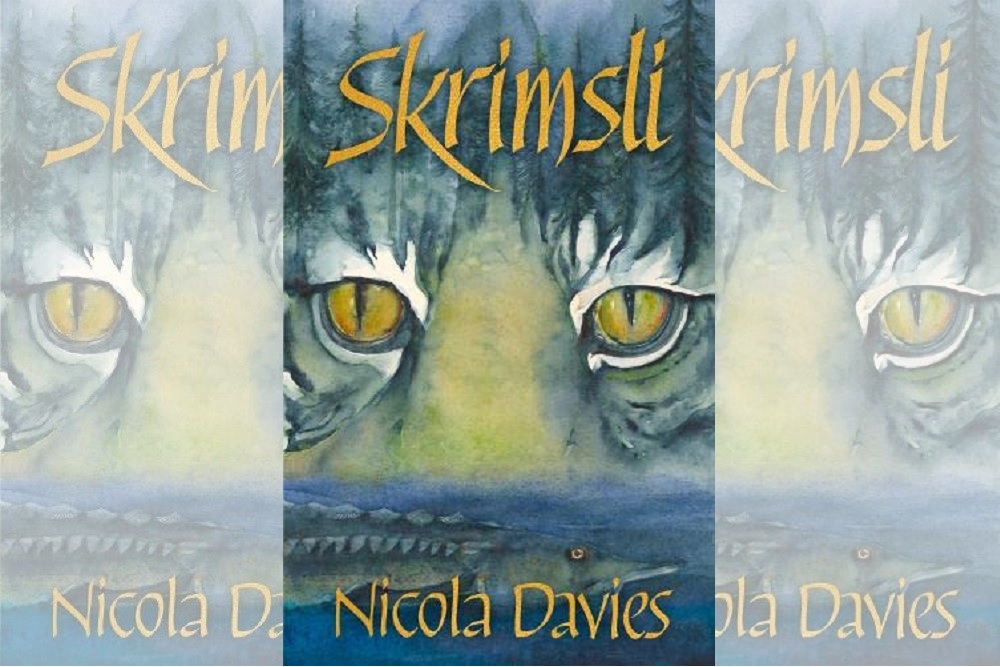 Ela Tomos
Prepare for an enchanting yet thrilling new novel from Nicola Davies; Skrimsli is a fantasy adventure that will have you gripping the pages until the very end.
Join the almighty Skrimsli and his friends as they embark on some outrageous adventures. From escaping a cruel circus owner and his bear to running away from assassin acrobats and even stopping a war, prepare to be utterly enthralled by this exciting story.
Skrimsli is Nicola Davies' second fantasy adventure novel, and builds on her previous story, The Song That Sings Us, tracing the early life of the infamous tiger sea captain and his friends Owl and Kal. As Davies states: 'Skrimsli was not a character I planned. He happened without me having to think about him first.'
We meet Skrimsli and his friends when they are trapped in the shackles of circus leader Kobret Majak and his fierce bear Karu, being forced to perform for the sake of greed. Some humans, known as 'Listeners', are capable of understanding animal thought – a gift of nature exploited by the evil circus staff to enforce fear and torment. Beaten, imprisoned and tortured, Skrimsli and his friends are determined to find freedom and escape back to the lavish ancient forest, where the Tiger and the Owl are sacred guardians.
The escape is only the beginning of their adventure, and we soon meet the desert princess, The Palatine, and her loyal eagle. Then there's a fiery Chihuahua who is formed out of the soul of a wolf, a horse with a heart of gold, and the passionate crew of an abnormal ship. Davies' characters are unique and memorable, making it truly difficult not to form a strong attachment to them and their fates.

Human nature
Nicola Davies had an extensive background as a zoologist before becoming a renowned TV presenter, then writer. Previously studying geese, bats and whales in the wild, her passion for the animal kingdom radiates throughout Skrimsli.
Davies's own background and passion for zoology is evident in her careful and delicate depictions of the animal characters. Flowing through the heart of this novel is an appreciation for the beauty of the animal kingdom, while also presenting a commentary on humanity's capability of brutality.
Another small, feathered being poured out notes, like a bright trickle of water. Then stopped and began again. It was a fierce message full of possession, stating where the boundary of its land lay. There were ten or more other bird voices calling from every part of the tree in which he lay.
Skrimsli's listening plunged through the layers of vegetation around him, into the minds hidden there. The thoughts of birds, mice, squirrels, martens flashed lightly over Skrimsli's mind like sunlight through leaves. Deeper still was the constant commentary of the insect minds, quite different from the high, rasping sounds they made in the air.
As "ordinary objects and ordinary people turned to evil", Davies contrasts the cruelty of the circus with the kindness of Skrimsli, Owl and the rest of their friends. The gang must band together to fight for their freedom, fighting back against the savage humans.
Skrimsli's innocent and naive view of the world he's been brought into allows Davies to display humanity at its purest form, exploring the basis of what makes us who we are:
He learned another category: 'friends'. These shared no physical features, only their behaviour which Owl said was called 'kind'. 'Kind' meant giving food, or help, or comfort. 'Kind' was what held Owl and Taze and Skrimsli together. The cub saw that 'kind' made them stronger than they would be alone.
 World-building
And of course, it isn't a Nicola Davies novel without some fabulous illustrations. Jackie Morris returns to work on this fantastic novel after first collaborating on The Song that Sings Us, for which they were nominated for the Yoto Carnegie Medal for Writing and Illustration.
Her enchanting work is sprinkled across the entirety of the novel, along with a magnificent and detailed map of their world at the beginning of the book. I found myself continuously flicking back the map illustration with a desire to deepen my understanding and enthral myself deeper into this world.
Hope
A journey of bravery, friendship and hope, Skrimsli is storytelling at its finest. Despite all their hardships, each character perseveres and fights for their freedom, which I believe is best represented in this inspiring line: "In uncertainty lies opportunity."
These different creatures from diverse origins recognise the importance of friendship and finding purpose. With a plot that will leave you with frustration and anger, prepare to be simultaneously hypnotised by hope, love and the ultimate power of friendship – which is the core message of this spellbinding novel.
Along the journey, each character finds their own purpose in the world, whether that be guarding the ancient forest or becoming a ferocious sea captain, as "Happiness is as fleeting as the rain. But purpose, Najma, that is what endures. Purpose!".
A truly wonderful and inspiring read, Skrimsli shows Nicola Davies at her best yet. Truly breathtaking.
Skrimsli by Nicola Davies is published by Firefly. It is available from all good bookshops.
---
Support our Nation today
For the price of a cup of coffee a month you can help us create an independent, not-for-profit, national news service for the people of Wales, by the people of Wales.