Culture
Review: Smooth Operator – The life and times of Cyril Lakin, editor, broadcaster and politician by Geoff Andrews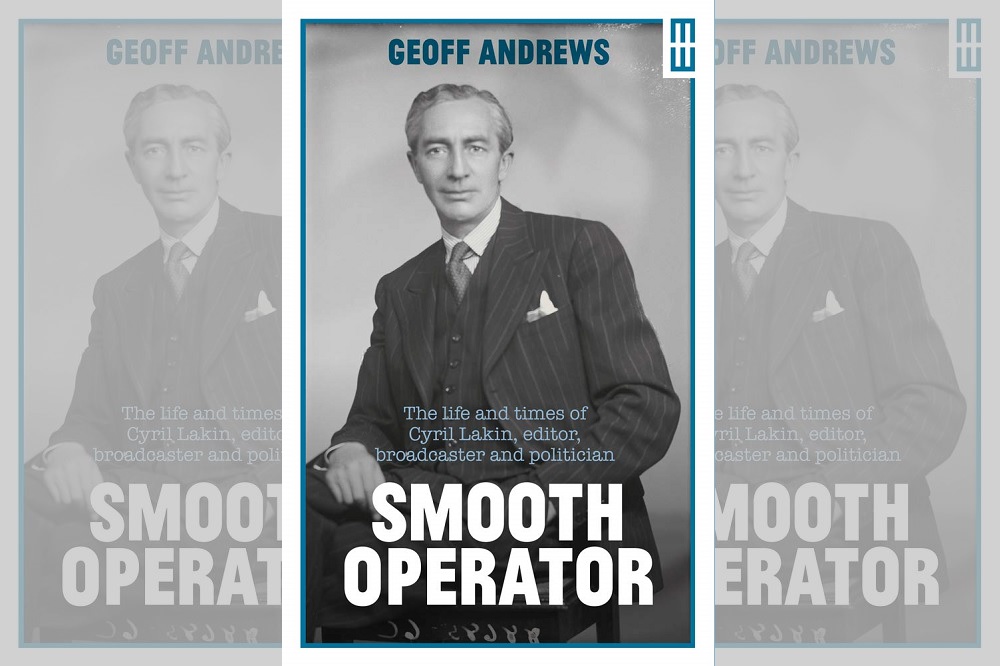 Matthew G. Rees
He was the butcher's son from Barry with film-star looks who met Hitler, became a trusted lieutenant to one of Wales's most influential families, was impresario to some of the biggest literary names of his day and spoke to thousands on the BBC.
Today the name of Cyril Lakin, who also saw war service as a soldier and fought campaigns as a politician, seems all but forgotten.
Smooth Operator, a new book by Geoff Andrews, a distant relative of Lakin, brings the story of Lakin's remarkable rise – from modest beginnings in South Wales to the highest metropolitan citadels of power and culture – to vivid life.
Cyril Lakin was born in Cadoxton, Barry, in 1893, eldest son of a butcher from the English Midlands, Harry Lakin, who'd cannily spotted Barry's potential as a boomtown in the incredible industrial expansion that occurred in South Wales at the end of the nineteenth century.
Harry and his wife Annie set up shop in Barry at a time when the town was overtaking Cardiff as a coal-exporting port. Barry's population exploded. Conditions for some were grim, but there was also a growing sense of local affluence.
In spite of a fine for selling 'blown' meat (plumped-up to improve its look – an old practice, we are told – for which he received a 'nominal' penalty) hard-grafting Harry Lakin became a significant and fairly prosperous local figure, a freemason, and a councillor.
Son Cyril received a scholarship to Barry County School. Without the award, he may not have gone. Although members of what has been termed the 'shopocracy', his family struggled financially at times.
As a student, Lakin excelled under liberal-thinking headmaster Edgar Jones. A place at Oxford followed.

Oxford
Cyril went up to St John's College in 1912, a career in the Church in mind. At Oxford he ran into other bright young men from Wales, including William Watkin Davies (future barrister, academic and author) and Thomas David, a brilliant mathematician, son of a coal-tipper, who – like Lakin – had been the beneficiary of a county school scholarship.
Lakin, a keen sportsman, played association football for the St John's Second XI – once against a Magdalen XI that included the Prince of Wales. The future Edward VIII suffered 'quite a roughing up', we are told. Even so, Cyril Lakin was quietly gathering connections and establishing himself as a figure.
The outbreak of war in 1914 put paid to any ideas he might have had of smooth progress into the Church. Lakin applied quickly for an officer's commission, leaving Oxford not for a pulpit but for the post of Second Lieutenant in the South Wales Borderers.
Lakin's unit saw action on the Western Front and in the Balkans, before he was 'invalided out' with malaria.
To regain his health, Lakin returned home – where the cruel losses of war were being counted: some 127 members of St John's College, and, from Barry, 270 men.
During convalescence, Lakin studied for the Bar. He also followed his father into freemasonry.
Springboard
Rather than returning to Oxford, he obtained – somewhat ironically in view of his father's earlier fine – a position in meat regulation in South Wales. However, after passing his Bar exams, Lakin landed a role as an assistant to the proprietor of the South Wales Evening Post newspaper in Swansea.
This would prove his springboard, projecting Lakin into the circle of the Berry brothers, the sons of a railway clerk from Haverfordwest, who, in a meteoric rise to riches and power, became titled titans of industry and newspaper publishing – quite possibly, Lloyd George apart, the most influential Welshmen of their age.
Seymour Berry, the eldest, became a coal baron, engaging in truly enormous transactions, such as the 1919 purchase of John Lysaght Ltd, the iron and steel manufacturers.
Berry's buy-up was a £5 million deal (in today's money: £330 million) achieved in partnership with his younger brother William, together with Lady Rhondda and D.R. Llewellyn. The purchase was dubbed the biggest deal in South Wales's industrial history.
William and Gomer Berry (the youngest of the three brothers) became Press magnates, acquiring – either on their own or as a duo – the Daily Telegraph, the Financial Times, the Sunday Times and the Daily Graphic, as well as ownership and controlling stakes in papers outside London such as Wales's Western Mail, Cardiff Weekly, Merthyr Express and Pontypridd Observer, the Press and Journal in Dundee, Scotland, and, in Manchester, the Daily Sketch, Daily Despatch, Evening Chronicle, Sporting Chronicle, Sunday Chronicle, Empire News and Athletic News, plus the likes of the periodical Boxing (in which the brothers took an interest) and Gomer Berry's early money-spinner Advertising World – an astonishing portfolio of titles at national, regional and local level.
Revamp
On moving to London, Lakin (a studious and quietly industrious figure, it seems, with a pleasant, easy manner) became a trusted lieutenant to the Berry brothers. His input in a revamp of the Telegraph helped lead to a massive increase in sales, which reached 750,000 by the end of the 1930s.
Appointed literary editor, Lakin – a man of winning ways, according to contemporaries, with the looks of a milder version of Basil Rathbone as Sherlock Holmes – became impresario to a string of literary stars recruited to review books for the paper.
These included the likes of Rebecca West who was scathing of 'book world' figures who in her view had been soft on Stalinism – the cruelties of which would be exposed by another Barry boy, the journalist Gareth Jones, whose crusading zeal cost him his life in Japanese-occupied China in 1935 – murdered by bandits, allegedly on the orders of Stalin's secret police.
Another reviewer recruited to the Telegraph by Lakin was Howard Marshall, who would go on to become a noted cricket commentator for the BBC.
Conflict
With war once more looming in Europe, Lakin became involved in what was surely the most extraordinary episode in a life bristling with events and activity.
Bizarre as the notion now seems, some political and press figures in Britain thought the publication in British and German newspapers of articles setting out the positions of the governments of the two countries on matters of contention in Europe might lead to greater understanding and help prevent conflict.
Lakin and his boss at the Sunday Times, Gomer Berry (by now Lord Kemsley), departed for Germany.
Kemsley has faced accusations of supporting Chamberlain's approach of appeasement and being sympathetic to the grievances of Hitler. Even so, he and Lakin went on to become supporters of Winston Churchill – of whom the Nazi hierarchy were nervous and distrustful when the two Welshmen arrived on German soil in July 1939.
Kemsley had a one-hour private meeting with Hitler. He and Lakin later attended a Wagner concert at the Bayreuth Festpielhaus, at which Hitler and Unity Mitford, the English aristocrat and Hitlerite, were present. During the interval, Lakin was introduced to Hitler.
Perhaps unsurprisingly, the eccentric-sounding peace project came to nought. Lakin returned to England believing that war was only weeks away. He was right.
Radio
War, however, opened a new chapter in the life of the versatile and well-connected Lakin, who was recruited as a broadcaster by the BBC.
He became a speaker to overseas radio audiences on what was still widely referred to as the Empire Service, summarising – in a generally positive way – the British and Allied view of events during the conflict.
Effectively, he had the Empire role held by J.B. Priestey at the Home Service, Lakin perhaps being a less critical voice.
Meanwhile, Tory MP Patrick Munro, died – dramatically – of a coronary during a mock military attack on the House of Commons. The constituency of Llandaff and Barry needed a new member.
Lakin's hat went into the ring as a Churchill-supporting candidate for the National Government. A convention supported by Conservative and Labour leaders within the National Government, and which prevailed (more or less) through the war, meant the major parties did not field official candidates against each other.
However, in Barry, Lakin faced a fight. His challenge came from Ronald 'Kim' Mackay, an Australian-born lawyer, who was Labour's candidate for Frome, in Somerset. He put up against Lakin as an independent socialist.
Victor
Mackay had the backing of Left-leaning intellectuals and figures such as Sir Richard Acland, a former Liberal MP and landowner who was divesting his estates to the National Trust.
Lakin, rather curiously, had the support of the Communist Party, thanks to the complexity of politics at the time, arising from Russia's position as an ally in the war.
On 12 June 1942, local boy Lakin was declared the victor, by 5,655 votes.
Parliamentary duties were now taken up by Lakin – a Tory of the One-Nation strand – whose interventions included a defence of Barry's right to run its schools – institutions which had stood him in good stead – rather than having local powers removed to a Glamorgan district committee.
Worth noting is Lakin's continuing, if reduced, work for the BBC, including a radio series titled Westminster and Beyond – one episode being 'Politics and the Ordinary Man'.
While this may seem very Harry Enfield ('Mr Cholmondley-Warner') and highly inappropriate (certainly from today's perspective) for its omission of 'the Ordinary Woman', the programme's contributors included taxi drivers, a publican, a shoemaker and an insurance agent.
How many BBC radio speech-based programmes feature such 'ordinary' people today? And how many are hosted by the son of a butcher (Lakin)?
Lakin's time in Parliament was short-lived. He lost his seat to Labour's Lynn Ungoed-Thomas by more than 6,000 votes in the 1945 poll that swept the Attlee Government to power.
Lakin's later years – in declining health (he never really recovered from his malaria of the First World War) – were spent partly in the somewhat surprising company of war-time entertainer Bud Flanagan, drinking Guinness in the bar of a Brighton hotel.
Lakin was killed in an horrific motoring accident in France in 1948. The steering snapped in a car driven by his friend Bill Stanley, who was himself killed.
Lakin, who was 55, died in the lap of his daughter Bridget, a passenger. The accident was witnessed by Lakin's wife Vera, travelling in a car behind.
Geoff Andrews is a senior lecturer in politics at the Open University who has previously written about the Cambridge spy ring.
With his latest book, he has rescued a figure of merit from obscurity and has provided a scholarly and readable account of Cyril Lakin's life, achieving this in a text rich with portraits of personalities of the day, many of whose names, like Lakin's, have faded from public consciousness (perhaps deservedly in the cases of some!).
Elegy
Possibly not intentionally, his volume is also something of an elegy for the age of hot metal and print (on paper) media – an age the like of which – from our own vantage of 'clickbait', trite point-scoring (and worse) on 'social media', publication – minus any stress-testing by qualified, experienced journalists – of rumours, distortions and lies, together with a seeming general decline in literacy and a coarsening of public debate – we shall probably never see again.
Impressive, too, is the thread of 'social mobility' (as it tends to be called) that seems to run through this book. Not only in the case of Lakin, but in the astonishing climb of the Berry brothers.
Given the grip that class and privilege, so commentators tell us, still have on British society, it is at times difficult not to conclude that some reforms to the education system, particularly the abolition of grammar schools, have played directly into the hands of private schooling.
Also, that children from working-class backgrounds continue to have their life chances damaged by the new form of 'selection': that of postcodes and house prices dictated by – among other things – proximity to a 'good' State school.
Jobs
One question this reviewer feels is thrown up by Andrews' book concerns the future form of the Welsh economy. Seymour Berry's enormous business deal of 1919 involved the takeover of a company that employed 15,000 workers, with interests overseas and in shipping.
Where – post-coal and (Port Talbot apart) post-steel, and in a likely long-term era of mechanised agriculture and therefore relatively low employment on farms – are jobs in Wales going to come from?
One wonders about a Welsh economy that seems so heavily dependent on an education 'industry' in which tens of thousands of mainly young people (not only from Wales but other parts of the UK and indeed the world) are engaged in university degrees – sometimes in subjects whose value is under question.
Meanwhile, the gap between relatively well-paid and pensioned white-collar workers engaged in administrative roles at councils and quangos, for example, and the likes of those in the retail and services sectors of the economy (not infrequently low-paid and without pensions), seems substantial and unsustainable.
Geoff Andrews' book also draws our attention to what can be had from politicians of dignity and calibre.
The author does so at a time when the Welsh Senedd – which has not been without controversy on occasion over the conduct of some members (expenses claims included) – is to have its size increased by an additional 36 members.
Meanwhile, all-too-familiar palls of sleaze and poor conduct have hung over Westminster.
Hard work
Although Cyril Lakin may have 'got on' to some degree through 'networking', there is never any suggestion in this biography that he was a man who acted less than decently.
On the contrary, there is a strong sense that here was a man who deserved to be an MP: someone who had studied hard, worked hard, and had done, seen and knew things (including war), someone whose interest was the betterment of the lives of his fellow citizens, someone who – never mind his London club and a period spent living in the Hyde Park Hotel – didn't forget his roots.
Here also, it should be said, was a man who could give a speech – cogent, articulate and, when need be, impassioned (while afterwards being polite and courteous to opponents). For that reminder alone, Geoff Andrews deserves our thanks.
Contemporary relevance also comes from the book's account of the doomed attempt to avert war in Europe.
In the various would-be justifications advanced by the Kremlin for Russia's invasion of Ukraine, there is more than an echo of Hitler's assertions of an intolerable "encirclement" of Germany.
Time will judge the wisdom (or otherwise) of those who would seek compromise with Vladimir Putin.
Many of the appeasers of the 1930s seem – at the very least – to have been incredibly naïve. In Andrews' portrait, Cyril Lakin – who had, of course, seen war close-up, was left depressed by the failure of the mission to Bayreuth and became a backer of Churchill – emerges as an honourable man.
Smooth Operator is the latest volume in the Modern Wales series by Parthian Books. It is a worthy addition.
You can buy a copy of Smooth Operator from all good bookshops or you can buy a copy here.
---
Support our Nation today
For the price of a cup of coffee a month you can help us create an independent, not-for-profit, national news service for the people of Wales, by the people of Wales.