Culture
Review: Tapper Watson and the Quest for the Nemo Machine by Claire Fayers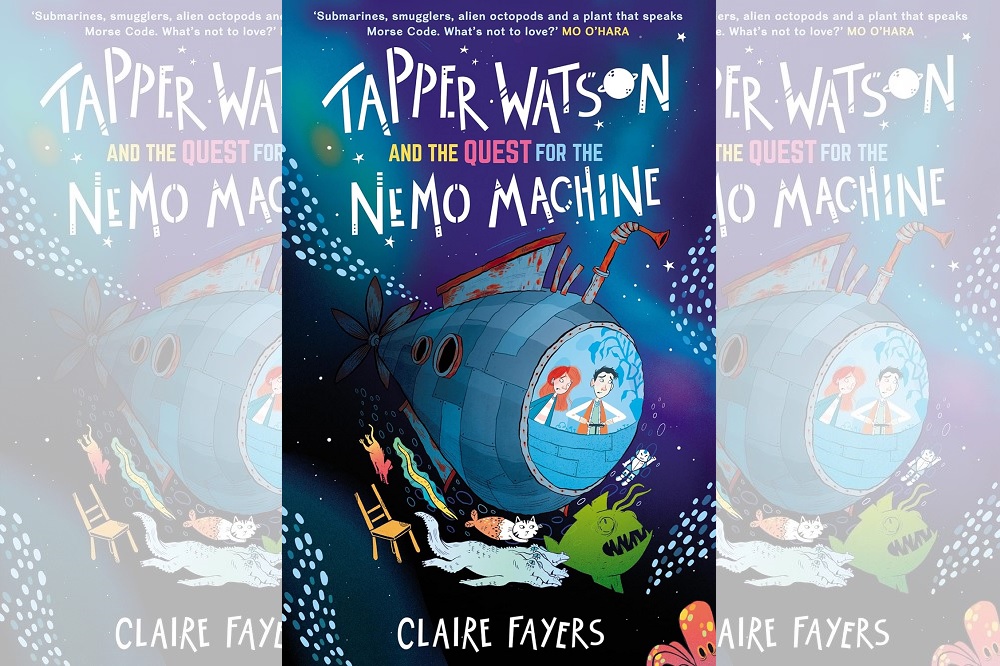 Hammad Rind encounters a talking plant called Morse and a pair of trigger happy lobster monsters in an action packed journey through the multiverse.
"The river between worlds swarmed with a million colours and strange shapes. A three-headed crocodile appeared and snapped its jaws before dispersing back into darkness. Next, a tree appeared, sprouting silver branches with rainbows instead of leaves."
With these evocative opening lines, Claire Fayers' latest novel Tapper Watson and the Quest for the Nemo Machineplunges readers into a mesmerizing realm of imagination. Set against the backdrop of the river Lethe, borrowed from Greek mythology and known for inducing forgetfulness, the narrative takes a deep dive into a world of lost memories.
The river, uniquely composed of Echolings, 'created from the echoes of memories' emanates an aura both mesmerising and haunting. One simple warning resounds throughout the narrative: "Drink just one drop" of this memory-laden river and "you'd forget everything."
It's a river that has different names on different worlds – the Lethe, the Lath, the Lithey, offering abundant  'proof that the river existed long before any worlds. It twisted through the universes, joining all one thousand and one worlds together, and its waters contained the memories of everyone who had ever lived.'
Dynamic duo
As the story unfolds and as the incredible river rolls on, we're introduced to the dynamic duo of Daedalus 'Tapper' Watson and Fern Shakespeare. Tapper hails from the world of Eris.
While his real name nods to the mythological inventor, his nickname hints to a 'rare gift' that he never wished for, a gift that is a constant reminder that "Tapper wasn't quite like the rest" of his sixty-seven cousins.
On the other hand, Fern, a tenacious girl from Swansea, the capital of Earth, embodies fierce determination.

Intertwined fates
Their somewhat awkwardly intertwined fates lead them on a quest to locate the elusive Nemo Machine. Invented and subsequently lost by Fern's father, Brian, within the depths of the Lethe, this device promises to restore the memories lost to the river's mystical waters and reverse its amnesic effects.
Brian's own memory is increasingly fading due to an accidental encounter with an Echoling, amplifying the urgency of their quest.
Tapper, with his "ability to hear the Great River", serves as a guide, while Fern's unwavering determination to recover her father's memories propels their mission forward.
Fascinating characters
In this expedition, Tapper and Fern are accompanied by a wide array of fascinating characters. Among them are a stern pirate dragon, a pair of 'trigger-happy' lobster-mobsters equipped with 'Medusa guns' and overly courteous yet highly determined octopods, who are not particularly fond of Earth and its excessive gravity.
Action-driven
The balance struck between profound themes and action-driven sequences ensures that Tapper Watson and the Quest for the Nemo Machine remains accessible to its Middle Grade audience as well as enjoyable to readers of all ages.
It is a journey through the multiverse that readers won't soon forget.
Tapper Watson and the Quest for the Nemo Machine by Claire Fayers is published by Firefly Press. It is available from all good bookshops.
---
Support our Nation today
For the price of a cup of coffee a month you can help us create an independent, not-for-profit, national news service for the people of Wales, by the people of Wales.