Culture
Review: The Granite Kingdom by Tim Hannigan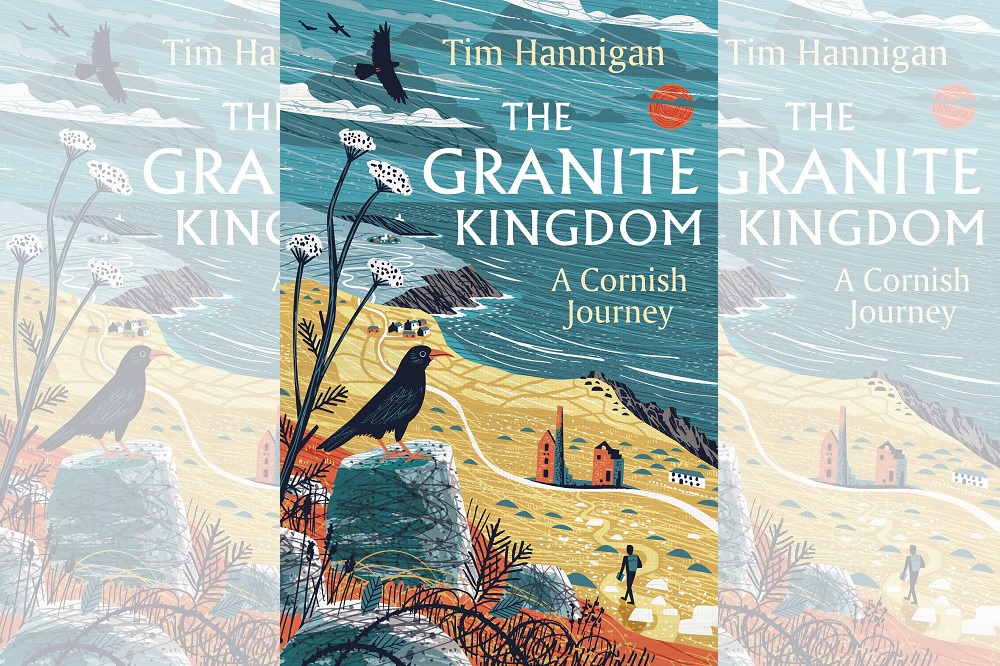 Jon Gower
Cornwall and Wales have multifarious connections, some of them truly ancient, as this hugely informative and splendidly-written travel book often reminds us. Indeed the 'wall' in the Anglo-Saxon name 'Cornwall' shares an etymology with the Old English Wealas, and thus with the name Wales. It's a word often translated as 'foreigners' or 'strangers' but as Hannigan points out 'it carried a particular implication: it meant, specifically, not English.'
That difference is there in the Cornish geography too, in the 'long and tapering peninsula, almost entirely bounded by water, more discrete than any county elsewhere in mainland Britain, and straining westwards as if to break the final slender bond.'
Here the choughs that have returned to nest in sea-cliffs and rocky fissures flew in from Wales, just as certainly as Welsh saints such as St Petroc and Samson made their blessed way to this crinkly finger of land as they too sallied forth.
Skylarks
The best way to get to know that geography most intimately well is by foot, so Hannigan gets out his knapsack, dons his boots and puts in the hard yards, crossing empty moorland with only the skylarks for company but visiting Cornish towns too.
Some of the inland settlements are severely blighted by poverty while others on the coast, pretty as postcards, have seen tourism and the desire for second-homes push the price of housing stratospherically out of reach of any locals.
Trekking this sometimes hard and testing finger of land, Hannigan sees the highest Cornish peak, Brown Willy, whose name derives from the Cornish, Bronn Wennili, which in turn means hill of swallows, a fact readily discernible to a Welsh speaker, for whom a swallow is gwennol.
He has a pint in one of Cornwall's most famous pubs, in Jamaica Inn or gets deep into the woods or traverses open country and all the time takes his readers with him, giving us a vivid sense of a place as it is now even as he unfurls the past, pointing out that 'Cornish-hedges are the oldest human-made structures still serving their original purpose in our own time.'

Smuggling
Along the 300-mile, often feet-punishing route, Tim Hannigan considers many subjects that are commonly associated with the Granite Kingdom, as he had dubbed the place. He tells us about smuggling on a titanic scale. An estimated 469,000 gallons of brandy and 350,000 pounds of tea were smuggled into Cornwall each year in the 1770s. He tells about piracy on a grand scale, too and recounts the history of tin mining and of political rebellion and charts the demise of fishing.
Hannigan's father was himself a fisherman of seas which could be abundant to an astonishing degree. A single seine net, set in the right place, could haul in a million living fish, while a record 'shot' – a cast from a boat – in St Ives in 1868, netted no fewer than 17 million. It's a figure almost as hard to believe as the existence of Cornish giants and fairies, known as piskeys, often mischievous beings and known for stealing human babies and leaving changelings in their stead.
But even though Hannigan keeps an open mind about such things, his is a questioning, restless mind, perhaps this being a pre-requisite of being a travel writer in the first place. This allows him to examine the uniqueness of the place:
A piece of erstwhile British territory that was thoroughly anglicized – just not quite thoroughly enough, so that a thousand years later the ghost of a language other than English still haunts the landscape and the dialect, and we still live in hamlets arranged nothing like an English village and surrounded by fields that were never farmed on English systems.
Common language
Indeed the name for such a hamlet or settlement is trev, so very similar to the Welsh tref, for town and evidence of the divergence of a common Brythonic language into what woudl eventually become Cornish and Welsh. Hannigan comes from one such hamlet, namely Trevowhan, which probably derives from its being the trev of a man called Owen.
Such connections between Wales and Cornwall are also present in names such as the Mên Scryfa, a standing stone, known as the 'Writing Stone' (consider the Welsh word ysgrifen) which has readable inscriptions running down one side.
Such connections are there, too, albeit more fancifully, in the Great Western Railway's 1928 guidebook to the so-called Cornish Riviera, which suggested that the Cornishman 'is sufficient unto himself, affable and hospitable, like the Welsh extremely devout, and like all Celts extremely superstitious.'
Hannigan is, throughout the many walking expeditions and historical explorations that make up this elegant survey of the Granite Kingdom, is always both an affable companion and deeply knowledgeable guide. He will tell you where to source the best Cornish pasties while reminding you that the real deal should never contain any carrot. He'll tell you all you need to know about the Newlyn School of painters, while deftly debunking the notion that they ever came here because of the quality of the light.
And propose the idea that Cornwall was the very first English colonial possession, before England even existed. And so Cornishness, according to Hannigan is 'the original hybrid identity, the very first people to quietly subvert the colonising power by becoming English while remaining somehow more than English – and without ever leaving their own land.'
For Hannigan, this travelogue is also an account of a special kind of homecoming, as he comes to better understand the place he comes from, and so his place within in, by walking along its rivers and traversing its terrain, listening to the summer evening churr of nightjars as he settles in for the night, his tent safely tucked away from the sometimes flailing winds.
These winds that have helped sculpt the physical character of this place of tin and china clay, of post-industrial heartlands and wild, wild country with a granite heart.
The Granite Kingdom: A Cornish Journey by Tim Hannigan is published by Head of Zeus. It is available from all good bookshops.
---
Support our Nation today
For the price of a cup of coffee a month you can help us create an independent, not-for-profit, national news service for the people of Wales, by the people of Wales.