Culture
Review: The Library Suicides by Fflur Dafydd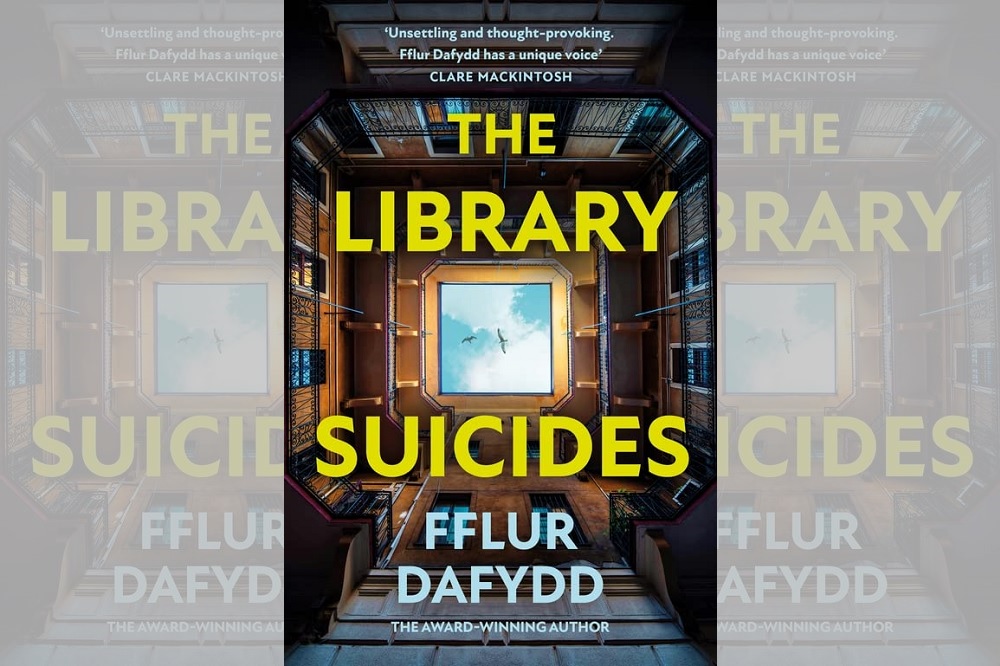 Jon Gower
The National Library might not be the first place that spring to mind as the setting for a thriller and yet this sassy, smart and suitably bookish novel is set in just such a place.
Not that it's explicitly the one in Aberystwyth, but its seaside setting and red carpeted entrances give the game away, even if it's a deadly game where guns, drugs and paralyzing gases are all in play.
It's a story about two identical twins setting out to exact revenge on book critic Eben, who is believed by many to have driven their mother to kill herself with the consistently splenetic reviews of her work.
He seems to have had a literary vendetta against Elena Oodig, wielding his poison pen against her whenever he got the chance.
Assassins
So when the palindromic sisters Ana and Nan grant him permission to produce a biography of their late mother, it has more than a little of the glisten of spider web about it, as the would be assassins invite him into their sticky trap.
And that trap is a convoluted affair. It involves one of the sisters seducing Dan, the dope-dependant porter who is only just managing to hold onto a job he has been given as part of his probation deal.
He, in turn, disables the security system, by swapping recorded footage with the live feed into the security cameras allowing the twins to instigate their plan. Thus time itself is changed.
Hostages
But this plan on the part of the twins ends up involves taking hostages. Then, just to ramp up the tension – and this in a novel which excels in the tension-ramping department – one of the hostages is pregnant while Nan is struggling with blurts of short term memory loss.
And so it builds, one obstacle leading to the next, even as the claustophobia of the entire situation tenses like a noose.

Skullduggery
But the book is about so much more than this tightrope walk of a storyline. It has sidelines into issues of sperm clinics and paternity and the skullduggery of literary criticism, not to mention the custodial role of a library in protecting a nation's culture:
What makes us unique, what makes us different, is all here. It's what makes this building so much more of a threat. If they want us to conform, better get rid of the place that makes us bold enough to think for ourselves.
The book itself has had a very long gestation, reaching back at least as far as 2009 and also been through a couple of significant manifestations, first as Y Llyfrgell which won the Daniel Owen Memorial Prize at the National Eisteddfod in that year and subsequently as a film, Y Llyfrgell/The Library Suicides in which Catrin Stewart played both twins.
In this latest incantation the fiction reflects events such as the actual fire at the National Library of Wales in 2013 when a section of the roof was seen to be ablaze on TV news.
Covid makes many an appearance, mainly in the fear that paper carries germs, which has frightening consequences for a place so crammed with the stuff, not to mention the new threat of digitization which would make the manuscripts, documents and books entirely redundant.
Hacking
There's a good deal about cyber-crime and computer hacking, not least because porter Dan is a dab hand who can 'read codes and pixels like notes of music' who knows all about programming, data compression and line coding, knowing instinctively 'how to override systems, create fake entities, find himself inside the brains of the computer, becoming one with the machine.'
But the computer is far from the most dangerous machine in the place: that accolade goes to the eyeless, operator-less machine that is busily turning the library's contents – and thus a nation's 'thoughts and impressions and dreams' – into paper for its neighbour country to scribble on.
And then there are the literary layerings and complexities of the novel, such as the fact that it seems as if one of Elena Oodig's novels, The Sperm Suicides is fully coming to life, with its plot line that involved the complete erasure of books by men.
There are musings about the future of books, perhaps including a time when people would be provided with summaries, to save them the time involved in reading them.
There are some plot twists it would be churlish, or nearly criminal to reveal, so let's just say there is a very satisfying ending and plenty of pacy action to get us there.
Fflur Dafydd has long earned her spurs as a TV playwright but this novel marks a welcome return to another form of storytelling where she is equally confident, changing pace and racing through the gears when needs be.
It's also a new title to now add to the library's actual collection in the real world, where hopefully it will have a quieter life without the gunshots and rotor-whirling of police helicopters that disturb the peace of its memorable, fictional counterpart.
The Library Suicides by Fflur Dafydd is published by Hodder & Stoughton and is available from all good bookshops.
---
Support our Nation today
For the price of a cup of coffee a month you can help us create an independent, not-for-profit, national news service for the people of Wales, by the people of Wales.