Culture
Review: The Miners Strike Back by Kevin Dicks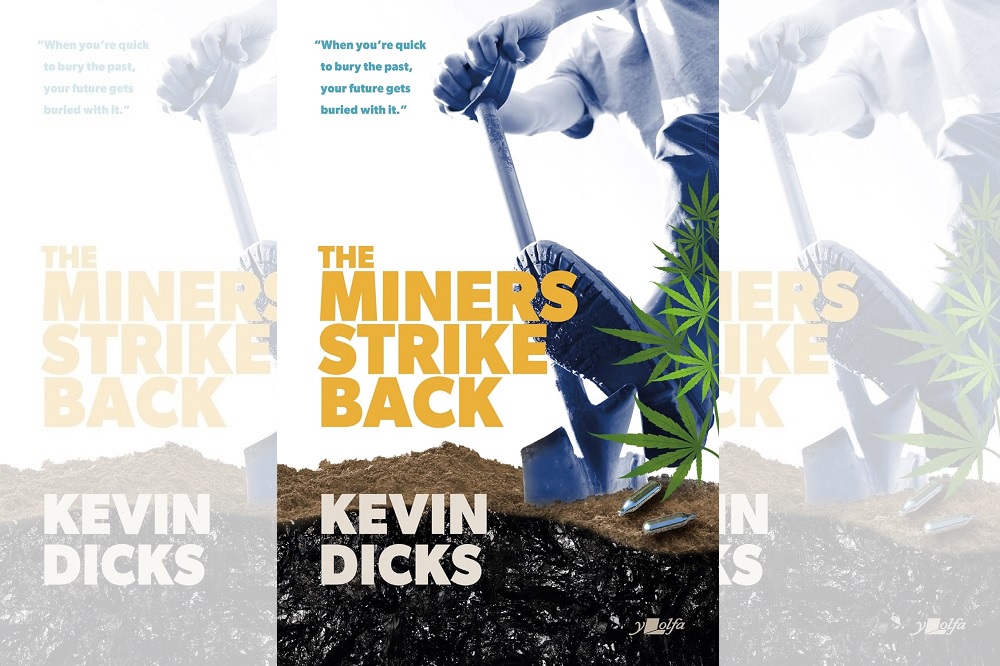 Niall Griffiths
In the acknowledgements to this book, we find this announcement/disclaimer/justification:
'Before I'm accused of climate denial for my depiction of Action Xtinction [Dicks's avatar for Xtinction Rebellion], I should point out that my house is fully insulated and covered in solar panels….I have a Greenpeace vest older than most climate protestors….Greenpeace were once my heroes for putting their lives on the line [but] I have no such admiration for this current generation of climate protestors who played no part in the demise of coal mining in this country, yet gloat and delight at kicking and industry that's already down and out….I see this as injustice and make no apology for sending a few bullets back'.
Protestors
Well, that's just super. I find the claim difficult to parse – if the climate protestors HAD helped in the demise of the coal industry, would they then be permitted to celebrate? And if the industry is totally dead, then what's the problem with protesting against it anyway? – but, leaving that aside, let's have a look at some of those retaliatory bullets: the physical violence visited upon the protestors is cartoonishly exaggerated, consisting of water cannon, pitbull savaging, and impalement, amongst other things, and the verbal attacks consist of 'more fucking foreigners', 'treeshaggers', and 'we're not in the EU any more so why you foreigners keep thinking you can tell us what to do is beyond me. We're too soft in this country. Where are all those coppers who were about during the Miner's Strike to give you lot a good kicking?'.
These are examples of 'miner's humour' that Dicks apparently wants to catch before it 'disappears for good'.

Humour
The leader of Action Xtinction, Trudi Anderson, is Norwegian (but Greta Thunberg is Swedish, so surely they're not related).
One of her minions is French, so he talks like this: 'Zee meessing 'E' eez seem-bol-eek of zee ree-al-eety of zee dees-er-peer-ance of zee planet Earth'.
And such particular humour isn't confined to strange little Europeans, oh no: the scene in the Clanger Insurance Building is a hilarious depiction of non-heteronormative sexuality as utter licentious debauchery, men becoming women and vice-versa, predatory circling of Johnny's young grandson Jayden, and the appearance of Marilyn, the new manager, a nearly seven foot tall 'transgender woman with a shock of orangey-purple hair [wearing a] tight purple skirt over her black leggings'.
As Johnny says, 'whatever happened to the quaint British pastime of queer bashing?'.
There's that humour again. My sides. So funny to confirm the suspicions of phlegm-flecked Express readers, isn't it?
'A man is a man and a woman is a woman; that's just common sense', as Rishi Sunak recently said. Who can argue with that?
Epochal demise
Well, alright. I'm not averse to taking a few pops at real-world people in my fiction either, and I also disagree with some of XR's actions. But there's a bigger picture, no?
The epochal demise of mankind (starting with the poor, of course, who are the first to burn and drown) and, further, the obliteration of most life on earth.
Plus there are the new laws against peaceful protest which effectively impose custodial sentences for the heinous crime of making a noise.
The corruption and cronyism. The stupendous, staggering greed. The criminalisation of any public expression of anger and despair.
Well, 'luxury beliefs' and all that (to quote Suella Braverman). XR are a wee bit irritating so let's aim our bullets at them. Don't look up.
Coal seams
There's not a bad germ of an idea in this book: ex-miner discovers a seam of coal in his allotment.
Excavates and sells it with the support of the locals and draws ire and attention from climate protestors, meddling Council bureaucrats, allotment societies etc.
Explorations of the destruction of an industry through a ruthless acquisitive ideology and the awful fallout of such. What people do to fill the gaps left behind, and how the autochthonous population seek to assimilate other ethnicities.
The breaking of the unions and the attempted decimation of the working class as a meaningful political force.
All of this valuable stuff lies somewhere in this novel, behind the outsized cast which indulges in too many conversations that go on for far too long and ultimately lead nowhere.
The protagonist Johnny, at the end, commits an act of self-immolatry martyrdom for reasons that aren't clear. I went for a walk.
The Miners Strike Back by Kevin Dicks is published by Y Lolfa and is available from all good bookshops.
---
Support our Nation today
For the price of a cup of coffee a month you can help us create an independent, not-for-profit, national news service for the people of Wales, by the people of Wales.