Culture
Review: The Peacemakers by Waldo Williams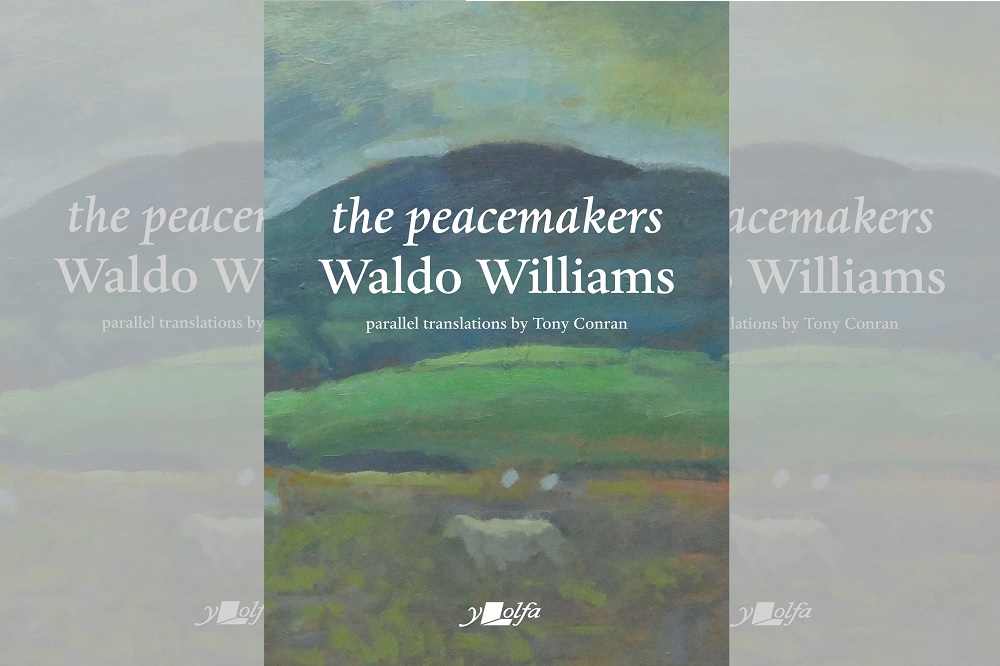 Jon Gower
One has to resist the temptation to describe the poems contained in this collection as the poet's greatest hits.
Waldo Williams' work is far removed from the jangle and rush of the world: it is quiet, probing and deeply contemplative, with only the occasional 'fistful of larks thrown here and yonder' to turn up the volume a tad.
It is little wonder that this pacifist of deep conviction became a Quaker, finding someone to talk to in the silence of things.
There's a line which opens his poem about the Pembrokeshire village of his boyhood, Llandysilio-yn-Nyfed which starts with the phrase 'I am often amazed.'
The four words might neatly encapsulate much of Waldo's output, which wasn't much in terms of quantity but when it came to quality he had a 'wisdom to offer' and offered it in poems which are among the most beloved in the language, such as "Cofio" which many have learned by heart or know most deeply well.
Quiet music
Waldo Williams is one of the great Welsh poets of the twentieth century and this book is offered as 'the perfect entry point to his work for non-Welsh speakers.'
Some of his most important poems are here presented alongside translations by a fellow poet, Tony Conran, who reads the originals with great sensitivity and care before fashioning versions which have their own quiet music.
So you have two poets for the price of one, one acting as a bridge into another language and into another poetic mind.
Waldo Williams was born in Haverfordwest in 1904 and although Wales is a crucial component and subject of his art some of the best of his work is influenced by English poetry and spells of living in England, especially a six-year stay after the sudden death of his wife Linda.
Yet his love of Wales runs deep, an almost unfathomable subject to which he returns and returns. In "Cymru'n Un" ("Wales One") he states, categorically:
In me is Wales one. How, I do not know.
All the fore-courts of my being I've searched, and found
The stuff of neighbourhood. From Hiraethog, so
Steeped in literature. Equally sound
I was nourished by the old shepherds, till they
Crossed over Mynydd Du into the Valleys,
And by the tillers of Dyfed earth. Above my way,
Awakeners everywhere, the dear Preselis.
That's why, perhaps, I'm one of those who've sought
To make Wales true to the undivided name,
And smash the anti-nation Juggernaut
That mocks out people's talents; to give again
To the bruised the ease and order of their race.
May hope be master. Time serve us a space.
Awakener
Waldo Williams was, to use one of the words you can ponder in the poem above, an "awakener" just as surely as the land awakened something profound in him.
His beloved high land in the Preselau was somewhere he not only loved but fought for, horrified as he was at plans by the War Office to take permanent possession of huge tracts of Pembrokeshire.
Over a hundred farms were to be requisitioned, while half of his beloved Mynachlog-ddu would be in the proposed range.
This wasn't the only cause he espoused. He went to prison rather than allow money from the taxes on his job be used to fund the war in Korea.
Tony Conran makes the interesting point in his excellent introduction that the case can be made for calling Waldo a great war-poet, even though he was anti-war with every breath and fibre of his being for 'Against war he put peace, against the warrior he put the saint, against the sovereignty of the nation he put community and the kinship of all mankind.'

Masterpieces
The Peacemakers contains some of Waldo's real masterpieces such as "Y Tŵr a'r Graig" ("The Tower and the Rock") and the sublime "Mewn Dau Gae" ("In Two Fields") with its soaring lapwings, deep sense of history and piercing Christian conviction.
But there are also poems of great variety herein, patiently holding up their hands to get some attention, with simple ones praising harmonicas and ancient woods and others of real complexity such as the elegy to his friend Llwyd.
One of the recurring images in the work is that of a house, a place to be defended but one which also offers windows on the world, which give access to 'the order of harvest, the doves, the angels returning.'
As Waldo says in the poem "Yr Heniaith" – "The Old Language:"
Let's raise here the old, indestructible stones.
The idea comes to mind of Waldo's words themselves being somehow indestructible stones, with which you can build something new, lasting, permanent.
Companion
As indestructible as the trio of mountains in the Preselau – Foel Drigarn, Carn Gyfrwy, Tal Mynydd – which were as a wall around his boyhood and, as an adult, at his back 'in all independence of mind.'
Or as the original memorably and indelibly has it: 'Wrth fy nghefn ym mhob annibyniaeth barn.'
A marvellous collection this, to be savoured and often returned to. It's little wonder that so many readers refer to Waldo simply by his first name.
Here is the poet as a friend. A friend to the nation. And a genuine boon companion.
The Peacemakers is published by Y Lolfa and is available from all good bookshops.
---
Support our Nation today
For the price of a cup of coffee a month you can help us create an independent, not-for-profit, national news service for the people of Wales, by the people of Wales.