Culture
Review: The Same Country by Carole Burns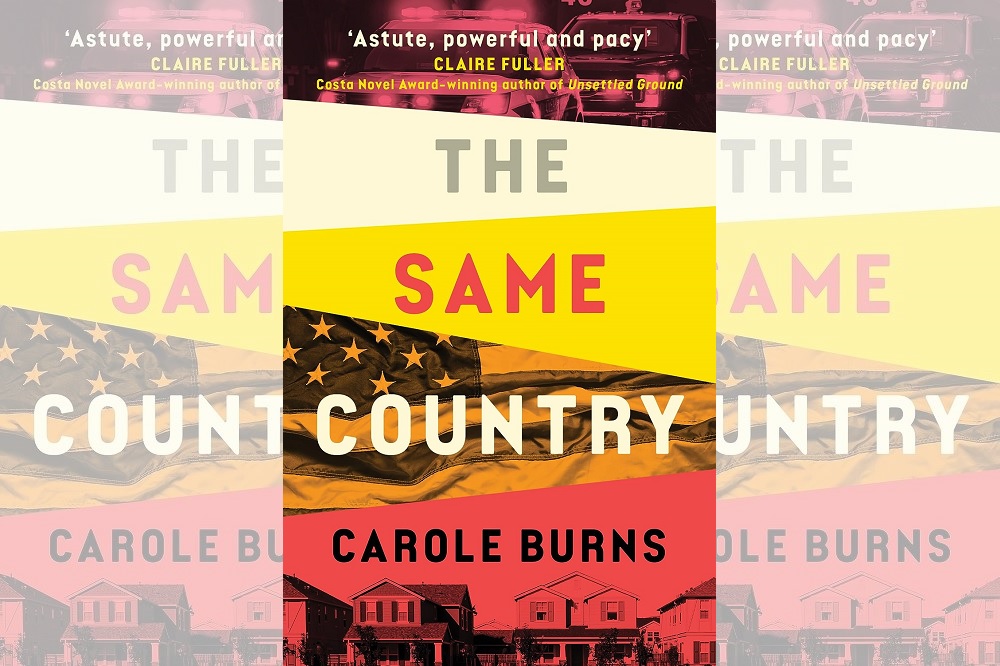 Niall Griffiths
Whenever I'm in America I am struck, time over, by the recognition of the centrality of guns to the culture.
The constitutional tenet of the right to bear arms was written when guns were single-shot muskets that took two minutes to load; the same tenet in the age of armour-piercing machine guns, weapons used by human beings to slaughter scores of other human beings in seconds, leads to Las Vegas and other cities bubbling with blood, schoolchildren blown to pieces, honest mistakes or minor misdemeanours punished by death (ally this to institutional racism and usher in another level of horror).
The architects of primary schools take lessons from the trenches of the First World War and design curving corridors to deny a shooter a direct line of fire.
Shop at JC Penney and marvel at the gun racks next to the dairy aisle, complete with child-friendly rifles, small for small hands, blue for little Chad, pink for little Bobbi Jo; it's never too early to give kids their first murder weapon.
It's insane. It's truly insane. It is, as Carole Burns states in her fine and thoughtful novel, 'a particularly American dread'.
Divisions
It's a novel of entrenched divisions: rich/poor, black/white, the marginalised and the accepted. Cassandra (yes, the name raises an eyebrow, but Burns is too astute a writer not to draw attention to it in the text) has returned to her home town of Bridgeton in Connecticut from Raleigh, where she left behind a partner, Maria.
Cassandra is a journalist. Obama is in power, in the time register of 2013 (the other is 1992, between which the narrative flips).
Many of Cassie's old friends, it seems, have recently returned to Bridgeton. Why? Well, 'none of us would have come back if we were all OK'. To use Joseph Heller's capitalisation, Something Happened.
Gun culture
The story unfolds well. There's some slightly awkward expository stuff, but generally, the little knots of interconnection and pops of revelation are handled competently.
In 2013, the fatal police shooting of Will Haley, a young black man, is disinterring the past for Cassie and her group of old friends (and also allowing Burns to address the nascent #BLM movement, and foreshadow the slayings of George Floyd and Trayvon Martin, to choose only two names from a despairingly long list).
One element of that shared past – THE element of that shared past – is the shooting of one of their friends, Joe, who was black and in a relationship with a white girl, Aggie.
Who shot Joe, and why, is the novel's propellant: was it Hector, an early bigot who is now a policeman, or his pal (and Aggie's brother) Ed, who is now a loser junkie and who (in one of the book's thankfully rare clumsy phrases) 'smells of failure'?
And as for the 'why', well, to quote one of the earliest artistic reactions to the madness of American gun culture, 'there can be no reasons/Cos there are no reasons/What reasons do you need to be shown?'.

Cassandra's investigations into the circumstances of Joe's death are intriguing and compelling.
A flashback to Hector caressing a handful of bullets recurs and haunts the book: 'Hector spoke of the bullets…as lovingly as his father spoke of Homer, as if they contained the world's secrets…how much like love it was'.
Hector's father, Mr Whitcombe, once a classics professor (it is he who draws attention to Cassandra's name), is, in 2013, deep into the debilitations of dementia, as is his wife with denial.
The characters are drawn well in both timelines; the erudition of Mr Whitcombe in 1992 is as convincing as his confusion of 2013, as are the middle-aged concerns of the principal characters and the anxious rhythms of their teenage avatars. It's skilled writing.
The American dream
The recollected and evidently formative lecture of Mr Simon – 'how does a society create a fair society? – could, in less skilled hands, feel obtrusive, shoehorned in, but here I'm reminded of Mr Simon's namesake, David Simon, especially his The Corner with its examinations of the rigged sociopolitical game, the status allotted from birth, the marked cards that are dealt.
The American dream is a fiction and, as Jess says, 'if you're angry at a fiction, it vanishes into air and you're left being angry at yourself'. Which exposes another of the novel's themes (which has become more urgent since 2016): that of the destruction of the episteme, the fundamentals of objective truth, the populist's overriding need to control reality.
As one of the novel's more dismaying insights has it: 'you white people don't get it. Obama being president – just a blip. The right wing is digging in'.
The belief in what Snyder calls the Politics of Eternity – that the world progresses inevitably towards tolerance – is revealed as yet another form of empty faith (and how the religious right is inextricable from the US gun insanity); 'faith required emptiness…a line-less blank calm' in the face of the zealot.
And how mediated those faces are; Will Haley's repeatedly on screens, when he was young and smiling and alive.
Heartbreak
The Same Country (as with the name Cassandra, the echoes of James Baldwin are self-reflexively alluded to) is a novel of webs, complexities, concatenations; it shows how the event of one murder remains alive in the memories of those ensnared in it (it's a neat paradoxical inversion, that, and one of many throughout).
The ending is somewhat inconclusive, but maybe that's how it should be, given the illustrated ineffability of human life.
It's a slow and considered and cogitative story with a frenzied heartbreak at its core. Much like most newspaper front pages in 2023.
Carole Burns' novel The Same Country is published by Legend Press. It is available from all good bookshops.
---
Support our Nation today
For the price of a cup of coffee a month you can help us create an independent, not-for-profit, national news service for the people of Wales, by the people of Wales.