Culture
Review: The Sound of Being Human by Jude Rogers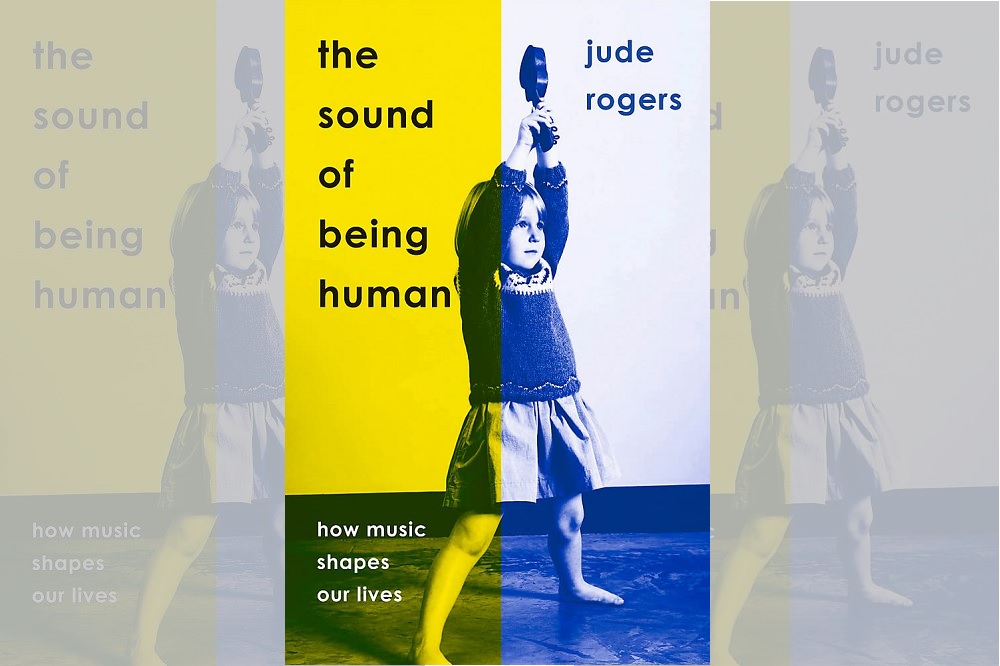 Jon Gower
Reading this book is about as positive and life-affirming experience as you're going to get short of putting the complete Motown singles on shuffle, snuggling up with someone you love and getting lost in the joyous flow.
The subtitle of Jude Rogers' volume – which deftly melds music and memoir, accounts of songs and the science of listening – is 'How Music Shapes Our Lives.'
So Rogers shapes her explorations and recollections of why and how songs affect us around key moments in her own life.
In effect she assembles a thirteen track album, where pop songs take the place of photographs and we trace the journey of an awkward fan reading Smash Hits for all the gloss and goss to the top flight music critic she becomes.
The first image is the saddest of all, showing us a fourteen year girl saying goodbye to her dad, who is about to go to hospital.
Reassuring her, he asks her to promise that she'll let him know who's number one in the charts that week. She never gets to tell him the chart topper is Paul McCartney's "Pipes of Peace" as her father died quietly on the operating table.
Being a music critic is far from being the worst job in the world as confirmed when Rogers recalls just a few of her odder assignments:
Recently, Robert Plant had made me a cup of tea in Nashville, with his shirt half-undone, checking first whether I wanted my teabags to be PG Tips or Yorkshire, while singing to me a portion of the hymn 'Myfanwy.' Björk had offered me half of her Pret a Manger fish salad in Manhattan, curling her socked feet like a cat underneath her on the sofa.
Imaginative
The writing throughout this lively, lovely book is a blend of the incisive and imaginative as we follow Rogers' career trajectory as a writer and critic from the offices of the Llanelli Star to the Manchester Guardian and a slew of online sites.
There's a glorious description of a male voice choir, standing shoulder-to-shoulder on stage in a welfare hall, abiout to sing Elijah or the Messiah…'you knew what was about to happen. Their chests woul expand in one collective breath, songs acting on them all as defibrillators.'
The baritone sax on Martha Reeves' "Heat Wave" meanwhile, 'comes into almost every note from the semitone below it, like a little kid sneakily opening a door when he's meant to be asleep, saying hey, I know I'm being cheeky but I'm here.'
And of course in choosing the tracks which resonate the most for her – a range of performers that includes Adam and the Ants, Kraftwerk, Prefab Sprout, The Flying Pickets, Toots and the Maytall and Talk Talk – she rather encourages the reader to remember their own such musical and emotional moments.
I recall my very first long and lingering kiss in a room above the Blue Orchid café on Stepney Street in Llanelli. The song playing for the slow dance was Kate Bush's "The Man With the Child in His Eyes.'
Almost out of breath my then girlfriend revealed a secret. 'I've got mumps. I hope you don't mind.'

Mortality
The Sound of Being Human is a life-account suffused with emotion. Rogers stands in the audience for the Kate Bush's first concert in thirty-five years not able to remember feeling more isolated because she had left her very young son behind.
She writes about the slew of deaths among pop singers, and the intimations of mortality the passing of Bowie, Prince and Mark Hollis of Talk Talk bring in their wake and how she panics about not becoming 'the woman who churns out paragraphs on dead pop stars.'
Lysergic
The language of the book really breaks loose, starts to riff like free jazz when Rogers writes about nature, following her swapping busy, urban life for the bird-filled quiet of the Welsh borderlands.
Here her writing is pretty much psychedelic and lysergic, reminding one of the night when Arthur Brown, he of "The Crazy World of Arthur Brown" sang the song "Fire" in Newport, accidentally setting himself on fire and ending up in the Royal Gwent: 'Every colour of the landscape had its dial turned up to eleven, the skies of a raspberry Panda Pop blue, the grass a Spectrum 48K acid green, the rapeseed fields startling neon-yellow, like Hacienda stripes on the hillside.'
In among all these bright blurts of colour, such as the 'green neon lines' of a 1997 Kraftwerk gig and the 'kaleidoscopic effect' R.E.M had on her life, there's a lot of science, too.
Rogers talks to neuroscientists, sociologists and psychologists about the whys and wherefores of why songs work and why some impact so deeply, a bit like the sonic anthropology of Talking Heads' frontman David Byrne's 'How Music Works.'
Entrancing
It all adds up to a joyous delight of a book about an entrancing subject, about pop songs which can be equally background hum or deeply soul-searching, profoundly personal or an infectiously communal experience in concerts or as we dance.
They can bring us to tears or make the heart soar or ache or break it completely in two. As Rogers herself puts it, 'Music is no luxury to any of us. It is a necessity that helps all of restore ourselves to ourselves.'
The Sound of Being Human was recently shortlisted in the Non-Fiction category for the Wales Book of the Year awards for 2023. It is published by White Rabbit and is available from all good bookshops.
---
Support our Nation today
For the price of a cup of coffee a month you can help us create an independent, not-for-profit, national news service for the people of Wales, by the people of Wales.