Culture
Review: The Turning Tide: A Biography of the Irish Sea by Jon Gower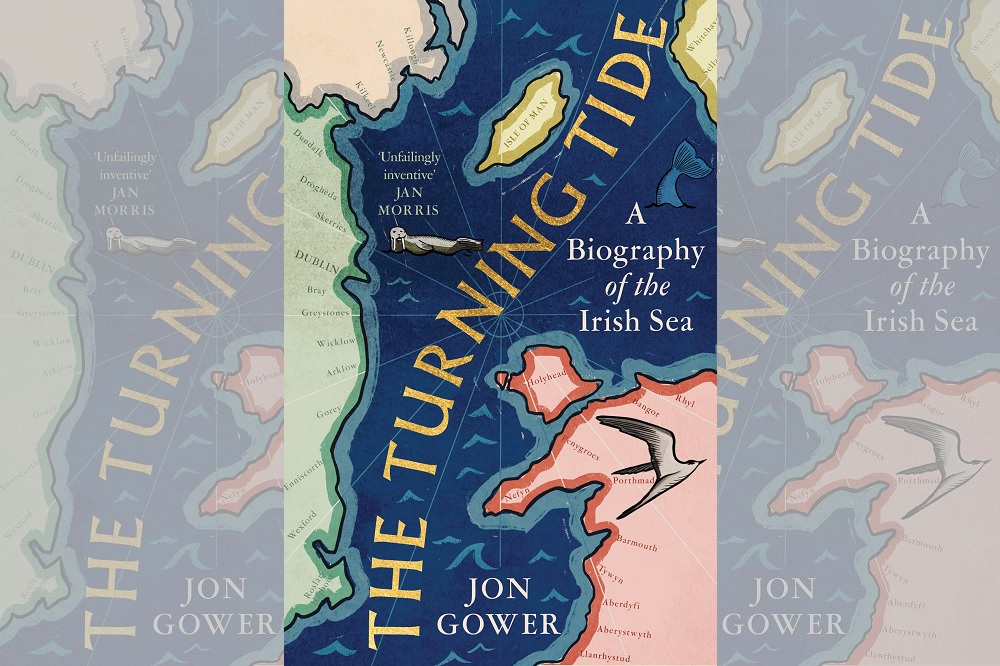 Nathan Munday
'A Half-Aquatic World'
David Jones (1895-1974), that great Welsh Modernist, was irresistibly drawn to an island. Caldey, or Ynys Bŷr, became a kind of sacramental laboratory for him – a holy, nest-like piece of land perched above the waves.
For Jones, its old red sandstone was repeatedly 'wounded' by ecological disasters; its shores lapped 'with ferric waters'; its strata brimmed with 'ichthyic signs' and sleeping lords; and even its sink holes trumpeted a dirige with every incoming tide.
In one of his essays, Jones explains that:
The folk tradition of the insular Celts seems to present to the mind a half-aquatic world – it is one of its most fascinating characteristics – it introduces a feeling of transparency and interpenetration of one element with another, of transposition and metamorphosis.
There's no wonder that the painter-poet situated himself in that most fertile of environments! Jon Gower's latest book, The Turning Tide: A Biography of the Irish Sea, takes us to that 'half-aquatic world' and introduces us to its coasts which are engaged in a fascinating tête-à-tête spanning centuries.
'Myth is after all only very old gossip…'
The Turning Tide was always going to be my kind of book. Its prose belongs to a master storyteller who delights in the maritime and takes notice of the old gossip bobbing about like bottled messages:
As you hold a book open the two sides are not dissimilar to a ship's hold, carrying a cargo of information, maybe a little ballast but certainly a weight of stories. The spine of the book is perhaps the keel, gently cradled in your palms, as if in dry dock.
Raised in Pwll, Gower takes us to his hinterland with the excitement of a rockpool explorer. When I say hinterland, I'm not necessarily referring to the Carmarthenshire coastline but Jones' amphibious, Celtic world which surfaces in this book in so many guises. Famous stories like the Invasion of 1797 or the mythical cave-party in Gwales are combined with Gower's own experiences.
For example, he describes walking 'through the green wracks of seaweed' as a 'delicious', 'open-air New Age therapy foot spa'; he sits at the feet of that bird-watching vicar, R. S. Thomas; he stays in the lighthouse on Skokholm in the most densely packed colony of shearwaters on earth; and he zealously pursues other birds on his bike like Edward Thomas.
We follow him up those ferry ramps which he cycles up with the ease of a coast-hopping anchorite. His knowledge and love for those with wings is evident throughout; there's a lot of birds flying through these pages. From Arthur's red-billed chough, whose sight brings joy to any Celt, to the gear úisc which had a strange afterlife:
So a petrel's corpse, duly threaded through with a tarred wick, became a macabre candle, the light coming out almost as a last breath from its clogged windpipe. It's interesting that one of the folk traditions of Wales is the cannwyll corff, the corpse candle, being a spectral candle that appears in the window of a house in which someone has recently died. Like a greased fledgling, lit in remembrance.
Gower's prose is as bright as those golowillions, sticky herring scales which decorated the Cornish garb of old. Or are those little scales signs of the seafarers' metamorphoses?

A Seal-Length Away
Both Ireland and Wales are undoubtedly lands – to use the charged words of that Stasi lookalike – 'brittle with relics'. Not only sacred spots like St Govan's or the ghosts of Dublin's docks, but all these histories are precious items revealing something more than a mere Convivencia existing between the shamrock and the daffodil.
Take figures like Modomnoc (Dominic), an Irish saint and 'talented beekeeper to boot' who 'travelled west' while 'the bees duly swarmed after him as if [his] head was lathed in flower nectar'. He represents that warmth, an early example of that friendship that would ensue between hundreds of Dewis and Dominics that boarded liners or set out in exposed coracles from the beaches.
Furthermore, as is graphically suggested in Holly Ovenden's cover art, the distance between these two coasts is merely a seal-length away. That's an important detail. Gower reminds us of the glassy expanse which once connected the two countries; he enables us to see giants wading through their shallower depths; he points us at a thousand saints straddling to their shores; and he asks us to survey the birds, so many birds, that fly between the vistas.
At the same time, chapters like 'Faces as Green as the Sea' and 'The Fishguard Whale' are funny and entertaining. I think we all insert our own profiles into that meme-ish carving in St David's Cathedral:
Carved from solid oak, the scene depicts one man being violently sick over the side while the expression of his mates seem to suggest their being all at sea in knowing how to help with his discomfort: one is patting him on his back to help while another's hands outreach heavenwards, as if pleading with God for help and safe passage. Some divine Dramamine.
Yes, we've all been there!
'He holds me with his Glittering Eye' 
Another seafaring storyteller, Horatio Clare, sees this book as 'an enthralling trove of history and a joyful work of travel and reportage' – both past and present are suggested in his praise. The Turning Tide is indeed a trove which could be located on the Nature Writing, Travel Writing, or Biography sections. Treasures include the story of Dafydd Phillips, 'a sparkle-eyed Llŷn Fisherman', who warns the reader that,
'It's like the Dead Sea here sometimes. That's what we call it […]' his eyes dimming slightly as he adamantly made his point about the fishery's slow, steady but certain diminishment.
Gower doesn't shrink from the bad news of no fish, wrecks, storms, torpedoes, and famines. Living today can sometimes feel like we, too, are lighthouse keepers 'stranded on a rock […] in the middle of a churning sea'. Nevertheless, this book calls on us to cherish that body of water responsibly, listen to its coastal communities carefully, and always give the sea the respect it deserves.
The author is not only a storytelling birdwatcher, but he also conserves and curates our precious sea. Harper North have produced a stunning object and I hope many more like it will appear on our horizon like those 'full stop' birds returning with the turn of the tide.
The Turning Tide -A Biography of the Irish Sea is published by Harper North and is available from all good bookshops.
---
Support our Nation today
For the price of a cup of coffee a month you can help us create an independent, not-for-profit, national news service for the people of Wales, by the people of Wales.