Culture
Review: This is My Truth – Aneurin Bevan in Tribune, edited by Nye Davies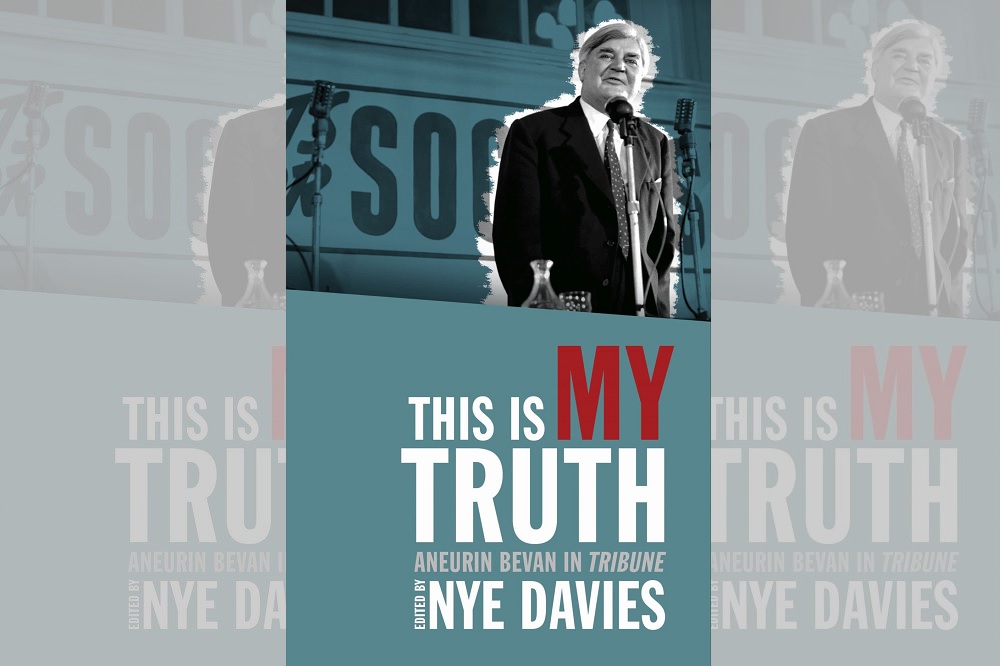 Jon Gower
There's a possibly apocryphal story about a wireless message broadcast during the Second World War in which a typically plummy BBC voice announced to the people of a Free Europe 'Good evening, this is the British Broadcorping Castration.'
It's the sort of classic bloop or blunder recently replicated by the Corporation in their hapless public affairs' reaction to what history may well record as The Lineker Affair. This centred around a tweet in which the Match of the Day presenter succinctly lambasted the UK Government's attitude to asylum seekers as "An immeasurably cruel policy directed at the most vulnerable people in language that is not dissimilar to that used by Germany in the 30s."
In its aftermath, for aftermath it was, it turned the floodlights of scrutiny on the independence and integrity of the Castration and in particular its cosy relationship with the Government of the Day.
Presciently, Aneurin Bevan was writing about just this sort of thing about eighty years ago. Writing about the relationship between what he saw as a propagandist B.B.C and the then Minister of Information, Duff Cooper, he suggested that it is 'not good enough merely to prevent the B.B.C from making a fool of itself from time to time, for whenever it does so it creates bad feeling in the country. People say: 'there you are, that's the sort of rulers we have got. If they are not watched like a cat watching a mouse, they behave like Nazis.'
Part of the pleasure of reading this selection of Nye Bevan's contributions to the socialist magazine Tribune is making links, connections and comparisons between then and now, seeing how things have changed and, perhaps more tellingly in some instances, how things haven't changed all that much.
He chronicles disputes within the Labour Party and charts conflicts of ideas and personalities within its inner structures. He writes a lot about the trade unions, the wider labour movement and examines the relationship between the unions and the party. At a time when Keir Starmer is still grappling with that self-same relationship, instructing his MPs not to join picket lines for instance, it can make Bevan's writing of 80 years ago seems a bit like required reading.
There are so many moments when it seems as if Bevan is using a handkerchief to clean the curve of his crystal ball. In 1957 Bevan was noting how 'in European political circles the argument about the Common Market is hotting up. If Conservatives get their way we shall soon be talking about nothing else.' In the post-Brexit world, or should that be post-post Brexit world it seems more than a tad prophetic.

Loquacious speeches
We are used to associating Aneurin Bevan with fiery, loquacious speeches – often a Godsend for slogan gatherers and deliverers of soundbites – but the language used in his journalism is much more measured, cleaner and markedly analytical.
Of course, there are flashes of rhetoric and verbal dash – 'One swallow does not make a summer, nor one manmade satellite a firmament' or 'A primitive tribal reaction to the difficulties of industry and finance is as much use as a tomahawk against an atom bomb' but in the main the Tribune articles err on the side of clarity rather than effect.
Here he is contemplating the Tory mind, which he saw as one obsessed by the imperial tradition, suggesting that 'a world without the British Empire is not one they care to face:'
People nurtured in classical history and minds stored with the legends of old and dead empires are conditioned to the thought of decay, even as they bitterly resent it when it occurs. The rise and fall of empires, that is how they see the pageant of history.
For these the form of history is also its content. They do not see the continuity of the life of ordinary men and women, for they have never been concerned with these.  Those ordinary men and women are mere phantom, shadowy figures moving in the background as the imperial procession moved onwards – Egypt, Carthage, Rome, Ottoman, France, Spain, Britain.
In This is My Truth, Bevan uses such forensic language to probe and test all manner of subjects, from capitalist society through class conflict to the centrality of Government, along the way pausing to express his anger at what Nye Davies describes as 'the pernicious effects of the poverty and the exploitation he fought against throughout his life.'
Auto-didact
What is perhaps most striking is the fact that this detailed, considered and constantly well-argued journalism came from the pen of a man who left school when he was just thirteen years old, when he went to work underground at the Ty-Trist colliery.
Aneurin Bevan was therefore a classic autodidact, one of so many self-taught men who came out of the south Wales coalfield to survey a larger world and often attempt to change it. In this he was helped by the likes of his Welsh-speaking and culturally engaged father David, union leader Noah Ablett and Walter Conway, the long-standing secretary of the Tredegar Medical Aid Society, which was an important precursor to and model for the National Health Service.
The writings collected here, gathered from almost a quarter of a century's Tribune contributions, serve as persuasive reminders of why Bevan is, in the words of First Minister Mark Drakeford, 'one of the political lodestars of the Labour movement, his actions in office often cited as the outstanding example of how socialist principles can be turned into practical action.'
This is My Truth: Aneurin Bevan in Tribune, edited by Nye Davies, is published by the University of Wales Press. You can buy a copy here or from all good bookshops.
---
Support our Nation today
For the price of a cup of coffee a month you can help us create an independent, not-for-profit, national news service for the people of Wales, by the people of Wales.