Culture
Short story: The Waiter by Rhiannon Lewis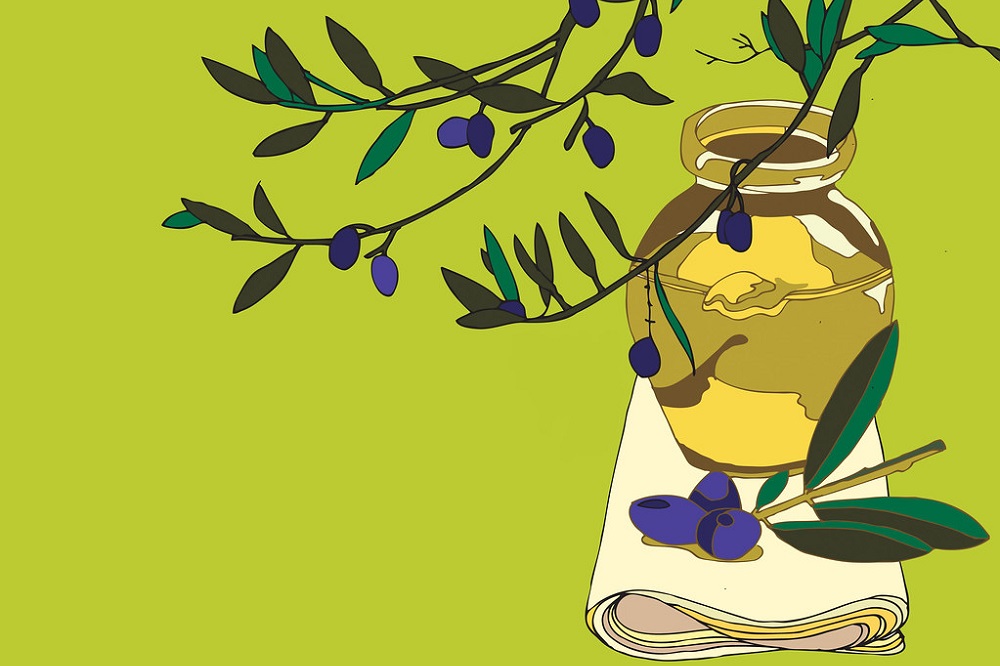 Rhiannon Lewis
In all the years we lived in that part of Fitzrovia, when Fitzrovia was still just a grubby backwater, there existed on the corner of Denbigh Street a Greek restaurant that we used to visit. We would go there at the end of a long or stressful day to pick up a takeaway. If we were being organised, we would order over the phone in advance. Mostly, we would turn up on spec and wait on uncomfortable benches while the chefs cooked our skewered chicken from fresh.
Chefs would come and go but, in all the years we frequented the place, there was only ever one head waiter. He supervised the takeaway counter whilst managing the serving of seated guests. He was a tall, rather heavily built man, not fat but neither was he genetically designed to flit elegantly between cramped dining tables.
When he emerged from the kitchens with rows of plates balanced up each arm, there was a sense of impending disaster as if it was only a matter of time before his bulk, in such a confined environment, would lead to something being toppled or spilled.
Physically, he was not suited to his role, and you might be thinking to yourself that his welcoming personality or his charismatic repartee might have compensated for this unsuitability. He was, however, the least engaging waiter you'd ever meet.
He fascinated us, nonetheless, because over the years, we composed a catalogue of elaborate backstories for him. There were predictable fantasies involving Fitzrovia mafia, of which, incidentally, we knew nothing. We imagined him between jobs, waiting for a nod from his boss. Another time, we decided that he must have been a professional boxer, one win short of a dazzling career. His dour personality was the result of this damaging professional disappointment.
The petite waitress, who was of a similar age, occasionally stepped in to these scenarios. For a while, we had them down as husband and wife. But apart from exchanging sparse remarks about a side salad or the need for more glasses, we concluded that the body language didn't support our theory. Either that, or they'd divorced years earlier and like members of a too successful band were now forced to carry on singing together even though they hated each other's guts.

The years went by. The area changed. Depending on your perspective, it either began losing its character or emerged, butterfly-like from the grime. Old stonework was jet washed and windows replaced, ridiculously priced flats grew up from patches of billboarded wasteland.
Pavements were landscaped and drums of elegant Amelanchier trees were installed on barren street corners. Corner cafes that had churned out bacon sandwiches with brown sauce and had been the haunt of off-duty taxi drivers began to sell expensive coffees from single estates. Tiled and listed shop fronts revealed themselves for the first time in years and were polished up.
Our waiter (because over the years he had actually become our waiter) remained the same: efficient despite his ungainliness, serious, with very little to say for himself or for anyone else.
One evening, we returned to London, tired and emotionally wrung out by a long trip and a bereavement; I forget which trip and which bereavement, there have been so many by now. In any case, we made the decision to walk over to the Greek restaurant. Midweek, the place would be quiet and we relished the thought of being somewhere where no one would want to chat or ask us how we felt. We anticipated a straightforward meal, with starter and possibly dessert (did they even do dessert we asked ourselves), but definitely more rough wine than usual.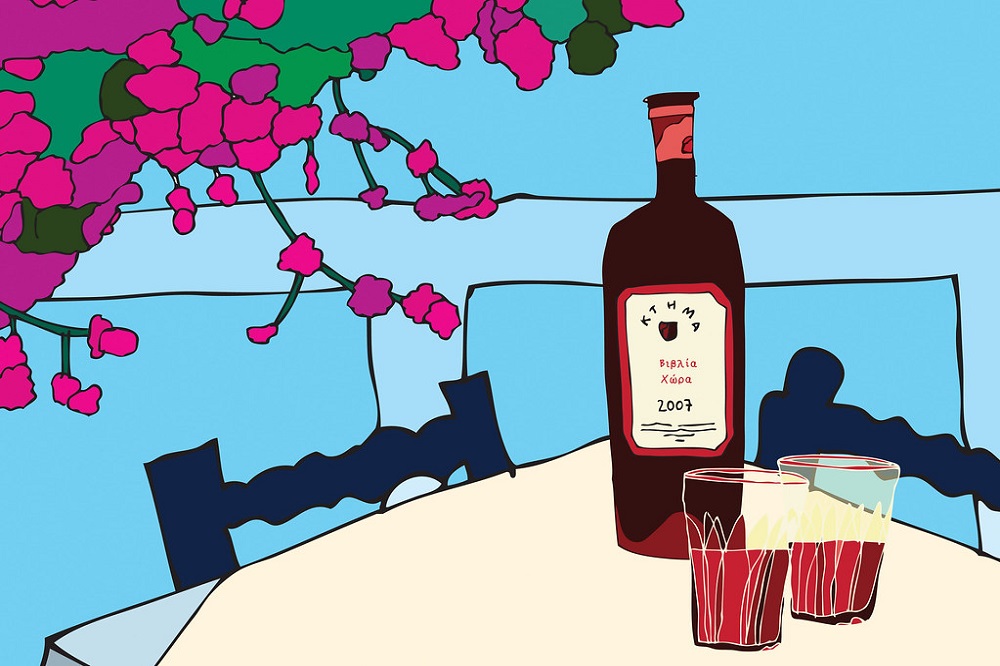 It didn't start well. We asked to be seated away from the door. It was a nasty evening and a perishingly cold wind was rattling all the signage and awnings along the street outside. Every time a customer came in to collect a meal, all the paper napkins took off like a flock of seagulls.
'Away from the door?' we repeated, shivering, and he looked us up and down. We were smart, for once, and our heavy coats might have given off the faint whiff of funerary mothballs.
He grunted in his usual non-committal way and bade us follow him around the corner and down a set of rickety stairs. When we reached the basement, there opened out before us a part of the restaurant we never knew existed. The room was entirely empty.
'There,' he said, and gestured towards a tiny table right next to a dark and glowering Christmas tree which, unlit, was like a sinister yuletide version of himself. He disappeared behind it for a moment. The tree quaked and the baubles trembled. Perhaps this was the moment we had anticipated for years, the moment of complete collapse, when tables and chairs and dishes would go flying in an Armageddon of debris. Then the fairy lights came on and our corner of the dismal basement was transformed. He even lit a candle and placed it in a shiny lantern.
'So, what will we be having this evening? Keftedes, moussaka, and a starter of calamari?'
It's true, we were creatures of habit, but we nearly fell off our chairs.
Yes, we replied, nervous as the tree baubles.
'And a bottle of the house red?'
No, we replied, reluctant to contradict him as he had spoken more words in one sentence than he'd used in all the years we had known him. No, we wanted a bottle of the Sigalas Santorini. We'd had a hard day, we added, apologetic.
The corner of his mouth curled upward very slightly, in what can only be described as a sneer.
'Huh,' he added and disappeared off to the kitchens.
The calamari arrived, the wine was opened and tasted, all in silence with only an occasional incoherent grunt from our waiter. Tucked away out of sight, embraced by the benevolent glow of the Christmas tree, we reflected on the unreal events of the previous days. Our lives had been usurped by shiny dark cars, black coats, carefully worded eulogies and uncomfortable shoes. The candle glowed steadily and we thanked our lucky stars that we were away from the draughty front door.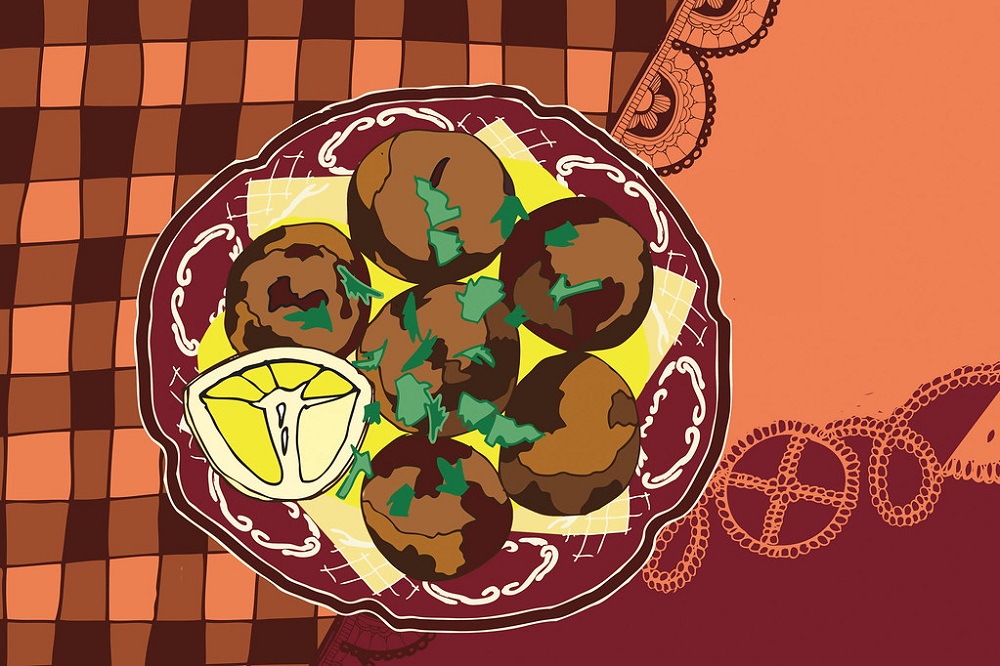 The first plates were cleared. The main meal arrived, all in characteristic silence. We congratulated ourselves on choosing the right restaurant for the occasion, a place where idle niceties were unnecessary and where we could be left in peace with our thoughts.
'Bill?' he asked, surprising us with his stealthy approach.
'Do you have any desserts?'
The baubles quivered. We cowered. He raised an eyebrow and produced a menu. Tiramisu seemed like a surprising offering for a Greek restaurant, but we weren't about to argue.
'Two of those, please.'
We were pushing the boat out, reluctant to get back to shore as it were. We knew very well that our flat would be full of bitter reminders of how the world had once been. When you're young, you think of death as a kind of extraction, much like having a tooth removed. You imagine the hole in your life, but assume that everything around it will stay intact. No one ever warns you that it isn't about the hole at all but about everything else. The whole world changes. Dessert was a way of avoiding the archaeology, the ancient evidence of a hasty departure, a shoe left here, an essential phone charger left there; things that seemed to have happened a thousand years before.
The tiramisu turned up. We remarked how indulgent we were being, eating our own desserts rather than sharing. We ate slowly and ponderously, delving through the coffee layers, searching for evidence of liqueur.
We finished eating and wondered whether we should push the boat out even further and order some coffees. For how long would they tolerate us? It was warm and draught-free and we'd got attached to the tree. Our flat had been unheated for weeks.
Suddenly, sparkling lights appeared at the door. Our waiter was approaching with a pair of shot glasses which seemed to have disco balls flashing on their bases. He placed them down on the table.
'You're not from round here?'
An actual question, unrelated to food!
'No. But we've been here a while. Adopted.' We blurted over each other in shock.
'You know the BT tower?' he said.
We nodded.
'It's the anniversary today.'
'Of?'
'The explosion. Nineteen seventy-one.'
The disco lights inside the shot glasses took on the appearance of flashing police cars.
'I was a kid then. My dad owned this place and at four in the morning we heard an enormous explosion. Windows broken, debris everywhere.'
We glanced at each other and wondered where this was going. Despite his revelation, all our imagined scenarios came flooding back: mafia gang member, undercover gangster, decommissioned Russian spy, leader of a terrorist cell. Surely, he would have seemed more enthusiastic all these years if he'd been the owner rather than an employee? Away from the rest of the staff, was he just making it all up for entertainment? Later that evening, he might be catching the train back to his wife and six children, chuckling at the two dupes?
He went on to describe the panic, the police cordons and the increased security.
'They closed off the viewing platforms and it stopped being a tourist attraction. Business went downhill after that.'
We whistled. It was a long time for any business to be going downhill.
He gazed off into the middle distance as if he was x-raying the walls, waiting for some kind of enlightenment.
'You know those hoardings opposite?'
We nodded, but we weren't really sure.
'They're building expensive flats. Three point five million.'
We whistled again and made some comment about pointless gentrification.
The shot glass disco lights faltered and we wondered what lethal spirit was in store for us.
'Bill?' he asked, dragging his expectant eyes away from the walls.
We nodded, wide-eyed as our mouths exploded with vicious sweet liquid.
A little later, as we battled through the wind and rain, reeling slightly, we resolved, after all the years of living there, to ask his name.
'Next time we're there.'
It seemed odd that we didn't know.
'Even though he's grumpy.'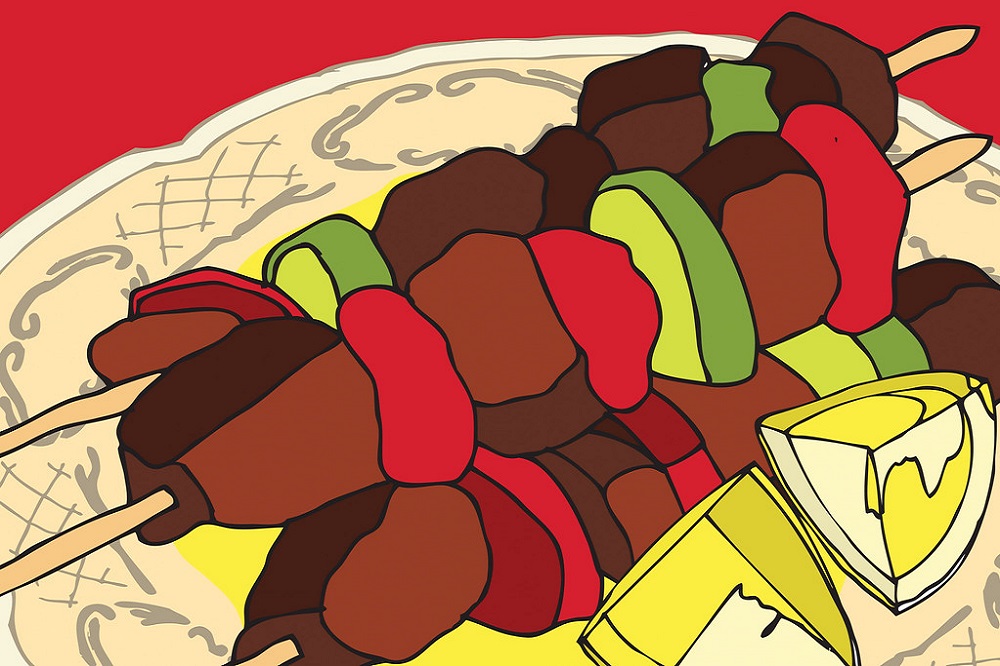 The weeks went by. The future lurched towards us, the way it does. We side-stepped the worst disasters, squared up to the head-on collisions as best we could. There were celebratory meals in other restaurants and poignant get-togethers on significant dates.
I find that, the older you get, meals have less and less to do with food.
Another long journey and a gruelling return, we decided that pork souvlaki with a side of tzatziki would perfectly fit our mood and bank balance. We headed out, on a warm, early spring evening, the sun just dipping below the rooftops but still glistening amber on the tall new office block windows.
We remembered our commitment to ask his name. After all these years, perhaps it was a sign that we were finally putting down roots. Had we, without realising it, already become Fitzrovians?
We rounded the corner, past the pub drinkers who were spilling on to the street. We walked the final stretch past the Thai restaurant that was being renovated, the tiny newsagent that was up for rent, and the brand new bakery we hadn't noticed before.
'Walnut, blue cheese and cracked pepper brioche. That sounds nice.'
The hoardings at the end of the street really had been hiding a block of expensive flats. They seemed to have sprung up overnight. Acres of glass and oddly shaped balconies wrapped around the block. According to the marketing blurb, there was a swish pool in the basement. We gazed enviously at the artist's impression of light-filled kitchens and thought of our own windowless cell with its deafening extractor fan.
When we got there, we thought the changing landscape had confused us; that somehow we had arrived at the wrong corner and that the Greek place was a block further on. We stepped into the street to survey the stretch of shops, just to make sure we weren't mistaken and were beeped at by a speeding moped.
'It's gone,' we chorused, flabbergasted. The sign had been dismantled, the windows had been changed, the steps had been reduced to a brand new ramp flanked by an arrangement of box trees in pots. The windows were screened off but there was a big notice on the door.
Opening soon. Wine bar and restaurant.
'We never got to find out his name!'
Between a row of parked cars, sat a fully laden skip, ready to be taken away. Peeking out from under the cover was the topmost branch of our Christmas tree, now withered, a shiny, cracked bauble still suspended in the shadows.
We took a detour and crossed Fitzroy Square, just to look at the beautiful buildings. Nothing much would be changing here. We circled the private gardens and wondered where our waiter was now. In a deckchair, we imagined, and smiling; sipping a glass of chilled Retsina, admiring his newly acquired vineyard, deep in conversation.
Rhiannon Lewis is the author of My Beautiful Imperial and I Am the Mask Maker and other stories.
---
Support our Nation today
For the price of a cup of coffee a month you can help us create an independent, not-for-profit, national news service for the people of Wales, by the people of Wales.