Culture
The Cleaver
A bit of writing about being neurodivergent, disabled, ethnic and a woman in Wales.
Kate Cleaver
This weather has thrown me for a loop. It was late summer, I know because the calendar told me, but it just didn't feel like it. While the world burns, floods and becomes a place that no one can live, we fall into autumn at the time of summer.
For me that means that the runner beans are leaning to one side because the wind has blown them, something that happens every year, but this year it is a month early.
The plums are not only ripe but already been picked and jammed. The tomatoes never even got past the flowers because I was a little late getting them in the ground. It shouldn't have mattered, but this year of rain and cloud has meant that they are delightful shrubs that do not fruit.
Pristine landscapes
Many years ago, I studied paleoenvironments. I even spent a summer burning soil from core samples in order to work out what the carbon content was. Carbon exists where there are people and where there is life. I was looking for human settlements. I looked for cooking fires and middens by taking everything from the soil and weighing what was left.
It was monotonous work but at the end I built a map that extended along distance and time. When people walked and where they walked. Did you know that the UK has no pristine landscapes, everything has been managed by humans for so long that there is a distinct possibility some habitats would disappear because people wouldn't manage them?

Thorns
Take the coastal plains and grasslands full of wildflowers. Back in the late 1990s the wildlife groups were fighting a losing battle. Rare butterflies were dying and not coming back to some areas. Grassland was disappearing and becoming scrub: no matter how many people were put on the ground they could not control the scrub that constantly grew back, in particular the brambles. Anyone who hikes knows that a little-used path can become a mess of stabbing thorns and clinging branches that appear to have a want to trip you up.
Then the wildlife wardens started to rent cattle, goats and horses from the local farmers. Turned out onto the areas that needed to be grassland, the animals ate more than grass. They destroyed the shrubs. A whole winter they lived and grazed whilst the people there to protect the wildlife watched with a quiet anxiety.
The next spring, as the year started fresh and new, the shoots that pushed through the ground were not brambles but wildflowers. That year there was a bumper crop, and the butterflies came back. Since then that same land is grazed every year and the butterflies and wildlife have continued to rebound. It has become a biodiversity plan.
Wolves
The problem is that the keystone species, the thing that can make an ecosystem work or not, is sometimes the one that people didn't expect.
In Yellowstone National Park in Idaho they had issues controlling prey numbers, even though they did a hunt. They couldn't keep up and although the park looked okay it was becoming damaged by over grazing. Yellowstone was slowly dying.
Those in charge decided to do something drastic… They released wolves back into the park, re-wilding it. The result was that the park became balanced. The overgrazing disappeared as the wolves balanced out prey numbers. The ecosystem in the park started to work, no more intervention was needed.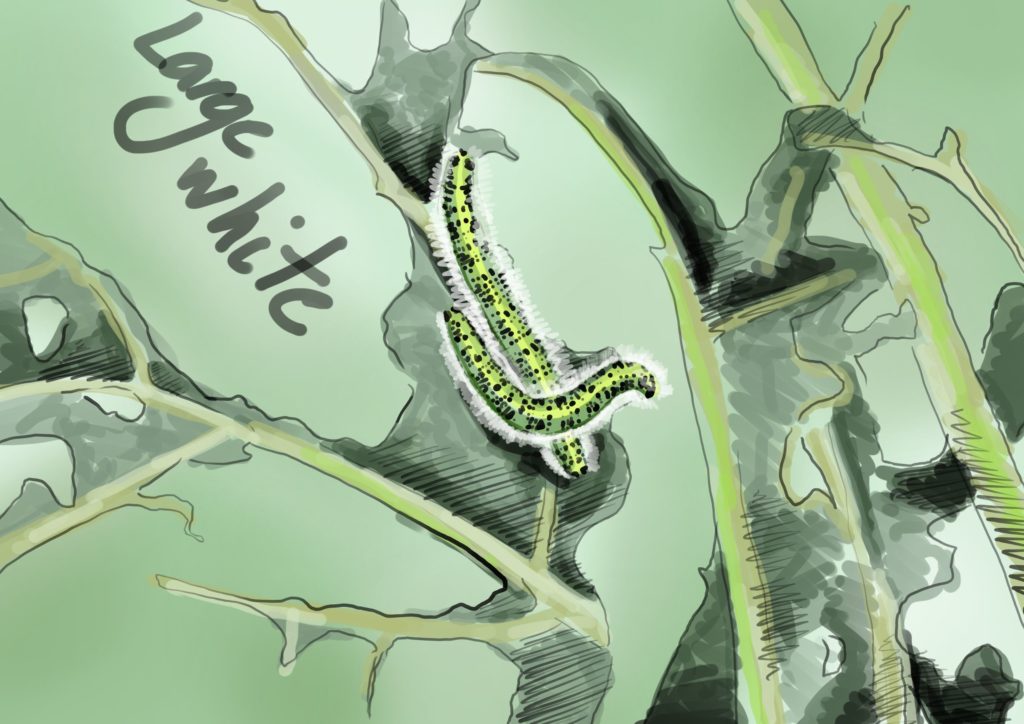 Keystones
Trying to save my vegetable plants and watching the butterflies and bumble bees I must wonder what our keystone species is. Like the grasslands, I have found that by planting the different veg and flowers we have become inundated with insects of all varieties. Some of the planting is working but others I have got to research more.
My cabbages have once again become the food for caterpillars and slugs, but next year I am going to companion plant, but it is all a massive experiment. Although I have been growing vegetables since I was sixteen, every garden is different. How the land works, which parts absorb water more and which areas get too dry? Where is the good soil and where the bad stuff? It is all a learning curve, one that I am still working out for this garden as I have only been growing for three years here.
The problem with vegetables is that you can't start at different times of the year – some of the veg we eat takes a full six months to be ready. So, if something is in the wrong place, like this year the tomatoes were in the wrong place and didn't get enough sun, then you must wait for the spring next year in order to start again. It is a learning curve.
Pests
Next year I will, once again, put the seeds in the soil and, once again, I will wait for germination, and I will do my best to plant everything in the right place. More beds will go in and more vegetable varieties will be planted. I will make some mistakes, but I will also make some wins.
That is the reality of growing your own food. What I will do is look at the changing weather. That has stumped me more that the pests. I will have to make the patch more able to cope with continuous rain and high winds.
I have also got to learn about companion planting and how to keep the slugs from eating everything. I know it can be done. I just have to work it out.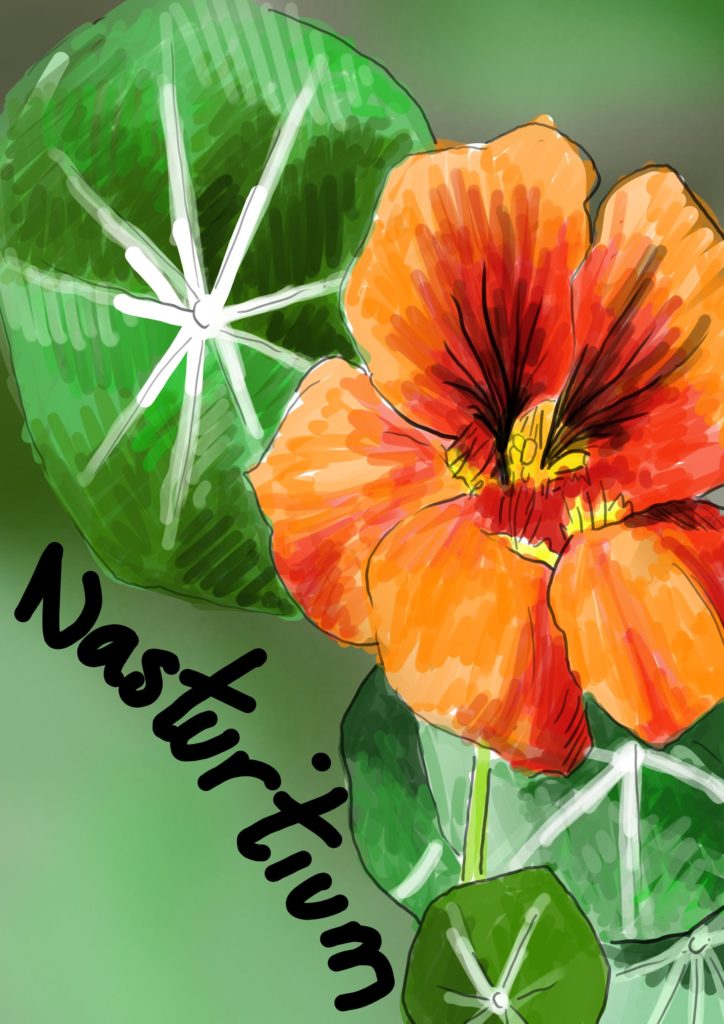 Sacrificial crop
One companion plant is the nasturtium, which comes as a bush or dwarf variety (Tropaeolum minus) or as a climber (Tropaeolum majus) and they are the choice food plant for the large and small white butterflies that, this year, have decimated my brassicas. A brassica is any vegetable with big green leaves, like the cabbage, broccoli, calabrese, Brussel sprout.
Nasturtiums will also attract black fly, which damage beans, particularly broad beans. The tiny black flies will head toward the nasturtium rather than anything else. Basically, the flowers become a sacrificial crop in order to get decent vegetables. On top of that bees love the nectar and if you have any perfect flowers, after the caterpillars and black fly, you can cut the flowers and stick them in a vase in the house. It is an all-time winner.
I haven't grown them as a companion plant before because I have always just picked the bugs off. But with my mobility problems sometimes I can't get into the garden every day and all it takes is twenty-four hours and you can lose an entire row of cabbages. Those caterpillars are voracious. So next year between every brassica row I will be planting a row of nasturtiums. I just hope some survive as I think they are a beautiful plant.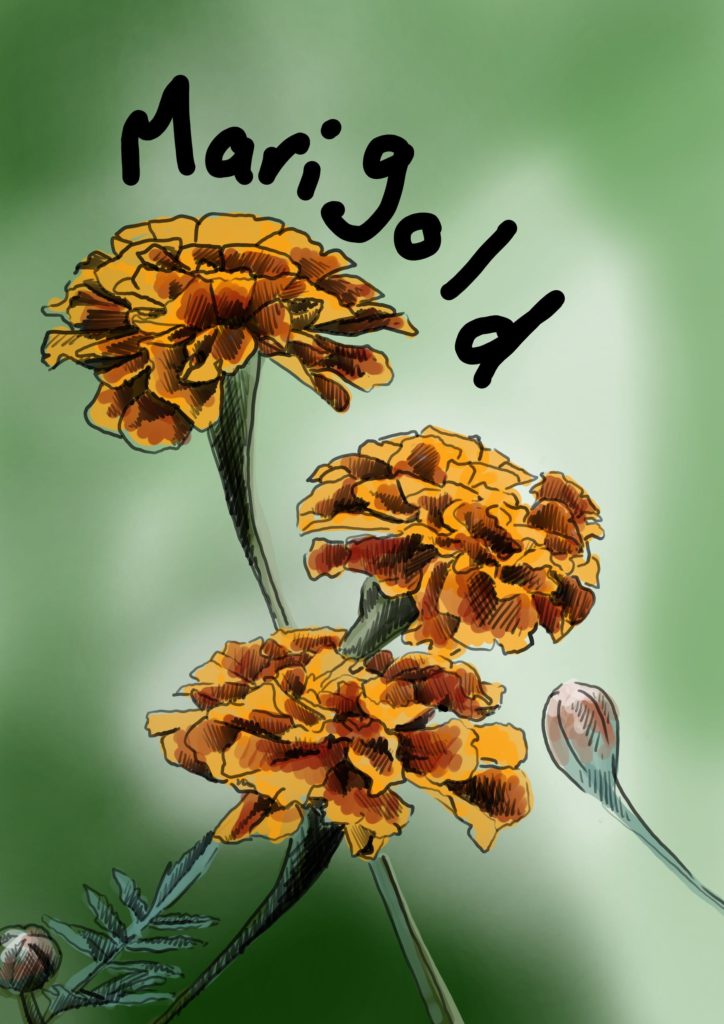 Chocolate for slugs
Marigolds I used this year, but they must be used differently. I place tubs around the veg patch filled with them. They worked, but I seriously underestimated how many I would need. Marigolds are chocolate in the slug world. If you are using them to stop slugs, then plant them at the borders and watch them disappear. As you put a plant in, put another seed into a tray so you can replace it.
Like the nasturtiums think of a number and double it. Not only will the slugs leave the veg alone, but the flowers will also repel microscopic worms that attack roots. Spider mites and aphids are drawn to them so they will leave the veg and attack the marigolds.
I put four pots of them in the main veg patch and they worked a treat. I didn't get pea weevil (a nasty little worm that buries itself inside a pea and eats it) and the slugs ate the marigolds and not the veg. Unfortunately, they have demolished them. There is nothing left so I have had to resort to pellets (pet safe ones).
Next year though I don't want to use them at all. I know that this means my vegetable patch is going to look more like a flower garden, but I am fine with that. I'm going for a mix of English and French marigolds because I like variety.
Ladybirds
What happens in the garden if you do this? Well, this year we have seen more ladybirds than I ever have.
Our garden was filled with bees, both honeybees and many different varieties of bumble bee. We have had grasshoppers and worms, snail and slugs, hedgehogs and birds.
Basically, with the patch in its third year we have a huge wildlife diversity, and it is going to get better.
My next project is to attract a toad…
---
Support our Nation today
For the price of a cup of coffee a month you can help us create an independent, not-for-profit, national news service for the people of Wales, by the people of Wales.