Culture
The Cleaver
A bit of writing about being neurodivergent, disabled, ethnic and a woman in Wales.
Kate Cleaver
It's October but I'm not sure you can tell. It is so warm for this time of year. Nothing is doing what it should in the garden. Don't get me wrong, it is a good thing for growing but I need to move fruit canes and take cuttings from the grape.
To do this I need the leaves to fall and the plant to become dormant. That is just not happening. I guess it doesn't really matter but I have a joint problem and the damp weather is making me hurt. If I don't get it done soon then it may not be completed until the spring.
It is weird how I must work around the seasons because of my condition. A wet summer, like we have just had, is not the best. Normally I can cut down the painkillers, but this year has been very different.
Everything I am doing in the garden is done slowly and in small snatches. R is helping a lot. Basically, the summer should have left us feeling rested and on top form for the winter… It has not. I'm guessing that disabled people across Wales are suffering the same problem. Now, it becomes a balancing game of exercise and painkillers.
Garlic
It does not mean stuff won't get done, but it does mean it will all take longer. So, my planting of the garlic and the onions has been late. Luckily, the weather being this mild, it shouldn't matter so much.
This year I have popped red and white onions in and two types of garlic. Onions you simply push into the ground, making sure the pointy end is up and the root end down.
Garlic comes in bulbs like you get for cooking. These you split into all its segments, and it is those you plant with the root end down and the point up. Each segment ought to produce a complete bulb of garlic. If everything goes to plan, then around the early summer the garlic leaves should yellow and bend over. This is when you dig them up and either use them immediately or store them.
To store garlic, you leave them to dry for two to four weeks. Cut off the roots and once the leaves go dry and rustle you can trim these off leaving about 1-2cm of the stem. Then store in a dark cool place in a net.
Onions are the same. You must dry them and cut off the roots. The leaves, once completely dry can be plaited and then you hang them up. Although I tend to cut the leaves off and store them in nets.
Just remember that you need to dry them. If you put them into nets without this you can get mould, rust and rotting cores. None of which are nice.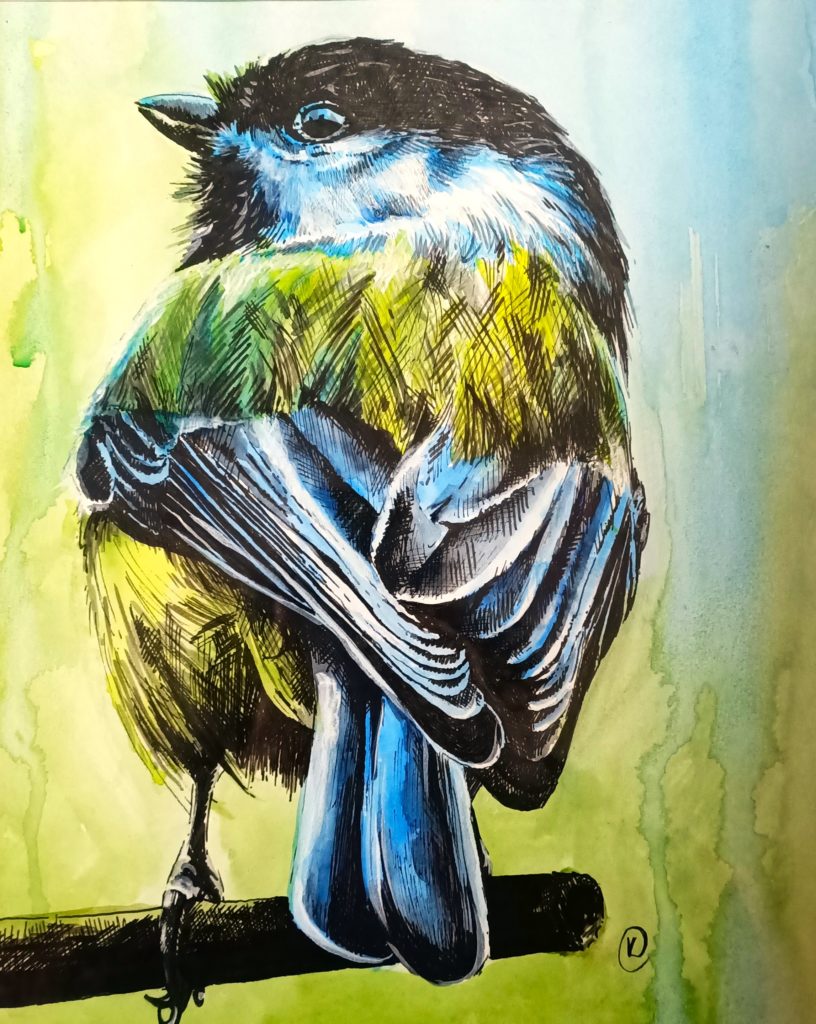 Flavour
When using your home-grown produce remember that they can be stronger in flavour as well. It is brilliant that you can use your own produce though. The fact I have just planted 30 onions and 20 garlic shows how much I love growing my own.
One other tip, once you have planted them you will have a series of holes with the tips of the onions showing. To a passing bird these can look a lot like worms, so if you don't want to be replanting, either shake some soil over the top or disturb the ground to hide the rows.
It can become annoying to be planting the same thing over and over until the birds loose interest.
Bird cake
Talking of birds, I saw a bit of a tip on a popular social media site. Bird cake… To begin with I wasn't on board, but we are a week into making bird cake and it is simply the best.
Basically, you cook your meal as normal and then when you come to tidying up you take any left-over fat or meat juices and, while they are warm, you throw in a handful or so of porridge oats – enough oats to soak up the fats. Then you either set it in a bowl or on a plate by leaving it overnight.
I have noticed that vegetable fats will leave a crumbly texture, but animal fats will set solid. Then simply pop out on you bird table or on top of a wall or in a bird feeder. They love it and it stops left over fat going down the sink or making a mess in the bin.
I always feed them in the morning so that the birds eat it all and any nocturnal pests don't get it.
Also, watching birds such as great tits means I can rest my joints before the next task in the garden. The rain this week is very much wanted as it is waking up the bulbs I have just planted, and they will grow.
Onions and garlic only need a 20cm diameter space so can be grown in pots, planters or small flower beds. They will also 'clean' the soil of pests as most hate the taste. Nor should they be attacked by slugs. I would heartily recommend growing some.
---
Support our Nation today
For the price of a cup of coffee a month you can help us create an independent, not-for-profit, national news service for the people of Wales, by the people of Wales.