Culture
The Cleaver
Kate Cleaver
A bit of writing about being neurodivergent, disabled, ethnic and a woman in Wales.
When is a mouse not a mouse? According to well-known cartoon companies they can be a cook, be a detective or man of mystery, but rarely are they mice. Did you know that right at this minute, as you are reading this, you are probably sat within ten foot of a mouse, or rat? There are more of them than us and are one of the most adapted and successful critters around.
Except, as humans, we rarely tell our kids about the dangers associated with these furry creatures, instead they are created to be cute mammals that are helpers; maybe even able to stitch a dress or season a dish. As adults though most of us will stand on a chair and scream when confronted with one. There is an innate fear of the fast-paced rodents.
Critters
Of course, humans are right to fear the fuzzy four-footed long-tailed critters. After all, rats and mice spread the Black Death. A third of the population didn't wake up because of that disease.
At the time it was thought that the humours or spirts had something to do with it, but then at the time no one knew about bacteria or viruses or how disease works. That time ingrained a hatred, that was already brewing.
You see the mice and rats are our direct competition. It is a war with them, in the past that war would have resulted in the family being fed or not. Rats in the grain and mice in the oats would have stopped your family surviving. Talk to someone with a mouse problem and their conversation will be a personal fight.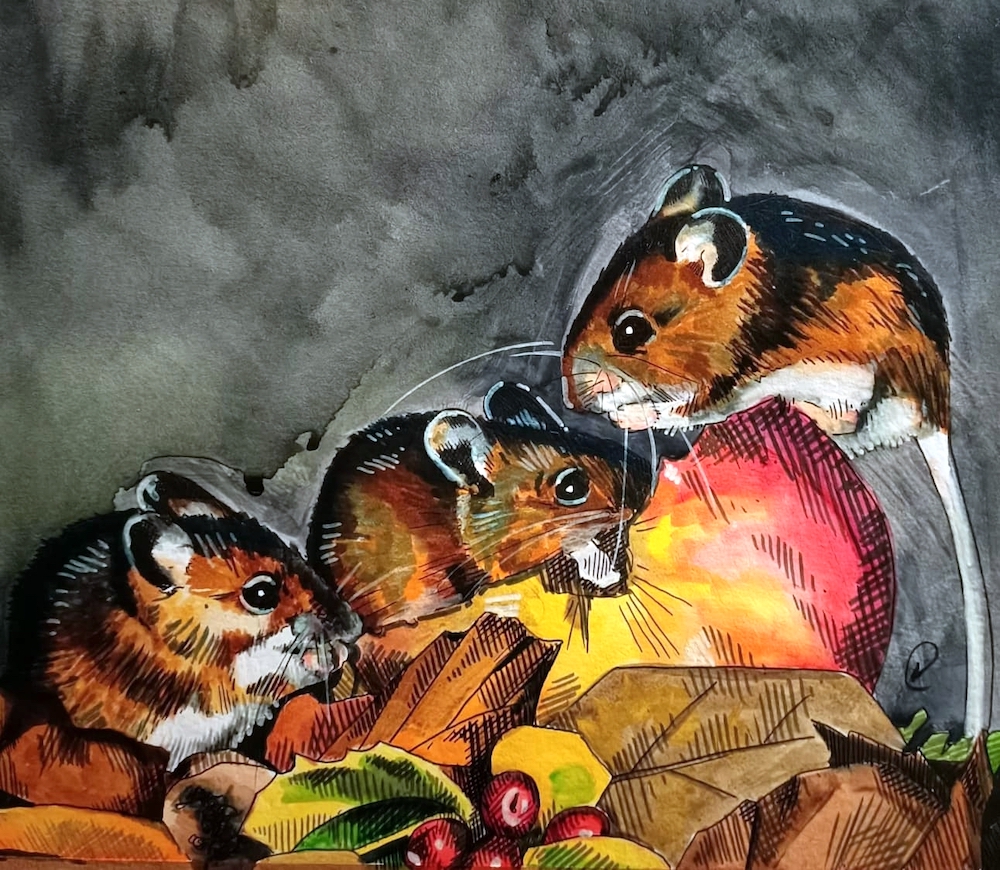 When we first moved to the smallholding in Ceredigion we had taken over from an older couple. The barns and garages were untouched for years and full of stuff.
One, a large, corrugated affair, that was made from telegraph poles, had a dirt floor and was full of scrap metal. That was pretty easy to clear and there were no big surprises. Dad put up shelves and created a large triple garage.
My brother used a soft yard brush and green metal paint and suddenly that barn was renovated and ready for another ten years. The second outbuilding was a garage. Made from wood and tin it was leaning to one side.
Destruction
Opening the door took some muscle and the sight was incredible. Wood and boxes to the ceiling. I remember putting on thick gloves and starting to work. It was a bit like playing a huge game of pick-up sticks, one false move could make something move and potentially fall on me.
I'm pulling out wood and generally enjoying the simple physical labour of destruction, when this rustle happens. I stopped for a moment and eyed a wooden packing box distorted by weight and damp. Had it come from there?
Now this is where I get annoyed at myself, just like a woman in a bad movie who screams and runs into a haunted/dark/murderer infested house, I don't go and get help, I simply carry on. Singing a little to drown out the rustling.
Then from the dark opening to the box the largest rat jumps at me, going for my throat, trying desperately to get away from the woman destroying its nest. I screamed and ran in circles. It was an unconscious reaction. I just couldn't stop myself. Not my proudest moment.
Yet when the cat brought in a wounded mouse, I set up a little house and carefully nursed it back to health. You see mice can be friends. Although most rat keepers would disagree and say they are the more intelligent pets than mice. But there is still an innate fear, at least with me.

Complicated relationship
For me my art is like a mouse, positive and negative. There are two sides to it. It is a complicated relationship. On one hand it is something relaxing and wonderful and on the other it is a chain around my neck.
When I was a kid, I didn't learn to read until I was eleven and although I consumed books after I learnt, my written comprehension was never brilliant. I had poor language skills, and I would use the wrong words, still do a lot of the time. But there was one thing I could do. I could and still can draw.
"Never mind, you can draw."
That is all I heard throughout my schooling and into my first university. I can draw but it became a fall back. I thought that if I could get a degree or something then I wouldn't need to fall back on the art, because the art had become 'less' than academia. My ability to draw was less. I was less because I could draw.
So, yes, I opened businesses and drew and for a time I paid my way with the art, but just when I was becoming a 'name', just as I was winning competitions and becoming more than an amateur artist, I pulled back.
I didn't want to be 'just' an artist. If I succeeded in that then what was the point in learning to read, and to succeed I had to read. In my autistic brain art became the negative and the struggle to conquer the British language became the goal. I stopped drawing.
Bragging
I didn't draw for many years and then I only picked up a pencil because I had to or go bankrupt. I drew and people exclaimed, but I felt I was failing. I was writing stories by then, so I started to illustrate. Except the illustrations were not proper artworks, but more like doodles.
I didn't put my soul into it, I simply gave myself a topic and drew. You may be thinking I am bragging here, but I can draw anything. Some subjects I find boring, but I can draw them. I love drawing people and animals and their interaction with their environment.
I am the best at self-sabotage. My fear of success is much higher than my fear of failure.
So now I try to marry the writing and the art, but I don't really. They are still very separate in my head. I create art when I am down or worried and it makes me feel better, but I see it as less than the writing.
Take this piece of writing, it has an illustration; three mice on leaves, eating an apple. I have put my soul into it, but I have given myself maybe a quarter of the time I have spent on the writing.
Strangely, I am aware that I ought to be an artist and be proud of it, but it is like I have a physical block in my brain.
I am a mouse that is not a mouse. I am a writer, a cook, a researcher, a crafter, a kitchen designer but I am never an artist.
Meltdowns
That is my struggle. I qualify it by saying that the art is too easy or doesn't use my brain enough, but by simply writing alongside I can do it. I love the research and what is better than being able to do the two things that make your life whole.
You see there is another problem… If I don't draw, then I get uptight and anxious. I stim badly and get worse meltdowns and shutdowns. I cease to function well because the place that my brain goes when I draw is fundamental to me being able to live my life to the full. So, I must draw.
My reality is that I am an artist who writes and not a writer who draws. I ought to classify projects by looking at the art first – the potential to create and then the research. But it is a big pill to swallow. If I admit this, then I admit that I did sabotage myself and that I do fear the possibility of succeeding. I would have to admit that am a mouse and that ought to do mouse things and stop trying to be something I am not.
Maybe I ought to just start with a small step: draw a picture and then write a column to go alongside it. I am tired of being anything else. I want to be a mouse even if that mouse is autistic and disabled and difficult and wears too many patterned clothes that clash.
Because I am an artist who also writes.
You can find more of The Cleaver and the rest of Kate's writing on Nation.Cymru by following her link on this map
---
Support our Nation today
For the price of a cup of coffee a month you can help us create an independent, not-for-profit, national news service for the people of Wales, by the people of Wales.