Culture
The Cleaver
Kate Cleaver
A bit of writing about being neurodivergent, disabled, ethnic and a woman in Wales.
Of all the animals I have drawn the one that ends up on the board most is the hare. I'm not quite sure why but that creature speaks to me in a way a lot of others don't.
I must have been twenty-five or so when I saw my first live one.
I was building a path into a community centre in Ireland, and finding very quickly that my body did not like a vegan diet. Looking back, I guess it may have been the very start of having symptoms for my complaints now.
Of course, I had to go through almost fifteen years of misdiagnosis before I found out why too much fibre is a bad idea. At the time though I was strong, not particularly slim, but I was able to shift a lot of weight.
I was going the gym and basically, I was at one of my fittest times of my life. The working holiday was fun. I basically barrowed stone chips to create a path through a garden that was designed to symbolise peace. It was a good project and a worthwhile one.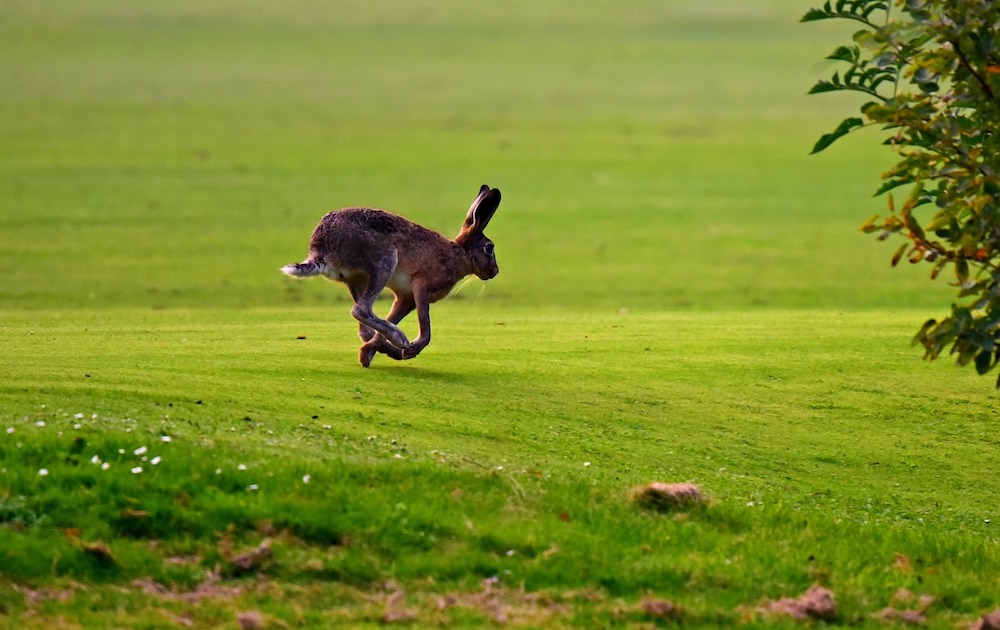 Awkward
I was learning about myself, and at this point I had no idea I was autistic, so I was just a weird socially awkward girl. People bullied me on the course and made me feel like shit, but that didn't matter. I was used to it. What I loved was what I was doing and the experience.
We were at the very north of Northern Ireland and wherever I went I was brought pints, because the locals had never seen someone of colour. I was having fun, even if I was strangely socially isolated.
One older guy let me tag along with him, I didn't know at the time, but he had started a relationship with one of those on the course and they were using me as a way for others to not notice. That and the fact I would walk alone and get lost in my own world, allowing them to chat and flirt.

Island bound
One trip was to see an island. I can't remember the name, but it was windswept and desolate and raining and so very beautiful.
I was soaked through within half an hour of leaving the boat.
"Come with us," the older guy said, and I looked at him and the girl he was with, and then the other group who were determined to find a café and stay there for the next three hours. My gaze swept over the bottle blonde, the eager geek and the gay guy who was trying to fit in and I nodded. That group were already being mean, and I had no wish to go with them.
"Okay," I said.
He led us uphill.
"There is this place," he says, "and sometimes you can see them."
"What?" I asked.
"Red hares."
Until this point I hadn't realised there was such a creature and to my shame I immediately thought rabbits, in particular the large Old English variety that I had owned as a kid. I assumed that the hare would be like that.
The two in front of me talked away and I followed in silence. I felt the rain on my face and the quietness of the countryside. The trees were blown at an angle, bent to the ground from the force of the wind, as if hugging the earth.
We climbed an old stone style, well maintained and covered in the softest moss. I should have felt cold but there was just calm. No one was trying to talk to me or asking anything of me. I was helping the couple in front by simply being there. I loved it.
Swollen clouds
A strand of hair escaped from my hood and whipped across my face. I'm not sure why but I stopped. There to my left was a lighthouse, white and incongruous. We were about three large fields away and it was magnificent in its oddity.
I felt like some huge person had picked it up and placed it there, where it wasn't meant to be. It was bright white, sporting a new paint job. In fact, one small section of wall showed the green cream of age, but lying on the floor in front of it was a paint speckled ladder. I'm guessing that the rain had stopped them from completing the job.
It was so white that the tower glowed against the purple grey of the swollen clouds. It was beautiful and just the right light so that the green of the grass was so vibrant.
If I drew this, I thought, no one would believe the colours.
Maybe if I hadn't been standing still, I wouldn't have seen the first one stand. The couple had stopped in front of me and turned to look back. I simply pointed, not saying a word. About 50 metres away a hare had risen to four feet and then stood on his hind legs.
This was no rabbit.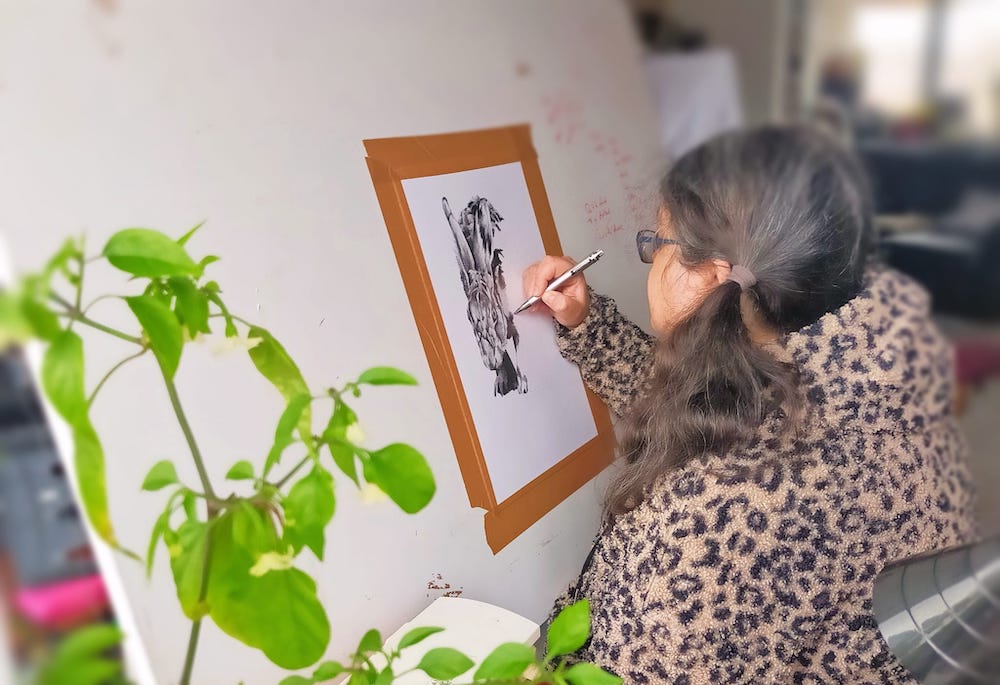 So fast
The hare was as big as a medium sized dog, and it had such long legs. Comparing this animal to a bunny was like saying a panda was the same as a polar bear.
Once I saw the first, I saw the others. There must have been ten of them all hunched in the long grass. There was a ripple of thunder and as one they started to run, not jump or leap, but run.
They were so fast. They streaked across the field crossing our path and disappearing over the horizon. They were the most graceful and mystical animals I had ever seen. They moved in silence but once they were gone the landscape mourned their loss. I could physically feel them missing.
I walked over to the couple.
"They are nothing like rabbits," I said.
"They were a bit," she said.
It was then that I realised that I would never be the same. I could walk alongside people but there was something that made me different, that made me 'other'. I was as different to folk as if I were a hare amongst rabbits.
I guess, even though I didn't know what was wrong with me I stopped fighting my difference. I decided that I couldn't be a rabbit, no matter how I moved or what I did because I moved and acted differently.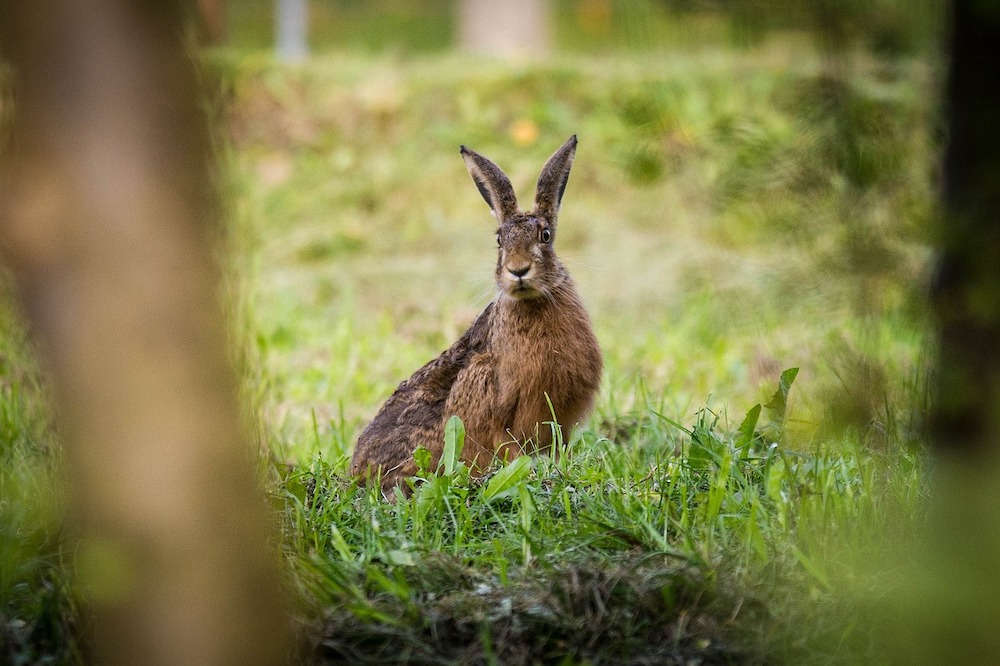 Moving carefully
Since then if I have felt isolated or been too hard on myself for not fitting in, I have reminded myself that I just need to find others like me. You see if you are neurodivergent and socialise with those of us who are, then there are no mind games, no lies and a lot of laughter.
So next time you see an odd group of people out in a bar, and they are keeping to themselves and not really socialising, yet once they have left you feel that loss in the atmosphere, you have seen a group of neurodivergent. Because we are hares, and rabbits can try to be like us, but they simply aren't. We move silently and carefully over this world, and most won't realise we are gone until only our stories remain.
On that holiday we left the island and went back to the centre, I stopped outside and looked over the garden we are putting in. At the far edge was a young guy putting up a fence. He stopped and looked my way.
"He doesn't speak much," someone whispered in my ear.
The guy started to wander over and I saw him move silently and carefully. I knew what he was. He was a hare. After a few moments he stood in front of me. For the first time I didn't try to break the silence we simply looked at each other.
"Do you play chess?" he asked, and his voice was like silk.
"I do," I said.
From that moment until the end of the holiday we were together. We played chess and drank tea and on occasion vodka. We never kissed and we never even held hands, but that was my first holiday romance.
As two hares, we quietly ran along the Irish countryside, happy to simply be in each other's company.
You can find more of The Cleaver and the rest of Kate's writing on Nation.Cymru here or by following her link on this map
---
Support our Nation today
For the price of a cup of coffee a month you can help us create an independent, not-for-profit, national news service for the people of Wales, by the people of Wales.