Culture
The Cleaver
Kate Cleaver
A bit of writing about being neurodivergent, disabled, ethnic and a woman in Wales.
I've described my study before; the tables that sit back-to-back, forever looking out but never at each other, one for the art and the other for the writing.
They created a space that was tidy and complete and was totally unworkable. I could be either writing or drawing but they did not work together.
The two chairs became barriers to what I was doing. An either one or the other occurred in my mind. The result was that the art chair became a dumping ground for crafts and the writing chair one for books.
I knew that it was the most efficient way to use the space. Two tables, two chairs and less space. Except it wasn't working.
"We need to change it," I said to R.
"Why?"
I think this is a valid question. Why did it need changing when it was working and there was no problem with me using either space? I only had one answer.
"Because of my head."
Barrier
I explained that the barrier was stopping me working. I had no dedicated space to both. I have always had a dedicated space.
Perhaps not to specifically the art and the writing but a space to create, either with words or fabric or paper. I needed a cohesive space. I needed…
That of course makes me feel incredibly selfish, I was aware that by changing the setup I was effectively taking more of the front room over.
I was making the space mine and although R could walk into the cube that was to become the study, it would essentially be mine to do what I wished with.
We ran through ideas and came up with a compromise, a cube.
The whole of our downstairs is open plan, but I designed an invisible wall at the front and put the desk and the drawing board at right angles to each other. With the window and the bookshelves, I have a self-contained square. It is mine.
R's only worry is the lava lamp.

Stims
One of my favourites stims is to watch oil and water. I have a little contraption that you turn upside down and the oil 'floats' to the surface, a kaleidoscope of orange and red colours, but you must turn it upside down.
In the last clear out though I found the kids old and discarded lava lamp… Is this now sitting on my desk waiting to be turned on? Indeed, it is. It has become a rather large and impressive stim toy.
So far though I haven't switched it on, but I do find myself staring at the red liquid with solid shapes inside. My brain appears to be more relaxed because I have the option.
Just like the drawing. I may not do some every day, but I have the option to. That means I don't feel trapped into one thing. I can do as much or as little as I want.
Unstable
The only issue with the lava lamp is the wibbly-ness. This thing has been knocked around a bit and the top has become a little unstable from hitting the floor a few times.
Every time I hit or bump into my desk (twice since starting this sentence) the whole thing wobbles. R says it is an accident waiting to happen.
I do have dyspraxia and it does make me the clumsiest woman in the world, but I think the risk is worth it. The fact that I can sit and watch the lava rise.
This risk is worth it. I have found that this risk assessment has become part of my day to day living. Take today, I am meant to be at a birthday party tonight, but I have cancelled. I am just not well enough.
I am having what is called a 'flare' that means I am in more pain than usual. The pain effects the way my autism works so that when in company I am immediately masking.
That takes 'spoons' or energy which can leave me drained. Just cooking lunch and putting bread ingredients into the bread maker has left me shattered.
Don't get me wrong, if I were to go to the party, I am sure that no one would see the slightest change in me. I would seem normal, but the reality would be me, completely exhausted by the end of it, so I have swallowed my guilt and decided to not go.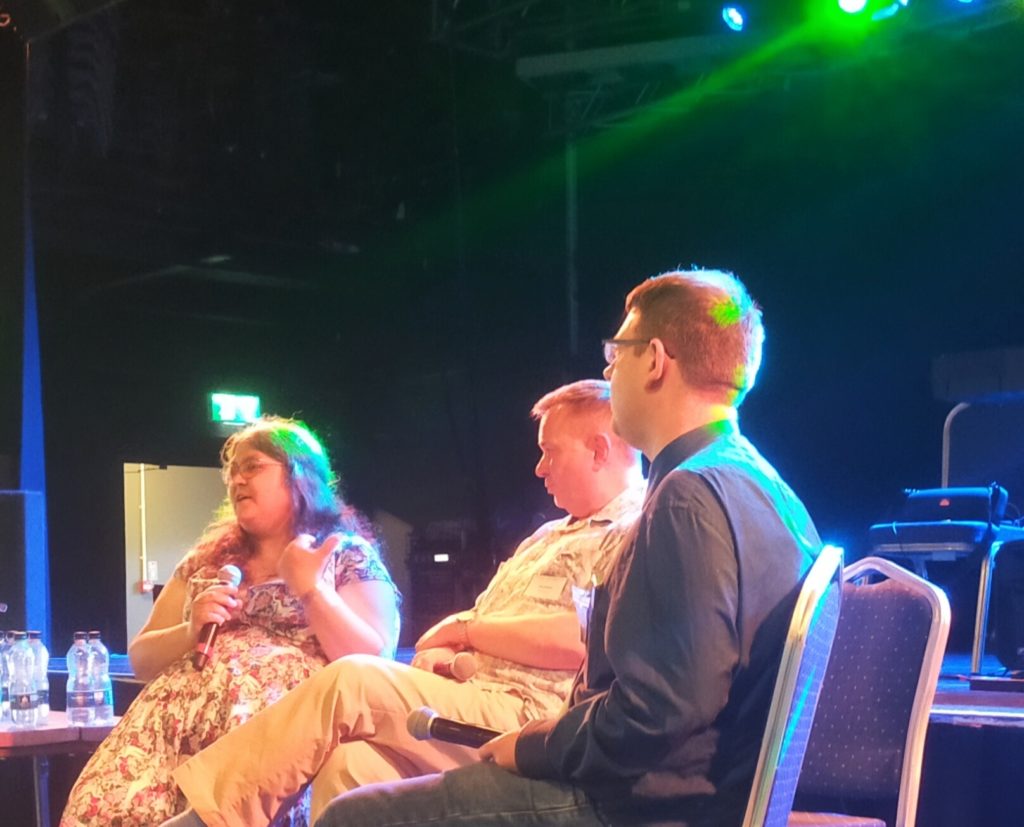 Conference
Last week I was better so when Nation.Cymru asked me to go to a Books Council of Wales conference I said yes, although I knew that I wouldn't really know if I could handle it until closer to the date.
I decided that it was important, so I had to attend.
It just so happens that I was having a good week. I got my glad rags on and headed to Cardiff with R. It was nerve wracking. I explained on a stage with everyone watching how I had come so very close to not writing ever again.
"It is hard, getting continual rejections, even if the people are not saying no for a personal reason, it can feel like they are. You can only get knocked back so many times before you start to question whether what you are doing is the right thing."
That is where I was when I started writing for Nation.Cymru, and now I am in much better place. I am about to finish my PhD and hoping to find a publisher soon.
The conference itself though I thought was going to be a massive energy sap, but I wanted to do it. There was a free lunch, so it wasn't all bad.
Once we got there though I found that R was able to tuck into Rocky Road cake whilst I had a banana, there are times that I hate my nut allergy.
Pleasant
What I am saying is that it was a surprisingly pleasant experience. I met the woman who had first got me into writing…
Because of my learning difficulties I was never really taught English in school. I do remember that I passed one year by simply making two small bound books using sugar paper.
We didn't have much money and I would draw all the time, so we always had an abundance of different coloured sugar paper floating. I used this, folded in half, to make my 'books'.
They all of course laughed at them, but I was so proud of them. From that moment, until I was made to feel so very guilty about my poor English that I stopped writing, I wanted to be a storyteller.
I guess looking back I ought to have realised that I was going to be a writer, but at the time my handwriting and my use of language was something I hid.
It looked like 'a spider had died' and I was repeatedly asked, while growing up, if I was going to be a doctor. Because everyone knew that doctors had the worst handwriting.
Of course, I wanted to be a vet and I do remember staying behind in class to talk to the biology teacher.
"Do you think I can do it?"
Miss J had looked over her over-sized glasses at me and sighed deeply and with some distress.
"No," she said, "You are simply not smart enough."
She did say a load of other stuff to suggest that I play with my strengths and not my weaknesses but essentially I was told that although I would know the facts my ability to communicate them on paper was too poor.
I'm not sure that Miss J had any idea, but she was the person who stopped me trying to be a vet and trying to write. I told stories all the time, my family got tired of hearing them. So much so that my aunt brought me a notebook, a blank one.
"Write them down," she said.
First steps
I think it may have been because they were sick and tired of me forever talking about it, but it worked. I started writing.
Pretty quickly though I realised what I knew about creative writing could be written on the head of a pin. So, I went to the adult creative writing class run by Aberystwyth University (I was living in mid-Wales at the time).
There I met K, and she helped me by encouraging me to submit my first story. It was published and I guess I took the first steps on the road to becoming a writer.
At the conference I was stating how Nation Cymru had helped me, but, later, I went and gave K a massive hug and thanked her. She was embarrassed but at the same time one of the organisers said that this was the reason they had the funding and wanted to help writers.
Compliment
That got me thinking. If I hadn't had the opportunity to go to the adult class or, if later, Nation.Cymru hadn't offered me a possibly of writing for them, would I be doing what I am doing now?
The answer is probably no… I may have filled the notebook that is still awaiting with a third of its pages blank, but then those filled pages would probably never have been entered into anything or seen the light of day.
I was so determined that my writing was sub standard and would fail that I never asked anyone if they would publish it. I simply started self-publishing.
I was always surprised when I got a compliment. I guess that is why I decided to do my masters and then my PhD. I had to prove that I was a good writer by getting qualifications.
Yet despite the academia, it is the fact that Nation.Cymru publishes me and the good comments I get that make me want to push and continue to try.
I would suggest that no matter what opportunities appear, take them, because you may end up just where you are meant to be.
Even if that is a freelance writer who loves to procrastinate and watch a lava lamp that she could knock over at any minute.
You can find more of The Cleaver and the rest of Kate's writing on Nation.Cymru here or by following her link on this map.
---
Support our Nation today
For the price of a cup of coffee a month you can help us create an independent, not-for-profit, national news service for the people of Wales, by the people of Wales.