Culture
The incredible story of one family's escape to Wales from General Pinochet's brutal dictatorship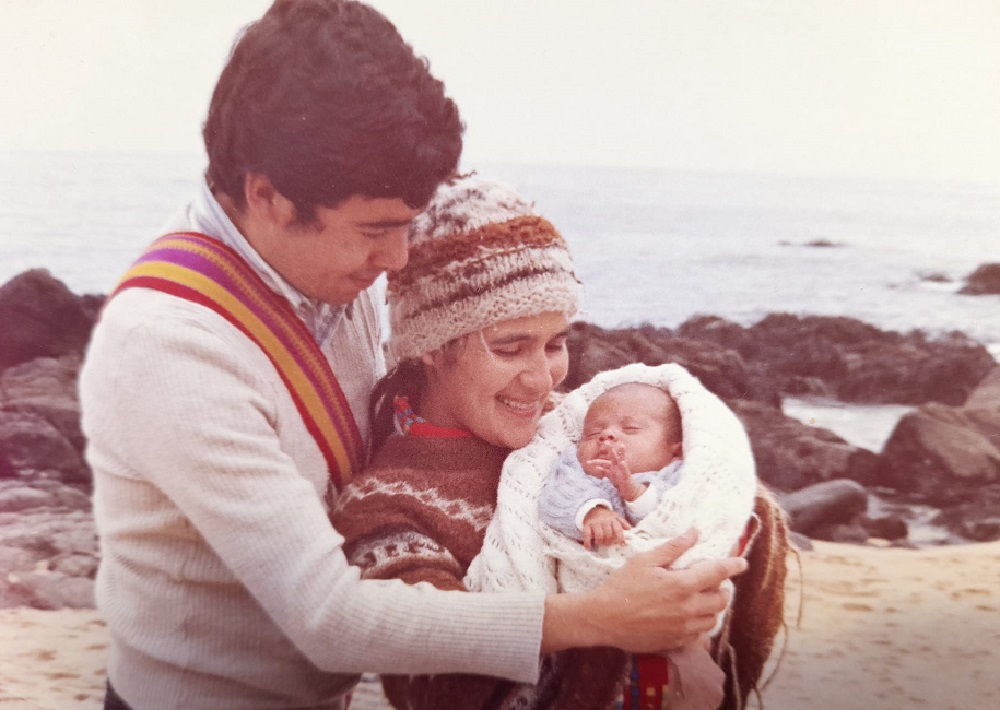 Luke James
Fifty years ago today, Jose Cifuentes was one of the 350 residents of Poblacion Arturo Prat, a shanty town near Talca in southern Chile, celebrating the news that they would soon be living in a new housing estate.
The 26-year-old social work student was part of a Christian mission to the town which had helped persuade the country's socialist government, led by president Salvadore Allende, to build proper homes for the community.
After enduring three decades of extreme poverty, residents would not only finally have a decent place to live but also be employed in the construction of their new homes.
"My friends and I went to bed very happy with what we had achieved", Cifuentes remembered in an interview with Nation.Cymru.
But the events they woke up to the next morning would mean their project and many like them would never be realised and eventually force Cifuentes to flee south America to south Wales.
"It was seven o'clock in the morning and I heard someone saying 'campaneros, campaneros, there is a military coup, run away quickly or they will kill you,'" he said.
"And that was the beginning of a new life, or a new nightmare, which I'm still going through."

Military dictatorship
It was the beginning of a coup against President Allende that would lead to a 17-year military dictatorship under General Augusto Pinochet that saw thousands murdered, disappeared, tortured and exiled.
Allende had been elected president three years earlier on a programme which included the renationalisation of industries, many of them US-owned, and redistribution of land from the rich to the poor.
Fuelled by Cold War fear about the spread of Communism in Latin America, the US' CIA intelligence agency backed a campaign by right-wing forces in Chile to destablise the country and create the conditions for a coup.
That was launched on the morning of September 11, 1973 with the aerial bombardment of the presidential palace.
Allende is believed to have committed suicide after giving a final broadcast which he ended with the words: "Long live Chile! Long live the people! Long live the workers!"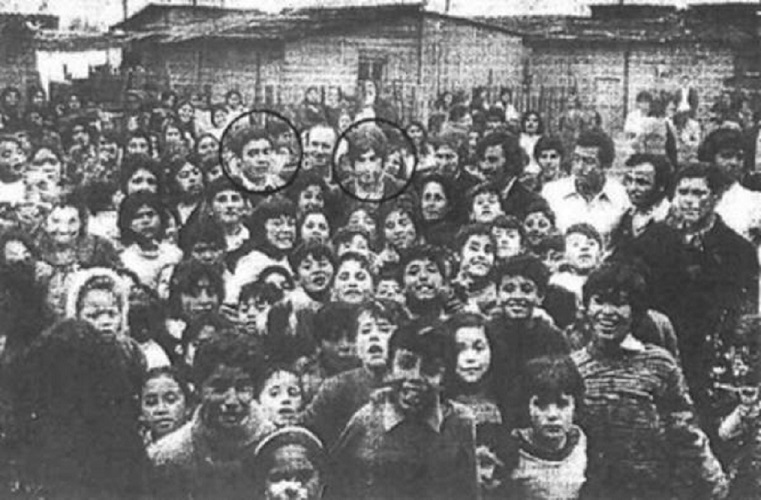 Tortured
The military then took over the airwaves and began reading the names of people it demanded report to the nearest military barracks.
Among the names was that of Jose Cifuentes, who went into hiding at the home of some friends.
After 10 days, he decided to turn himself in in order to protect them.
"My mother begged me not to, but I said nothing will happen, that was naivety as a young man," he said. "I went there and well, I went through something which is not easy to forget.
"I was tortured, electrocuted, put in solitary confinement. A mock assassination twice, with a gun put into my mouth.
"I was taken to an empty swimming pool where the walls were splashed with blood from political prisoners.
"In that same swimming pool, I had taken poor children from the shanty town, who had never known a swimming pool, to have a dip in there because the Allende government had a policy that community resources should be used by deprived people."
Justice
At the same time in the Chilean capital, Santiago, thousands of Allende supporters were rounded up at a football stadium.
They included Victor Jara, a folk singer and guitarist whose protest songs for peace and social justice were the anthems of Chile's socialist movement.
That was enough to mark him out as a key target for Pinochet's troops, who cruelly broke the musician's hands with their rifle butts before spraying him with 44 bullets.
Seven of the soldiers involved in his murder were finally brought to justice last month.
The Chilean Supreme Court confirmed sentences of between eight and twenty five years for retired soldiers now aged between 73 and 85. One of the men has since committed suicide.
Another former soldier now living in the US was found liable for his part in the murder in 2016 but has still not been extradited.
"It's been a very long process to obtain justice and to some extent it enables some sense of closure," said Tony Corden, founder of the El Sueno Existe festival in Machynlleth, which celebrates the life of Victor Jara and raises money for the foundation named after him.
"So many of the people that orchestrated the torture camps haven't been brought to justice so I think it's very important that that happened.
"I've met Joan Jara, the widow of Victor, and she has always said justice for Victor was particularly important because it highlighted what took place for families who lost members who weren't famous."
Disappeared
In the run up to the anniversary of the coup, Chile's socialist president Gabriel Boric announced a government-funded push to find out what happened to 1,162 people who were 'disappeared'.
"One of the pillars of the Pinochet regime was erasing memory," added Corden.
"That's why during the dictatorship it was dangerous to own any of Victor Jara's records, you had to throw them away. It was all about erasing memory.
"What's crucial now is the retrieval of that memory and that's happening under Boric."
The victims of the regime – which number 40,000 including those forced into exile or tortured as well as the 3,000 killed and disappeared – will also be remembered at events across Wales this week.
As well as a special edition of the El Sueno Existe festival in Machynlleth next weekend, events are being held in Swansea, which Cifuentes has called home since 1977.
After his release from prison, Cifuentes was advised to move from his home in Talca province in the south of Chile to the capital, where he was less well known, and was given a job with the only human rights' organisation permitted under the dictatorship as it came under the umbrella of the Catholic church.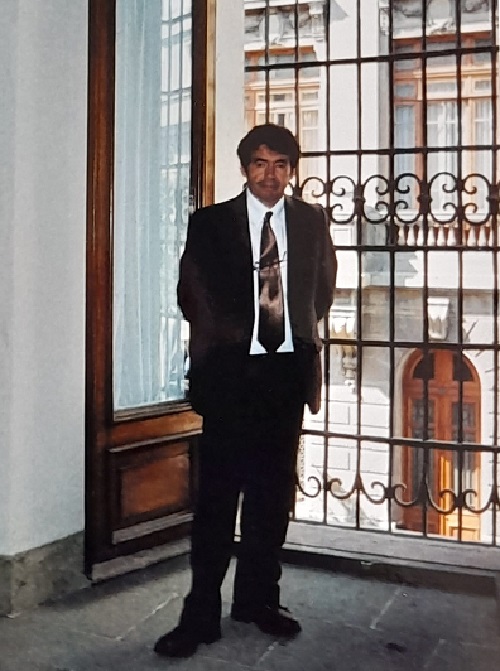 New life
Two years of relative normality were broken by police raids on the homes of his friends, forcing him to flee the country with his wife and one month old baby.
"His partner called one night and said 'please, please, run away, your friend has been kidnapped, they smashed up my house and they wanted to know about you'," said Cifuentes.
"So we ran away. We knew that many parents like us had been killed and the baby had been given to military people who did not have babies, as had happened in Argentina."
Cifuentes' employer helped organise a place at Swansea University through the World University Service, allowing him to restart his studies in social work and psychology following his expulsion during the final year of his course in Chile.
He went on to spend almost 30 years as an educational psychologist in Swansea, while the baby he fled to save has gone on to become Wales' Children's Commissioner.
"If I had to thank anyone for helping us to start a new life I would say that it would be ordinary people in Wales," said Cifuentes.
"Not necessarily political people, just ordinary people who respected us, opened doors and allowed us to continue our journey. I cannot say thank you enough."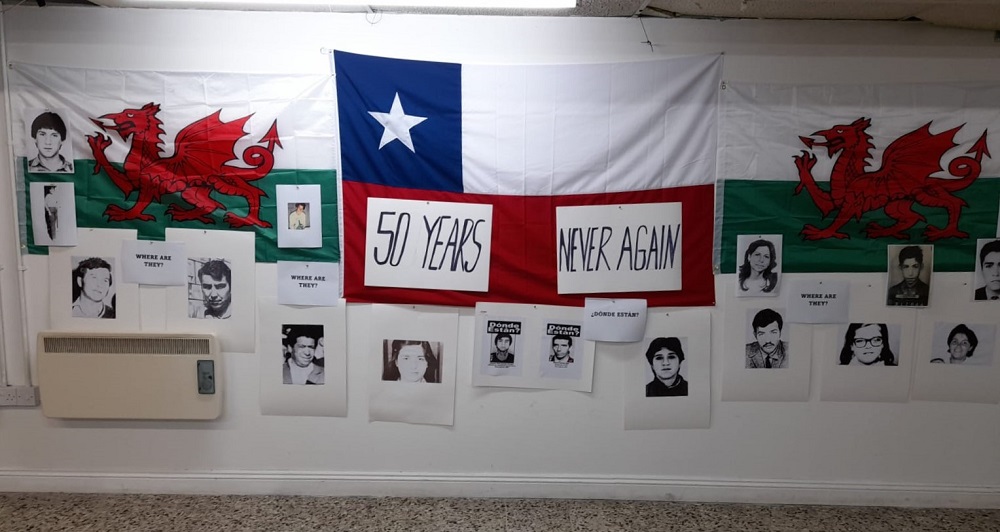 Commemorations
Commemorations started in Swansea on Friday with performances by Dafydd Iwan, who wrote a song in memory of Victor Jara, and poet Patrick Jones, who worked with James Dean Bradfield on his recent concept album about Jara, Even in Exile.
Iwan will also join former Labour leader Jeremy Corbyn at a screening of the film 'Missing' at the Volcano theatre tomorrow evening.
And children at a primary school in Swansea will hold a special joint assembly with a school in Chile video link to remember the victims of the coup and the solidarity shown with them in Wales.
As well as remembering victims of the coup, Cifuentes said he wanted to use the occasion to raise awareness of the plight of refugees from other countries.
"I'm fully aware how privileged I've been but equally it raises my awareness about refugees and people who have to leave their country for reasons totally outside their control and the lack of understanding of people around the world about who creates refugees," he said.
"No one asks 'where do they come' from and the reason is important: they come from injustice, they come from persecution, from war, they come from the instinct to survive that any human being would have under those circumstances.
"People need to understand how that can be prevented rather than blaming the victims."
More details about next weekend's El Sueno Existe festival in Machynlleth can be found here.
Jose Cifuentes' book, Revolutionary Dreams: From Chile to Wales, can be purchased through publisher Hafan Books here.
More details about the memorial event in Swansea tomorrow evening can be found here.
---
Support our Nation today
For the price of a cup of coffee a month you can help us create an independent, not-for-profit, national news service for the people of Wales, by the people of Wales.