Culture
The 'non-conforming non-conformists'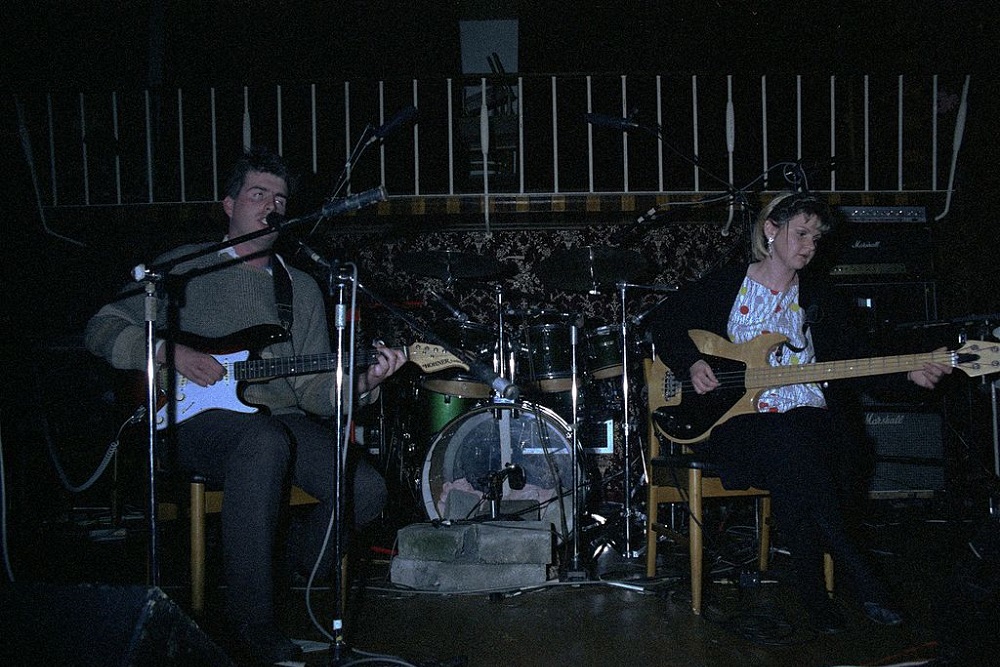 Christopher Evans
Legendary Welsh experimental band Datblygu, whose unique sound and lyrics inspired a generation of new artists in Wales and beyond, are set to release a 'best of' compilation on St. David's Day. 'Terfysgiaith 1982-2022' is a celebration of 40 years of the group.
Led by the late maverick singer-songwriter David R. Edwards, Datblygu were pioneers of Welsh music. They were renegades. They were rebellious. They were revolutionaries – or as they described themselves, 'non-conforming non-conformists'.
Edwards' distinctive and idiosyncratic lyrics ridiculed, lambasted, and poked fun at cultural, political and social norms. They raged against and scoffed at the accepted notion of Welshness and what it meant to be Welsh.
They were full of intelligence, wit, wordplay, and ire. Yet such was Edwards' enviable talent that he could also produce love songs as brilliant as 'Y Teimlad', which was subsequently covered by Welsh psychedelic heroes Super Furry Animals, appearing on their best-selling Welsh language album 'Mwng'.
Formed in 1982 in Aberteifi, Ceredigion, by Edwards and T. Wyn Davies, Datblygu would flourish with the addition of multi-instrumentalist Patricia Morgan in 1984. The band were favourites of Radio One DJ John Peel, recording five 'sessions' for the music guru between 1987 and 1993. Peel would also introduce them for their infamous appearance on Channel 4's 'The Tube' in April 1987, the band playing the wonderfully-titled 'Casserole Efeilliaid'.
'Terfysgiaith's' mammoth 60 songs were compiled from lists of the favourite tracks of main members Edwards and Morgan. They hoped to create a legacy of their oeuvre, to remind the world of their genius, whilst at the same time introducing newcomers, both Welsh and English speaking, to their extensive body of work.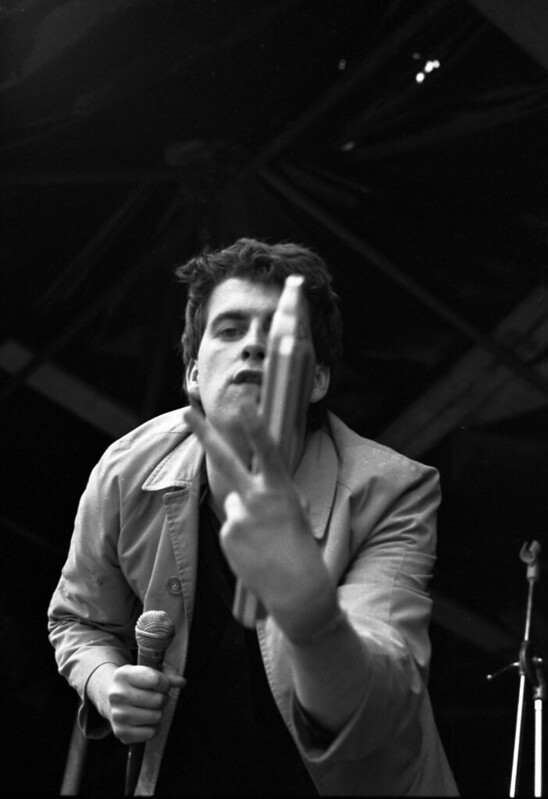 Regarded as the last great Welsh poet by many (this despite the contrarian Edwards telling Wales Arts Review that he "fucking hates poets"), Edwards sadly passed away in June 2021. Tributes arrived from across the cultural spectrum, with First Minister Mark Drakeford tweeting that "Wales has lost a cultural giant." Gruff Rhys, frontman of the Super Furry Animals said that "Dave was and is a gigantic figure. His contribution to the Welsh language can't be overestimated and his work with Datblygu serves as a focal point for its vibrant counter-culture. I've no doubt his influence will grow, and his songs will continue to serve as moral compasses and as sources of light to guide us through the darkness down the ages."
'Dave Datblygu' is rightly revered and remembered as being the driving force of the band. His words and chaotic and mesmerising performances gained them a cult and devoted following. However, it was the considerable musical flair and talent of the unassuming Pat Morgan that set the tone and sound of the band.

Intelligence
Speaking from her home in Hay-on-Wye, Morgan says that putting together 'Terfysgiaith' was a labour of love. "David initially wanted 40 tracks for 40 years, but the playlist kept changing. After he died, Emyr (Glyn Williams, of Ankst Musik records) and I compiled a list of those songs we all wanted on it."
Emyr Glyn Williams says that following Dave's death Pat helped "rationalise" the playlist for the album. "We also got in touch with a number of old friends asking for their personal lists, then in a vaguely scientific way we came up with the final choice."
"I did a bit of research by asking some diehard fans what they saw as essential," says Morgan. "Then I made a spreadsheet to see which songs came up the most frequently. Emyr decided that a bonus disk of rarities was needed too, so the lesser known works and live gigs appear on that disk."
Williams, a friend and die-hard fan of the band, says that a rarities section was a prerequisite. "With the bonus album, I just wanted to share good audio quality masters of hard to find and never heard before tracks. Hopefully this gives some insight into the different types of band Datblygu could be in different circumstances, especially live and when in an experimental or playful mood."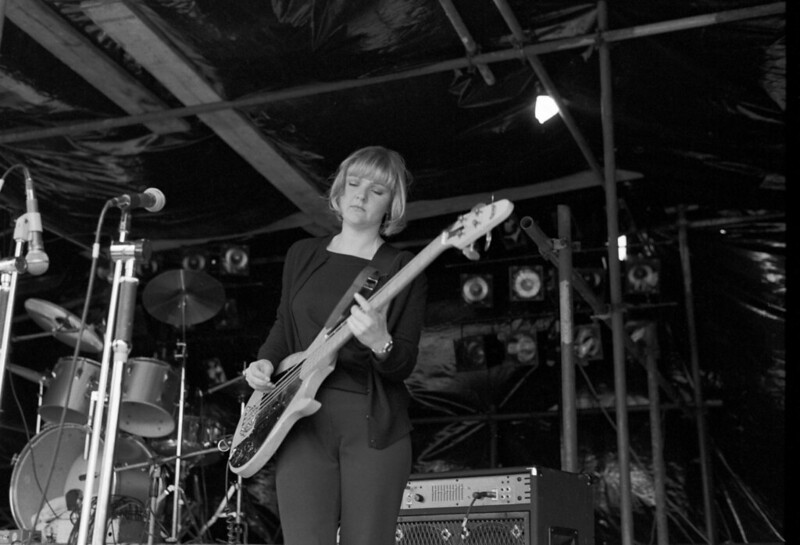 Morgan, who joined the band after "writing to David as a sort of pen pal" (Edwards actually asked her to join the band in a letter), says that compiling the songs was an inspirational and cathartic experience, and that she is glad she managed to get many of her personal favourite tracks onto the record.
"I've got a few that are special to me, mainly because they came about organically – just caught up in the spirit of the song. Songs like 'Nesaf', 'Wastod Absennol' and 'Ffon Bagal Dyffryn Cwnin'.
Williams is confident that the compilation does the band justice. "It hopefully works as an emotional journey, as well as a reckoning of the life of a band. I am especially moved personally to hear 'Macwy Anlwc' on there as the final track recorded by the band. It was recorded so close to his death."
Research
Morgan's and Williams' tireless and diligent research led them to Lampeter University. Williams says that they wanted to ensure that everything was perfect – from the tracks on the album, to the album cover and 48-page CD booklet.
"Pat and I took part in a weekend of activities in Llanbedr University for Welsh language learners who had been encouraged to learn Welsh by being Datblygu fans. This included a film night, an interview with Pat, a music evening, and other various sessions. Whilst talking to people there, me and Pat found out that having direct translations of songs and writings wasn't a priority for Datblygu fans who were learning Welsh.
Rather, being face to face with the original printed Welsh was more preferable, so we have followed this thinking with the booklet. As Dave would say, it is a partial decoder! The interviews and writing and lyrics that were originally Welsh are kept in Welsh."
With Edwards' input cut short by his untimely passing, Morgan is still positive that he would've been pleased with the finished product.
"I'm sure he would be over the moon! He was so sick of the same Datblygu songs being played on the radio that he gave up listening! He depended on me or other spies to let him know if he'd been mentioned or if a track was played."
When quizzed about Datblygu's unique individualism and non-conformity, Morgan is optimistic that it is easier for modern bands to be different.
"There's a lot more tolerance to new music now. Instead of being told they're not good enough, no-one has to conform anymore. It seems anything can get through. Which is great in some ways, the variation in what the Welsh music scene has become. There's still the same old heart-sink stuff out there though! Copyists and those on the bandwagon, no originality stuff. I don't know, maybe it's over inclusive? But it's all down to popularity really – that's why we remain a cult band."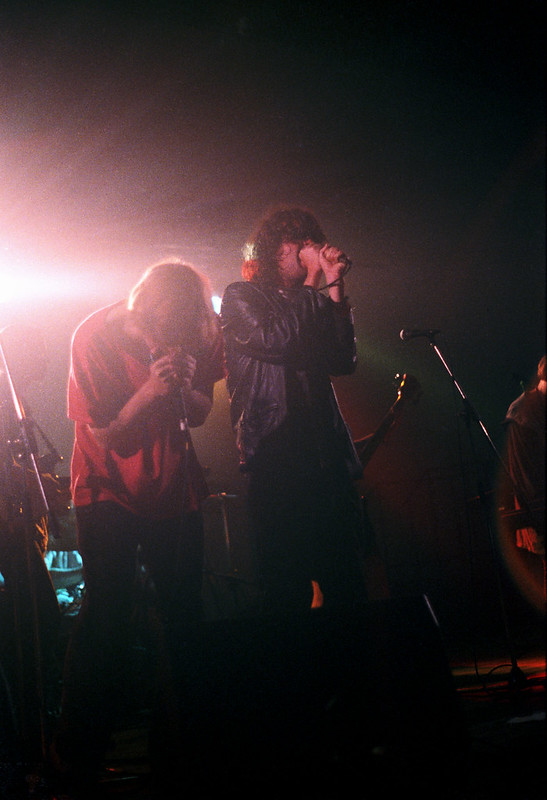 The cliché you don't know what you've got until it's gone rings true with Datblygu, and Edwards in particular. Although he hated the limelight and fuss, paradoxically he reluctantly loved it too. His ideas, lyrics and music have influenced some of Wales' greatest artists, from Gorky's Zygotic Mynci, to the Super Furry Animals and Gwenno.
"It's a case of influencing the right people, that's what matters," says Morgan. "With us it was anyone from Gruff Rhys to Mark Drakeford! The rest we don't care about!"
As for a legacy, Morgan has some wise words for aspiring artists. "Don't be in a band if you haven't got anything interesting to say! Follow your principles. Don't get distracted. Stop trying to get famous, it just isn't worth it. Be yourself."
Datblygu released their excellent and final album 'Cwm Gwagle' in August 2020, during the middle of the pandemic. Lamentably, David R. Edwards would not live to see the release of his bands' wondrous anthology.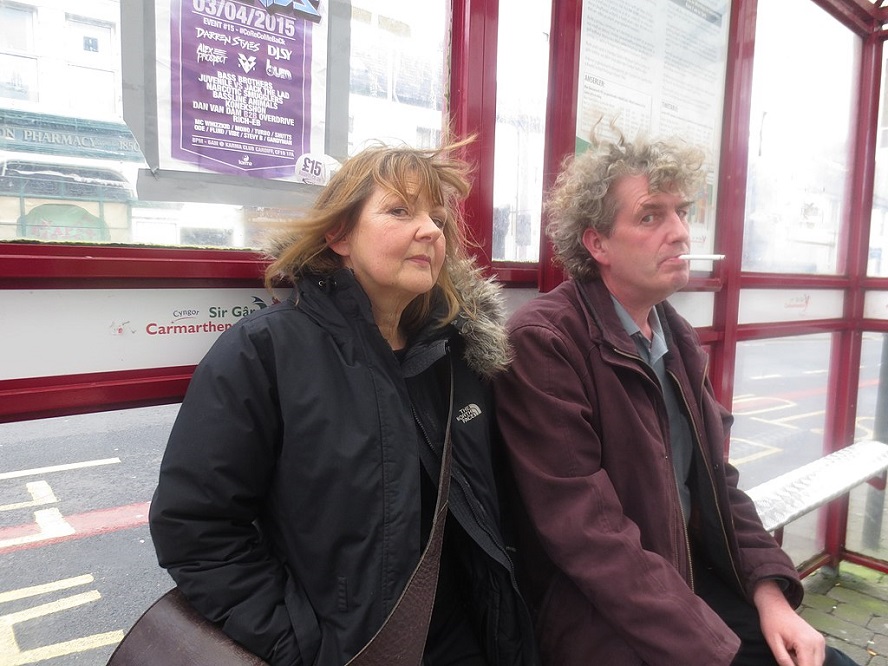 His intellectual acuity influenced a generation and transcended language, culture, politics and love. Despite his health problems and often tumultuous life, Morgan says that Edwards managed to carry on writing and creating until the very end. "I have lyrics that David left me towards the next LP which should be a hoot! He told me that Datblygu will never die. I owe it to him to carry on somehow."
It will be interesting to see what becomes of Edwards' final lyrics, but with the virtuoso Morgan, they are in safe hands. Datblygu fans can rest assured that through her music his legacy and essence will live on.
Morgan pauses when thinking about her favourite Edwards lyric. "Chi'n gweld y tywyllwch ond chi'n gweld fod yna flodau" ("You see the darkness, but you see that there are flowers"), she declares. "Flowers have such a strong association with love, happiness, beauty."
As Edwards himself said, Datblygu will never die.
'Terfysgiaith 1982-2022' will be released on 1st March 2023 on Anskt Records.
---
Support our Nation today
For the price of a cup of coffee a month you can help us create an independent, not-for-profit, national news service for the people of Wales, by the people of Wales.