Culture
The robots aren't coming – they're already here!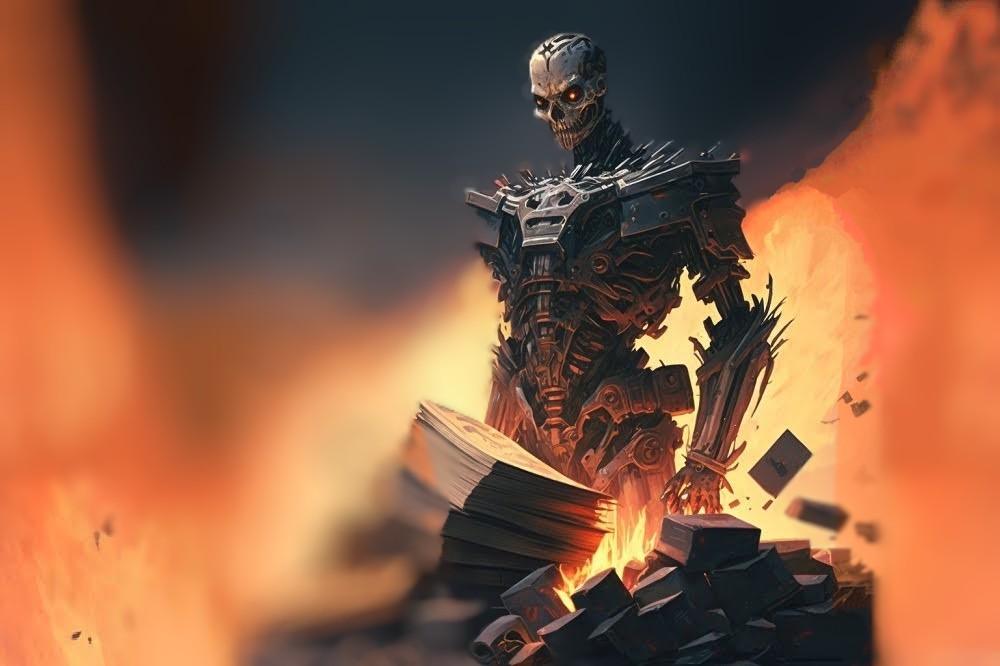 Chris Jones, Cambria Publishing
I'm not going to bang on about what Artificial Intelligence (AI) is or what its latest manifestation in Large Language Models (LLM) are.
I'm neither qualified nor clever enough to do so. However, the explosive recent growth in the use of these AI 'chatbot' tools in my 'culture' business, book publishing/marketing/selling, is forcing a re-evaluation of some fundamental ways in we operate.
Many of us are also wondering how to successfully implement the new 'tools' and 'methodologies' into our ways of working.

Jobs
Will it actually help us? Do you have to become a 'techie'? How is AI is going to affect jobs, and livelihoods? Do I have to pay the b*****s? How will it affect authors and writers?
These are just some of the questions being asked. Now. Not in the future but NOW.
So I asked the machine.
——————————————————————————————————————-
Prompt to ChatGPT
Write an article for a magazine about the use of AI such as ChatGPT in the book publishing business mentioning the risks of copyright infringement, plagiarism, reference errors, permissions, and accreditation.
Response by ChatGPT (Unedited. I swear!)
Artificial intelligence (AI) has become an integral part of our lives, and its impact on various industries, including the book publishing business, cannot be ignored. With AI technologies such as ChatGPT, authors and publishers are now able to produce and publish books more efficiently and accurately than ever before. However, the use of AI in book publishing also presents some risks, including copyright infringement, plagiarism, reference errors, permissions, and accreditation.
One of the most significant risks of using AI in book publishing is copyright infringement. With the ability to generate text and content automatically, AI models such as ChatGPT can inadvertently reproduce copyrighted material without proper attribution or permission. This can result in costly legal battles and damage to the reputation of the author and publisher.
Similarly, AI can also facilitate plagiarism, as it can easily duplicate content from various sources without proper attribution. This can harm the integrity of the publishing industry, damage the credibility of the authors, and result in legal and financial repercussions.
Another potential risk associated with AI in book publishing is reference errors. AI can struggle to differentiate between relevant and irrelevant information, resulting in incorrect citations or referencing. This can be particularly problematic in academic writing, where accurate referencing is crucial.
Additionally, obtaining permissions for images, quotes, and other content used in books can be a complicated and time-consuming process. AI can make this process easier by identifying and sourcing relevant content. However, there is a risk that AI-generated content may include unpermitted material, resulting in legal action and damage to the reputation of the author and publisher.
Lastly, AI-generated content needs to be properly accredited to avoid issues with plagiarism and copyright infringement. Accrediting the sources used in the book can be a challenging task for AI models, as it requires them to identify the original sources of information accurately.
To mitigate these risks, it is essential for authors and publishers to understand the limitations and capabilities of AI technology. They must also ensure that the AI-generated content is subjected to thorough checks to ensure that it is original and properly accredited. Additionally, implementing strict policies and guidelines for the use of AI in book publishing can help prevent these risks from occurring.
In conclusion, AI has brought significant benefits to the book publishing industry, enabling authors and publishers to produce books more efficiently and accurately. However, the use of AI also presents some potential risks, including copyright infringement, plagiarism, reference errors, permissions, and accreditation. By understanding these risks and implementing appropriate measures to mitigate them, authors and publishers can ensure that they leverage AI technology to its full potential without compromising the integrity of their work.
—————————————————-
To be honest, I'm not a writer so the above 'AI robot machine' generated text seems fine. It's punctuated properly, it seems to make sense. It's suitably boring. I wouldn't have guessed it was written by AI.
Could you?
---
Support our Nation today
For the price of a cup of coffee a month you can help us create an independent, not-for-profit, national news service for the people of Wales, by the people of Wales.