Culture
The story of Motörhead's controversial concert at The Racecourse in 1982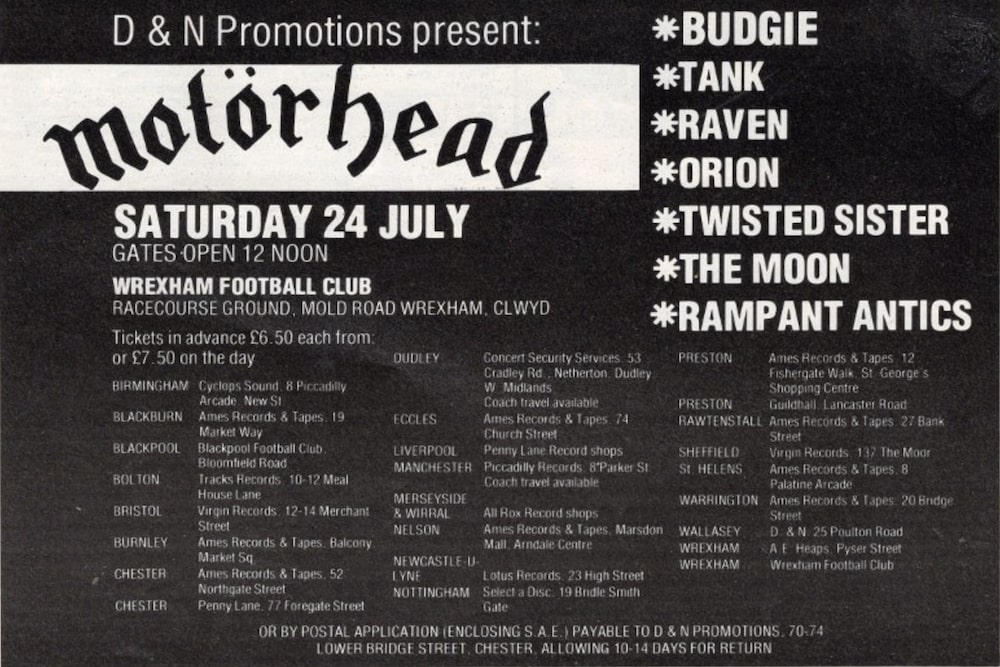 Leon Barton
Rock concerts at the Racecourse Ground, Wrexham have become a regular feature in recent years. The Stereophonics played two massive shows in 2016 and 2018 and their frontman Kelly Jones will be back there tonight with his new band Far From Saints supporting Kings of Leon for their sold out show (with another to come tomorrow).
The first concert held at the Racecourse was in the summer of 1976 with the 'Festival of Entertainment.' Mac and Katie Kissoon, Junior Walker and KC and the Sunshine Band gave the occasional a distinctly soul/disco feel. The first Racecourse ROCK gig took place in 1982, with the visit of Motörhead.
The relationship between Motörhead and the north of Wales goes back to the mid-fifties when the mother of Stoke-born Ian Fraser Kilmister re-married, as Kilmister explained in his 2002 autobiography White Line Fever.
'When my mum and my stepfather married we moved to his house in Benllech, a seaside resort on Anglesey. It was about this time that I began to be known as Lemmy. It was a Welsh thing I believe… I've been known as Lemmy since I was around ten.'
Kilmister had unhappy memories of being the only English kid amongst around 700 Welsh kids at school, but was to joyously recall blowing holes on Ynys Mon's beaches, using gelignite stolen from dormant construction sites!
As a teen Lemmy was to move to Manchester, then London to pursue his rock 'n' roll ambitions. He first tasted success with Hawkwind in the early Seventies, singing lead on 'Silver Machine', the band's biggest hit. But in 1975 he was kicked out of the band after being caught trying to cross the US/Canadian border with a hidden stash of amphetamines. He would have his revenge, when his next band Motörhead (formed a few weeks after getting fired from Hawkwind) would usurp his previous group in terms of influence, fame and infamy. By the beginning of the Eighties Motörhead were huge in Britain.
Their 1980 album Ace of Spades cemented their reputation as the kings of speed-fuelled maximum rock 'n' roll. Heavy Metal and Punk were two distinctly different entities at the time, but Motörhead's fast and loud music and uncompromising attitude seemed to meld the two in an unholy matrimony that was as appealing to the mohawks as it was to the longhairs.
The following year No Sleep 'til Hammersmith became the first live album ever to go straight into the UK album chart at number 1, although the band were in the USA at the time, supporting Ozzy Osbourne.
At the start of the decade Lemmy was to return to Stoke, then north Wales in successive years, to headline football stadiums with his band. The two gigs would go very differently.
In 1981, their headline appearance at Port Vale FC brought out 40,000 fans. It also brought out a great deal of trepidation from locals about the visit of a band with a (fully deserved) reputation as the loudest in the world. The organisers got around this by offering the elderly residents of the area a free coach trip to Blackpool. Job done!
The gig was a massive success, the crowning point of the 'classic line up's' (Lemmy on bass and vocals, 'Fast' Eddie Clarke on guitar, Phil 'Philthy Animal' Taylor on drums) imperial period.
Motörhead's fans utterly adored this incarnation of the band.
'In my eyes they were a gang. They were like these three dudes who pretty much did everything together…. Lars (Ulrich) and I were absolutely inspired by the fact that these guys like what they do, they hang out together, they live the life', said Metallica frontman James Hetfield.
'Fast' Eddie Clarke confirmed the band-as-gang philosophy; 'the three of us became a unit…all for one and one for all… it felt like that because the industry didn't like us'.
But Clarke, according to Kilmister, was 'always freaking out and drinking a lot back then… he used to leave the band about every two months. Two dates into their American Tour of 1982 'it just so happened that we didn't ask him back…we were just tired of him'.
This was a crushing disappointment to the band's fans. James Hetfield certainly wasn't the only one to feel so strongly about the 'Three Amigos'. As future Kerrang! and Mojo editor Phil Alexander says, 'we loved Eddie and the classic line-up and seeing it fall apart felt sad'.
With American tour dates to fulfill, the band needed a replacement for Clarke, and fast.
Former Thin Lizzy wunderkind Brian Robertson was chosen.
'Technically he was a better guitarist than Eddie but ultimately he wasn't right for Motörhead' Lemmy admitted. As Phil Alexander says 'the whole band felt wrong… their popularity waned massively at that point because the Iron Fist tour hadn't gone too well and the arrival of Robbo. He just didn't fit the band and fans felt it immediately. The reports from the shows in the US was that the band was a mess with him on board'.
Motörhead's first UK gig since Clarke's departure was to be on July 24th 1982 at The Racecourse, a venue which showed the kind of numbers that were expected. It didn't happen. As the Wrexham Evening Leader reported, 'the large open spaces on The Racecourse tell the story of a festival that turned out to be a flop… the expected 10,000 crowd never materialised and the festival was attended only by an estimated two thousand people'.
Much like Wrexham AFC, who had just been relegated to the Third Division, Motörhead were on their way down.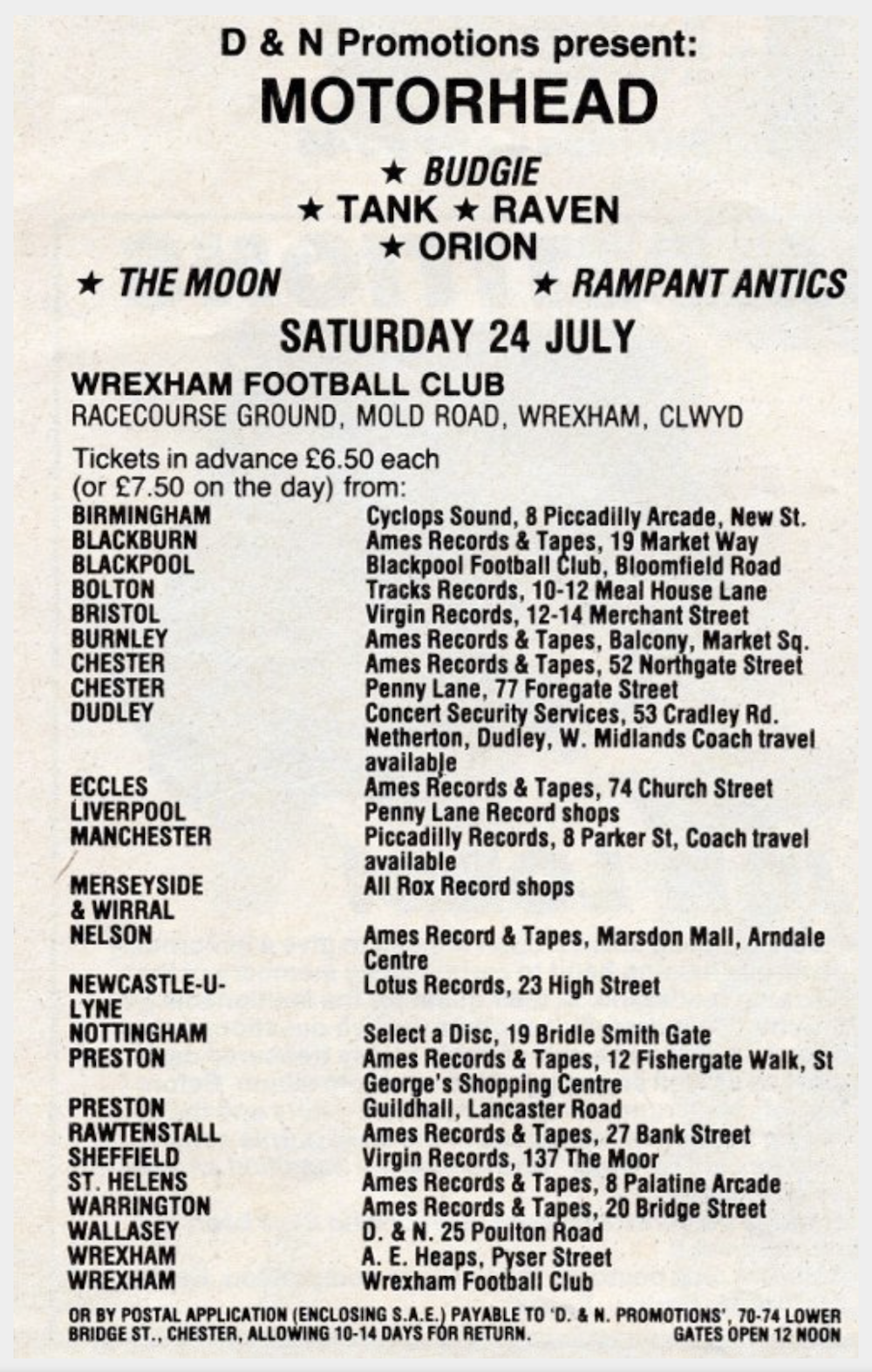 The poor crowd was not the only thing that went wrong on the day. For some reason the stage had been set up in front of the Wrexham Lager stand (then the Yale stand), the result being that the PA was facing the town's Maelor hospital, less than a mile away.
Inevitably, there were complaints.
Motörhead didn't take kindly to being asked to reduce the volume, instead deciding to cut their set short. Obviously, the fans weren't happy, but Lemmy suggested they vent their disappointment on the organisers. Leaving the stage, his parting message was 'rip the fucking pitch up!'
'There then followed a bit or a riot, sods of turf were the order of the day, with anyone who looked remotely official, including the small security presence, locking themselves in the building!' recalls a fan called Jude on the ukrockfestivals.com website.
As for the new line up, another fan called Richard says, 'I remember before the first band came on, some guy with short ginger hair in SATIN shorts doing a sound check. Found out later that day it was Brian Robertson. Satin shorts! not very Motörhead at all!'
Lemmy was aware that his band's fans were perplexed by their new guitarist's sartorial choices; 'Brian's fashion sense continued to shock and horrify fans throughout our tour of Europe at the end of the year. Let's face it, ballet shoes and Motörhead do not mix!'
As for his guitar skills, a fan called Dave remembers 'Brian Robertson kept forgetting what to play and Lemmy looked like he would have happily murdered him', but the frontman's recollection is that in Wrexham, Robertson 'did fine… it was back in England that Brian started getting very strange. It was a stadium gig at Hackney Speedway in London that the Hell's Angels put on. They lost a fucking fortune putting it on and they never promoted another show after that'.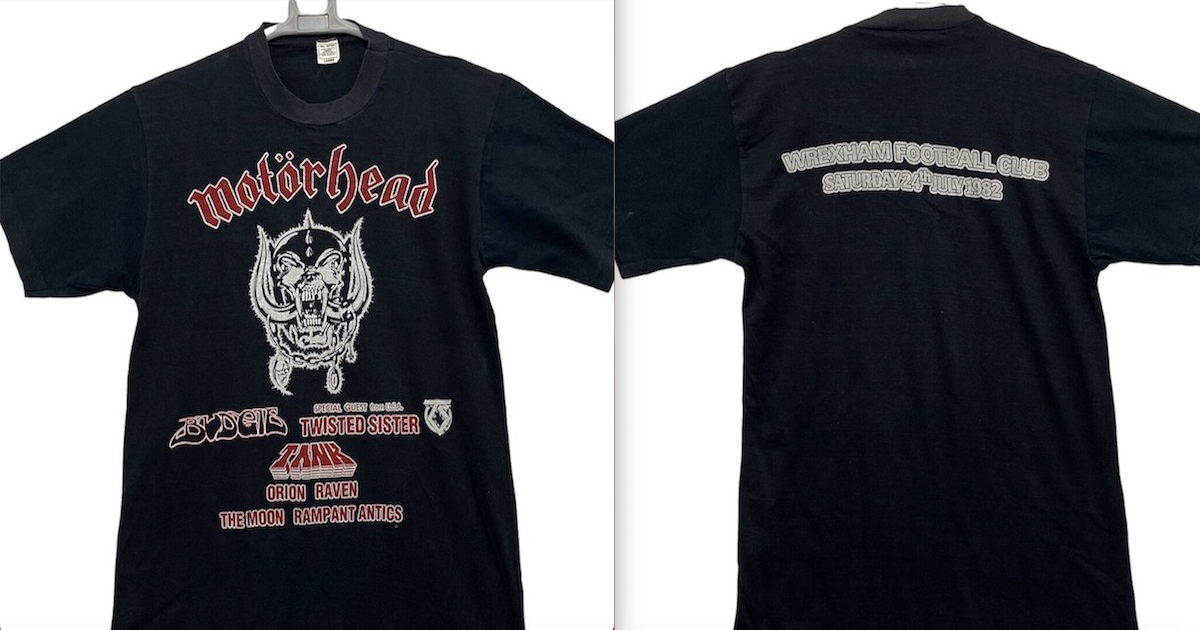 This was the very next day. Phil Alexander was at the gig and remembers 'Robbo came on wearing shorts, seemingly playing a different song from the rest of the band as the opener. It was terrible'.
This line-up would make one album together, 1983's Another Perfect Day, an album Lemmy considered 'very good', despite it getting a pasting in the press. Robertson was fired shortly after its release.
While, popularity-wise, Motörhead were spiralling downwards, one band who played in Wrexham that July were heading in the opposite direction.
'Twisted Sister had it's first ever performance in England (sic)' recalled the band's frontman Dee Snider in 2015. 'No record out, nobody had ever seen the band there…was opening for Motörhead at a football stadium…huge show.. Motörhead were huge… and we had to go on in the daylight…never done that before…we'd heard that bands that wore make up had been unceremoniously bottled off stage. We were pretty terrified….and Lemmy, he knew the smell of human excrement! He came in and said 'I wanna introduce you guys', which I thought was the most gracious thing for a headliner to do'.
Lemmy also had strong memories of the incident. 'They were terrified, the poor bastards. I ran into them backstage – here was this group of big geezers all dressed like women, and they were so nervous they were spitting teeth. I could see that they were going to fall to bits, so I said, 'Listen, I'll go out and introduce you if you want' and they were like 'Yes, please!' So I went out there and said, 'these are some friends of mine, so give them a fucking break – Twisted Sister'. That made sure they wouldn't get bottled off at least. And they went on and blew the place down'.
Snider called it 'one of the most memorable reactions of my career' and is to this day grateful for Lemmy's intervention in Wrexham for helping them on the way during their first trip to Europe.
Two years later, his band released the album Stay Hungry, with the hits singles We Aint Gonna Take It and I Wanna Rock turning them into massive MTV stars. It was a kind of stardom that was to elude Motörhead in America, but the band's enduring cult-status over the following thirty plus years was something Lemmy was sanguine about, ultimately conceding that it was probably for the best.
Let's face it, football grounds and punk-infused speed metal are not the best bedfellows. Metallica only filled stadiums when the likes of 'Enter Sandman' and 'Nothing Else Matters' from their mega-selling 1991 'Black album' placed a greater emphasis on melody and many of their rougher edges had been smoothed away. 'Smooth' was never going to be an adjective anyone would apply to Motörhead.
'Looking back – and I must say, hindsight in 20/20 – it was good for us that we fell when we did…. if we had carried on getting more and more famous we would have ended up a bunch of twats with houses in the country and gotten divorced from each other. So it was just as well, I think, for Motörhead's morale overall. It's important for a band to be hungry because that is the motivation that makes all bands work. And if anyone knows about being hungry for periods of time, it's me.'
Eddie Clarke put it memorably and concisely when he said, 'the best bit is climbing the fucking ladder'.
So perhaps, despite the low crowd, perhaps the Racecourse gig of 1982 was ultimately beneficial for Motörhead going forward.
Two years later, in 1984, they would recruit a Welshman on guitar in Pontypridd native Phil Campbell, who would go on to be Lemmy's longest serving sidekick, staying with the band until their dissolution upon the death of their mainman at the end of 2015.
Together, with Swedish drummer Mickey Dee, who joined in 1992, they would constitute the band's longest-lasting line up, staying together a full two decades after second guitarist Würzel departed in 1995.
All over the world, Motörhead would play venues that suited the band's sound – and persona – much more than football stadia, cementing their status as the most beloved of cult heroes. As Lemmy wrote in White Line Fever, 'not being a huge success doesn't bother me – after all, I have been there and done that.'
VIEW PICS FROM THE MOTORHEAD GIG AT THE RACECOURSE FROM THE WREXHAM LEADER ARCHIVE HERE

---
Support our Nation today
For the price of a cup of coffee a month you can help us create an independent, not-for-profit, national news service for the people of Wales, by the people of Wales.