Culture
The trials of Ignacio Lopez – the Welsh-Spanish comedy star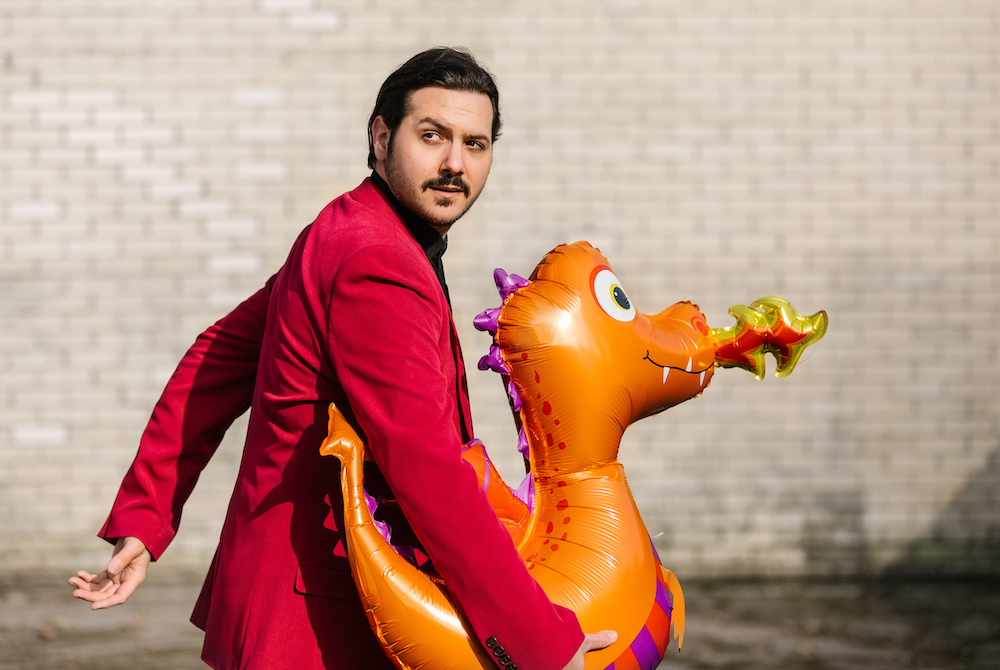 Christopher Evans 
Ignacio Lopez is riding the crest of a wave. Fresh from an appearance on Have I Got News for You, the Welsh/Spanish comedian is currently touring his latest show Nine IG Nails across Wales and the UK.
The hard-working Lopez has been a mainstay on the comedy circuit for over ten years, and in February 2023 made an appearance on the BBC's flagship comedy show Live at the Apollo.
It's not been an easy ride to the top, but Lopez says that he still pinches himself that being a touring comedian is his job.
"When I started doing stand up, I was like, 'this is crazy. People can do this for a job or full time?'", grins the 37-year-old. "And much like Billy Connolly or even Max Boyce, I can do it until I'm retired. I can do this for the rest of my life, it's amazing."
Lopez has an interesting and multi-national family background. His father was born in Morocco to a Spanish family, whilst his mother is from Pontardawe. He was born in Majorca, where his father ran a bar, and spent most of his childhood flitting between Majorca and Wales.

Language 
Lopez says he never really struggled with his move to Wales, primarily because there was no language barrier for him.
"The thing about Majorca is it is filled with British people, you know, so I do take the piss. Especially where my Dad was on the coast, you're surrounded by and have to cater for tourists all of the time.
"It was always useful to know stuff about the areas they were from. If you were working behind the bar and had a Welsh crowd in, you'd chat with them and you'd blow their mind if you had a little fact about their town, knew something about the area, or shouted 'Hwyl Fawr' on the way out. They'd be like 'what?!', it was always lots of fun."
However, there were two things that did slightly affect the affable comedian's adjustment to living in Wales.
"The weather was obviously a big one, but rugby as well. I wasn't prepared for rugby in any way, shape, or form. We don't do anything like that in Spain. I remember my first game of rugby was basically just eating turf for the duration of the game.
"I was like, 'how are they allowed to do this?' I'd be shouting 'that's a foul, ref, that's a foul', and they'd say 'no, that's a fair tackle Ignacio, that's what happens in this game, mate.' It was mind-blowing."
Stand-up 
Lopez, who studied Film and Video Production at the now defunct International Film School of Wales in Caerleon, Newport, says that his route into becoming a comedian wasn't quite conventional.
"Well, after I graduated, I went to work in a cinema in Swansea, which is the natural progression after all," he laughs.
But it was whilst working at the cinema that the young Lopez was given the nudge that would set his life on a completely different path.
"My friends who were working in the cinema, they kind of bullied me into it. I wasn't ever planning on doing stand-up. Even though it was always really important to me to be funny.
"I enjoy humour and making people laugh, but they convinced me to put the guitar down (Lopez's first love was music) one day and try doing a set in Swansea, which I did.
"I swear that first gig I just stood on stage with zero material and just kind of messed around and roasted my friends. But I noticed other people, strangers, laughing as well. I was like, wow, I could do this. You know, if that first gig had been shit, then that would have been the end of my comedy career!"
Lopez started to do a comedy night that became a regular Tuesday event in the Uplands in Swansea. He began making friends and contacts with "loads of really cool local comics" and cut his teeth on the comedy circuit around the country. "It involved a lot of late night buses and car journeys all over the UK, it was a lot of fun."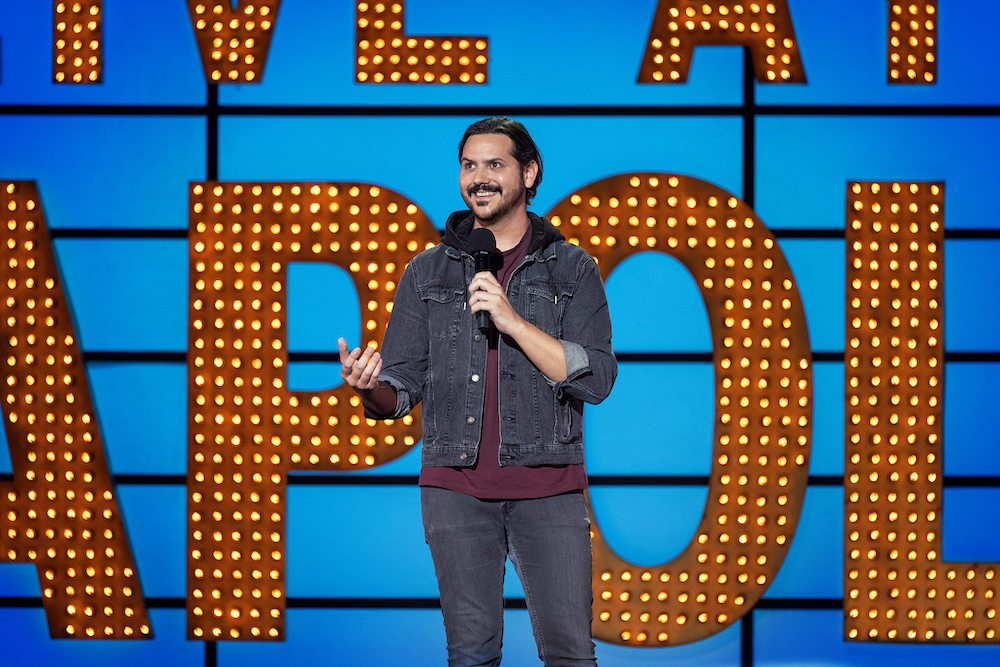 Humbled
He is humbled by the interest in him and says he can't wait to get on the road with his new show.
"I'm a huge Nine Inch Nails fan and the new show is about my love of the band. In 2009, when Trent Reznor (lead singer) said that the band was breaking up, I basically did everything humanly possible to get the money together to go see them play in Los Angeles.
"So, the show is a story about that. It's kind of almost cinematic. I wrote it like a film, it's got a beginning, a middle and an end. But it dips in and out of observational comedy about all kinds of stuff, the things people enjoy me doing.
"I'll talk about the difference between Spain and Wales, and the drinking culture, and my family, and immigration, that kind of thing. But also, it's just a love letter to just enjoying art and music and comedy and stuff.
"But at the same time, I talk about the worst gigs I've ever done in my life, because whenever I tell people I'm a stand-up they're either like, tell us a joke, which I'm like, 'buy a ticket, mate', or they'll ask what's the worst heckle you've ever had, or the worst gig you've ever done?
"So that's kind of what the show is about. I tell them the worst stories and the biggest disasters of that period of my life in 2009, when I was I was just starting out. It's so much fun to do."
The quick-witted Lopez won't give away the ending as his show is like a film – and he doesn't like spoilers.
"No, I can't spoil the ending. What I will say is that I can always tell the Nine Inch Nails fans in the audience, because halfway through the show they are looking around at the rest of the audience going, 'I think I know how this is going to end, you know.' But I'm trying to keep a bit of suspense and mystery to it."
The music-obsessed Lopez smiles widely when talking about supporting Madness at a festival, and he particularly loved compèring a small gig in Cardiff for James Dean Bradfield in 2016.
"That was a dream come true for me because I'm a massive Manics' fan. It was a once in a lifetime opportunity and was so cool.
"I was a bit worried because as a comic you've got all of this material, but sometimes you are performing to audiences who haven't come for comedy. So, you're just trying to get people's attention, but I think people could tell I was a genuine fan. So they weren't like 'who's this dickhead?!'"
Have I Got News for You 
At the beginning of the month Lopez took a major stride into the mainstream with a successful appearance on the legendary political quiz show Have I Got News for You. The usually confident comedian says being on the show was 'a different ball game.'
"I was nervous. Probably because you don't get the chance to prepare lots of material in advance. We got a rough idea of what we were going to talk about the day before. I thought we'd have like a week to write jokes for it or something, but not at all. They just tell you a few news stories that will be covered and that's it."
Airing just after the Tory conference in Manchester, Lopez decided to focus his jokes on that. However, he laughs as he said he felt blindsided as everything he had prepared in advance ended up being irrelevant.
"I was just sat there looking at my notepad, thinking 'all of this is completely useless right now.'
"But then I just relied on my comic instincts and Ian Hislop could not have been a nicer guy. He kept encouraging me and asking me my thoughts to get me involved. It was so cool to be on his team."
Filming for two hours meant that it was inevitable that lots of his jokes were cut from the final edit, but Lopez says overall he was happy with what was left in.
"Apart from one silly joke I wrote that I didn't get to use. I don't know if you read about it, but Joe Biden's dog had to be removed from the White House as it had bitten 11 secret service staff (laughs). The joke was 'I hope they don't put him down…I think he's been a really good president.' They didn't use the story in the end, never mind…"
He says it was surreal to be on a show that he grew up watching and that it was particularly "awesome" to be on the same show as Carol Vorderman, "as she's incredible and half-Welsh like me."
"We chatted for ages afterwards. She is fearless. She's fighting hard at the moment and she's getting a lot of flack for it. I was getting tagged into stuff with her due to the show, and the volume of abuse that horrible people were saying about her is shocking.
"Put it this way, I'm glad I'm not famous enough for that shit! Online abuse is so frightening and frustrating. People are happy to go on there and spout horrible stuff at other human beings. It's scary, man. Stick them in a comedy club, give me a microphone and I'll deal with them!"
The comic, who lives in Llandough, near Penarth, has an affinity for Newport, despite often poking fun at the city where he regularly gigs.
"Well, I obviously lived there for a few years when I was at uni and some family members used to live there," he says. "It was kind of my formative years when I was in Newport. I'd go to see bands in Newport a lot, I played a bit of music there and stuff. I played Le Pub back when it was in the old place. I've put on a few work in progress shows in the new place.
"You keep going back to the places you like, don't you? I find that places like Newport, the type of places that I mock and call a shithole on stage, they have the best audience, the best music scene, and so on, because perhaps people don't have much else. So they focus on art and entertainment and cheering each other up, you know, because it's a hard life out there."
Brexit 
The Majorcan-born Lopez has British citizenship and admits it was a difficult choice to make, but one that he had to make after Brexit. He laments the issues that Brexit has had on comedians and the arts in general.
"With Brexit, now because I'm 'British', so many gigs are cut off that we used to go and do. Now we have to apply for visas and stuff. Some gigs are fine and the promoters will sort it all out, but other ones, they'll say 'oh yeah, you can do it no problem' and when you start looking into it, it's not worth it.
"I'm not going to wherever for 200 euros and have to sort a visa and pay all this other money. It's not worth it. For the time and effort it takes, it's much easier just to go gigging in Carmarthen or whatever!"
He says people ask him all the time whether he sees himself as Spanish, Welsh, or British. "I'm European", he says firmly. "I wouldn't exist if the EU hadn't been in place when my mum wanted to work in Spain and met my father. The British Government has completely shot themselves in the foot."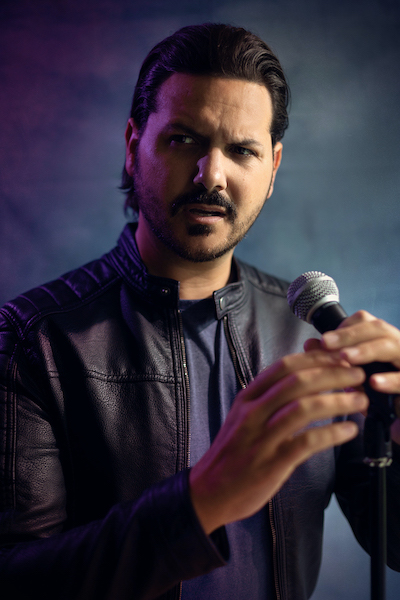 Ignacio Lopez is living his dream. He would like to do more TV and even a film, but for now he is more than happy doing stand-up.
"It is a dream come true to take my solo show on the road. Once that's done I plan to work on more material and another show. My real passion is live work and building up material for a tour show. Now I've got this kind of group of people who are willing to come and watch me, I want to thank them by doing new stand-up comedy for them every year."
If you get the chance, try to go and see Lopez whilst you can. He could be heading for superstardom.
For more information and tickets for Ignacio's UK tour visit: https://www.comedylopez.com/
---
Support our Nation today
For the price of a cup of coffee a month you can help us create an independent, not-for-profit, national news service for the people of Wales, by the people of Wales.