Culture
The unseen photographs of Oasis at TJ's in Newport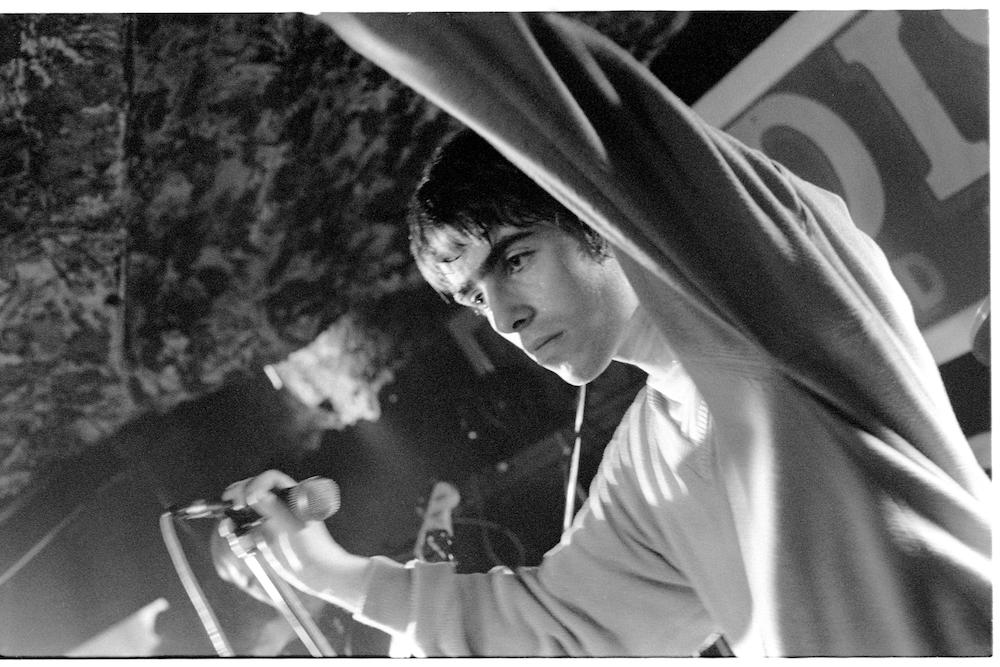 David Owens
It's rare to be at the eye of the storm let alone have forewarning that a hurricane is fast approaching.
Yet on May 3, 1994, there was the definite sense that you were in the midst of an earthquake of the musical variety, the reverberations of which were already being keenly felt.
Those who witnessed Oasis at TJs in Newport had good reason to believe that they were in the grip of something special, a force to be reckoned with.
Chaotic, most definitely, but electrifying all the same.
Oasis had released their debut single 'Supersonic' three weeks earlier when there was little idea of what was about to blow up, however almost a month later those seismic ripples were spreading far and wide.
It's hard to believe that's it's 29 years since TJs witnessed the then nascent rock 'n' roll stars lay siege to the venue, with two bickering brothers centre stage.
Almost 30 years, and in one sense nothing has changed – now the Gallaghers barbed comments are aimed at each other on Twitter instead of beside each on stage.
This is the story of that fabled night in Newport from the people who were there – at the eye of the storm and the photographs which have not been seen in three decades.
THE PHOTOGRAPHER – ROB WATKINS
"I had organised a pass for the (Cardiff University) student paper Gair Rhydd and I was supposed to be interviewing Noel at the soundcheck. But then Noel and Liam had a huge argument. Noel had changed the opening line of next single Shakermaker (first two times I saw them it was 'I'd like to buy the world a coke') and Liam wouldn't sing the new line. Noel stormed out. Then the rest of the band left. So me and my mate Dave followed the band around Newport at a discreet distance. First they went to MacDonalds, then to the King's Head where they were staying. That hotel had an Oasis Bar!
So we followed them into the hotel and Liam just sat himself down in the aforementioned Oasis Bar with a beer. So we asked him for an interview instead of Noel and he was in great form and posed for some portraits under the Oasis Bar sign. Then the rest of the band turned up (except Noel) and I remember very clearly the FA Cup song for Everton coming on the TV and we all sat on the hotel lounge sofa and discussed what the best football club pop songs were. Liam said he hated Man Utd but had to admit C'mon You Reds was a killer tune. Very surreal.
The gig itself was great. (Fellow Welsh snapper) Dave Hardcore and I were taking pictures and there was no pit at TJs. So security said to us that we could stand at the front and take pictures but we also had to hold the crowd back alongside them. It was bloody hard work. The venue was also full of Stone Roses fans. They were recording Second Coming at Rockfield at the time and everyone was convinced they would turn up to see this new Manchester band. You have to remember that Oasis hadn't really had a big hit yet and everyone was speculating about the return of the Roses, a well established band.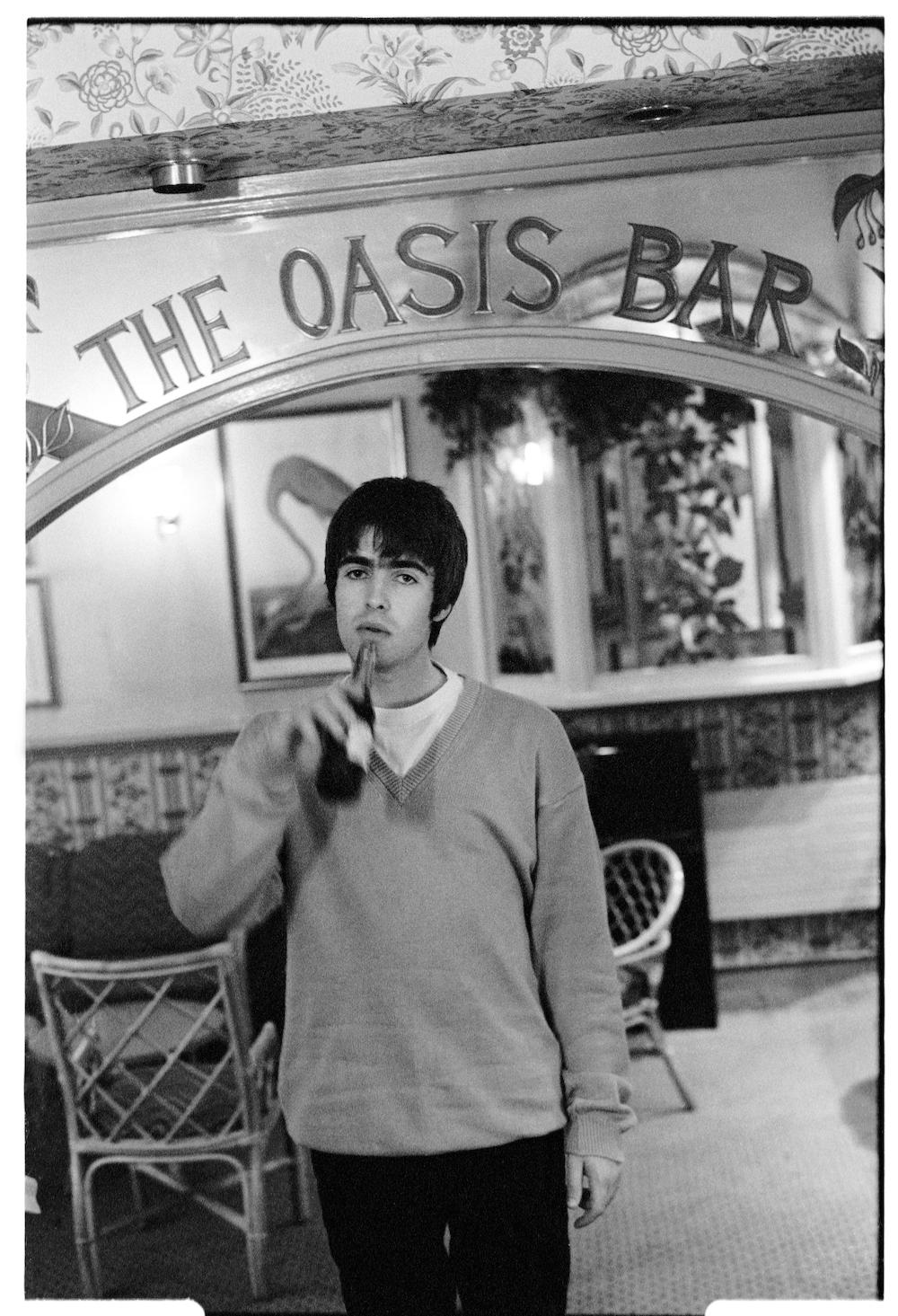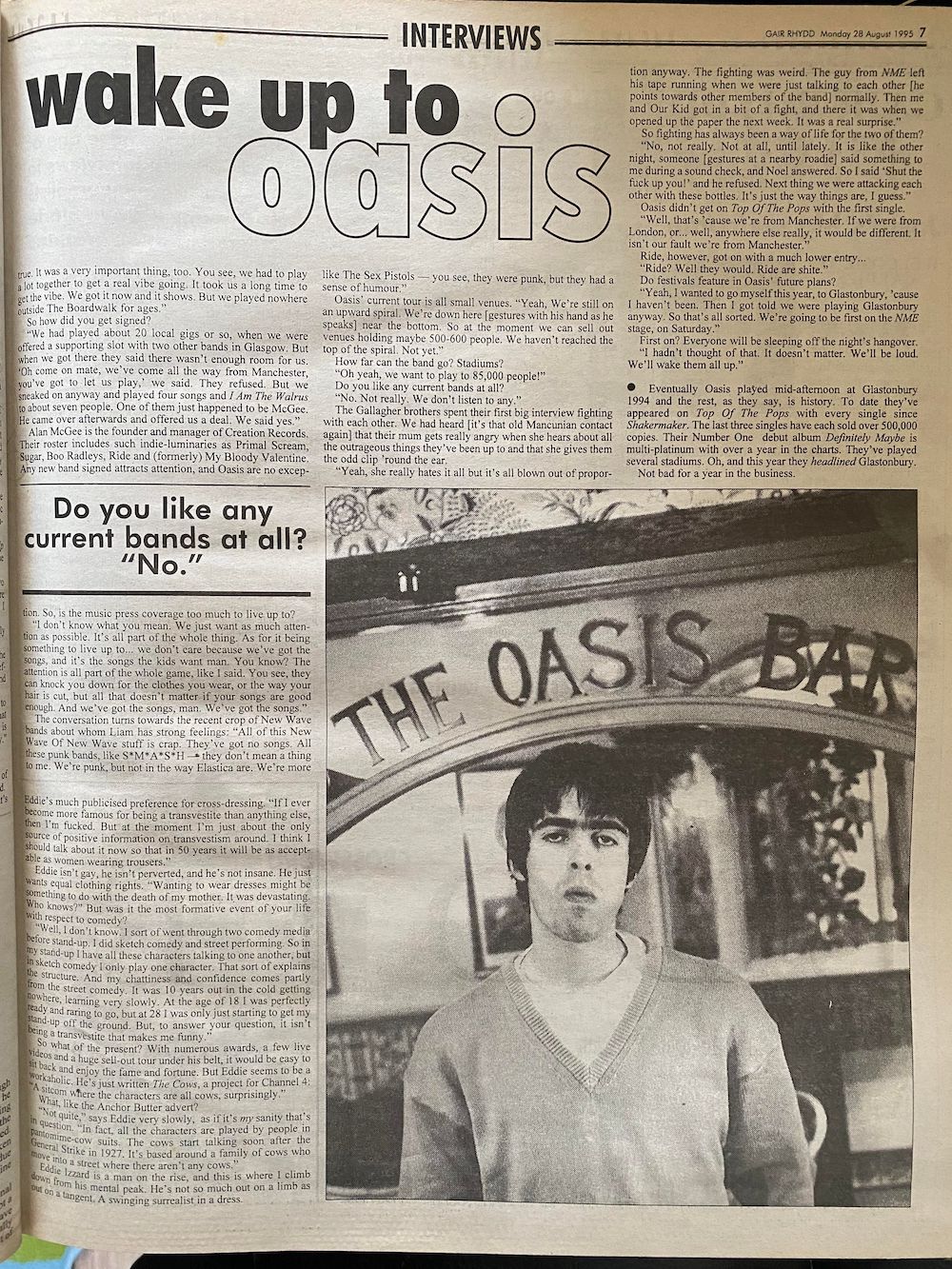 — Daniel John (@OasisG4llagher) February 10, 2020
THE SUPPORT BAND – 60FT DOLLS – RICHARD PARFITT
We played with Oasis four times and we played with them early on. In fact, so early on, I didn't know who they were. There were some posters around town win Newport which said Oasis and very special guests at TJs.
Just up the road, was Rockfield recording studio where The Stone Roses were making The Second Coming. As Oasis are from Manchester so the rumour going around town was that The Stone Roses were the very special guest.
A couple of days before the show I got a phone call one night, and it was Oasis manager Marcus Russell who said 'do you want to support Oasis at TJs?' For 50 quid I said yeah .
I told him we didn't have a van on anything so he said just bring your guitars and use their kit. You know, you do that when you're support band sometimes.
Anyway, I remember Oasis pulled up in a transit van, I'm pretty sure Bonehead was driving.
They all came in and set their gear up and they started to soundcheck. I remember they were just playing, Day Tripper by The Beatles, that riff over and over.
There was a guy stood next to me and I said 'where's the singer' and he replied 'I'm the singer'. It was Liam. He'd a massive row with Noel and he wasn't going to sing with them!
A couple of weeks later we played with them again in Cardiff. That time they'd already had their first front cover in the NME (the Kevin Cummins' Oasis Bar cover shot) and we played with them again, once in Sweden and once in London.
(Richard Parfitt was speaking to the Indie Alternative Podcast)
this cover was the one, taken in my hometown Newport, I was at the tjs gig, that night was biblical, knew then Oasis had it. pic.twitter.com/kUw5PLcAok

— Andrew Lynn (@AndrewLFC_1971) August 16, 2019
Me and my then girlfriends (now wife) first date, TJs, Newport. Oasis, when they were interesting… pic.twitter.com/9fbwyAl9EP

— Matthew Perryman 🇪🇺 (@perryman775) September 3, 2020
TIM BATCUP – FAN
"I was living in Swansea , and we'd heard rumours The Stone Roses were going to play a secret gig at TJ's.
"They'd been recording their album Second Coming in Rockfield Studios in Monmouth a short distance away, so it wasn't entirely unlikely that they'd pop down the road to perform at the legendary TJ's.
"I jumped into a car with a group of friends and we sped off up the M4. We were initially disappointed to find out the Roses rumour was just that.
"But one of my friends had heard Oasis on Jo Whiley and Steve Lamacaq's radio show, and when we found out Oasis were playing instead he said they were well worth a listen.
"TJ's was packed. The Manic Street Preachers were there, and Oasis had the swagger, the sneer, and bags of attitude. There was a massive buzz about them.
"The songs were all instant. I remember hearing Up in the Sky, and Supersonic and thinking how immediately memorable they were, and then they encored with an amazing version of I Am The Walrus.
"Going back home, we were immediately telling people you had to check this band out. Just a few weeks later they were the biggest band in Britain. They had blanket airplay on the radio, and they were everywhere.
"I was lucky enough to see early gigs by Metallica, Nirvana and Guns 'n' Roses, but this was right up there".
(Tim was speaking to WalesOnline)
THE JOURNALIST – SIMON WILLIAMS – NME
(Simon followed the band for three gigs from Portsmouth to Newport to Derby. This is the extract from the NME about the Oasis madness rolling into Newport)
FACT: Oasis talk a lot of bullshit. After the Portsmouth gig, Liam insists that he's going to 'sort out' East 17 because, he alleges, "They've ripped off 'Imagine'." Half an hour later, the singer is insisting that all he wants to do is sit down with East 17, neck a few beers and sort out how they can "topple Take That".
The same applies for Noel when he's told that Manic Street Preachers are coming down to the Newport gig: 'Do they wanna fight?' asks the guitarist. Nah, the Manics don't fight, comes the answer. "Right!" beams Noel, "we'll kick their heads in, then!"
Simplicity is the key: Newport, muchlike any other set on the tour, is utterly straightforward and unnervingly familiar. There's the Coca-Cola song! The one-that-sounds-a-bit-like-Blur-song! The Wham! song! A cover of "I Am The Walrus"! And no bleeding encores! It's the history of rock splattered over the past 30 years from The Beatles to the Mondays, played by five blokes who scarcely move a muscle onstage, who barely communicate between songs, and who are hardly likely torival Bad Boys lnc in the "Woof woof! Down boy!" stakes.
A few more things you may or may notneed to know about Oasis on the road. Already a seasoned autograph campaigner, Liam has sussed that signing fans' chests is a daft idea because cleavage perspiration prevents your pen from working properly. Whenever two or three of Oasis are gathered around the piano they will bang out a cheery version (to the tune of The Small Faces 'Lazy Sunday') of, "Wouldn't it be nice to be a fucking cock-er-nee/ Wouldn't it be nice to be in fucking Blur – SLAG!" And Newport witnesses some serious psychological collapse.
It may be something to do with the manner in which Oasis valiantly attempt to get a goodly proportion of the TJ's crowd into the hotel after the gig. Dispensing with the trite formalities traditionally deployed to convince suspicious hotel staff of their guests' worth, Liam simply harangues and abuses the night porter until the poor bloke's left with the choice of opening the front doors or being chased around by drunk Mancunians. It may then be something to do with the six-hour drinking session that ensues in – spookily enough – the hotel's Oasis bar. Whatever, the following morning is a sad sight for bloody sore eyes.
Bonehead has trashed his room. You can tell this by the way the morning staff patiently file in from the street carrying paraphernalia (telephones, cushions, pillow cases scarred with tyre marks). Bonehead would have thrown the bed out as well but it was too big. Now he is sitting in the lounge with a transparent shower cap on his face, muttering, "I can't do it any more."
"There's no such word as 'can't," a worryingly wise Guigsy informs his colleague.
"But I CAAAN'T!" howls Bonehead. "I'm giving up this rock'n'roll business, I'm gonna be a Tory MP. GIVE ME A SATSUMA! GIVE ME A SATSUMA!"
Over on the other side of the bar, an irate Liam is throwing this morning's music papers around and ranting about Oasis being exploited or some such like. Noel watches his brother, adjusts his shades and sighs. Obviously, confronted with all this evidence, any sane sort without direct responsibility for this Oasis tour would pack their bags, slink off to the nearest mainline station and get the first train back home to Normality, pronto.
Sadly, the NME crew simply sits in the midst of the chaos and twitches.
Read the full epic NME feature HERE
See Rob Watkins' Oasis pics HERE

---
Support our Nation today
For the price of a cup of coffee a month you can help us create an independent, not-for-profit, national news service for the people of Wales, by the people of Wales.