Culture
Theatre review: Choo Choo! at the Sherman theatre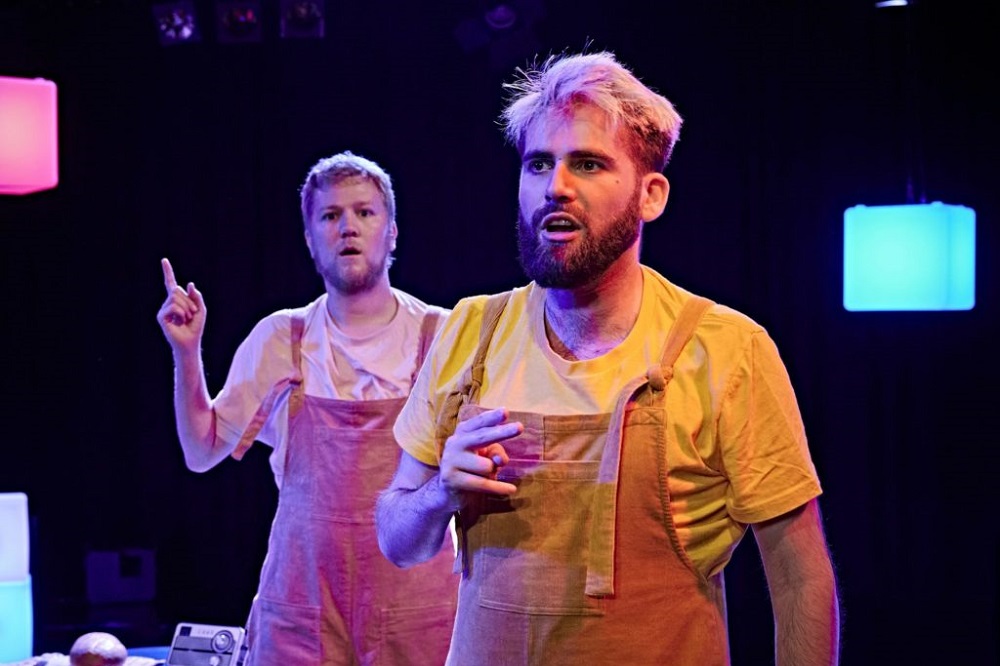 Jon Gower
Judging by the puerile title you might be forgiven for expecting something eminently childish from this production but, in truth, it deals with serious issues in an infectiously playful manner.
So expect plenty of good gags and lively improv but some touching tenderness too. It's a cracking little show, full of vim and vigour, good humour mixed with bad thoughts.
This show 'contains strong language, references to intrusive thoughts, OCD, sex, death, contamination, violence and suicide' but is hugely entertaining throughout, and informative too about matters that pertain to so many of us.
Nye and Duncan, played appealingly and with joyful gusto by Nye Russell-Thompson and Duncan Hallis are looking forward to their holidays and can barely contain their excitement in their rolled-up dungarees.
They are two very happy chappies, who start the day with a cheery song and a merry dance. They are also counting down the days before their golidays and now only need to dig up Nye's passport which he has buried somewhere in the garden.
Intrusive
But Nye is unhappy inside as he is much given to intrusive thoughts in which he wishes harm on others, most worryingly on his best friend Duncan. He sees himself pushing him in front of the choo-choo of the play's title and the whole thing threatens to derail him.
Such troubling and testing thoughts affected Nye Russell-Thompson when he was a teenager. Choo Choo! is in part an account of how you can control such errant imaginings and stop them turning into full-on obsession.
In a straw poll of the audience it was striking how many people have had such thoughts – about, say, jumping from high places – underlining the importance of giving an under-discussed subject an airing.

But lest you think this is in any way a preacherly hour of performance about Obsessive Compulsive Disorder, there are some rib-tickling and spirited sections such as the pastiche of BBC Radio 4's Just a Minute.
Here Nye and Duncan invite members of the audience to talk for 60 seconds on a given subject.
Last night they prompted someone to talk about Guantanamo Bay but the chosen audience member hadn't heard of the place, so most certainly couldn't fill the time talking about extraordinary rendition or American torture.
Then a young woman was given the subject of "Fisting" which made her crumple with embarrassment, so Duncan, ever-helpful, suggested she might ask the woman next to her for help but it turned out to be her mother.
Banter
There was more of this sort of rapid-fire banter with a routine in which, like Mrs Malaprop in Sheridan's The Rivals they were forever getting her wucking furds mixed up.
So we find the two friends repeatedly and repeatedly confusing words like "Speedo" for "paedo" and even when they do manage to explain what they're talking about swimming trunks those are confusingly available in three versions, namely 'extra medium, Kevlar and blue.'
The writing throughout might be described as 'lean with meaning,' if you like things in your life to be sing-song.
Choo Choo is directed by Nerida Bradley with a deft touch, nowhere more so than in the calibration where they dial down the laughs and move into the world of inner fears and slippery thinking.
There's a beautifully choreographed sequence when Duncan finds himself right on the edge of a railway platform and offers Nye a chance to face his fears which brings tears to your eyes and is a moment both tender and true.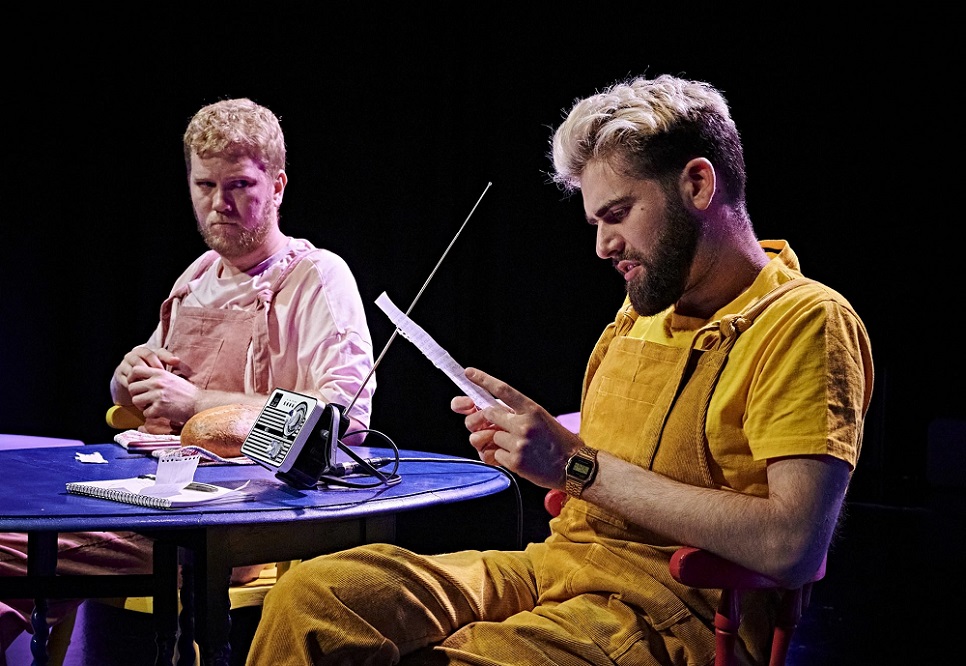 Vibrant
And there should be a loud shout-out to Laura Goulden, who on the night I went was doing the BSL interpretation and gave it her absolute all, dancing with the daft duo and seeming at times like a third performer on stage.
And a big shout out too for Heledd Evans and Rosey Brown's sound design, which mixes radio atmospherics with brooding mood music and Garrin Clarke's lighting which helps shift the tone of things from vibrant, cheery colour to the more dark and sombre moments.
The show is currently playing in Cardiff's Sherman before heading off for a month at The Pleasance as part of the Edinburgh Fringe.
They've managed to achieve this with some crowd funding mixed with a sure sense of theatre and a ready gift for working an audience.  It all augurs well.
Walking out of the theatre my eldest daughter asked me how many marks out of ten I'd give it and I suggested 9.5. When challenged why I was holding back the half point I could think of no reason whatsoever, in part underlining how slippery thoughts can be, and how the mind is often playful or wants to play tricks.
So I promptly revised upwards. Yes, a definite ten out of ten for Choo Choo, a production which in hopefully on track, or on the tracks for a taste of Edinburgh Fringe success. Full steam ahead.
Choo Choo! is a Stammermouth, Sherman Theatre and Pleasance production which plays at the Sherman until the 22nd July before transferring to Scotland. Nye and Duncan are not taking the train.
---
Support our Nation today
For the price of a cup of coffee a month you can help us create an independent, not-for-profit, national news service for the people of Wales, by the people of Wales.