Culture
Theatre review: Grav by Owen Thomas, Tongwynlais Village Hall
Sarah Morgan Jones
It's been around Wales five or six times, been to Edinburgh, New York and Washington, been turned into a film and won a Bafta, recently returned from Nebraska, and has just earned its 150th cap.
Grav, starring Gareth J Bale, notched up its landmark performance last night on writer Owen Thomas' home ground of Tongwynlais.
Over a hundred people armed with coats and flasks and four-packs arrived at the village hall to watch the story of a remarkable man, known throughout Wales and the world because of his radio voice, his film and stage performances and of course, above all, his rugby.
"Llanelli, 23 caps, British Lion, Barbarian."
This is how Bale's Grav introduces himself, growing in confidence, finding his feet and his voice as he repeats that which he knows about himself.
"Llanelli, 23 caps, British Lion, Barbarian… Welshman, Cymro."
But as he inhabits what could be the changing room of his mind or the hearth of his home on a Sunday afternoon, having unfinished conversations with his long-gone Mam, he unfolds the story of a young boy from Mynydd-y-Garreg who lost his father in tragic circumstances and just so happened to grow up to become a rugby player.

Spellbinding
Stripped back staging was more than enough to prop up the trademark quality of Thomas' storytelling and the spellbinding performance by Bale, who strode into role without hesitation, holding our attention in the palm of his hand.
He delivers a man who was in essence a protector, a valiant warrior, a man unafraid to deliver a late tackle on the pitch in a bid to 'take care of' an opponent and win the match. At the same time, we see a gentle man who was fragile and tender, subject to superstition and insecurities, a man driven to do his best to win the approval of his hero, his father.
His capacity for love and humour was as boundless as his need for reassurance and as he talks to his Mam, he is proud of what he has achieved, speaks highly without exception of his teammates and yet is always remembering and trying to forgive the boy who led the search party up the dark mountain but followed it down shedding the first tragic tears of a man.
With nuance and rhythm, Bale's performance took us through the euphoric and devastating moments of Grav's life and on occasion, when the actor was seated in the half light, quietly contemplating not only the loss of his father but the loss of his leg to diabetes, it was as if the man himself was there.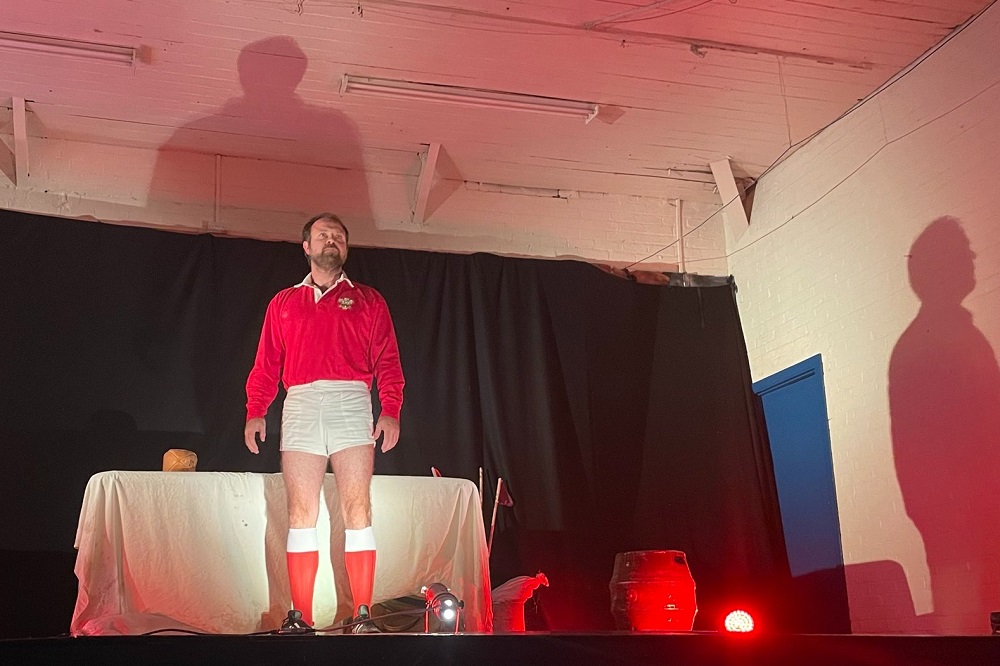 Passion
As with the companion piece, Carwyn (which also began life at the Torch and is about to go back out on tour), it matters very little if rugby is not your specialist subject – although of course, it wouldn't hurt if it was. It is far from a parade of rugby anecdotes, or indeed of 'what Grav did next'.
The passion, the emotion and the excitement of the game is landed in your lap, in detail, breakdown and analysis. The historic Scarlets V New Zealand match of October 1972 sits deep in the heart of this piece, the characters, the drama, the fear and the joy – and you don't have to be a fan to be bowled over by that.
"He runs and he kicks, and the ball takes flight…twenty-five thousand people watch it sail through the air and will it, will it, will it between those posts: go on ball, GO ON BALL! I swear to this day that the noise they made carried it a little bit further. GO ON BALL! … Yes! Nine three, nine three, we are beating the All Blacks by nine points to three… this is actually happening, this is NOT a dream…"
But entwined with these elements, changing the pace and bringing a contrasting tension, is the tale of the boy and his dad, their relationship with the sport and with each other and how it turned Raymond into Grav.
Stars aligned
Introducing the performance, Owen Thomas recounted how a chance phone call from Bale about Grav back in 2014 had started a chain of events that would change their lives, see the tremendous success of this work on stage, screen and now in print, bilingually.
It has enabled them, as Bale and Owen Productions, to secure funding to take Carwyn, starring Simon Nehan, back out on the road this autumn, telling the tale of another Welsh rugby hero and complex man in theatres across Wales.
He said: "It's just as if the stars have aligned."
Peter Doran, former artistic director of the Torch Theatre and director of Grav travelled up from Pembrokeshire for this performance.
Afterwards he told me: 'When we started, we thought it would be a three-week run and then that would be it. We had no idea that eight years on it would still be running or that it would be showing no sign of stopping.'
---
Support our Nation today
For the price of a cup of coffee a month you can help us create an independent, not-for-profit, national news service for the people of Wales, by the people of Wales.