Culture
Theatre review: Imrie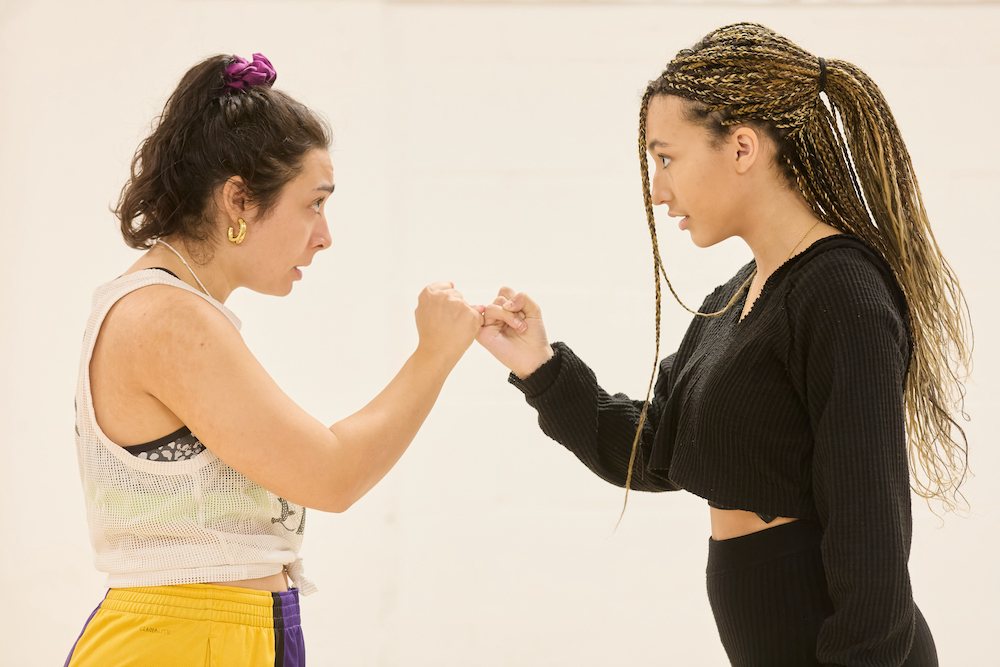 Jon Gower
The debut of a new writer with lots of things to say is an occasion that might appropriately be marked by a bright blast of trumpets.
But in the case of Imrie, the first full length play by Cardiff-based Nia Morais it might be more suitable to make some alluring marine sounds using conch shells.
For it's a watery and underwatery play about sirens, those mermaid-like creatures of legend that lured sailors to their deaths.
It's also about sisterhood and identity and belonging and so much more, all pressed like a concertina into play which features magical, joyous transformations in the world of imagination and legend coupled with some ugly and unpalatable truths about the human realm.
The siren in this case has a name, Imrie Sallow, and what a clever name that is, with intimations of immersion in the shallows, or hints at a sallow appearance, which usually refers to skin.
She appears to Josie (played by Rebecca Wilson) and leads her, or entrances her into her world of sea caves and happy partying in deep pools. It offers Josie a chance to belong, to fit in, which is a feeling denied to her in school.
Legends
Mermaids and sirens have a long history in Wales. A farmer in Aberbach in Pembrokeshire kept one in a bath of salt-water. One washed ashore in Conwy asked for help from some fishermen, who refused to give it and were duly cursed.
Another, appearing on the coast in Llandrillo yn Rhos was given help and returned some years later to warn of an imminent storm.
But Imrie is nothing like these creatures of Welsh legend but rather a shimmering, sensual and sexual being with scales like jewels and jet black tresses of seaweed.
And at times quite horrifying, depending on who precisely is the observer.
School in this play is a place of peer-group politics and all its attendant duplicities as Josie's sister Laura (Elan Davies) finds out. She tries to join a gang, only to find out how tribal, brutal and indeed racist some of her fellow pupils can be.

Morais cleverly melds and intertwines the prejudices against each sister. In Josie's case, growing scales on her skin makes of her a monster in other people's eyes.
In one awful scene it even drives her sister to try to tear them off her body as Laura desperately wants her sister to be 'happy and normal.'
Which is difficult when you're hiding scales on your skin in the changing room.

Monstering
The two actors unpeel all of this with performances of real distinction.
Rebecca Wilson clearly relishes the physicality of showing how a teenage girl, now growing a tail, swims jerkily in deep water and, when she arrives in the flashing lights of an underwater discotheque, breaks free into dance.
Laura is played by Elan Davies with lucid clarity, as she charts a world of name-calling and othering that fair matches the monstering of her sister.
Laura carries a burden of prejudice levelled against her, dating as far back as a day when someone spat at her as a small child, which was also the same time their mother started to realise the truth about her sister.
But truths, if concealed, have a habit of suppurating in the darkness, of turning nasty.
Revelation
The world of schoolyards, living rooms and marine caverns is all conjured up, or rather, cleverly suggested by designer Cai Dyfan, lighting designer Ceri James and sound designer Sam Jones all working in tandem.
So moments of revelation come as bursts of light from a neon-tube frame around the action, while the subtle lights of the underwater party are muted and refracted, dancing like kelp lit by the sun on the sea's surface to original music composed for this world premiere by Eädyth Crawford.
Gethin Evans, the artistic director of Fran Wen delivers a play which is notable for its clarity, from the crisp but sensitive enunciation of lines to the economies of movement as the actors move from a living room to the tide's edge and then into the undersea.
He turns the audience into the horizon and encourages its members to dream up their own monsters.
Horror
Nia Morais' writing similarly moves deftly between the registers of otherworldly horror and the everyday horror of kids' unkindness and cruelty with deftness and aplomb.
It's one thing to write a play intended to entertain young people but quite another to pack it with stuff to make them think, especially when they're at an age when matters of identity, of appearance and of belonging are important and potentially woundingly-damaging.
It's billed as a play about 'hope and bravery' and it's certainly that. But it's also about the joy of finding friends and finding yourself and all that is attendant on such moments of discovery.
It's confident and crisply written work that is probing and moving at one and the same time. Very much recommended.
Following its initial performances at Cardiff's Sherman Theatre Imrie will now be touring across the country, visiting Pontardawe, Aberystwyth, Caernarfon, Mold, Bangor, Milford Haven, Newport and Garth Olwg, Pontypridd.
You can find all the dates here.
---
Support our Nation today
For the price of a cup of coffee a month you can help us create an independent, not-for-profit, national news service for the people of Wales, by the people of Wales.