Culture
Theatre review: Past Imperfect, Fluellen Theatre Company
//= do_shortcode('[in-content-square]')?>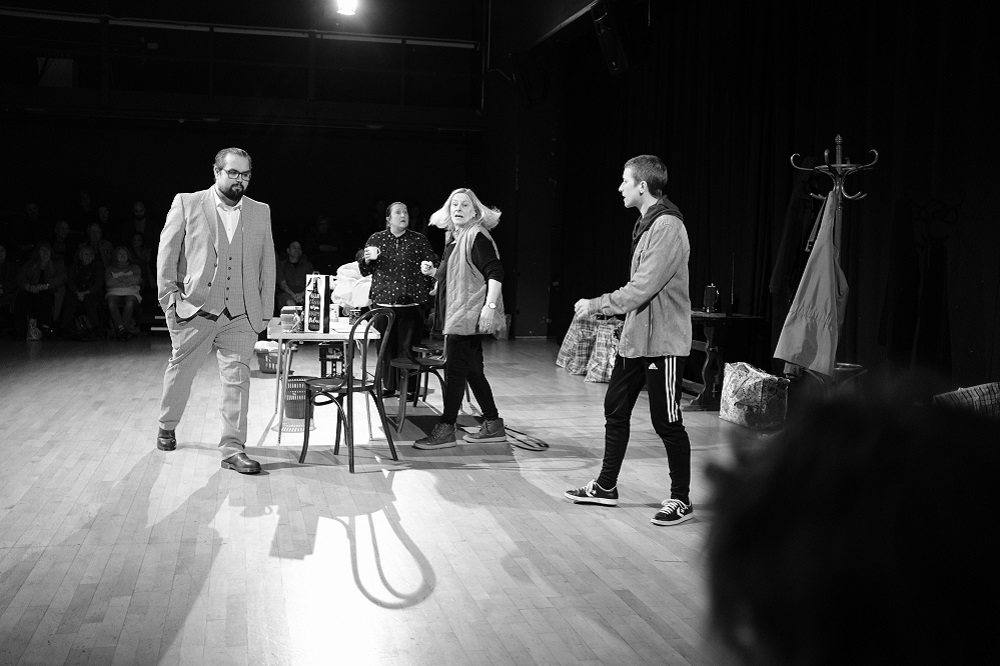 Jon Gower
When we first encounter Mandy, the breezy, chatty central character of Sarah Morgan Jones' taut and troubling play she seems pronouncedly upbeat. She enthusiastically croons "Good Morning" from Singing in the Rain with her fellow launderette worker Maeve, complete with a rudimentary dance routine delivered amongst the bags of clean washing.
But, like other plays set in launderettes, such as Kevin Barry's Autumn Royal and Hanif Kureishi's play-of-the-film My Beautiful Launderette there's always some dirty laundry to air in public, not to mention reasons for people to come clean.
The hard-working Mandy and Maeve do much more than, say, get the mud sluiced off the Dunvant rugby youth team's kit: they really look after their customers, performing kindnesses such as picking up prescriptions for the incontinent "wet-the-bed brigade," while Mandy acts as a surrogate mother to Tania, who has been a single mum from the age of fifteen and is nervously awaiting her exam results.
But Mandy certainly has things on her mind, not least questions about whether she should be judged on what she does rather than what she's done, hinting at something troubling buried in the past. She addresses these vexations to the audience as if we are the judge.
Then a man enters the launderette under cover of darkness, rifling through the cash box to reveal what may be an old photograph…

Innocence stolen
"A stranger comes to town" is one of the best and most propulsive plot lines in any story. When stranger Gordie, seemingly a young boy trapped in a man's body (played with a sense of an innocence stolen by Matthew Bool) enters the lives of this trio of women he proves to be a most disruptive force.
He insinuates his way into Tania's life, making her briefly happy by taking her and her son out to breakfast: Tania neither wants nor expects much from life. He is soon staying over, much to Mandy and Maeve's chagrin. They are both custodial about her and don't want her feelings hurt in any way.
But this stranger is coming to town bringing with him enough explosive material to leave the place itself in ruins.
Because Gordie knows about Mandy's secret.
Past Imperfect is a hard-hitting and challenging play about how the past sows dark seeds for future harvest. Katherine Weare presents us with a Mandy whose cheerful "I'm Mandy, fly me" bon mots and upbeat disposition is also a troubled and vexed soul. She is weighted down by the burden of guilt and the possibility that her Northern soul (she comes from Yorkshire) is beyond redemption, thus often shuddering with pain.
Chasm
Tenderly and affectionately played, she has the audience rooting for her from the off and keeps them firmly on side despite the testing revelations which almost smithereen her relationship with Tania (Frankie Williams) and even challenge her fellow worker and erstwhile dance partner.
Luckily, Maeve (Claire Novelli, playing her with backbone and steely compassion) stands by her side, as good friends should, but that reaction is far from certain. In one of the most effective scenes in the production director Peter Richards has them exchange words at a distance from each other, as if to underline the chasm that now extends between them, one that has to be bridged, just as Mandy has to explain everything to her own daughter, who is away at university, ironically studying law.
Sarah Morgan Jones, in this her confident, deftly-structured debut play, has fashioned a searching exploration of the deeply felt and pernicious effects of a harrowing childhood as those children grow up. In the case of Gordie and Mandy, the mutual recognition that they have both suffered offers the possibility of some sort of future reconciliation, or, at the very least, of understanding.
With this latest offering in their lunchtime theatre slot at Swansea Grand Theatre's Arts Wing, Fluellen Theatre have showed, once again, their innate sense for promoting accessible theatre presented with flair and simple invention.
The enthusiastic Saturday lunchtime audience certainly seemed to agree. In Sarah Morgan Jones they have found a playwright with a sure sense of drama, coupled with a definite, strong voice and, in Past Imperfect something to say, something genuine and troubling and genuinely troubling at that.
Fluellen Theatre Company will be performing Past Imperfect at The Met Abertillery on March 9th & Grand Pavilion Porthcawl on March 22nd, both at 1pm.
---
Support our Nation today
For the price of a cup of coffee a month you can help us create an independent, not-for-profit, national news service for the people of Wales, by the people of Wales.