Culture
Theatre review: Songs Across the Sueniverse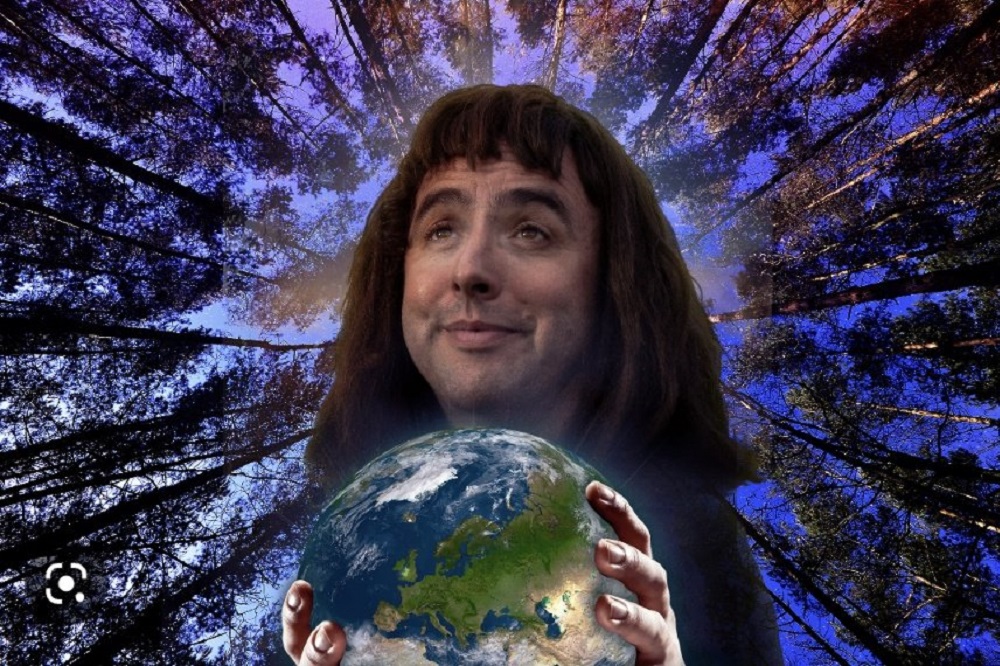 Emma Shepherd
It's been 10 years since I first encountered Sue Timms, singing songs about her comfy life in Roath at a solo show in Chapter called My Name is Sue.
Since then, she's had a Second Coming at the Soho Theatre, rave reviews at Edinburgh, and now she's brought her third show to the Sherman theatre in Cardiff for a sell-out preview run.
In this National Theatre Wales presentation of Daf James and Ben Lewis' musical comedy, James's lonely, lovely creation Sue Timms "sets off on an extraordinary pilgrimage across modern Wales, via shopping malls and ancient forests, busy motorways and lonely mountains, all in search of a miracle".
He is joined on stage by a band of Sues – musicians with the same DIY haircut, grey cardigans and slipper socks as our heroine.
This time Sue leaves her life of cosy cardigans and Casualty, for an adventure to Bardsey Island, to look for her missing friend Sister Blodwen (who's suddenly stopped coming round on Sundays for Fondant Fancies), and save Wales and the world while she's at it.
Along the way, she encounters a host of comic characters: Alun the drunk guy, Graham Biskin, Damon the Shamen – all played by James.

Lost souls
James is an incredible performer, switching between Sue and the cast of lost souls she meets on her pilgrimage. He is master of energetic physical comedy, whether he's raving in a forest or removing a pair of tights.
And the songs that he's composed for the show take you on as much of a journey as Sue's voyage to Bardsey. An upbeat song about Sue's daily routine, an homage to long-forgotten shops like C&A and Tammy Girl, and an emotional plea for love sung to a stranger called Miranda.
The show features clever videography by Nic Finch setting the scene for Sue's adventure with images of Cardiff from the '80s, pop-up puffins and psychedelic mushrooms.
Audience participation drew us into Sue's world even more, as we marched with the Sues, waved glow sticks at a rave in a forest, and sang along to the life-affirming anthem 'We Are Alive!'.
Inclusivity is at the heart of show – this isn't a show made accessible, it's been designed with accessibility in mind.
Subtitles didn't just reflect the dialogue, they added humorous extra commentary to the plot. The BSL interpreter Claire Anderson was one of the identical onstage Sues, and an integral part of the cast.
Poignancy
Among all the hilarity, James tackles some serious social issues. From the decline of the high street, eviction and homelessness, toxic masculinity, loneliness and isolation. But ultimately, this is a show about vulnerability and fragility.
He has a gift for mixing laugh-out-loud comedy with moments of pure poignancy – my tears of laughter and sadness were all jumbled up and I left the theatre with a full heart and a mascara-streaked face.
The show ended with an affectionate collective audience gasp of 'Ah, Sue'. In 80 minutes, we'd totally entered the Sue's world, and connected with this lovely but lonely character, with her mix of wisdom and naivety.
The three-night run at the Sherman was sold out. Fingers crossed for a revival, so the rest of Wales and the world can get to enter the life affirming world of the Sueniverse too.
---
Support our Nation today
For the price of a cup of coffee a month you can help us create an independent, not-for-profit, national news service for the people of Wales, by the people of Wales.