Culture
Theatre review: Sorter by Richard Mylan, Grand Ambition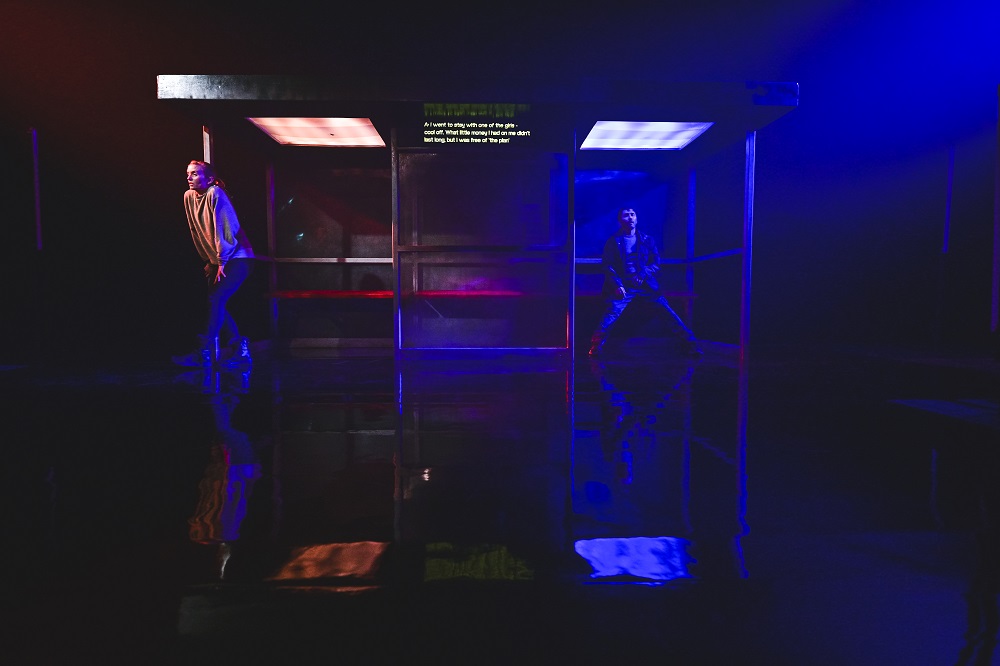 Sarah Morgan Jones
From the High Street to the Hill, Dyfatty to the docks, Morriston to Mumbles, there are tales of lives devastated by drugs throughout Swansea. Behind every tale of destruction is someone's mother and someone's son… Someone… each facing their own particular heartbreak and desperately trying to work out the moment when an external force switched the points and sent them off the rails, diverted them from their expected journey into an unknown and unloved world of hurt.
The hardship of life in towns and cities across Wales is often manifested in the presence of a shadowland inhabited by young people, old people, men and women, who the passer-by can side-step and ignore, cross the road to avoid and perhaps thank their lucky stars that they are strangers. Or they might be the people they know.
And when the cards have landed the right way or the dice have rolled double six at every throw, it is a land that many do not understand but will judge without needing much encouragement. It is really a matter of luck, of which road you take at the crossroads.
A hard hitting and unflinching debut drama, set on the streets of Swansea, puts the lives of two people under the lens, each one drifting on the peripheries of the other, inhabiting the same geography but lost in their own painful worlds.
Sorter was written by actor Richard Mylan during lockdown, his first attempt at writing, and starting, as many writers do, with what he knew. Mylan wrote to come to terms with his own addiction journey, and his storytelling is clinically honest, at times darkly funny, dynamic, pacey, and thought provoking.

Ordinary souls
Example A, played by Sophie Melville, and Example B, played by Mylan, are ordinary souls with ordinary hopes and dreams: love, peace, security, family. Their cards fell badly, and their sixes were few and far between. They make do and mend, only to break again, as the perpetual cycle of expectation, hope and failure ploughs on unrelentingly.
We meet them at the bus stop, together but strangers, isolated but connected in that degrees of separation way that is not unusual in Swansea. One is a mother separated from her kids, striving to satisfy an unsatisfiable need, and the other, angrily unpacking his initially good childhood to an unseen counsellor. With monologues artfully interspersed, wasting no time, we quickly catch up with who they are and how they got here.
We also get an incisive snapshot into our society's response to drug addiction, its mitigation strategy which is embodied in methadone and while that may tick plenty of boxes, it by no means represents the cure or tackles the cause.
A and B are Everypeople, their stories are sadly too typical, the food chain is long and well established as regards the demand and supply of drugs. The suppliers care only for their profit margin as they cut and cut again the product with increasingly dangerous and cheaper fillers such as fentanyl, and no scruples when it comes to dumping an overdosed punter outside a house four doors down to wait for an ambulance.
The victims are the addicts who must constantly aim lower in order to get what they need, and the impact of that spiral is devastating.
Produced by Jennifer Lunn for arts collective Grand Ambition, Sorter is brave, moving and challenging but by no means without humour or hope. It is an insight into the highs and lows of the highs and lows of drugs, sometimes the best thing ever, and sometimes the absolute killer of all dreams.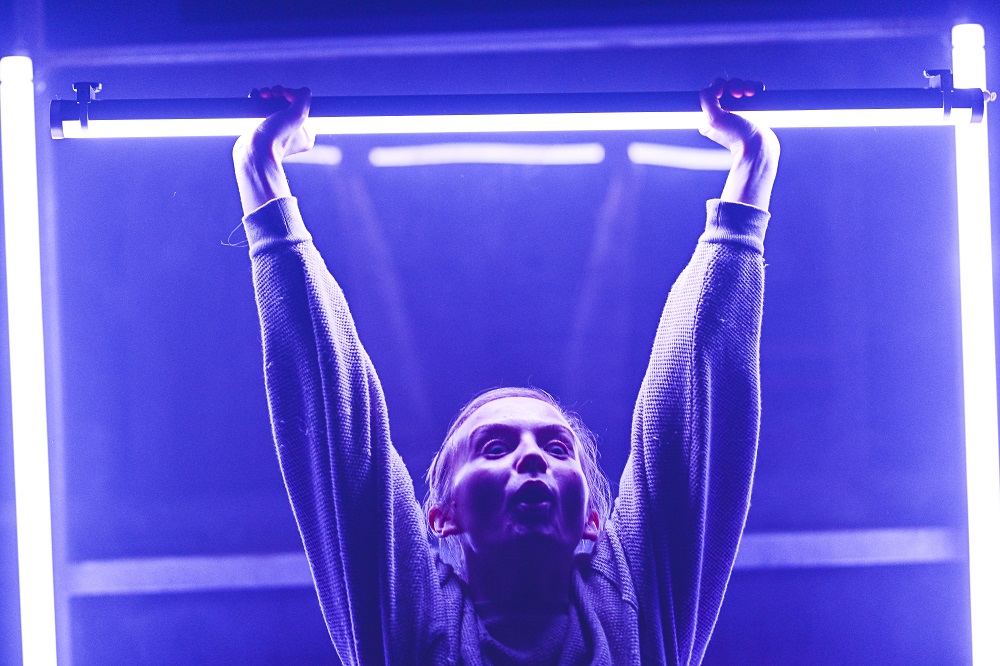 Vulnerability
Under the direction of Swansea born Francesca Goodridge, this powerful debut has emerged as a high quality production which clearly voices the experiences of someone who has been there, asking the audience to look a little deeper instead of crossing that road.
Melville's and Mylan's performances are paced and on the nail, characterful and dynamic, interacting with each other despite telling separate stories, succeeding in making the audience care, because after all they could be someone we know, they could quite easily be us.
Melville exudes the involuntary physicality inherent in Example A's addiction, and breaks hearts when she grasps hold of a raindrop of to quench her thirst for love, before reality crashes in.
Mylan offers us the tenderness of youth and an insight into Example B's vulnerability. His success seems matched only by self-sabotage and shame, marked by the blunt and cruel choices he makes at crucial moments.
These stories are not new, but in the current climate of societal and governmental 'unpleasant design' of a 'hostile environment' they are undoubtedly becoming more common.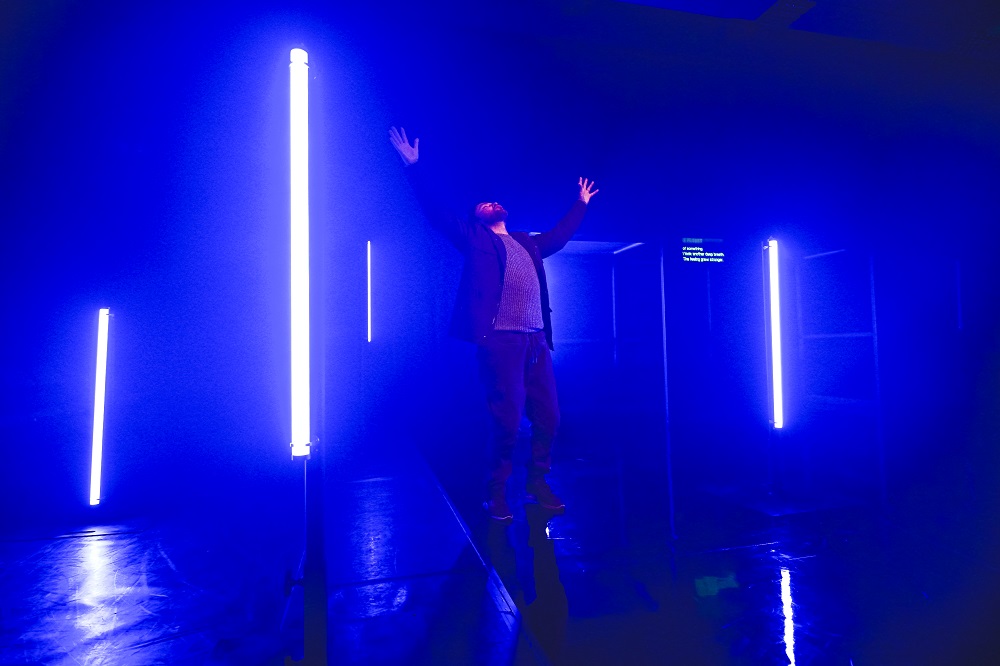 Someone
Lighting designer Cara Hood makes innovative and interactive use of light sources, choreographed into the performance creating sharp contrasting locations within the ostensible street side set. Designed by Jacob Hughes, the set is bold in its simplicity, emblematic and every day, versatile and mundane. Very recognisably Swansea, but equally, Everytown.
The soundtrack, created by ChimpanA duo Steve Balsamo and Rob Reed, alongside sound design from Russell Ditchfield, builds a soundscape which swirls around the set lending atmosphere in spades.
From the first to the last, the music is perfectly pitched and is even described in Gwawr Loader's detailed surtitles which roll across the LED display in the bus stop, whilst onstage, from the thumping opening tunes through the powerful stories of A and B, was BSL interpreter Julie Doyle.
Sorter is gritty, witty and poignant, managing to challenge the audience, perhaps instil some empathy, but refraining from sentimentality. Someone's mother, someone's son. Someone.
Sorter plays in the Arts Wing of the Grand Theatre Swansea until 10 March and tickets can be bought from the box office or online here
Every performance will be captioned, next BSL interpreted performance on 9 March
Age guidance 16+, contains strong language, adult themes and discussion of substance misuse, child loss, childhood abuse and suicide.
---
Support our Nation today
For the price of a cup of coffee a month you can help us create an independent, not-for-profit, national news service for the people of Wales, by the people of Wales.