Culture
Theatre review: Y Fenyw Mewn Du (The Woman in Black) by Y Consortiwm Cymraeg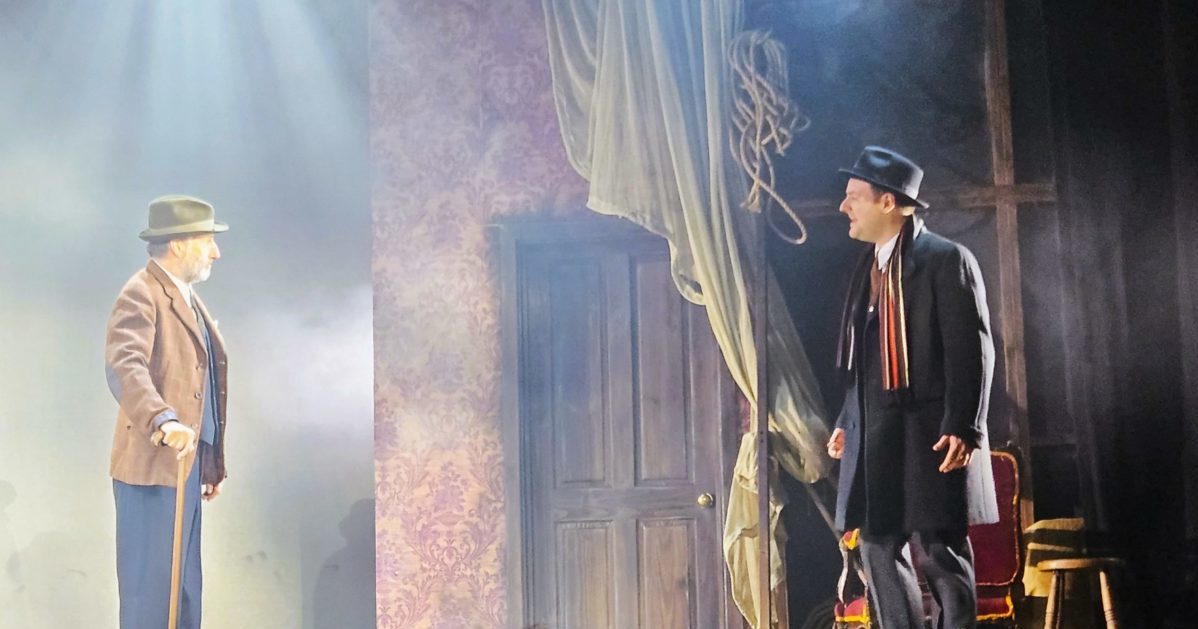 Del Hughes
Since my knowledge of Welsh runs mainly  to ambiwlans, gwasanaethau, araf, and the occasional cheeky shwmae, you might find it strange that I'm currently ensconced in the Grand Pavilion, Porthcawl, waiting to be scared senseless by the Welsh language version of The Woman in Black, Y Fenyw Mewn Du.
I've read the book countless times – always ensuring that I place it, face down, on my bedside table, because that will obviously stop The Woman 'getting me'! I've seen the original play, adapted by Stephen Malatratt from Dame Susan Hill's 1983 gothic novel, numerous times too.
I found it truly terrifying – so much so, that arriving home after that first performance, I lamented having just my cat for company, and slept with my bedroom lights, and telly, on for a fortnight afterwards (and that's why I've asked my partner to delay his half-term trip to Yorkshire, because there's no way I'm sleeping by myself tonight, not after watching this!).
Y Fenyw Mewn Du, adapted into Welsh and transposed to locations in Wales, tells the story of Arthur Kipps, a junior solicitor, sent to settle the estate of the recently deceased, Mrs Drablow. Working 'alone' at her isolated house, he soon finds himself at the mercy of the horror that plagues the area, the titular Woman in Black.
Now, many years after those events, the elderly Arthur employs an actor to help him tell his tale, hoping to finally exorcise those echoes of what he endured at Eel Marsh House, and which haunt him still. And thus unfolds theatre's most unnerving, and menacing, ghost story.

Portentous atmosphere
That prevailing sense of malignancy is brought brilliantly to life by the cast. Tom Blumberg (Theatr na nÓg, Arad Goch) plays The Actor, bringing a naïve enthusiasm to the role, with his eager energy and love of stagecraft, and is engaging and often humorous.
Jonathan Nefydd (Pobol Y Cwm, The Way) as the elderly, skittish Arthur Kipps, is splendid – as is how he deftly transforms into a variety of characters through the addition of a flat cap, or a heavy greatcoat, or simply by donning a scarf and fingerless gloves.
There is no doubt that the dramatic skills here are of the highest order, with Jonathan and Tom leading us through this 'play within a play' with professional and consummate ease.
The set, deliberately minimal, uses limited props ingeniously, easily convincing us that our protagonists are on a train, or trotting through the silvered marshlands in a pony and trap, with nothing but a large wicker basket and wooden chair to aid them.
But the technical aspects of lighting and sound effects were stars in their own right, creating a sense of dread throughout, and ramping up tension to, at times, genuine screaming pitch, evidenced by the cries, shrieks, and gasps – invariably followed by sheepish relieved laughter – as we peeked through splayed fingers, and prayed The Woman wouldn't appear (whilst secretly hoping she would).
The music, composed by Barnaby Southgate, expertly enhanced the pervading portentous atmosphere with a strange and haunting beauty.
It was a genuinely gripping, and petrifying, ninety minutes. And the ending made for a terrifying finale which will stay with the audience for a very, very long time.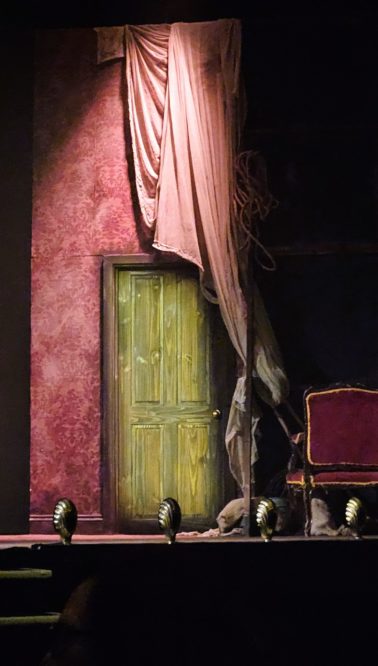 Sibwrd
As it's in Welsh, I'd downloaded the Sibrwd app – used to support those learning the language – because for this performance, I was going to be listening to an English language rendition in one ear, whilst enjoying the Welsh version on stage – translated for Y Consortiwm Cymraeg by writer and actor Gwawr Loader.
And this app was a bit of a game of two halves for me. The English narration, providing summaries of the action to come, rather than a word for word translation, was great, but the upbeat tones of the narrator – like a very jolly satnav – seemed at odds with the tenor of the play.
Though it made the action, obviously, more understandable, I couldn't help but feel, with every perky paragraph delivered, that I was becoming less immersed in the action.
But as act two began, the app stopped working. I didn't have access to the QR code, and couldn't disturb the audience by sneaking around in the shadows to find a helpful usher.
So instead, I ditched the earbud and simply enjoyed the lyrical lilt of the Welsh language, which actually added to the eeriness – though it probably helped that I was very familiar with the story.
But I do wonder why the app performances are only available on certain nights? Maybe the cost to the company is prohibitive? But it would provide a route to wider audience engagement, if live Welsh language theatre, and Welsh language learning, is to continue to thrive. And if, maybe, it was possible to have actors narrating the action, whilst in character?
How fearfully fitting would it have been to have Kipps, The Actor, or even The Woman herself, recounting the story? In book nor play, She never speaks, appearing rarely, but each time, emitting a tangible sense of malevolence, so hearing Her voice, whispering in your ear, would certainly have added an even more unsettling layer to the theatrical experience.
However, those are questions for the Sibrwd developers, and my viewing pleasure was not hugely impacted by either it's use, or lack of.
Spine-chilling simplicity
The performance was brought to chilling life – or should that be death? – by director Geinor Styles, artistic director of Theatr na nÓg, and assistant director, Llinos Daniel.
The production design by Kitty Callister, sound design by Ian Barnard, and the lighting and projection design, by Andy Pike, combined to make this adaptation a definite 'must see', whether you're a Welsh speaker or not.
But what I loved most about Y Fenyw Mewn Du was the spine-chilling simplicity of a wonderful ghost story, very well told. And, from the cheers and whoops of the audience at the end of the night, I certainly wasn't the only one.
So do try and catch this creepy classic before tickets sell out. You definitely won't regret it – but I guarantee you'll be sleeping with the lights on for a while.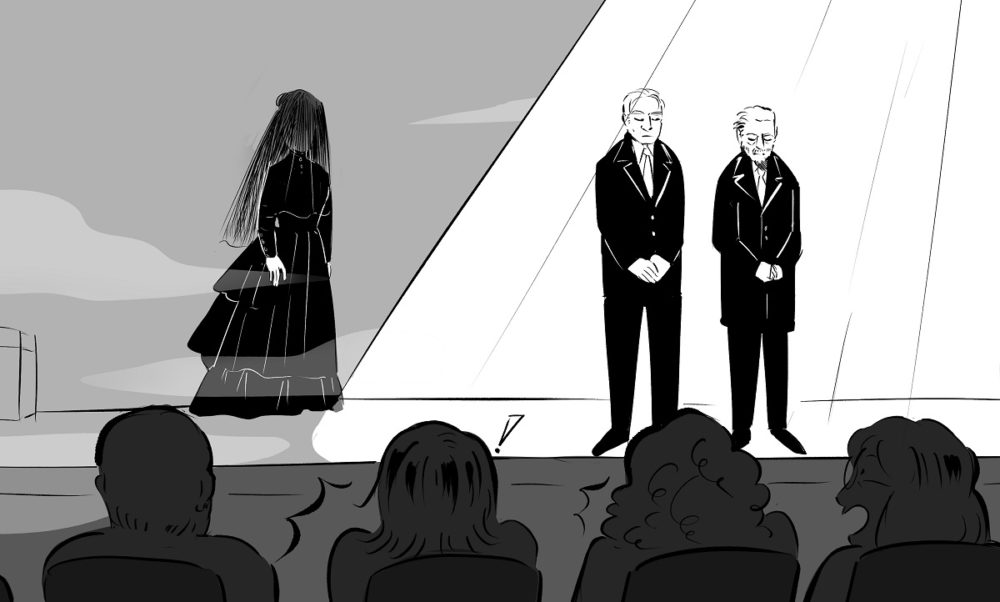 Catch the rest of the tour at:
Theatr Soar, Merthyr a (2nd – 4th November),
The Borough Theatre, Abergavenny (9th – 11th November)
The Welfare, Ystradgynlais (16th – 18th November).
Tickets can be found on venue websites or at Theatr na nÓg.
Additionally, there are workshop and storytelling events running to support the show, details of which can be found here.
---
Support our Nation today
For the price of a cup of coffee a month you can help us create an independent, not-for-profit, national news service for the people of Wales, by the people of Wales.