Culture
Trouble in Butetown: an interview with playwright Diana Nneka Atuona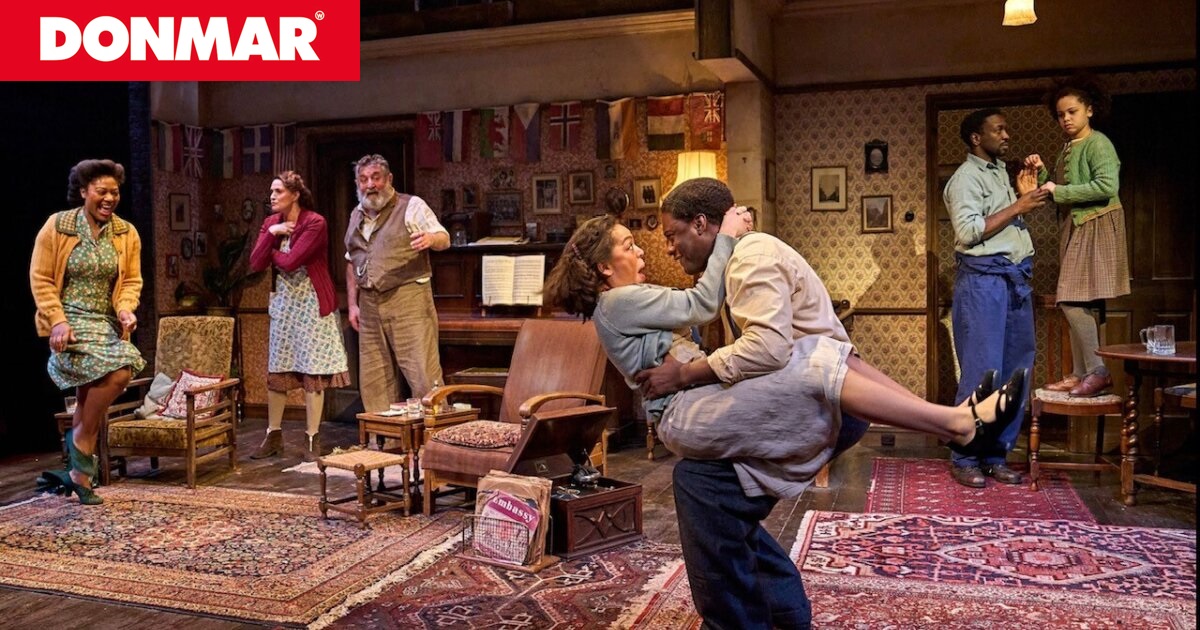 Rhodri Davies
If Tiger Bay underwent its physical transformation in the early years of the 21st century and lost its iconic name in the process, it has undergone a renaissance over recent years in print, on stage and on screen.
Tiger Bay the musical in 2017, followed by 2019's commemoration of the centenary of the Cardiff Riots, both led to a re-evaluation and rekindling of interest. The multicultural melting pot that grew around the docks and Butetown from the mid 1800s was starting the recapture the imagination.
Miscarriage of justice
The Shreds podcast and the subsequent television series A Killing in Tiger Bay told the shocking story of Lynette White, the 'Cardiff Five' and one of the most notorious miscarriages of justice in a British legal history. It brought the reality of the area's complicated, combustible, 20th Century dynamic into sharp focus too.
Another miscarriage of justice inspired Nadifa Mohamed's The Fortune Men, based on the true story of the wrongfully convicted – and executed – Mahmood Mattan. The book was Booker Prize shortlisted in 2021 and won the Wales Book of the Year Award for 2022.
Over the last few years, the heartbreaking touring exhibition Windrush Cymru – Our Voices, Our Stories, Our History, provided another stark, emotional reminder of the immigrant experience. It's a story that still reverberates today.
The latest example of this revisionist reconnection is Diana Nneka Atuona's Trouble in Butetown, a new play which runs at the iconic Donmar Warehouse in London until March 25th.
Ironically, the play's genesis dates back to 2015, before Tiger Bay was 'rediscovered' according to Atuona: "It took eight years from start to finish – no-one had heard of Tiger Bay back then! But there's an element of fate here isn't there – the musical was staged, the book appeared and the 'Cardiff Five' story made headlines again.
I knew that this story would resonate too, especially with English audiences, because people just don't think of Wales that way – of Cardiff having one of the oldest multi-cultural communities in Britain."

Kinship
Award-winning playwright Atuona was raised in Peckham, but felt an immediate sense of kinship when she discovered the history of Cardiff's docklands communities: "I did know about Tiger Bay…I'd watched the iconic film – starring John and Hayley Mills – as a child, I knew it was where Shirley Bassey was from, I knew it was a place of multiculturalism.
"I'd seen all these wonderful images – stunning historic photographs – of mixed race children, multi-ethnic groups playing in parks, so then I started to do some proper research and fell in love with it all. Tiger Bay has – or had – quite a negative reputation with outsiders, a little like Peckham. So I could relate to that, growing up in a place which had an undeserved reputation. I became obsessed with the history, I just loved it and felt that I needed to get it out there in some way".
Set in 1943, Trouble in Butetown focuses on the family of Gwyneth Mbanefo – played by the instantly recognisable and always watchable Sarah Parish – who runs an illegal boarding house in the bay. She and her children are faced with an impossible choice when an escaped African-American GI appears in their garden needing shelter and pleading for help.
Multicultural
As Atuona explains, the Second World War brought thousands of American GIs to Britain, and when stationed in Cardiff in particular, this caused unique problems: "You have to remember that 'Jim Crow' was in full effect, so even American soldiers were segregated. Black GIs were stationed at the Maindy Barracks, and there were stories that when they went out they'd get into fights, not with locals but with white American soldiers. This was an eye-opener for British people.
"The authorities were particularly worried that African-American troops would see Tiger Bay and its multicultural community and get ideas about how things could be. So they banned the troops from visiting – one was even shot trying to enter the area. That didn't stop them though, they had ways of sneaking in – through the canal for example. That's how my character in Trouble in Butetown gets into Tiger Bay…so the idea was formed from those historic realities."
Those realities included Welsh speaking communities at the very heart of this multiracial melting pot. Cast members Ifan Huw Dafydd, Rosie Ekenna, Bethan Mary-James and Elan Davies reflect both a cultural and a linguistic identity: "The play's focus is on family, love, grief, identity and freedom, but at its very core it's about community. We were determined to incorporate Welsh into that, so Sarah's character Gwyneth has taught her children to speak Welsh, and occasionally – when she's telling them off in particular – we have these instances of conversation taking place in Welsh. I didn't want to lose sight of that, so having the Welsh speakers in the cast was crucial. To be fair I think Sarah's adapted wonderfully well to being a Welsh 'mam' too!"

Fascinating
Atuona clearly feels an obligation to get the history right and to take it to a wider audience: "What will people get out of it? I hope they'll learn about this fascinating community and I hope they'll also start to appreciate the contribution that people of colour made during The Second World War. Not just soldiers, but especially in terms of Butetown, the role of the merchant navy, which made an unbelievably important contribution…and it's an untold history.
"You know, years ago I'd read a book by Neil Sinclair, who was a really important local historian in terms of Tiger Bay and who actually went on to become a really good friend of mine. Ironically he was also one of the kids playing extras in the famous 'Tiger Bay' movie.
"He was an amazing man, spoke Welsh – which always took people by surprise – and he felt that it was crucial to keep the Tiger Bay story alive, because there was a concerted effort to obliterate its memory by local government. So in my own way I hope I've done something small to keep his legacy alive and to help keep the history he cherished alive too. That really would make me very happy."
Trouble in Butetown has been included in Time Out's Best New Shows Opening in February 2023, WhatsOnStage Top New Plays to See in 2023 and the FT's Hot Tickets for 2023. It runs at the Donmar Warehouse in London until March 25th 2023.
---
Support our Nation today
For the price of a cup of coffee a month you can help us create an independent, not-for-profit, national news service for the people of Wales, by the people of Wales.