Culture
Very Heavy Metal: Newport's Skindred Win Best Live Artist Award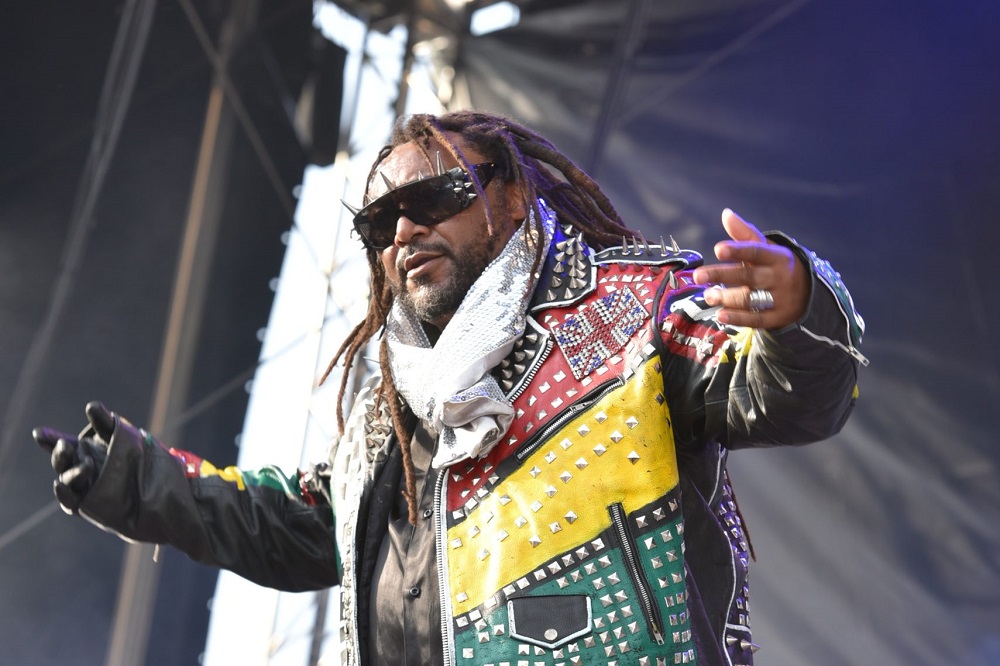 Molly Stubbs
Crafted from solid aluminium fashioned into a hefty cuboid, covered with crimson logos and engraved category names, the Heavy Music Awards' statuettes are indeed heavy.
"I'll be using it as a doorstop," laughs Benji Webbe, referencing this toe-stubbingly functional element of his latest achievement.
The frontman of 2023's Best UK Live Artist winner, Newport's own metal men, Skindred, Webbe is decidedly not heavy.
Flaked out in his den on a sunny afternoon in June, chatting loudly to friends on the phone as I am led through a gate into his sun-trap garden, the atmosphere is anything but.
Plastered with promotional images and set lists from some point in the last three decades, Webbe's gazebo-shaped shrine to his projects seems less egotistical the more he recounts the hard work and tough love it's taken to get to this point in his career.
"It doesn't happen the way you want it to. I thought I was gonna be stood in town humming to myself and Mr Big was gonna tap me on the shoulder and say 'Hey, you're coming to London, jump in my Rolls Royce.' I didn't realise you really had to work," Webbe reminisces.
But with characteristic flair, made easier with the Heavy Music award standing proudly on the table in front of him, he accepts the struggles of 'making it' as a necessary part of the dream. "That's rock and roll, just the way it is."

Instead, the collection of green-room door stickers, posters, and a black and white print of Elvis's instantly recognisable countenance are a celebration of a rare staying power that so many new artists, especially those in the metal scene, envy.
Despite our seats in the panopticon of a life in the industry, Webbe, for the time being, seems less interested in the past than the decorations would have you believe.
Darting back into his Pill home, the frontman's excitement is trained on showing us his outfit for his stint at Download Festival in the coming days.
It consists of a sequinned black coat, hand-made by a fan from an old overall, a red feathered top hat (most of the feathers from which have been left on various stages around the world), and well-worn sunglasses rimmed with punk spikes.
As he poses for photos, it is clear the outfit does not maketh the man but enhances him.
"I'm not acting that I'm this guy, this is just me," Webbe explains. "Time has made me this character. I'm gonna push the boat out, you know?"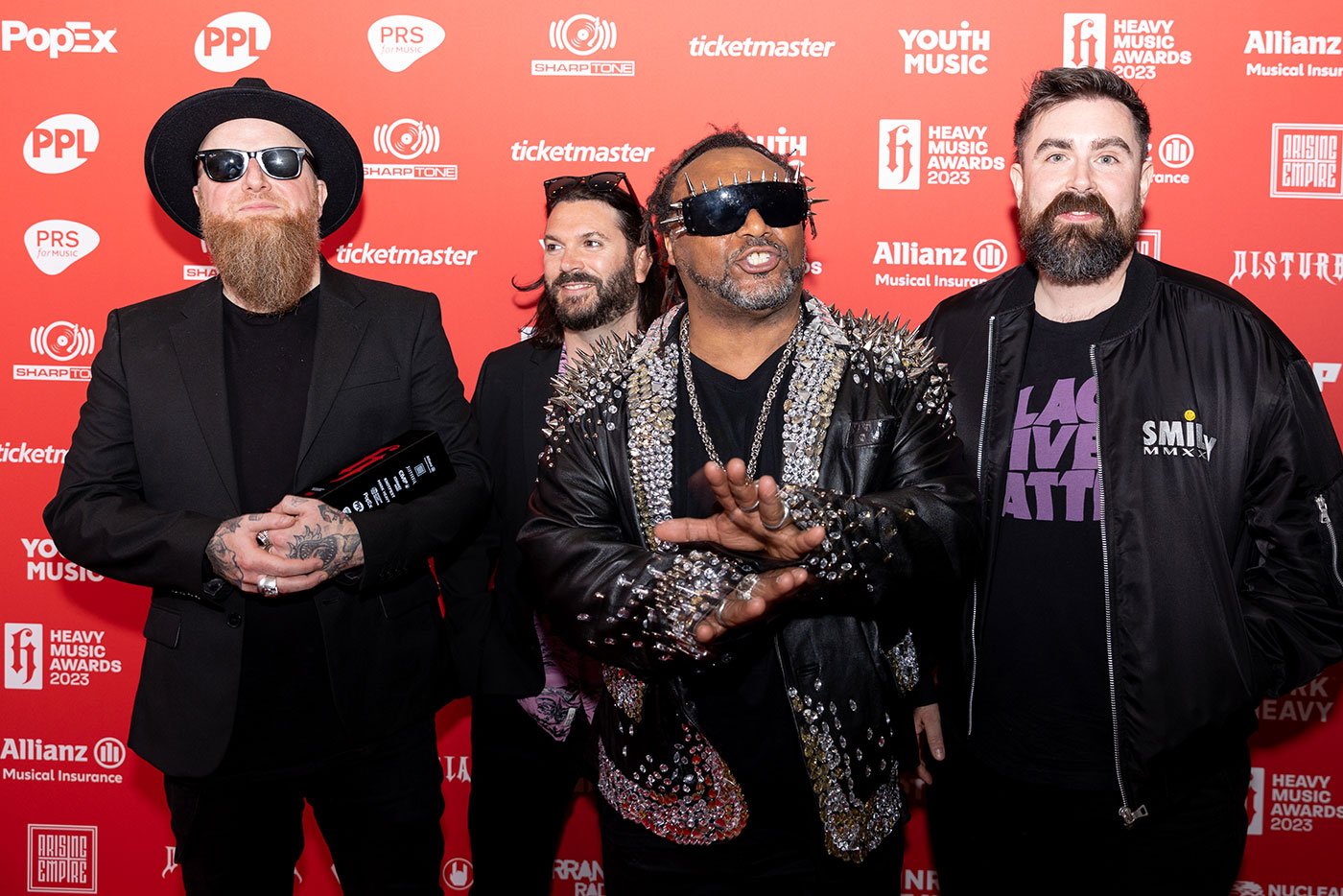 Best Live Artist would be a marker of success for any frontman, but it means more to Webbe that Skindred's recent win was made possible, not by a panel of big-wigs selecting the most media-friendly of hopefuls, but by voters who have stood in the audience of Skindred performances and come away reassured that they've 'never seen a frontman wind a crowd in with such skill and dexterity'.
On the 200,000+ people who will see him perform in the following week at DJ sets in Southend-on-Sea, opening for Kiss, the Download shows and Nova Rock Festival in Austria, Webbe reiterates his comfort on stage.
"My friend asked me 'Are you scared?' Scared of what? I'm the answer. It couldn't go bad, no way. People are there to enjoy themselves, I'm the master of that enjoyment. I got the key, come with me." 
To be so self-assured in the face of potential faux-pas, as all the rest of us not-so-keen performers certainly would be, is a symptom of Webbe's rough start not only in the industry but in life.
He is decidedly candid as he recounts the death of his mother when he was 8 years old, which for a boy of his colour and class meant "everything points to prison."
Happy to sing for cigarettes in the school toilets, but less prepared to steal cars and rob houses with his friends, Webbe's fear of less desirable life paths pushed him further into his passion for music.
Conquering
"As a black man from Wales, I'm already on the back foot. You gotta play the game with the cards you've been dealt, you can't throw your hand in. In the face of adversity," he pushes a thumb to his chest, "this guy conquered and is conquering."
Although this may be his biggest achievement of them all, Webbe is quick to shrug off my designating him a role model for those in the same position as he was, all those years ago.
"I feel strongly that I want to encourage people behind me. A lot of people in bands wanna pull the ladder up. I wanna drag those people up with me. But I mess up like anyone, so I wouldn't call myself a role model," he admits.
When I press that that very admission only solidifies the categorisation, he relents.
"There's a lot of stuff that I've failed at, but failure in any form is very good. As long as you're consistent, you keep going, failure will really help you. Not everything hits, and there's a lesson to learn from that."
With six musical projects under his belt before he finally found recognition with ragga-metal group Dub War, what Webbe deems failures were rightly what got him that coveted record label contract.
Disillusioned with reggae and feeling that due respect for his vocals was not on offer, he turned toward heavier sonics.
"As far as I was concerned, I was a punk then."
It wasn't until drummer Martin Ford, affectionately named 'Ginge', suggested Webbe layer reggae vocals on top of their punk beats, that the career-defining sound came to be.
"It was good. It was very good. Then I remembered The Clash," whose frontman Joe Strummer had frequented reggae nights at Newport's Silver Sands and gone on to incorporate that sound into his band's music.
"I embraced it. I tried for 10 years to get a record deal, and as soon as I started doing the dancehall vocals on top of the heavy stuff, 6 or 7 record labels came around.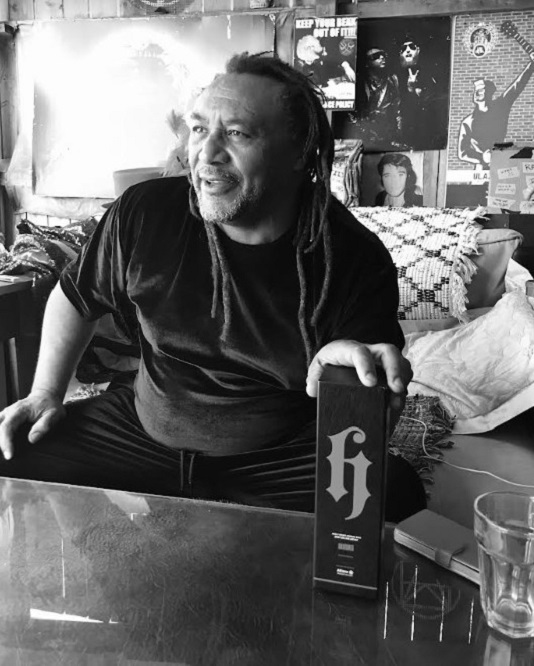 Dub War
The blending of punk, metal and reggae into a "musical collage" earned Dub War enough recognition that even as recently as 2022, over 20 years after they initially split, their album 'Westgate Under Fire' hit number 1 in the UK's rock and metal album charts.
Though the herald of reunion got Webbe through the pandemic, now he's channeling his energy into Skindred.
"[Dub War] is still very much part of me," he states. "But, as The Bible says, you can't serve two masters."
Webbe, Daniel Pugsley, Mikey Demus and Arya Goggin, who make up Skindred, have indeed been focusing on the band. After two years in the studio, their newest album Smile will be available on 4th August.
By this point, I am used to Webbe's blasé attitude regarding the record's marketing and potential performance; his work, the music, is done. Whatever will be will be.
Now, all Webbe needs to put his attention into is making sure everyone in the audiences at Skindred's coming shows has the time of their life.
With the Heavy Music Awards win and the reiteration that their fans, new and old, are still here and still louder than all the others, Webbe's belief in the vital nature of continuing his passion has been solidified.
"Someone said 'What are you gonna do when you retire?' I said 'What are you talking about?' I can't work in Asda. There's no retiring. I have no choice in the matter…I am a house fire, it's not gonna stop unless you call the fire brigade. I'm flaming, raging, burning all the time for art, lyrics, music, movies. I can't help that fire. I just pray to God that it continues."
As we wrap up the interview, after a quick walkthrough of his plans for his neon green, soon-to-be neon pink, Sting Ray bike complete with Harley handlebars, I give Benji the spiel for this article. 'If you want to add anything, just let me know. If you want me to forget anything, just let me know.' He chuckles, "You just pick the good parts and make me sound cool."
Though he would like to believe it, it is not up to me to make Skindred's frontman sound cool.
After 30 years of failing and succeeding in a bejewelled Union Jack trench coat, blending the sounds of Jamaica and Britain, "two great nations" from which he hails, paying homage and taking credit where each is due, breaking boundaries for those who have no hope of doing anything else, uplifting, encouraging, and shedding light in darkness, he has done a fine job of harnessing that most mystagogic 'cool' himself.
In this spirit then, I will finish this piece in the same way that Webbe finished his Heavy Music Awards acceptance speech: "Hail hail rock and roll. Skindred, the best live band Heavy Music Awards 2023."
Congratulations, boys. Here's to the future.
---
Support our Nation today
For the price of a cup of coffee a month you can help us create an independent, not-for-profit, national news service for the people of Wales, by the people of Wales.