Culture
Visual art: Richard Blacklaw-Jones in Fishguard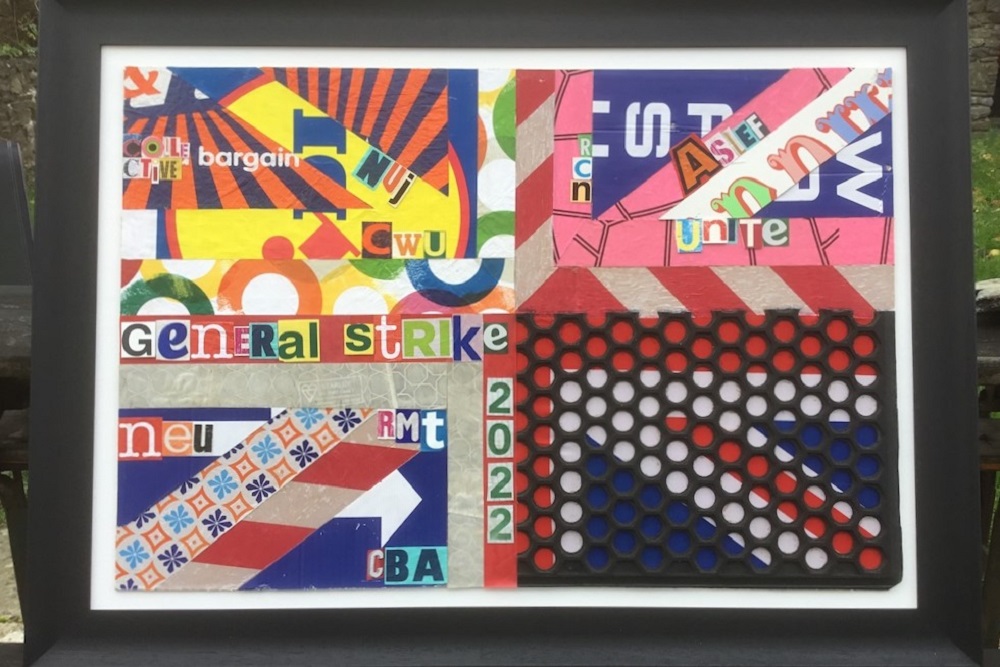 Jon Gower
Looking at the jaunty, hyper-colourful work of Richard Blacklaw-Jones currently on show in Fishguard you might at first think you were looking at the work of a playful Welsh pop artist.
But look more closely and you'll find that many of them have a political edge, offering a commentary about green issues and the general state of things.
A work such as Draig a Llew yng Nghaerdydd commemorates the artist's experience during 2022's YesCymru march in Cardiff.
'So many flags! I later heard that some friend's grandson had taken part age six. Walked all the way and carried the loud hailer too. So I had to add him in.'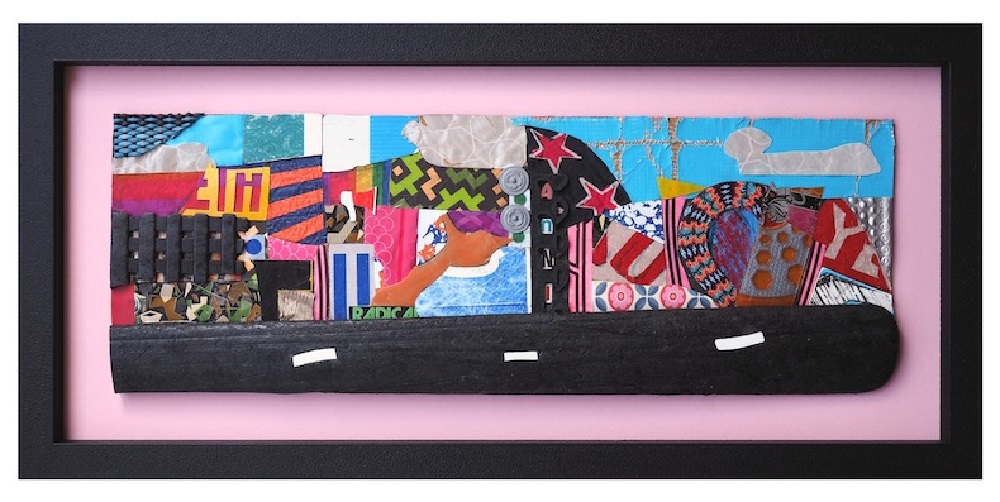 Richard Blacklaw-Jones thinks the label of political artist is probably justified:
'I think there's no denying that I am politically conscious. If you give an artist a stimulus, whether it's a lovely landscape, a delicious meal or outrageous political behaviour their response will probably be to make a picture about it.
'I have been guilty of doing that because we have lived through some outrageous political behaviour, which needed to be responded to. I felt better responding to it and hopefully the viewing public will feel the same.'
That said, one of the more sombre and sobering works in the West Wales Arts Centre,  Er Serchus Cof, concerns itself with the death of the Welsh language…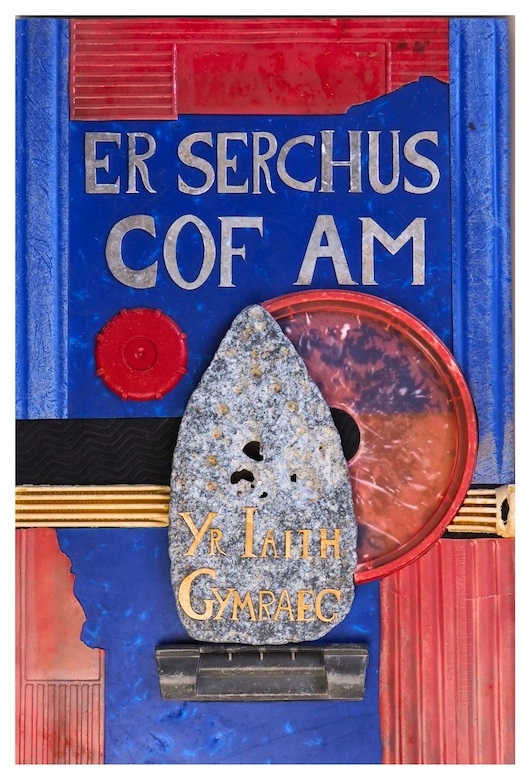 Pessimistic
'It's part of of a group of work that I did with two fellow artists, Sarah Williams and Penny D. Jones,' Richard explains.
'We collaborated on the theme of the Welsh language. If I'm guilty of responding to events it's probably in a pessimistic way. At the time I felt pessimistic about the language, I still do but perhaps less so.'
The pessimism derives from the fact that Richard's children had been brought up bilingually, just as he had in Liverpool.
'I've kept my Welsh, my children can still speak Welsh – in fact at least two of them have got jobs because of their Welsh language ability – but they are now at the stage of life of bringing forth children themselves and they're not teaching them Welsh, they're not using their mother language.
'I felt disappointed about that and felt that it this experience was more widespread the future's not great, despite the new people wanting to learn. The kids who had been taught Welsh at school ought to be teaching their children because they should feel the value of having two languages.'
'Er Serchus Cof is a phrase often found on headstones in graveyards. Richard has tried to use his found materials to suggest something like a mausoleum, like the Lutyens Menin Gate or other such memorials.
'There's an evening blue and a pale red and a thing that suggests the sun setting near to a horizon and there are columns reflecting that memorial aspect. Then set up in the middle is the base of an old electric iron, the sort that every Welsh mam used – in my lifetime anyway – and it's weathered and pitted by its time in the ocean and it looks like stone and I've used it because of that stone-like appearance.
'In the middle of it is "Yr Iaith Gymraeg" making the piece an act of remembrance and of mourning. Fingers crossed I'm wrong.'
An artist such as, say, Michelangelo would source blocks of marble from Carrara. Richard finds the material for his work pretty much anywhere, but especially by beachcombing on the coast. His materials are exclusively man made rubbish that he's picked up as he walks.
'I keep my eyes open and I find materials here, there and wherever. Initially I started out just picking up materials from beaches and I was doing that quite religiously up until Covid.
'I then started walking around Haverfordwest, my patch and seeing just how much rubbish there was everywhere, picking it up and using it. It forced a change in my work and I'm grateful for that because in the back of my head there's a notion to not get stale.'
Strictly
Popular culture obviously has its place in a pop artist's world. Richard can find inspiration in TV dance shows for instance: 'A work such as Strictly started when I was at Bullslaughter Bay at Castlemartin, the M.O.D range in Pembrokeshire. It's restricted access, so stuff gathers there and it's always worth going there and having a look.
'I found this piece of plastic with the letters spelling 'Strictly' on it, which might have been followed by the word Prohibited' but for me it suggested 'Strictly Come Dancing' because I am a fan, I'll admit that. Within an hour, on the same stretch of beach I'd found elements that gave colour, rhythm, special grease for those arthritic hips that won't make the right action, star quality – everything you would get in the programme itself other than sequins.
'Some of the patterns and colours come from old polypropylene shopping bags, tin cans and a plastic coal sack. The gold is from a 1970s ceiling tile. So it's my little homage to this wonderful TV show.'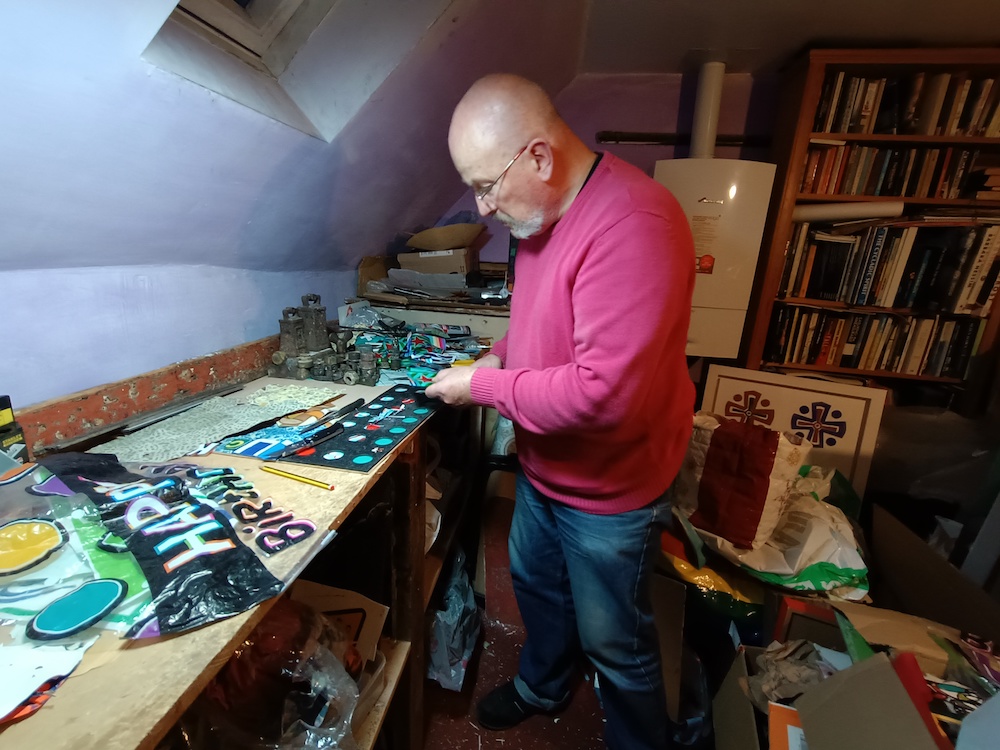 I'm a pop artist
Some ten years ago Richard had a bit of epiphany about the sort of art he was generating: 'I was sitting in my studio chair and I realised I was a pop artist and that was immensely liberating as it gave me permission to do certain things I've since done quite happily.
'I know I'm repeating myself, I love filling in the holes in things because these are as close as I can get to the dot matrix used in pop artist Roy Lichtenstein's work, with me, in a sense, echoing it with the materials to hand.'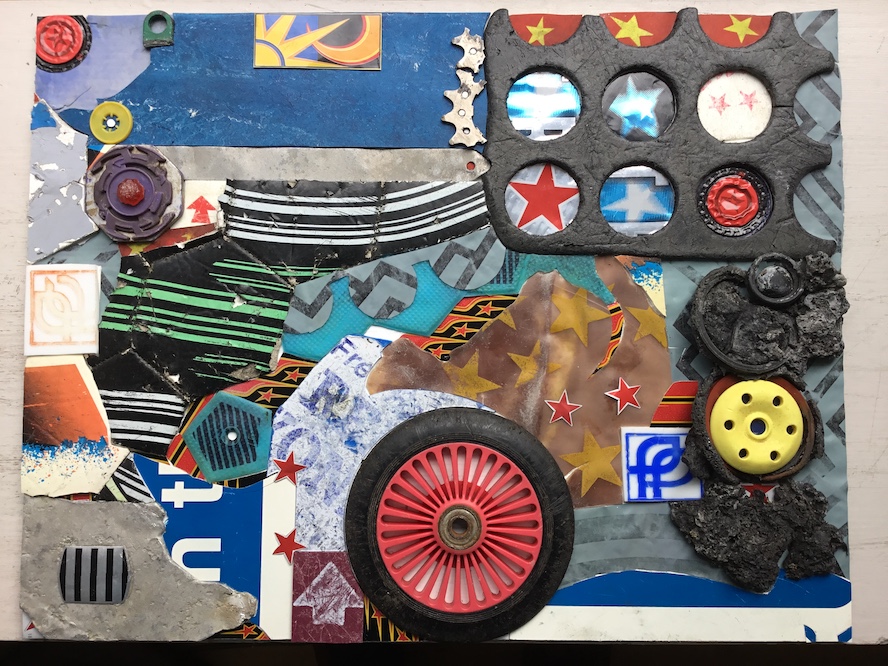 The stars at night
One of Richard's personal favourite pieces in the show has its genesis on a small Irish island: 'I was wandering around the bays on the island of Lambay, off the coast of north County Dublin. Very few people live there – only three for the most part of the year and they have a working farm and buildings to look after so have little time to wander along the beaches.
'I started to find more and more stars and I thought the night sky here is spectacular so I could do a picture about the night sky. It uses bottle tops and burnt plastic, stars off tin cans and stars off soft drinks.
'The idea of the picture gets bent and driven by the materials that I find. You've got to pay attention to the colours, the patterns and the movement they make but it's all come from the beach at Lambay.'
Looking
The fact that Richard can gather all his basic artist's material on the beach underlines perhaps just how profligate we are as a species.
Going out to gather it in coves and beaches appeals to a man who has enjoyed metal detecting since he was a boy: 'I had many a happy hour wandering around Liverpool's public parks finding bucketloads of pre-decimal coins.
'It sits well with my Welsh upbringing because whenever I went out for a walk with my grannie she'd say we'd take a box or a bag or a bottle because you never knew what you might find – it might be mushrooms or a puffball, it might be some berries on the tree or blackberries but as often as not we'd come back with something which would get used.
'So I've grown up looking about me, having my eyes open, going out looking for things purposefully. This kind of work has grown out of that childhood upbringing. And to be in a state of that relaxed awareness, of what's around you puts your brain into a particular state and it's very good for you.
'Combine that with getting some Vitamin D from the sunshine, there aren't many nicer ways of spending your time, just going out and looking.'
Richard Blacklaw-Jones' exhibition is currently showing at the West Wales Arts Centre.
---
Support our Nation today
For the price of a cup of coffee a month you can help us create an independent, not-for-profit, national news service for the people of Wales, by the people of Wales.