Culture
Watch: A wassailing herd of Marïau Llwyd wake up the orchards of Gower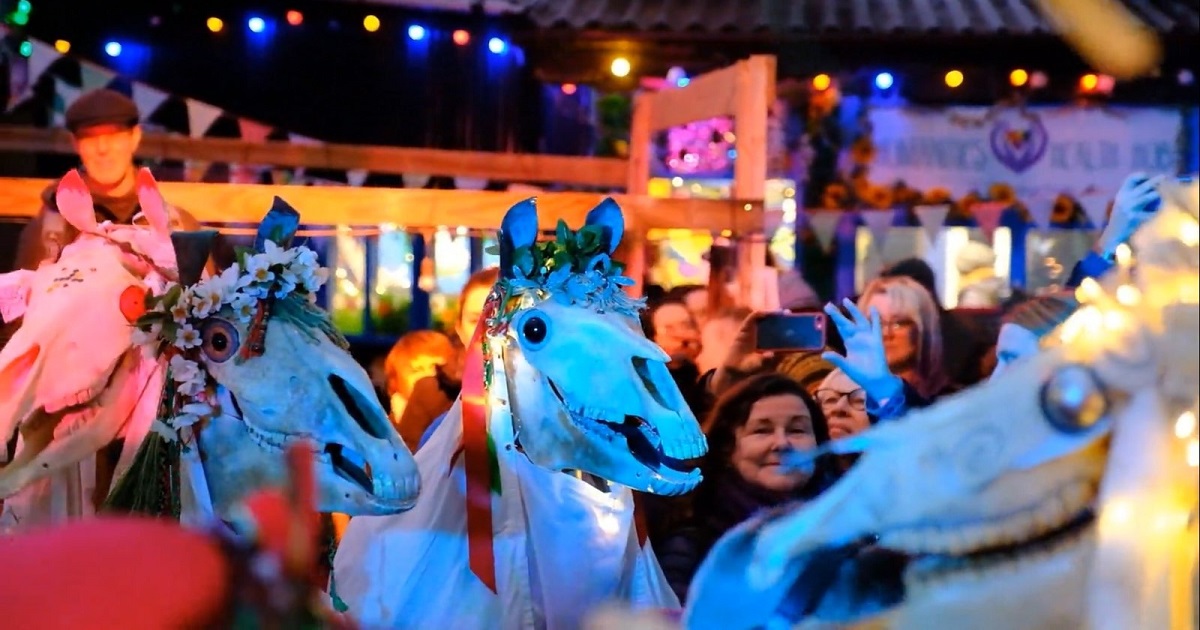 There are some sore heads and worn hooves around Gower and Swansea today after a popular event to "awaken the orchard" took place last night at the Gower Heritage Centre in Parkmill.
With a veritable herd of Marïau Llwyd taking part in a grand parade, there were indeed more 'old hosses' than you could shake a proverbial stick at.
The Gower Wassail and Mari Lwyd Festival has become a regular event at the 12th century cornmill in the heart of Gower, celebrating the ancient tradition of wassailing – welcoming in the new year, waking up the apple trees and warding off bad spirits.
The festival builds on the rich cultural heritage of the Gower region and involves singing and dancing to bless the orchard and ensure a good harvest in the coming year.
The revellers, all dressed up for the occasion, took part in a torchlit wassail parade in from the main courtyard and up to nearby Shepherd's stores and were then treated to a fire display in the orchard.
Back in the main courtyard of the mill, an energetic programme of folk music, Sweyn's Ey Morris dancing and singing carried on long into the night, with the assistance of craft ciders from all over Wales, with the event being captured by SwanTV videographer Brian Marijena.
The centre produces its own Mill House Cider from its orchard which is a key component to the cider and Welsh cheese festivals which take place in the spring and the autumn.
Organiser and cider producer Richie Saunders said: "Massive thank you to everyone who made the night so beautiful.
"Everyone who bought tickets, all the bands, the crafts folk, Sweyne's Eye Morris Dancers, the bar and kitchen staff, the fire performers from Ddraig Tribe and everyone who worked tirelessly throughout the week leading to the event, making sure everything was ready.
"We're happy the trees have been given the seasonal kick start they truly need. Wassailing blessings to all."
Videography and editing was by Brian Marijena MA and it was produced by Mike Leahy for SwanTV. You can watch the full video here.
More information about the mill and its events can be found here.
---
Support our Nation today
For the price of a cup of coffee a month you can help us create an independent, not-for-profit, national news service for the people of Wales, by the people of Wales.