Culture
Watch: Bucket hats and dragons – Adwaith celebrate Welsh culture at Glastonbury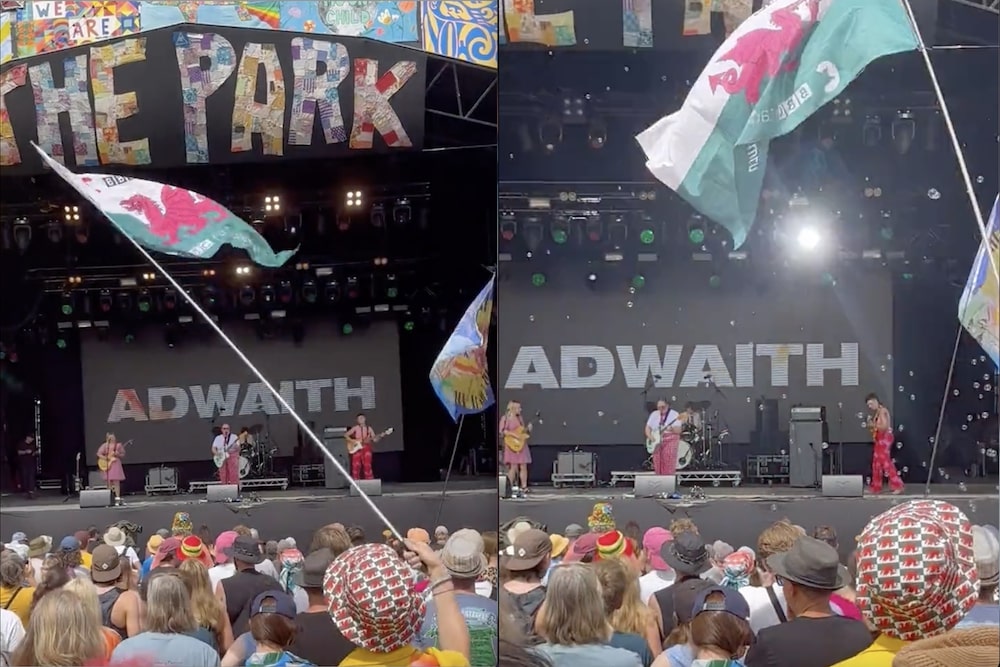 David Owens
There's seemingly no ideal time to play Glastonbury, given this is a temporary city that never sleeps, but 11.30am on a Friday morning would no doubt still be classed as breakfast time by those bleary-eyed late nighters who actually managed some shut eye.
Many clambered out of their tents, blinking into the bright sunlight and headed straight for The Park Stage on the first day proper of the worlds biggest festival.
This prestigious Glasto hub was a must see for many wanting to witness the late morning openers who had been touted as ones to watch by The Guardian and whose career thus far has been not only a triumph for their music but also the Welsh language.
Simply put, Carmarthen band Adwaith are cultural ambassadors, one of the most highly visible champions of the Welsh language, whose music has translated to global audiences and now some of the biggest stages.
Last year they played the infinitely more snug BBC Introducing stage at Glasto, this year marked a sizeable step up for the group.
Adding the first Welsh language band to open a stage at Glastonbury* to a glowing CV that includes being the only outfit to win the Welsh Music Prize twice – for their 2018 debut Melyn and the 2022 follow up Bato Mato, their gig in the sun kissed fields of Worthy Farm was a celebration of the culturally enriching beauty of Cymraeg.
🏴󠁧󠁢󠁷󠁬󠁳󠁿 MAE CYMRU YN CYMRYD DROS Y BYD!

🏴󠁧󠁢󠁷󠁬󠁳󠁿 WALES IS TAKING OVER THE WORLD!

🎵🔥 through the medium of music, the Welsh revolution is well on its way ✊@adwaithmusic who played @bbcintroducing @glastonbury just last year have just closed an IMPECCABLE set opening THE PARK STAGE ❤️… pic.twitter.com/VrnepRfPy4

— Minty's Gig Guide 🏴󠁧󠁢󠁷󠁬󠁳󠁿🏳️‍🌈🏳️‍⚧️ (@MintysGigGuide) June 23, 2023
The group, Hollie Singer (vocals, guitar), Gwenllian Anthony (bass, keys, mandolin), and Heledd Owen (drums), have recently added a new member, fellow Welsh musician Gillie to their line-up, as they work on album number three.
Their sound augmented by a fourth musician, only served to give full weight to a performance that was patriotic nourishment for those with Welsh flags and bucket hats, and a voyage of discovery into the Welsh heartlands for those maybe only encountering the band for the very first time.
Whichever camp they identified with, the audience fell into the arms and were swept along in the ample charms of the band's hypnotic sound – a heady mix of post punk and psychedelic pop.
Formed in Carmarthen in 2016, Adwaith were quickly signed to unstintingly brilliant Welsh label Libertino Records. Since then they've played internationally, anywhere from the US to Russia, gaining thousands of followers and inspiring many to learn Welsh, given the fascination the language has prompted in these new found devotees.
That following includes amongst their number Manic Street Preachers' James Dean Bradfield, who remixed their song Gartref and choosing the outfit to support the Manics on tour.
On the expansive Park stage at Glastonbury they took yet another giant step forward.
In the immortal words of '80s pop shooting star Yazz – the only way is up.
Ymlaen!
Adwaith play again at Glastonbury this evening on the Croissant Neuf stage between 6-7pm.
They will headline the God Is In The TV 20th anniversary gig at The Gate in Cardiff on September 30th. To buy tickets and find out more click HERE
* Gwenno was the first Welsh language artist to open a stage at Glastonbury, The Park Stage in 2016, performing the first set entirely in Welsh.
My goodness – THIS FIELD IS FULL OF LOVE! ❤️

A field made up of many from all walks of life united together to celebrate the beauty of @Cymraeg through the glorious sound of @adwaithmusic 🏴󠁧󠁢󠁷󠁬󠁳󠁿

So tangibly powerful 🥹

INCREDIBLE. AN-FREAKING-HYG-OEL!!! ❤️🏴󠁧󠁢󠁷󠁬󠁳󠁿

AWN NI! LETS GO 🔥 pic.twitter.com/HgRpcgMoa7

— Minty's Gig Guide 🏴󠁧󠁢󠁷󠁬󠁳󠁿🏳️‍🌈🏳️‍⚧️ (@MintysGigGuide) June 23, 2023
Hearing Cymraeg coming from one of the main stages at @glastonbury today was pretty special. Da iawn @adwaithmusic 👏👏👏 pic.twitter.com/iBsFAbhgDo

— Leigh Sanders (@LSanders_Music) June 23, 2023
Friday highlights so far… @adwaithmusic @pbemusic @Palestranger17

Benefits soon! #glastonbury2023 pic.twitter.com/uRHckFs1Ub

— Dom Gourlay (@domlikesrabbits) June 23, 2023
Get your festival vibes on and listen back to @laurenlaverne @BBC6Music to hear some of @adwaithmusic's "absolutely beautiful" set live from @glastonbury today!!
💛🧡💜💙❤️https://t.co/gM0KCOKexs

— Rocket PR (@rocket_pr) June 23, 2023

---
Support our Nation today
For the price of a cup of coffee a month you can help us create an independent, not-for-profit, national news service for the people of Wales, by the people of Wales.