Culture
Watch: The captivating outtakes from Richard Burton recording War of the Worlds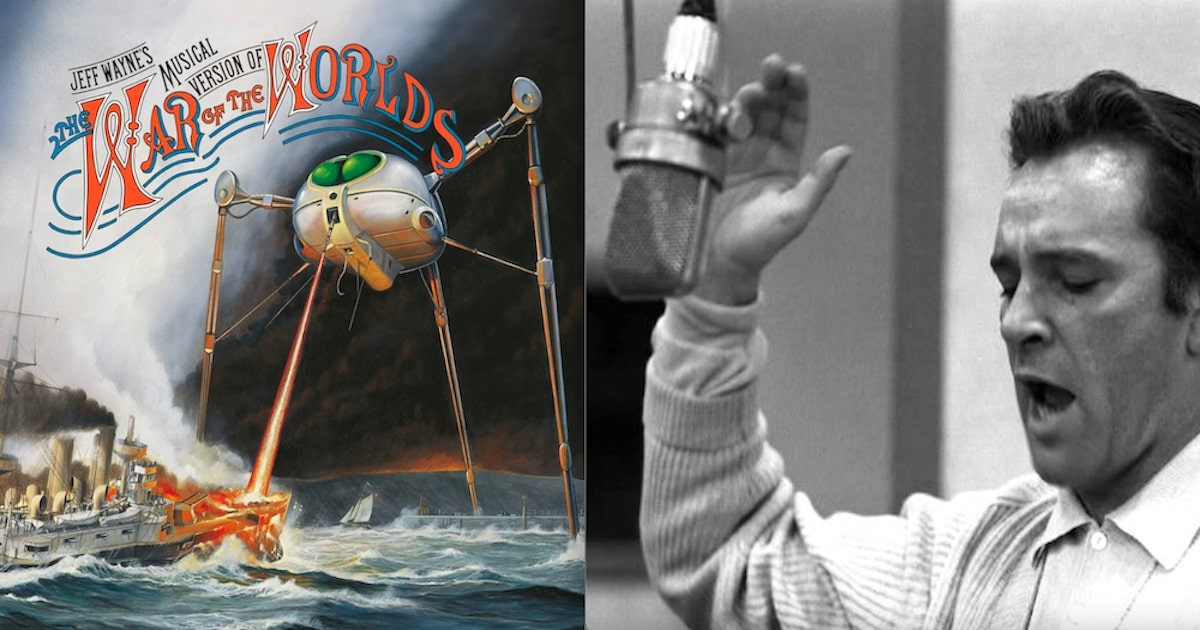 David Owens
Wales has long harboured those who possess the most remarkable of voices.
We are a lyrical nation, a people predisposed to the beauty of the spoken word.
However, it's indisputable that when it came to stage and screen there was one person whose vocal ability stood out above all others.
Richard Burton, a Welshman whose mellifluous baritone voice and majestic acting talent, marked him out as one of the greatest actors of his generation, was a rarified one-off.
His sonorous tone full of weighty gravitas and stately intonation was perfect for the role of the Journalist, George Herbert, in composer Jeff Wayne's Musical Version of The War of the Worlds.
Adapting the story from HG Wells 1898 science fiction novel 'The War of the Worlds', Wayne's masterly '70s concept album was a huge global success.
Also featuring singing stars of the day David Essex, Justin Hayward, Julie Covington and Phil Lynott, it was a huge success.
Next month will mark 45 years since its realise in the UK on June 9, 1978, The double album remains a bestseller, having sold more than 15 million copies worldwide.
The original album itself spent 330 weeks in the UK album charts. It was in the top 10 in 22 countries and reached number one in 11 countries.
It has since spawned multiple incarnations including video games, DVDs, and ambitious live tours. In 2018, Michael Sheen, a huge fan of the album and of Burton – both actors from the Port Talbot area, reprised the role made famous by his fellow countryman for an audiobook version of The War Of The Worlds.
A stage version of Jeff Wayne's Musical Version of The War of the Worlds premiered in April 2006. It featured a holographic incarnation of the Welsh star projected onto a giant screen.
It's arguable that decades on from the release of the double album that started this juggernaut franchise rolling, without Richard Burton's magnificent narration vividly detailing the horror of an alien invasion with grave urgency and preternatural descriptive prowess, the album would not have been quite the success it was thanks to the Welshman's memorable input.
Luckily for Jeff Wayne, the Pontrhydyfen born actor was his first choice. Understandably the composer was thrilled to get his man – a huge international name.
All these years later he still can't believe his luck.
"It was just very good fortune," he said. "We had a very small list for the only non-singing role, that of a journalist who had survived this Martian invasion some six years earlier.
"We wanted somebody whose voice the second you heard it would take you into this world. We had two or three names, but Richard's was at the top of it because he was known for having this one-off, amazing voice."
Watch: The captivating outtakes from Richard Burton recording War of the Worlds
In a conversation with the Communication Breakdown podcast last year, the composer detailed the process by which he persuaded the acting giant to take on the role of the Journalist.
"So now we know who we want, how do you even get to somebody like that?" he said. "And then you just wait for the rejection. But all the things you're expecting, in this case just didn't happen.
"Some friends who had just come back from New York mentioned that they'd seen this show called Equis and it starred Richard Burton – and he was brilliant in it and it was still running. And I thought, oh gosh, well now I might actually be able to find out where I can locate him.
"Instead of trying to go through an agent or manager, I sent a copy of the first draft to the theatre and I told him that I was trying to create a musical interpretation of HG Wells' The War of the Worlds and wondered whether he considered playing the role of the journalist
Wayne wrote a letter to Burton explaining the project and why he thought the Welsh star would be perfect for the role, he also attached the script and sent it to the stage door.
"I hoped that Richard would open it, read it, hoped that he would respond to it and hoped it would be a resounding yes.
"There was a lot of hope in there."
But that hope was well-placed.
"It was no more than two or three days after it would have arrived that I had a call from a man called Robert Lance who was Richard's manager in those days.
"The precise words he said were 'Richard loves the whole idea, loves the script, count him in, dear boy'."
And working with the screen legend was a breeze, according to the composer.
"He was a delight," recalled Wayne. "In the era we're talking about he had a reputation that preceded him and the truth is I didn't know which Richard Burton was going to walk through the studio doors.
"He had this reputation as a hellraiser, but the man that arrived was the most prepared, charismatic and great guy to work with. He had a contract with us that gave us up to five days of studio time, 12 hours a day.
"He did it in just under one day."
Jeff Wayne said that Burton, who at that time was living in Switzerland, had no idea what a success it had become until a trip back home to Wales.
"This was now a year or so later, family and friends were queuing to get him to sign their albums. I think he was taken aback by it all.
"He and his wife Suzy MIller came back to London and were staying at one of the big hotels on Park Lane.
"He got in touch and asked would I like to come over for a cup of tea and a catch up. Of course I was delighted. I told him that the record company CBS had a pile of gold and platinum albums, they'd love to allow me to present to you and we could get a photographer to take pictures. He loved the idea.
"He told me: 'So I'm a pop star now'. I always remember him saying that because here's a guy that was nominated for seven Oscars, had won lots of awards and there he was with me on the balcony in this hotel, each holding a platinum album and he kept saying 'I can't believe I'm a pop star.
"He was overjoyed."

---
Support our Nation today
For the price of a cup of coffee a month you can help us create an independent, not-for-profit, national news service for the people of Wales, by the people of Wales.