Culture
Watch: TV reporters' gorgeous duet with beautiful Welsh hymn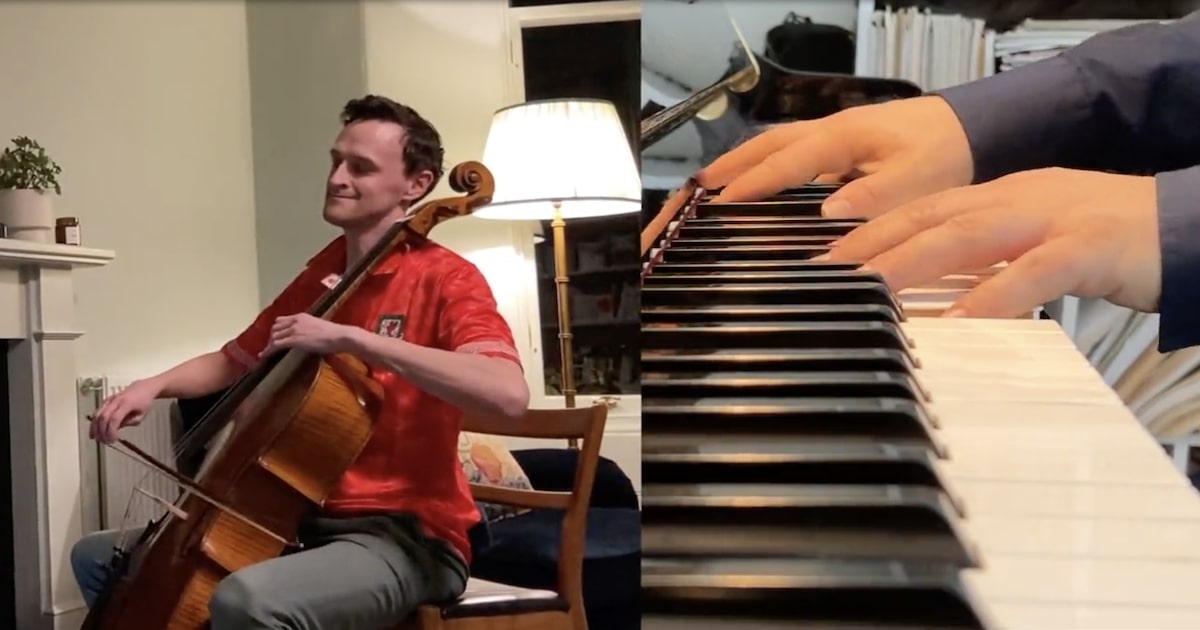 Ciaran Jenkins and Steve Rosenberg are two outstanding journalists.
Ciaran is Channel 4's Scotland correspondent, while Steve is the BBC's Russia editor.
Both are also virtuoso musicians. Ciaran an outstanding cellist and Steve, a brilliant pianist.
The two regularly showcase their talents on social media. However they recently collaborated on a beautiful cello/piano version of the Welsh hymn Gwahoddiad.
And it's certainly been wonderfully received, with many extolling the virtues of their musicianship and the beauty of their playing.
Thanks again to Channel 4 News' Ciaran Jenkins @C4Ciaran for this musical collaboration.

Our cello/piano version of Welsh hymn Gwahoddiad. pic.twitter.com/3cmceqk0MJ

— Steve Rosenberg (@BBCSteveR) March 5, 2023
Welshman Ciaran came to the attention of many last year when he posted a special version of Yma o Hyd to celebrate Wales qualifying for the World Cup.
Here's our interview with Ciaran at the time..
Ciaran Jenkins is a man who loves music and loves football.
It was only natural then that the TV reporter who is Channel 4's Scotland correspondent, should record a video of himself playing Dafydd Iwan's omnipresent anthem Yma o Hyd to mark Cymru's first appearance at the World Cup since 1958.
We caught up with 38-year-old Welsh speaker Ciaran, who lives in Glasgow, for a quick chat about his cello-playing exploits, his love of music and football, and why Scotland is not exactly getting excited for the World Cup.
Where did your love of Yma o Hyd come from?
Obviously Yma o Hyd has become the unofficial anthem of Welsh football and it's synonymous with Cymru's world cup journey. It's a fantastic song, I've known for a long time and I'm glad it's being sung by new audiences. I do the odd cello post on Twitter from time to time, people seemed to like them during lockdown. I tend to play Welsh music that has some personal siginficance to me.
❤️🏴󠁧󠁢󠁷󠁬󠁳󠁿Yma o Hyd🏴󠁧󠁢󠁷󠁬󠁳󠁿❤️

After 64 years – we're back!@Cymru #FIFAWorldCup pic.twitter.com/sn3IGgzocV

— Ciaran Jenkins (@C4Ciaran) November 21, 2022
How important is the Welsh language in your life?
I still try and speak Welsh whenever possible even though I now live in Glasgow. I went to Welsh medium schools in Merthyr and Pontypridd and grew up competing in a lot of Eisteddfods so it's always been a big part of my life.
Is that where your love of music and playing the cello began?
Yes I used to sing at the Eisteddfods before I got into the cello aged eight, then it was all about that for there on.

Was it a choice between a career as a musician and a journalist?
I read music at university and decided about halfway through to pursue journalism instead. I love seeing friends I used to make music with performing on some of the biggest stages. They put in so much work to be where they are.
How is Scotland reacting to the World Cup? Is everyone backing Wales?
My mates are I hope! There is not much of a World Cup buzz around the place unforunately.
Where will you be watching the game and what is your score prediction?
I'll be watching at home tonight but I'm going to Seville for the England game to get some more atmosphere. I reckon (I hope!) 1-0 Wales?
Finally, what does it mean for you to see Cymru at a World Cup?
It's incredible. I was at the Romania game as a young kid and then the Russia playoff as a student. I've waited a lifetime for this and now it's upon us! Huge credit to the team – it seems like it couldn't have happened to a better bunch of lads who've shared the pain over the years and are now bringing so much joy.

---
Support our Nation today
For the price of a cup of coffee a month you can help us create an independent, not-for-profit, national news service for the people of Wales, by the people of Wales.