Culture
Watch: Welsh musician plays piano through the streets of the Valleys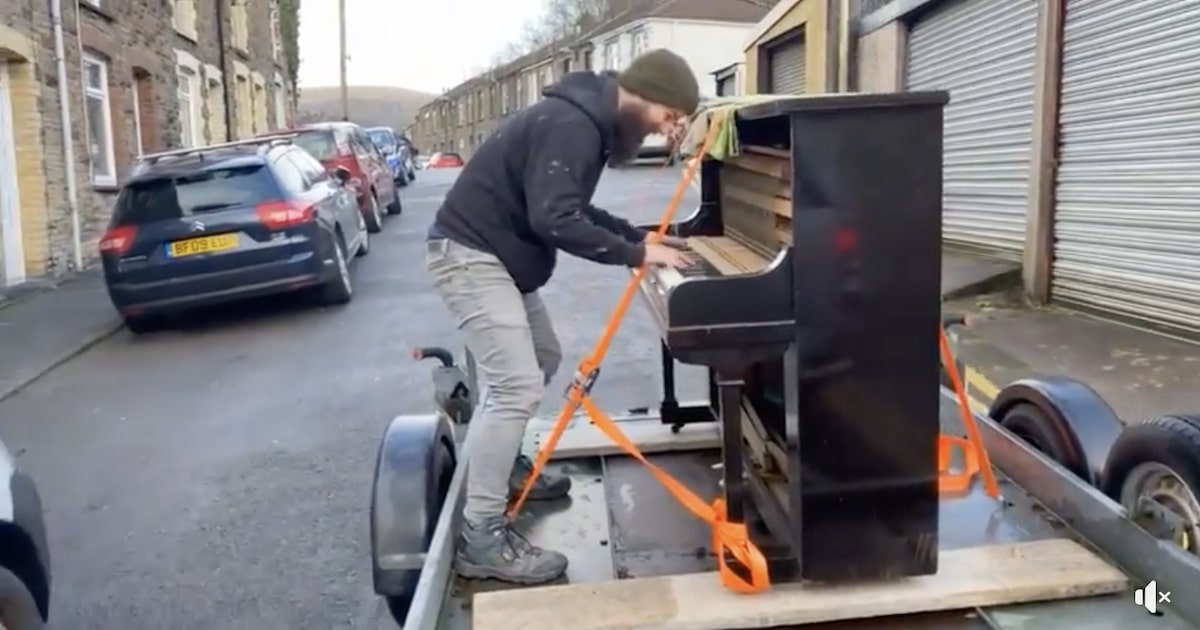 When Matthew Frederick had to move his childhood piano he thought he would entertain the locals while he was at it – and pay tribute to a famous music video at the same time.
"Myself and my wife Caysha are finally about to move into the house we've been working on for the last year or so," says Matthew.
"After 27 years taking up a large chunk of my parents' living room in Penygraig, we thought we'd celebrate the piano's arrival at its new abode in Pontypridd in style with a little homage to Vanessa Carlton's iconic video for 'A Thousand Miles' – which I still maintain is one the best songs of the noughties.
"The idea to recreate Vanessa's video was pretty spontaneous, and we were going to film it in my parents' street initially, but a hail shower put paid to that. Heavily wrapped and safely secured, it was transported a trailer to Ponty, where the rain held off just long enough for us to unsheathe the Joanna at the finishing line and quickly whip out the phone to film.
"Bit of a smaller budget for my version," he adds with a laugh.
Vanessa Carlton – A Thousands Miles

Matthew Frederick's lo-fi version of A Thousand Miles

The piano holds special memories for Matthew, who is frontman of the band Climbing Trees, and one half of Hazel & Grey, with his wife Caysha.
"I remember as a seven year old, back in 1996, seeing the piano arrive from West Wales in an old horsebox," he remembers. "My Uncle Allen had picked it up somewhere or other for £30, and I'm pretty sure it was another £35 on top for delivery, so dearer than the piano itself.
"Through the front window, I watched my father (Carlos), grandfather (Jacky), Uncle (Brian) and neighbour (Wayne) lugging it up the steep steps.
So what were the logistics of transporting his prized piano?
"Due to the weight of the piano, it's probably easier to go up than down, that was our thinking, anyway, so this time around we tackled the two lots of back steps via a sturdy concoction of ladders and planks that Carlos spent a while preparing, with my younger brother Adam roping in a couple of his burliest butties, Bear and Chris, to do the majority of the heavy lifting."
As for those who witnessed the unlikely sight rolling past their window, Matthew says:
"I'm not sure what the locals thought, but it's not everyday you see a piano and pianist rolling down your street, I suppose!"

---
Support our Nation today
For the price of a cup of coffee a month you can help us create an independent, not-for-profit, national news service for the people of Wales, by the people of Wales.