Culture
Watch: Welshman transforms German stickers into Welsh words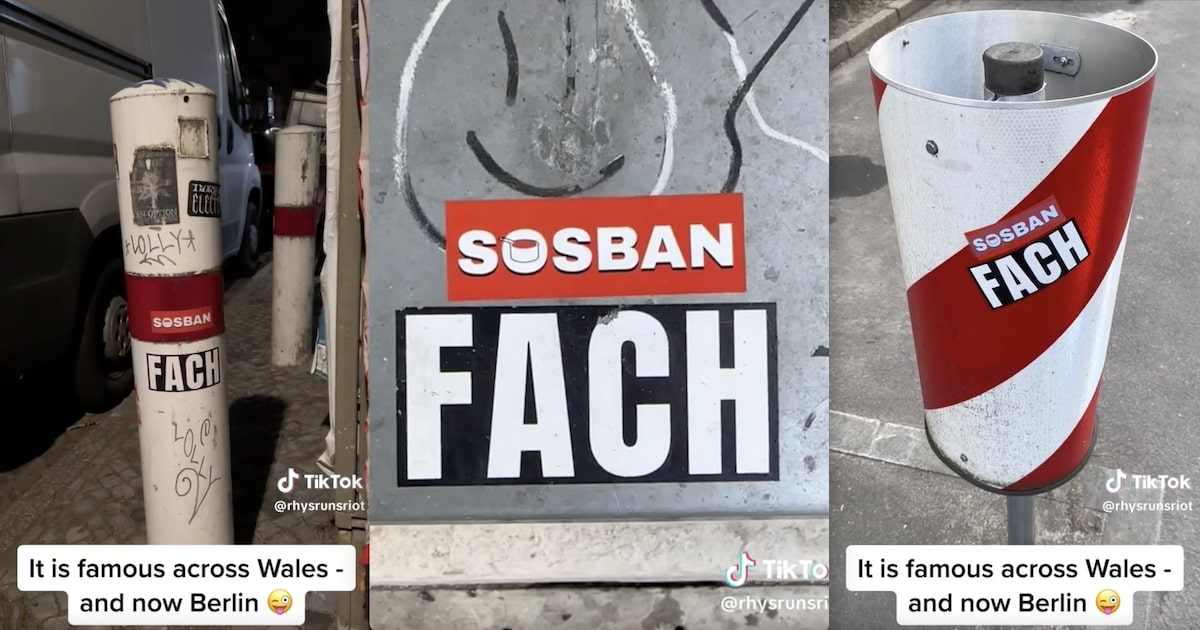 When stickers began appearing everywhere in Berlin with the word 'FACH' printed on them, Welshman Rhys Howell thought it would be fun to spread a little love for the Welsh language by making his own customised stickers.
And on those stickers that he created was the word 'SOSBAN', and as any self-respecting Welsh person knows if you put those two words together you get the title of one of the most famous songs in the history of Wales.
Fittingly, the stickers also include the image of a little saucepan (Sosban Fach)!
"I am always seeing words appearing in the German language that also mean something in Welsh," said Rhys. "As these 'FACH' stickers were so prominent then I thought it would be fun to utilise them by creating my Sosban stickers.
"I know it might be a bit odd to put up welsh stickers in a German city but after seeing a YesCymru sticker in Tallinn, Estonia I thought, why the hell not!"
Rhys believes the FACH stickers are a graffiti artist's tag, but adds: "Berlin is covered in stickers and graffiti so it is hard to tell. Fach means 'subject' in German, but I would certainly like to find out what all the FACH stickers are about."
Living in London, Rhys grew bored with the rat race and wanted a change.
"I decided I wanted to work in the cycling industry – and that led me to Germany," he said. "There's also a much better work/life balance here which I've really grown to appreciate.'
Despite not being born in Wales, Rhys is hugely passionate about Cymru and its language.
"For my sins, I was actually born in Kent and grew up in England," he laughed. "But being English was never an option as far as my Dad was concerned. So being Welsh has been core to my identity. But nobody in my family spoke Welsh and I always thought that was a tragedy and why I am so passionate about the language and learning it myself.
"My nan still lives up in Heath so I'm in Cardiff relatively often."
Now, the plan is to continue his guerrilla sticking campaign, with his sights already set on a couple of 'Welsh' targets.
"I have several more mini-stickering campaigns planned," said Rhys. "For example, there is a local shop not to far away called Mein Hoffi and there is also a jewellers called CWM."
He is also considering highlighting the housing crisis in the city with a bilingual sticking campaign.
"The other thing I'd add, as it's also relevant to Berlin is housing," he said. "I saw Gwenno play in Cardiff last year – the same day as the independence march. She has a song called Nid Yw Cymru Ar Werth (Wales Is Not For Sale), and it really resonates.
"There is the same problem in Cornwall where my wife is from and there is also a housing crisis here.
"So, 'Berlin ist nicht zu verkaufen' (Berlin is not for sale) and the Welsh paired together should resonate I think. I do see a lot of parallels like that."

---
Support our Nation today
For the price of a cup of coffee a month you can help us create an independent, not-for-profit, national news service for the people of Wales, by the people of Wales.