Culture
Welsh chiller Y Fenyw Mewn Du prepares to hit the road for Halloween season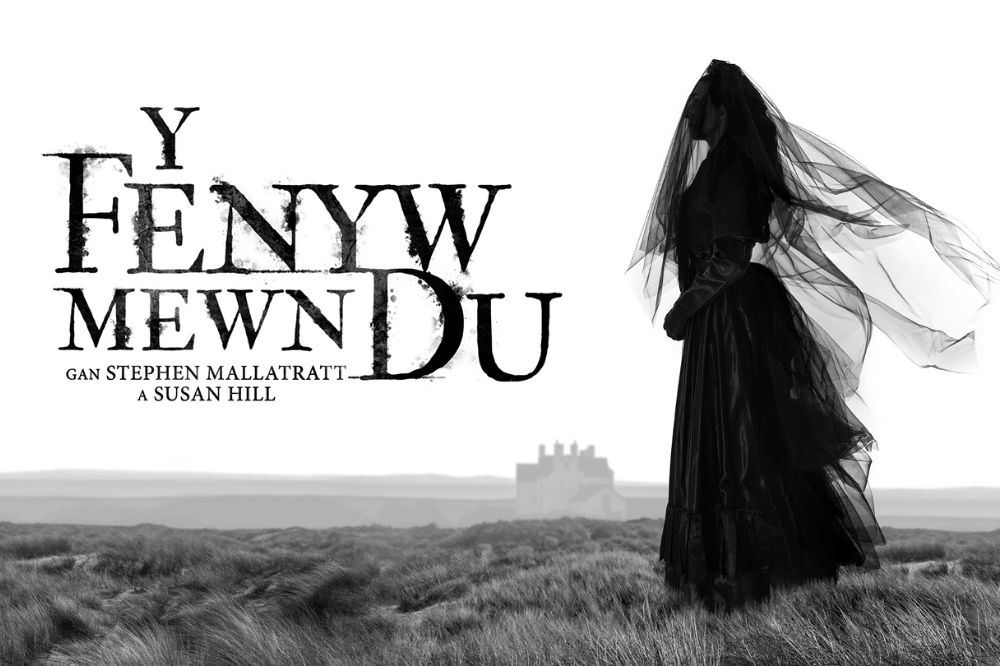 A new Welsh language adaptation of the West End hit The Woman In Black is gearing up to terrify theatre goers this autumn.
The world premiere of 'Y Fenyw Mewn Du' will offer a fresh new staging of a production that has been scaring audiences stiff in London for 30 years.
The bone chilling crowd pleaser is the work of Y Consortiwm Cymraeg and will arrive to stages across south Wales in time for spooky season.
On the eve of rehearsals, actors Jonathan Nefydd and Tom Blumberg, who will play the Actor and Kipps, join director, Geinor Styles and translator, actor and writer Gwawr Loader to explain why this production looks set to be so special.
Why should audiences come to see Y Fenyw Mewn Du?
Tom: "If you're a fan of horror and enjoy a bit of a scare (like me) it's a great story and full of some really chilling moments. But mainly, there is such a lack of ghost stories in the Welsh language – so this really feels like something different and quite a unique opportunity…. especially over the Halloween season!"
Jonathan: "It's an exciting chilling gothic ghostly night out and enjoy a tale that will hopefully scare the living daylights out of them and keep the audience constantly on the edge of their seats.
"It's a beautiful atmospheric piece of theatre and the backdrop the old Victorian theatre setting, the pavilion theatre in Porthcawl, with its auditorium amplifying the chills."
Gwawr: "The Consortium have excelled in pulling together an incredible group of creatives who are at the top of their game in all aspects. I'm so excited to hear the sound design and to see the set and lighting design, all of which will contribute hugely to this atmospheric piece. I also think that this special cast will charm audiences throughout the run."
Geinor: "If you enjoy stories that scare you, and the simple power of telling a good story in a theatrical way, Y Fenyw Mewn Du is perfect for you."

Is this the first ghost story that you have acted in/adapted/directed? What makes it special?
Tom: "It is! I love ghost stories, so I've seen many and it's so exciting to be on the other side, telling one for a change. I think what makes it special is that it's being told in Welsh, there is something about the poeticism of the Welsh language that makes it even scarier in my opinion – the imagery is vivid and powerful."
Jonathan: "Definitely the first. What makes this play so special is the gradual build-up of tension, foreboding and fear building up layer by layer, not only with special effects and sound effects but with simple imagination and storytelling at its heart."
Gwawr: "This is the first time I've translated a ghost story and also the first time I've translated something that isn't a modern text. It was quite challenging to preserve Susan Hill's beautiful poetic language whilst maintaining accessibility and clarity. I hope that I've managed to capture the beauty of Susan Hill's original and given it a Welsh twist.
"Who could turn down the opportunity to translate a classic?! I'm very passionate about bringing world-class theatre to local audiences and particularly in the Welsh-language so this was a no brainer for me."
Geinor: "No, I've directed a show for schools for Theatr na nÓg called Ysbryd Y Pwll, which is based on a true story in the Morfa pit near Port Talbot, where according to all accounts miners saw ghosts just before an explosion in the mine in 1890 that killed 30 men and boys.
"Very strangely when we went to film the short film for Y Fenyw Mewn Du in a local church, I spotted the grave of one of the boys who was killed in the disaster."

Why is making theatre in Welsh important to you?
Tom: "Welsh language theatre is essential, it promotes the use of our wonderful language in a fun, entertaining setting. For learners, it offers an opportunity to be immersed in Welsh outside of a classroom setting, which I think is actually the key to making a language thrive.
Jonathan: "Creating and making vibrant exciting Welsh language theatre is a vital tool of Welsh culture and identity, and the Welsh language scene today provides a powerful platform in celebrating and shaping our cultural individuality and landscape.

Gwawr: "It's vital that audiences (particularly in the valleys and south Wales) don't miss out on opportunities to use their Welsh (whatever level) in social settings. Theatre is the perfect vessel to bring new speakers, learners and those who are fluent together, to enjoy being entertained  – and spooked in this case!"
Geinor: "As someone who grew up in a non-Welsh speaking home, but was educated in Welsh, I have had the opportunities to participate and enjoy my culture and heritage through the arts in Wales and it has brought me incredible experiences and a long career.
"I have also had the opportunity to work with communities and to share stories; and so I want others to have those same experiences whether they are first language Welsh speakers, or learning the language for the first time."
The soundtrack is composed by Barnaby Southgate and the production designer is Kitty Callister with sound design by Ian Barnard, and lighting and projection design from Andy Pike.
Llinos Daniel will assistant direct and storyteller Owen Staton will be running ghost story-telling workshops in each location to accompany the tour.
Y Consortiwm Cymraeg was established by the award-winning Theatr na nÓg, Awen Cultural Trust, Theatr Soar and The Welfare Ystradgynlais to present high-quality accessible Welsh language theatre.
Y Fenyw Mewn Du tour details:
Porthcawl Pavillion on 26 – 28 October
Theatr Soar, Merthyr Tydfil 2 – 4 November
The Borough Theatre Abergavenny 9 -11 November
The Welfare, Ystradgynlais 16 – 18 November.
There will be BSL interpretation by Simon Johanson and Audio Description by Tonya Smith on the following dates: 27th October, 3rd November, 11th November and 17th November.
To support those learning Welsh, Sibrwd – a language access app – will be available for the performance of Y Fenyw Mewn Du on Saturdays  to guide you through the play, whatever your level of fluency in Welsh.
Recommended age is 14+
Tickets are on sale and full details can be found on venue websites or at theatr-nanog.co.uk.
---
Support our Nation today
For the price of a cup of coffee a month you can help us create an independent, not-for-profit, national news service for the people of Wales, by the people of Wales.