Culture
Welsh Food Stories: Weeds of the Future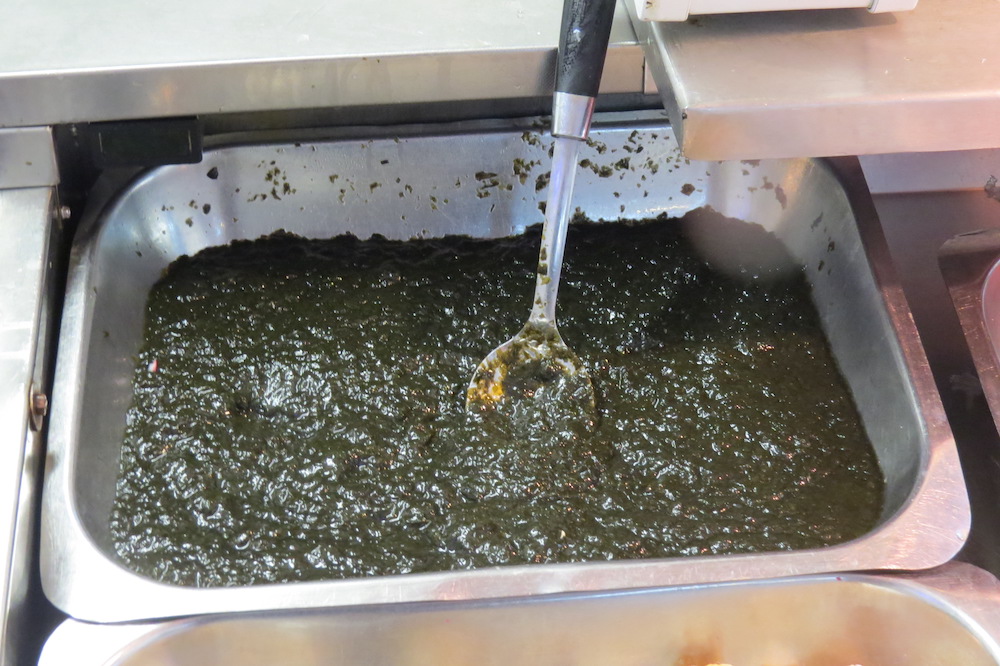 Carwyn Graves
Food fads are sadly all too common. But the current regenesis of Welsh seaweed, celebrated on National Laverbread Day on April 15th ought to be nothing of the sort. In fact, if we as a nation fall in love with laver all over again and create the conditions to take it from a foraged to a farmed food, it will be as close as anything comes in our climate-changed era to being a win-win.
It is remarkable in the 2020s how common laverbread remains in shops and markets across southern Wales; as easy to find locally now as it was sixty years ago in a very different era. "But the reality", laver businessman Jonny Williams tells me, "is that we can't actually supply demand any more from the foraged laver. It's a wild plant that grows where it will and things like sand levels and stormy weather shift populations around." Every tin of laver bought in shops and supermarkets across South Wales is currently foraged seaweed, that is then boiled and sold. This has the significant advantage of being highly economical (and is entirely sustainable at current levels) – but not scalable.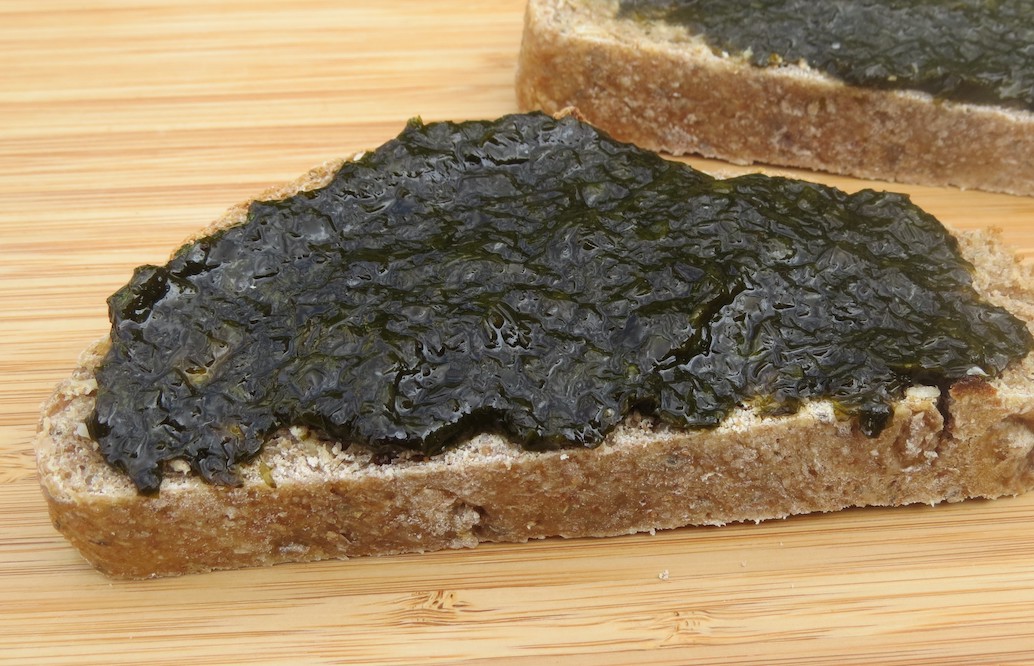 Profile
The extent to which the current global food system is both making us sick and contributing heavily to greenhouse gas emissions is well documented; and one of the major drivers of this is the western world's insatiable demand for protein. This is where laver could come into its own as an entirely naturally-occurring, nutrient dense plant that doesn't take any space on land to grow. In fact, laver (porphyra umbilicalis) is one of the highest plant sources in existence of iodine, iron and vitamin B12 (which as vegans know, is particularly difficult to source from plants).
"But what a lot of people don't realize", Jonny adds, "is just how high laver is in protein as well. It varies throughout the year (and is highest in winter), but recent research we've done on Welsh populations shows it can supply about 30-45% of your recommended daily intake in 100g, which is higher than chicken. Just without the environmental cost of the mass-produced chicken".

Production
Despite laver's iconic place in Welsh food culture and long history of harvesting (extending back at least to the late middle ages), it is only in recent years that its potential for our future has been looked at in detail, through companies like Jonny's Pembrokeshire Beach Food and Car-y-Môr along the coast in St David's. These have collaborated with Welsh universities to establish baseline data on its nutritional profile, the sustainability of laver foraging and the potential of growing the seaweed from spores to create a farmed product.
This collaboration has been crucial – but has currently been funded and run almost entirely by local supporters and volunteers. In Japan, laver (called 'nori') is a commercial crop that employs over 30,000 people and produces hundreds of thousands of tonnes annually, compared with the few tonnes annually foraged in Wales. "What they have in Japan," Jonny explains, "is this close co-operation between government, business and universities. We just don't have that here – and the big thing that's missing is government giving leadership and strategic direction."

Political will
Owen from Car-y-Môr confirms this picture. "We have proven it works here in that we are now harvesting cultivated laver from our farm near St David's. But it would take real capital investment to scale things up so that our product was as cheap as foraged laver. We've basically got to where we have with this project because of the way the local community here has pitched in – volunteers, boat-people, folk investing money. We've probably spent under half what a commercial company would have had to in order to get to this point."
But as things stand, investment from the government-backed Development Bank of Wales isn't forthcoming, and sorting out licensing with Natural Resources Wales hasn't been straightforward either. To get to a point where this zero-fertiliser, zero-waste, zero-pesticide, zero-freshwater and zero-land crop could be produced in Wales at a price where it starts being genuinely competitive with chicken would take the sort of long-term vision that led to the Future Generations Act. The feasibility is there, and we know that demand for healthy and tasty foods can grow quickly. Whether National Laverbread Day remains over coming years a festival of our food heritage or becomes a celebration of a real sustainability success story with the potential to transform our diets will surely come down to political will – and our appetites.
This is part of a monthly series on nation.cymru on the diversity of Welsh food culture by Carwyn Graves, whose book Welsh Food Stories is out now. You can read the other installments of the series here.
---
Support our Nation today
For the price of a cup of coffee a month you can help us create an independent, not-for-profit, national news service for the people of Wales, by the people of Wales.