Culture
Welsh Gogglebocs star shares son's inspirational story to give hope to other youngsters living with disabilities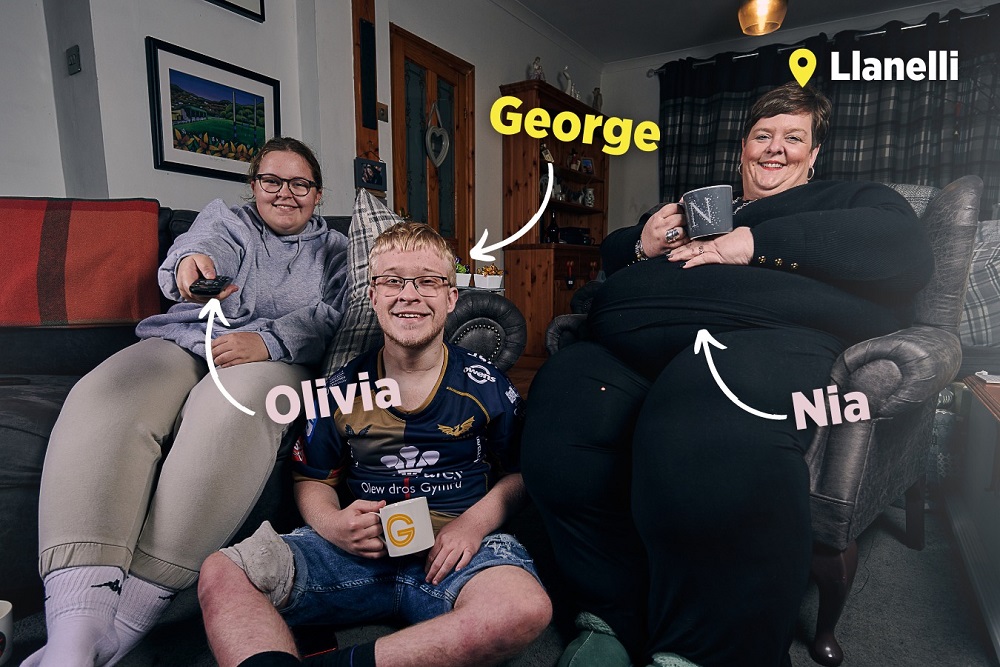 Welsh Gogglebocs star Nia Phillips has opened up about her son's courageous journey battling spina bifida in the hope he inspires other young people living with disabilities.
Single mum Nia from Trefach, Llanelli told of George's miracle journey and praised independent programme makers Cwmni Da and Chwarel for their inclusive approach to casting.
Fifty-year-old Nia and children George, 20, and Olivia, 16, have appeared together on the show since the Welsh language version of the best-loved format first screened in November.
Since then, the sport-loving trio have become regulars on screen and are often seen giving their off-the-cuff assessments of the weekly sport – including Welsh footballer Gareth Bale's hair!
Most viewers will be unaware that George, who is studying for a Level 3 qualification in sports science at Coleg Sir Gȃr in Llanelli and has set his heart on a career as a rugby analyst, was diagnosed with spina bifida within a few days of being born.
The condition is caused when part of the neural tube – the structure that eventually develops into the baby's brain and spinal cord – does not develop or close properly. This leads to defects in the spinal cord and the bones of the spine. The condition is usually visible at birth and can cause mild or severe physical and intellectual disabilities.
S4C commissioned Cwmni Da and Chwarel, both based in Gwynedd in North Wales, to co-produce the first ever Welsh language version of Channel 4's and Studio Lambert's top-rated format in the autumn.
The inaugural show was broadcast in the first week of November with the new series hitting screens on Wednesday, January 4, after the celebrity special on December 28.
It is the first time Studio Lambert and Channel 4 have licensed the franchise to another UK-based broadcaster.

Rugby
Rugby fan George, who has appeared on TV a few times since he was born in hospital-based documentaries, was put forward for the show by an executive producer who met him previously during filming.
Former council worker Nia said it didn't take too long for the Scarlets fan to relax in front of the camera and for his remarkably positive outlook to shine through.
"He's amazing, I'm so proud of him," she said.
"George is seen sitting down during the programme so the majority of people won't notice he has a disability.
"People don't really realise what goes on behind closed doors – we all live within our own bubbles. The show is fantastic in that sense, it's really diverse and shows the strength of Wales.
"George is an inspiration. I know he's mine, but he is just incredible. Everything is a daily struggle for him, but he just gets on with it. He always has a smile on his face."
Within the first five weeks of his life, George underwent a series of major operations at Cardiff Royal Infirmary including shunt surgery to treat suspected hydrocephalus, spinal surgery and a procedure to treat his perforated bowel.
"I had a completely healthy pregnancy and nothing was picked up on scans," Nia explained.
"When George was born, he had a blister on his back so they took him to the special care unit but told us not to worry. The following morning, the pediatrician came in and he was blue lighted to Cardiff. A bed became available and he had an operation every week for five weeks.
"We were warned he would be brain damaged and vegetative and would never walk or talk. He has proven them all of them wrong. He doesn't walk very far and uses the wheelchair in college, but nothing stops him, he's a real fighter."
Thrilled
As avid fans of the British reality series, the family were thrilled to be invited to join the Welsh version's cast and have already become mini celebrities in their local community.
"We love Gogglebox and have always watched it together. It's a lovely experience to do this together as a family," said Nia, whose first language is Welsh.
"George knows his rugby inside and out. He's very opinionated! My daughter plays rugby for Merched Mynydd Mawr.
"It was a bit surreal to start with. Virtually the whole of the downstairs was taken over and I wasn't expecting it but the crew are brilliant, they've become part of the family now.
"I suppose we were nervous and apprehensive on the first show but as the weeks went on and you get the same crew every week, you build a rapport with them and relax to the point you almost forget you're filming.
"I said I wanted to cut Gareth Bale's hair off during one episode – I think I said I would like to take scissors to it! I read a few comments about it after that!
"I try to watch my Ps and Qs and so far there's been no swearing! When a complete stranger comes up to you and asks if you're on Gogglebocs, it does take you back. Obviously people are watching it at home but it's surreal. It's happened a few times in the shops."
Series producer Huw Maredudd said the show was already going down well with viewers.
Popular
"The first block was very successful and popular thanks in no small part to our cast and all the hard work of the crews," he said.
"Obviously we were trying to represent as broad a spectrum of the Welsh community as possible and so we have people of all ages from John in his 70s through to our youngest cast member, Olivia, who's 16.
"It feels as if we are watching with them, so they've really come into their own, and they've all enjoyed the experience which is the most important thing. We get to enjoy them enjoying themselves as viewers at home.
"A lot of work went into making sure the entire cast complemented each other and that they all worked on their own individually as well as a full patchwork too.
"Yes, we wanted to give everyone the opportunity to be involved but they also had to justify their place. Obviously, George is a star and we have presented the family naturally in the same way as everybody else. We didn't treat anyone any differently to anyone else, they are there because they are funny and bubbly and part of everyday Welsh life.
"Hopefully, we'll be back later in the year with a cast I hope will have become old friends to the audience by then. We're looking forward to doing a lot more."
---
Support our Nation today
For the price of a cup of coffee a month you can help us create an independent, not-for-profit, national news service for the people of Wales, by the people of Wales.