Culture
Welsh Hills: why we yearn for a level playing field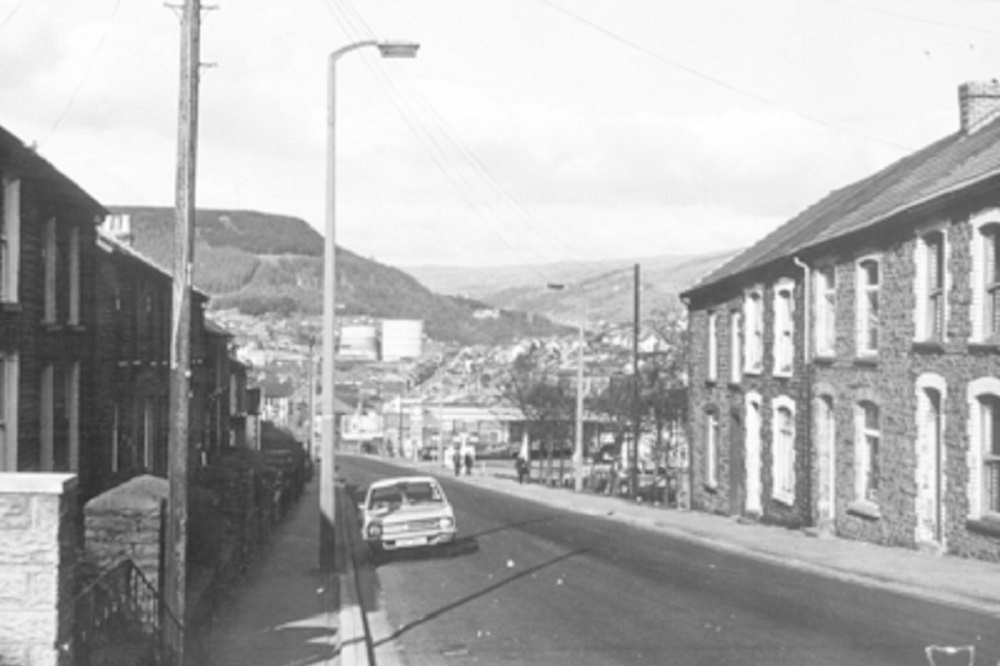 John Geraint
Continuing our series written by John Geraint, author of 'The Great Welsh Auntie Novel', and one of Wales's most experienced documentary-makers. 'John On The Rhondda' is based on John Geraint's popular Rhondda Radio talks and podcasts.
A photograph caught my eye this morning. I was browsing the internet, flicking through dozens of images, but this one stood out.
A fuzzy black-and-white picture, it was. Just a road, a typical terraced street on a hill, a few lampposts, the blurred side of a mountain in the distance. Hardly any distinguishing detail at all. It could have been one of a thousand streets anywhere in the valleys, I suppose. But I knew instantly, without thought or calculation, where it was. Tylacelyn Road, Penygraig: my street.
How could I be so certain? It was the angles that gave the game away: the angles at which the houses were set against the rising road; the upright lampposts making angles against the sloping pavement; the angle at which the tilted road itself was set against the mountain in the background.
Those precise angles were imprinted deep in my memory, so that I could calibrate instinctively that – yes, this is Tylacelyn, my Tylacelyn.
I knew that road without thinking. I could do the same thing with plenty of others too. As I'm speaking to you now, if I close my eyes, I can picture to a fraction of a degree every gradient of every street in my home patch of mid-Rhondda: the barely perceptible slant of Hendrecafn Road, the gentle slope of Hughes Street, the steep incline of Trinity Road, the daunting Matterhorn of Amos Hill, the Everest of Penygraig's Gilfach Road.
Try it for yourself, with the streets you know best, and you'll see what I mean. If you grew up practically anywhere in hilly Wales, you've got a natural talent for Geometry or Trigonometry or whatever branch of Mathematics it is that deals with lines and angles and the relationship between them.
You can award yourself an A level in the subject right now – an honours degree, more like. Mind you, the credit's not really down to you: it's an automatic function of living somewhere like the Rhondda.
Practically vertical
It's strange, I suppose, that it's a mental aptitude that we've gained from growing up in a place that's so hilly, rather than a physical one. And it seems odd to me that the world's great middle-distance athletes and marathon runners come from Kenya and Ethiopia and Morocco rather than Hendrecafn Junior School.
Imagine the times Kip Keino or Gebrselassie would have posted, if they'd trained every day like us by walking to school up Hill Street.
Hill Street! It was rightly named. Short, but practically vertical. Back in the day, we used to play long pick-up games of soccer in the middle of any side-street we liked. There wasn't any traffic.
One day, we decided to play on Hill Street. I can't imagine why. Maybe our favourite pitch down on Hughes Street had been blocked by some thoughtless motorist who'd decided they were entitled to park kerbside, like they owned the road! Didn't they know that it was our Wembley?
Or maybe it was because Dillwyn Jenkins, the only one of our butties who lived on Hill Street, had finally snapped and demanded a home game for once. Anyway, we kicked off.
Three-quarters of an hour later, at half-time, the ball had been in play for less than one minute all told. We'd spent the rest of the time taking it in turn to run all the way down to the bottom of the hill and halfway down Hughes Street to fetch that runaway football. The team kicking downhill was leading 23-0.

Fair play
Playing football on Hill Street. It's experiences like that, I reckon, that give Rhondda people their attachment to fair-play and fair shares for everyone.
We know what happens when there isn't a level playing field. And living somewhere where everything is listing one way or another must have an effect on our characters. Take my friends from Clydach. I've got a few; and they're not all mad. But their journey home is like a Himalayan expedition.
First, Court Street, curving upwards from Pandy Square, squeezing past the ramparts of the old Naval Club, then straightening into that implausible ascent, somehow hauling itself up to the plateau of Blaenclydach. And that's just Base Camp.
Wern Street soars sharply upwards again to the summit of Clydach Vale. And the residents can climb all that without fixed ropes or oxygen.
It's hardly surprising that everyone I know from up there comes at things from a bit of a tangent. It's not that they are out-of-kilter: it's the rest of the world that's all a bit flat and boring.  Clydach people know that what makes life interesting is… its ups-and-downs.
There's new road that runs parallel to Court Street these days, part of the Tonypandy by-pass. Anyone who's driven it, from the junction down on the valley floor up to the roundabout by King George's Park, appreciates what a crazy slant the highway is built at.
No matter how hard you put your foot down, you'd better get ready to change gear: down, down, and down again, probably.
It's amazing to think that that slope once carried a railway – the colliery branch-line, scaling the Pwll-yr-Hebog incline. It's famous amongst train enthusiasts. The railhead, of course, was higher still – up above Clydach, at the Cambrian Colliery.
This stupendous feat of Victorian railway engineering was testament to the enormous value of the Black Diamond they'd found up there. Who would even contemplate building a rail-track at such a pitch, unless untold wealth lay under the ground at its apex, just waiting to be exploited?
According to one of my aunties, who habitually got such mathematical ratios the wrong way round, the gradient of the Pwll-yr-Hebog was 13 in 1. Walking up it, you suspected she might be right after all.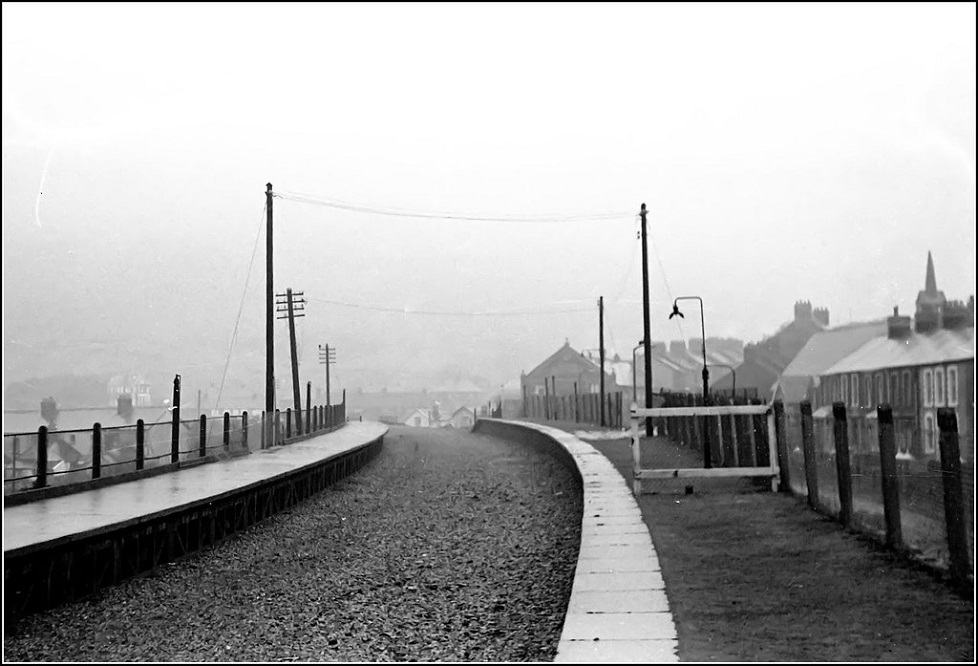 Stickability
My father lived on top of a hill when he was a boy. It certainly played a part in forming his character. It gave him an extra helping of determination – what he would later call 'stickability'.
You see, his house was on Top Trebanog Road, but he went to Infants School way, way down Cymmer Hill, which – as anybody who's travelled from Porth to Trebanog knows – might even top Court Street as the Rhondda's steepest, longest terrace.
Dad was one of a small gang of Trebanog children who made their way down to school on foot every day – and they'd all come home for their dinner too, so they'd go down and back twice a day.
The long climb home developed into a race, a twice-daily endurance marathon to see who could reach the top of the hill first.
However hard he tried, Dad, being the youngest by a couple of years, could never come close to winning. No matter how much he'd huff and puff, someone always got there before him.
But that's where the 'stickability' kicked in.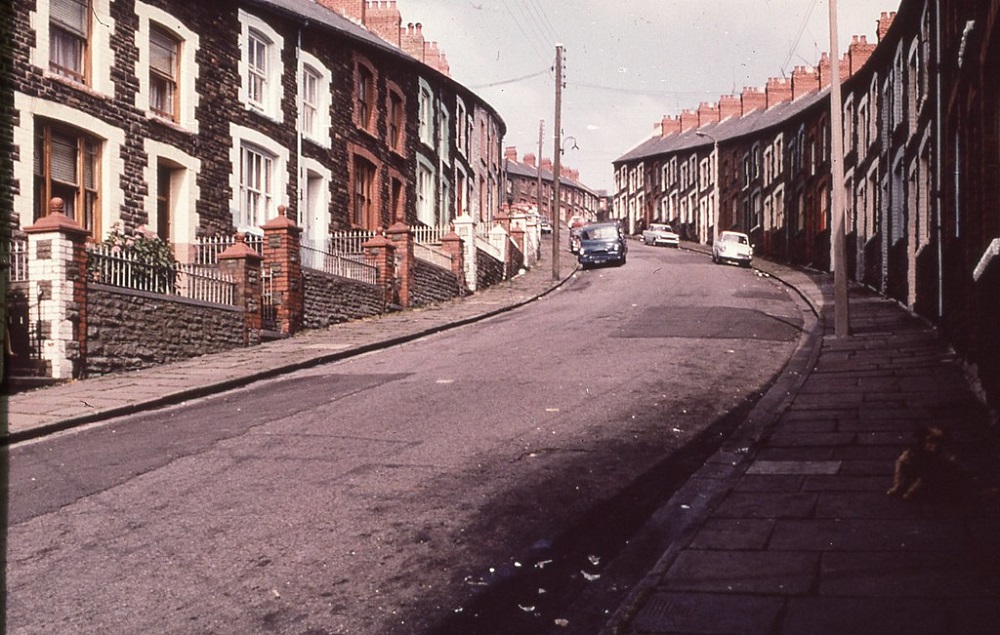 Victory!
One fine morning, he promised himself that this was the day he'd finally come out on top. The moment the bell rang, he was on his feet, rushing out of the classroom.
He was halfway to the school gate before he heard the rest of the children pouring out into the yard behind him. But he was off, pelting up the road, up the hill, as fast as his little legs could carry him.
That climb was steep, so steep. He felt dizzy and sick. He'd been told that champion runners didn't look back to see how much of a lead they had. All they thought about was winning. So he fixed his eyes on the hill ahead. And he was still in front.
On and on he went, up and up and up, until finally he reached the top, and ran onwards on the flat towards his house, still struggling to catch his breath. When eventually he turned back to check, none of the others had even crested the brow of the hill yet.
What a victory! What an achievement! Worthy of a Gold Medal at the Olympics. He fell in through the front door with hardly enough puff left to tell his mother about his great triumph.
"Mam! Mam! Mam! I did it! Today… at last… I won the race!"
"Well, I'm not surprised," said his mother, calmly. "You've come home at playtime."
All episodes of the 'John On The Rhondda' podcast are available here
John Geraint's debut in fiction, 'The Great Welsh Auntie Novel', is available from all good bookshops, or directly from Cambria Books
You can find the rest of John's writing on Nation.Cymru by following his link on this map
---
Support our Nation today
For the price of a cup of coffee a month you can help us create an independent, not-for-profit, national news service for the people of Wales, by the people of Wales.