Culture
Welsh language music festival returns to Swansea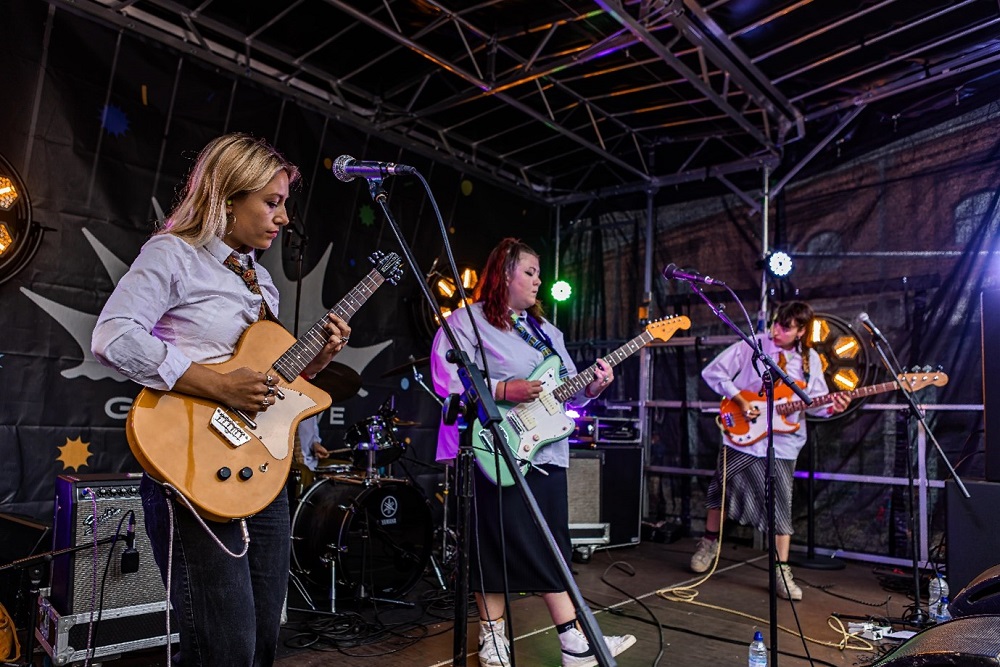 A project, which aims to boost the Welsh language music scene in Swansea, returns for a second year this autumn, with bands performing at venues across the city.
Last year over 4,000 people attended the 28 events featuring performances by artists using the Welsh language in their work.
Regular gigs will be staged in city centre venues, including Tŷ Tawe, The Bunkhouse, and the Elysium, featuring headline sets from artists such as Angel Hotel, Tecwyn Ifan, HMS Morris, and Band Pres Llareggub.
Menter Iaith Abertawe's Arts Council of Wales funded project will also visit new venues for the first time, with an afternoon of acoustic music at the Railway Inn in Killay in collaboration with Trac Cymru on Saturday 9 September.
The Gentle Good visit Dylan Thomas' birthplace at 5 Cwmdonkin Drive as part of the Mentrau Iaith / PYST touring project on Wednesday 4 October and on Saturday 4 November.
A special event at the Forge Fach in Clydach on 4 November celebrates Welsh women in folk – featuring DnA (Delyth & Angharad Jenkins) and on Saturday 10 November Gŵyl NAWR, a celebration of left field and experimental music, visits Tŷ Tawe, featuring sets from Pat Morgan, Ani Glass, and R.Seiliog, with more acts to be announced soon.

Grassroots venues
Tomos Jones, Menter Iaith Abertawe's Head Officer, said: "We enjoyed so many great events in the first year of the project, culminating in the Gŵyl Tawe celebration at the Waterfront Museum this June.
"Continuing to work with our partners in local grassroots venues to ensure these opportunities are available all year round is vitally important to both the Welsh language and the arts scene in the city, and we can't wait to get started again with our autumn programme."
Two further dates at The Bunkhouse are yet to be announced but tickets for all other gigs are on sale now, and tickets are available online here or in person through Siop Tŷ Tawe. Free tickets for all events will continue to be available to Learn Welsh Swansea Bay Region students thanks to support from Academi Hywel Teifi.
Running alongside these events is a weekly music club in collaboration with Urdd Gorllewin Morgannwg. These sessions offer opportunities for young people to develop skills such as song writing and recording techniques through the medium of Welsh. The next series of sessions will begin on the 4th of October and continue to run through the school term.
Full dates September – December 2023:
Saturday 9.9 – Sadwrn Acwstig: Bwca + Catrin O'Neill + Gwilym Bowen Rhys + Plu + Melda Lois (Railway Inn)
Friday 15.9 – Angel Hotel + The Bad Electric + Ffredi Blino + Head Noise (Elysium)
Thursday 28.9 – Gwilym + Y Cledrau + Parisa Fouladi (The Bunkhouse)
Saturday 30.9 – Tecwyn Ifan + Dafydd Owain + Lily Beau (Tŷ Tawe)
Wednesday 4.10 – The Gentle Good + Angharad Jenkins (5 Cwmdonkin Drive)
Thursday 5.10 – Saturday 7.10 – Swansea Fringe Festival (various venues) – including Band Pres Llareggub + Mr Phormula + Francis Rees (Tŷ Tawe)
Friday 20.10 – Gai Toms a'r Atomau + more/support (Tŷ Tawe)
Friday 3.11 – HMS Morris + more/support (Elysium)
Saturday 4.11 – DnA – Delyth & Angharad Jenkins (Forge Fach, Clydach)
Friday 10.11 – Clwb Ifor Bach present: Mellt + more/support (The Bunkhouse)
Saturday 11.11 – Gŵyl NAWR: Pat Morgan + Ani Glass + R.Seiliog + more to be announced (Tŷ Tawe)
Friday 24.11 – TBA (The Bunkhouse)
Saturday 25.11 – TBA (The Bunkhouse)
Friday 1.12 – Ynys + more/support (Tŷ Tawe)
---
Support our Nation today
For the price of a cup of coffee a month you can help us create an independent, not-for-profit, national news service for the people of Wales, by the people of Wales.