Culture
Why 'Sophie from Romania' is the feel-good story we all need right now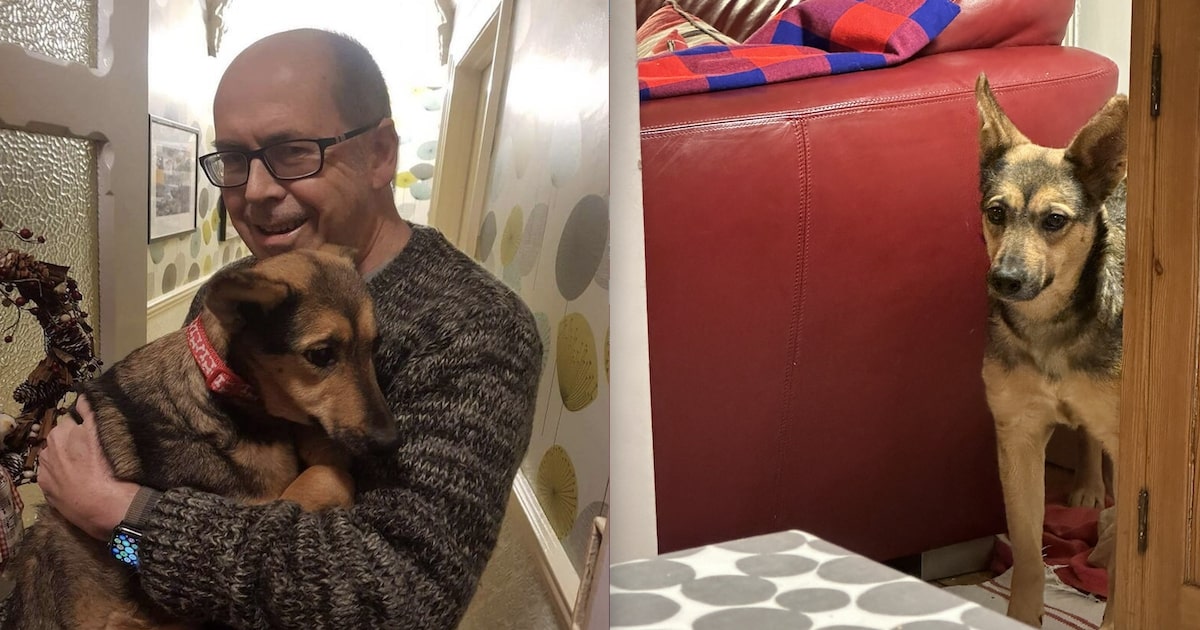 David Owens
Looking out the window here in Wales is not the prettiest of sights right now.
Days of torrential rain has brought with it extensive flooding.
It certainly matches the prevailing mood of a country suffering an existential crisis in the gloomiest month of the year.
However, for those of us who use Twitter, a story has emerged on the social media platform that has gladdened hearts, brought a simple joy to many and reiterated our loving relationship with our pets.
Around four weeks ago a rescue dog from Romania called Sophie arrived into the lives of former BBC technology correspondent Rory Cellan-Jones and his wife Diane Coyle.
When Diane posted a picture of a nervous looking dog being cradled by Rory in the hallway of their home in west London, it triggered something remarkable – and pretty magical.
Meet Sophie, here greeting @ruskin147 when she arrived last night. She's tired & nervous after a long journey but we're looking forward to settling her in to her new home pic.twitter.com/yFClmY1sxE

— Diane Coyle (@DianeCoyle1859) December 17, 2022
Thousands of Twitter users became heavily invested in the rehoming of Sophie – rescued from the streets of Romania.
Finding a home behind the couple's sofa next to a radiator brought warmth and comfort to a dog who'd previously been abandoned.
Rory – who started his journalistic career at BBC Wales in Cardiff, and Diane – a Cambridge University professor, had been warned that it would take time to build trust with a young dog that has had to fend for herself, with a back story that had undoubtedly seen her suffer some level of mistreatment.
Progress has been slow, Sophie's nervy distrust of humans apparent, but with much advice from professionals, small doggy steps are being made.
This morning #sophiefromromania and I are playing "how far would you go for a piece of frankfurter?" pic.twitter.com/c7bo1Aicwj

— Rory Cellan-Jones (@ruskin147) January 11, 2023
Every Twitter post which has shown Sophie emerging from her safe space behind the sofa, every little chew of a treat of steak, sausage or cheese, every ounce of new found confidence she has shown has been cheered on by a nation of animal lovers.
Ever since this lovely little dog arrived into all our lives via Twitter, my morning ritual like many others has been to check in on Sophie, to see how she is progressing.
From the comments left for Rory and Diane, Sophie's story has quickly become a beacon of light that has lifted the January gloom, to the point where #morningsophie and #sophiefromromania have regularly trended on Twitter. Given that the platform can resemble anything from a pub brawl to a dystopian hell hole, is itself pretty remarkable.
The patience shown by the pair has been admirable. Not only in the love and care they have shown the new addition to their home, but also dealing with the hundreds of no doubt well-meaning people who have proffered a myriad suggestions in what they may or may not be doing wrong.
Love it that "Morning Sophie" is trending. Told #sophiefromromania and she's taken it in her stride pic.twitter.com/IXlSlIQq2h

— Rory Cellan-Jones (@ruskin147) January 10, 2023
Their story is all the more poignant given that it was a year ago that they lost their beloved pet dog Cabbage, who died aged 15.
Ironically their beloved dog made headlines of its own. Cabbage went viral when she was stolen but recovered hours later thanks to a Twitter campaign for sightings.
The collie cross trended on Twitter in November 2021 when she and five other dogs were taken in a dog walker's van in Acton, west London.
Sadly several months later Rory had to inform his followers that his family "had to say goodbye" to "lovely, energetic" Cabbage.
"It was time for her to go but we miss her so much," he wrote on Twitter.
Cabbage already had an online following before she was stolen as Rory regularly documented their early morning walks with pictures posted to his feed.
If Sophie's new found fame is any measure she's set to emulate Cabbage's social media celebrity and then some.
The nice guy who sells the Big Issue outside Broadcasting House just stopped me to ask after #sophiefromromania

— Rory Cellan-Jones (@ruskin147) January 11, 2023
Today has been a good day, with something of a breakthrough in the Sophie story. Diane managed to coax their lovely pet from out behind the sofa for a treat and a quick cuddle.
The reaction, as you can imagine was akin to a mass celebration.
It's heartening to think of the many thousands of people who have read Diane's latest update and broken out into a broad smile or metaphorically punched the air.
But then these little pockets of happiness can evidently mean so much to so many.
For those of invested in Sophie's story these updates have become daily gifts, momentary moments of escapism from the daily grind.
I can't wait to find out what the future holds for lovely Sophie and her equally lovely family.
And I would very much imagine I'm not the only one.
Follow Sophie's adventures via Rory Cellan-Jones' Twitter and Instagram, and Diane Coyle's Twitter.
And how about a cuddle please? #sophiefromromania pic.twitter.com/5nwqhhlpWH

— Diane Coyle (@DianeCoyle1859) January 12, 2023

---
Support our Nation today
For the price of a cup of coffee a month you can help us create an independent, not-for-profit, national news service for the people of Wales, by the people of Wales.