Culture
Yr Hen Iaith part sixteen: Geraint son of Erbin – Welsh Dressing for French Romance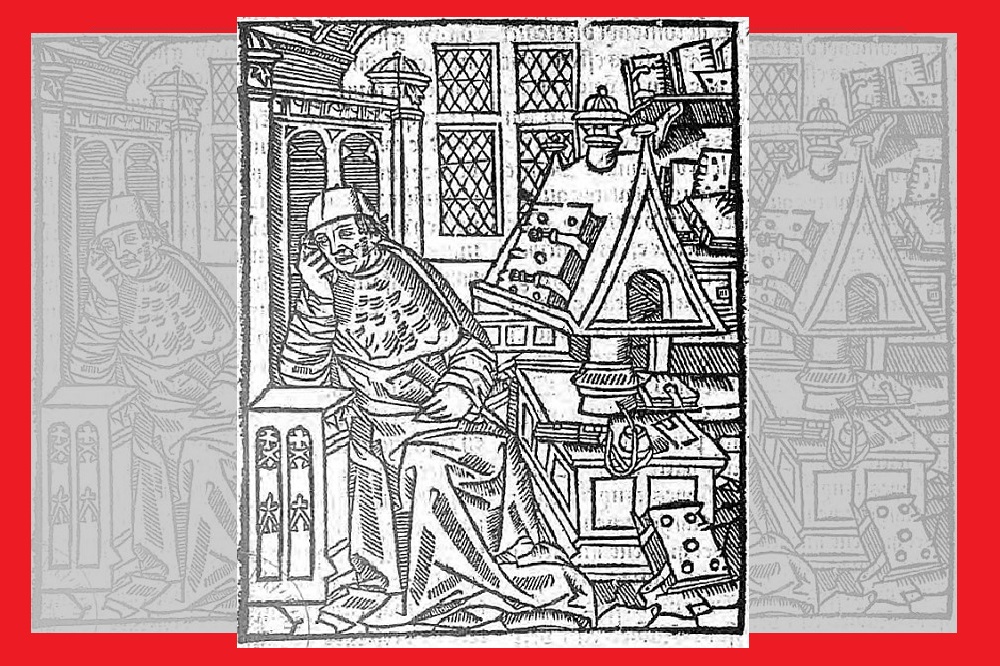 Continuing our series of articles to accompany the podcast series Yr Hen Iaith. This is episode sixteen.
Jerry Hunter
In this episode we discuss the tale 'Ystoria Geraint fab Erbin' (the 'Story' or 'History' of Geraint so of Erbin) and consider its relationship with a narrative poem by the French poet Chrétien de Troyes.
Is it possible that this Welsh tale is actually a translation of the French text?  Is it really right to include 'Geraint' in that special category we've discussed frequently in this series, or should it get a red card, thus reducing our team of eleven 'native prose tales' to ten?
Perhaps it's best thinking about this text as a free adaptation of the French original. It is very close in places, so close in fact that it's hard to imagine that the anonymous Welsh author didn't see a copy of Chrétien's text.
But there are important differences as well.
First of all, the French work is poetry and the Welsh tale is prose. Secondly, there are a large number of very Welsh names not found in the French version, some of them with very deep roots in native Welsh narrative tradition.
Indeed, Chrétien's hero is Erec, and our Welsh hero, Geraint, is named in other texts in ways suggesting that he had his own life or lives in the Welsh imagination, sometimes associated with Arthur and perhaps sometimes on his own.
And, while the Arthurian world in these stories is in many ways more similar to continental romance than to the Arthur of 'Culhwch and Olwen', there are similarities between the two Welsh tales.

Gatekeeper
Indeed, Arthur's strong-willed and proud gatekeeper figures in both (as he does in that early Arthurian poem from the Black Book of Carmarthen, 'What man is the Gatekeeper?').
He is introduced in 'The History of Geraint' along with a host of underlings reminiscent of the triads and the elaborate list of characters in 'Culhwch and Olwen':
Glewlwyd Gafaelfawr oedd ben porthor [i Arthur], ac nid ymyrrai ef yng   ngwasanaeth namyn yn un o'r tair gŵyl arbennig, namyn seithwyr a oeddynt odano yn gwasanaethu a rannent y flwyddyn rhyngddynt, nid amgen, Gryn a Phenpingon a Llaesgymyn a Gogyfwlch a Gwrddnai Lygaid Cath a welai hyd   nos yn gystal a hyd dydd, a Drem fab Dremhidydd, a Chlust fab Clustfeinydd a oeddwynt wylwyr i Arthur.
'Glewlwyd Gafaelfawr was chief gatekeeper for Arthur, and he didn't bother with that service except for during one of the three special holidays, but there were seven men serving under him who shared the year's work between them, namely Gryn and Penpingon and Llaesgymyn and Gogyfwlch and Gwrddnai Cat Eye who saw during the night as well as during the day, and Sight son of Seer and Ear son of Eavesdropper who were Arthur's watchers.'
Officers
Arthur's forester in 'Geraint' is the very Welsh Madog fab Twrgadarn ('son of Strong Tower'), and the traditional Welsh Arthurian hero Gwalchmai is the head of the court's naw penteulu or 'nine leaders of the king's warband'.
That word penteulu, frequently encountered in medieval Welsh literature, is defined in the native Welsh laws as one of the officers of the king's court.
This is a version of Chrétien's Arthurian romance, but the Welsh dress is prominent and impossible to ignore.
Another interesting aspect of the tale is the way in which it is rooted in south-east Wales; indeed, Caerdyf – not Caerdydd – features here, the original Welsh name of Cardiff.
So, what actually happens in the 'Story of Geraint son of Erbin'? There is insult and redress, adventuring, duelling and love. It is a long, sprawling tale, too intricate to be summarized here.
However, perhaps the most interesting thing about it from the point of view of its actual narrative is the fact that this text offers a critical discussion of the very Arthurian world it celebrates.
Warrior
Geraint's father, a ruler in his own right, is growing old, and messengers come to Arthur's court, begging the hero to return home, take his father's place, and rule the kingdom which is his birthright.
The message is as sharp-edged as Geraint's sword, for he is told that 'it is better for him to spend the flowers of his youth and bravery protecting his own borders than in fruitless tournaments' (mae . . . yn well iddo dreulio blodau ei ieuenctid a'i ddewredd yn cynnal ei derfynau ei hun nag mewn  twrneimeintiau diffrwyth).
In other words, rather than jousting and competing in tournaments at Arthur's court – playing at warfare for the sake of fun and courtly honour – he should come home and do something meaningful with his skill.
The message is simple: don't pretend to be a warrior at Arthur's court – come home and put your abilities to use and do something real by protecting your own homeland.
Further Reading:
Gwyn Jones and Thomas Jones (translators), The Mabinogion (revised edition, London, 1993)
 Sioned Davies (translator), The Mabinogion (Oxford: OUP, 2008)
Ceridwen Lloyd-Morgan a Erich Poppe (goln.), Arthur in the Celtic Languages (Caerdydd: Gwasg Prifysgol Cymru, 2019)
Catch up on the previous episodes here.
---
Support our Nation today
For the price of a cup of coffee a month you can help us create an independent, not-for-profit, national news service for the people of Wales, by the people of Wales.